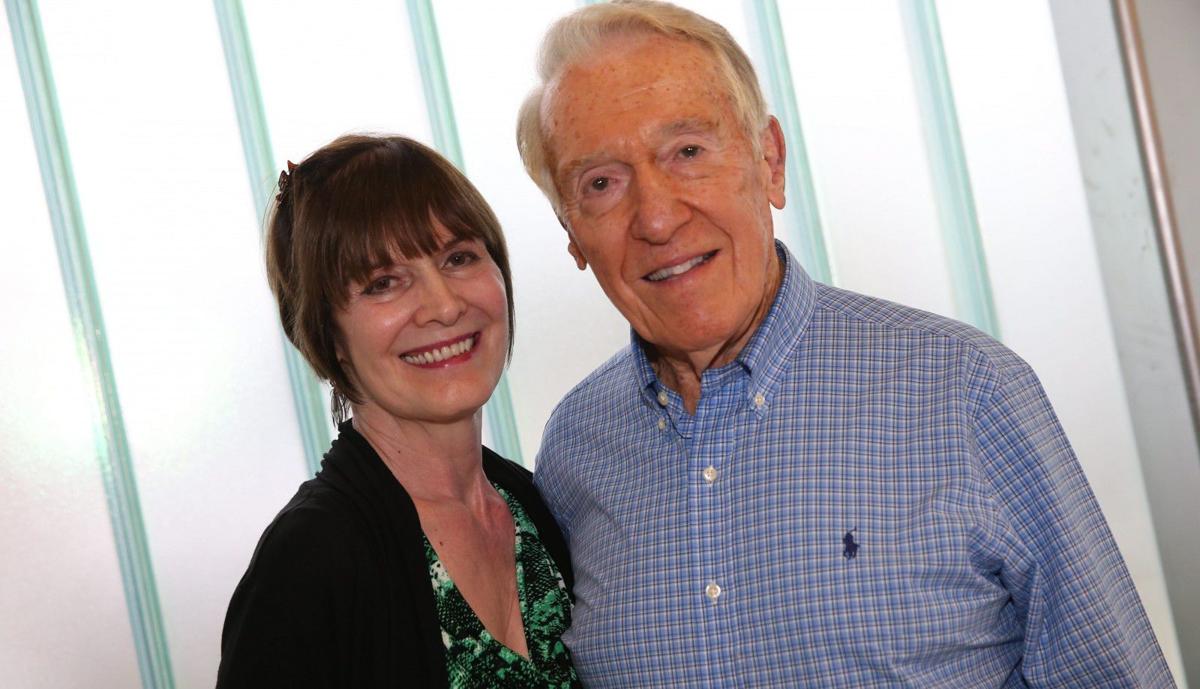 It's 7:36 on a quiet Friday night when the bartender at Brierwood Country Club looks up inside the dimly lit, wood-paneled Grille Room restaurant. He sees a man with wavy gray hair and a checkered blue Ralph Lauren business shirt. It's been at least a couple of years since this man and his wife, who's at his side now wearing a black shawl sweater and a pearly smile, have visited.
But the visitors are instantly recognizable: Marv Levy and his wife, Fran.
Levy is 90 and lives in his hometown of Chicago; he retired from coaching nearly 18 years ago. Though he visits for a game or two a year, he's a rare sighting in Buffalo.
But when fans do see him, Levy harkens them back to the storied days of the early '90s when, as the team's Harvard-educated, Hall of Fame-bound head coach, he led the Bills to four straight Super Bowls. His squads may have lost all those games, but in the process, they redefined the word resilience and energized this city's sports lifeblood in a way no team has since.
Despite all that, the bartender plays it cool.
"It's always good to see you, sir," he says to Levy, who's in town for the Bills-New England Patriots game that will be played two days later.
"Thank you," Levy says with a smile and a nod.
He likely appreciates the brevity of the welcome. Even at an age where it's perfectly permissible to rest and reflect on one's life work, Levy doesn't live on memories. He'd rather focus on his next project.
A basket of bread nestled in white linen sits on the table. Levy, who's busy chatting, barely touches it. Fran and Marv are at Brierwood catching up with some old Buffalo acquaintances.
"I'm hoping to get started on a new novel," he says, dropping cubes of ice into his merlot. "I feel like I'm busier than ever."
Levy rarely uses the word "retirement," especially when talking about himself. Retirement is too static a word. It's too final.
When he left the Bills' sideline at age 72, he called it "stepping aside," and actually tried to land another NFL coaching job three years later. The owner of that team – Levy won't give names – told him he was too old.
In 2001, Levy was elected to the Pro Football Hall of Fame. In 2006, at age 80, Levy rejoined the Bills for a two-year stint as general manager.
Life outside of football gave Levy a chance to pursue a second career he long coveted: writing. He gained a love of literature as a little boy from his mother, Ida, who read the complete works of Shakespeare, Milton and Keats. After graduating from Coe College in Iowa, Levy earned a master's degree in English history from Harvard.
After leaving coaching, he wrote an autobiography ("Where Else Would You Rather Be?"), then a novel ("Between the Lies") and a team history book ("Game Changers: The Greatest Plays in Buffalo Bills History," with Jeffrey Miller). Last year, he released a book of poetry, "It's Time for a Rhyme."
Next is likely that second novel.
"All the time I coached, I put aside potential plot lines, character studies, little vignettes – I've got files this big," Levy says, lifting his hand from the wine glass and extending his thumb and forefinger several inches apart.
Marv and Fran, 71, live in a high-rise condo building in downtown Chicago, with Wrigley Field visible from their back window and the John Hancock Center skyscraper from the front. Their building has a full weight and aerobics room. Across the street is a park that hugs the shores of Lake Michigan. That makes it easy for Levy to work out an hour a day, a lifestyle he carried from his coaching career into his post-football life. He lifts weights three times a week, does daily power walks, and during those, breaks out for 100-yard runs.
"You feel yourself age a little, but I believe I'm in far better shape than most people my age, or even close to it," says Levy, still barely touching the bread on the table.
He's slim and limber, a nonagenarian with true youth. Levy scrambles away from the sheer thought of inertia like a running back juking his way around blockers.
"I have stayed active," Levy says. "I do keep moving. But I should start swimming more. Great exercise."
Consider that: Levy gets elected to the Hall of Fame, and he comes back as a general manager. He writes a best-selling autobiography, then pens three more books. He does daily cardio and weights, but still thinks he should be swimming.
Heading into the 1995 football season, Levy was diagnosed with prostate cancer. He grappled with the idea of postponing his surgery to the winter, but ultimately decided to step away from the team and have the procedure done during the fall. Levy was thinking ahead; he was thinking to today.
When he married Fran a couple of years earlier, he took her then 25-year-old daughter Kimberly as his own.
"I want to see Kimberly's children someday," Marv told Fran.
Levy beat the cancer, even taking hour-long walks during his recovery with the catheter still in him. He also fulfilled his goal: Today, Marv and Fran have two grandchildren through Kimberly and her husband, Greg Alexopoulos: Angela, age 7; and George William Marvin, who was born last December.
The extended Levy family was present last month when Fran threw a surprise 90th birthday party for Marv on the second floor of the storied Harry Caray's restaurant in Chicago. They were joined by about a hundred relatives and close friends, including former Bills greats Steve Tasker and Don Beebe.
Bill Polian, the now-Hall of Fame general manager who built the great Buffalo teams with Levy, was there. Several famous friends, from ESPN broadcaster Chris Berman to Levy's former quarterback Jim Kelly, filmed video messages.
Many of the toasts became roasts focused on Levy's advanced age. But when they turned sincere, they triggered a roomful of tears. Kimberly spoke about her father-daughter relationship with the man who married her mother. Tasker pointed out that the lessons Levy taught his players about honor and teamwork and resilience transcend the football field.
"Marv is a coach for life," Tasker said.
Polian talked about Levy's legacy, pointing out that the famous Marv-isms the coach delivered to Bills staff and players years ago are being taught today to children and grandchildren.
"My grandson knows that when it's too tough for him, it's just right for me," Polian said, triggering a roomful of laughs at his adapted version of Levy's famous line, "When it's too tough for them, it's just right for us!"
On the topic of Marv-isms: If somebody had asked Levy during the party, "Where would you rather be than right here, right now?" his response could very well have been, "Anywhere!"
Though he's comfortable on a sideline and skilled with a microphone, being the center of adulation makes Levy squirm. For years, he made Fran promise to never throw him a surprise party. She broke it for his 90th after many friends convinced her it was the smart thing to do.
During dinner at Brierwood, Levy chews on a salad with chick peas and cherry tomatoes and reflects on the surprise birthday party from a few weeks earlier.
"Ohhh…" he says, drawing out his voice with a laugh. "I didn't want it. But she put so much into it."
He looks up from his salad and locks eyes with Fran. She smiles.
"He wrote a poem about gifts," Fran says, nodding to the copy of "It's Time for a Rhyme" that's sitting on the chair to the left of her husband.
"Why I hate gifts," Marv says.
Fran hands Marv her glasses so he can look up the poem. For the next few minutes, he rifles through until he lands on page 148. The poem is titled simply: "Gifts." Levy begins reading aloud:
"Please, no presents, I beg of you.
"Just wish me well, that will do.
"When I get gifts, they make me mutter
"As they add to my growing stash of clutter."
The poem goes on for five more stanzas. Levy reads them all, and closes the book. He's a practical guy; he detests disorganization and grows weary of empty social customs, like giving unneeded presents. He'd much rather have a thoughtful conversation.
Fran knew that and tried to convince her party guests not to bring presents for Marv. But nobody listened. The next morning, the Levys' hallway was lined with cards, gift bags and boxes.
Marv may not want the attention, but he still gets it.
The server sets down plates of cod stuffed with lobster and dressed in lemon butter sauce. Fran and Marv ordered the same thing, although Marv – who's always considered healthy eating a lifestyle – asked for the chef to go light on the butter sauce.
"This is so good," Fran says.
Brierwood's Grille Room used to be one of their standby restaurants. For much of Marv's Buffalo coaching tenure, the Levys lived in a Hamburg town home just a few minutes' drive from here. They liked the food — and they liked the peace.
They know what's it's like to have the opposite.
One night earlier, Marv and Fran tried to get dinner at (716) Food and Sport, the restaurant located in the same building as their hotel, the Buffalo Marriott HarborCenter. That turned out to be a mistake. Marv got "swarmed," in Fran's words.
Fans filling the sports bar were so excited to see the former coach that they surrounded him. It took 45 minutes for the Levys to get to their table.
That scene effectively captures half of Buffalo's sports psychology. Fans here subsist on a diet of memories and hope. Levy represents the former, which is why he's a guaranteed attraction in a sports setting like (716).
The latter, for football fans, focuses on the Bills' new coach, Rex Ryan, whom Levy had never met until visiting town last weekend. The coaches chatted briefly last Saturday during a run-through practice in the Bills' field house.
Asked later in the week about the conversation, Ryan spoke of Levy with reverence.
"He was an innovative guy and his teams, you could tell how much they thought of him, the way they played," Ryan said. "He's just a heckuva coach."
Comparing Levy and Ryan is an admitted stretch: Their tenures are separated by 18 years and seven head coaches. But no coach since Levy has been as squarely in the spotlight as Ryan. The distinctions between the two foreshadow the new storyline that will emerge if the Bills became great again.
Whereas Levy quoted Winston Churchill and used military metaphors to inspire his players, Ryan's famous words from his opening press conference in January were, "We're gonna build a bully."
Whereas Levy and Polian refused to sign players with histories of ill character, Ryan has given second chances to multiple players with troubled pasts.
The current coach embraces those differences with a touch of self-deprecation.
"He was great," Ryan said of Levy. "He was just himself – a real cerebral guy, obviously, so I've got nothing in comparison with him there. We're two different guys, but I appreciated everything he did."
When a News reporter pulled out Levy's poetry book and showed it to Ryan, the coach's eyes widened. He mockingly recoiled.
"Oh my goodness," Ryan said, laughing. "Another thing that (shows) I don't have anything in common with him."
Literary credentials aside, they may be more alike than Ryan realizes. Levy, like Ryan, has a certain flair for showmanship. Ryan's version is talking with a charming swagger, or getting a Bills tattoo, or painting his truck in team colors.
Levy's came in the form of – to borrow Ryan's word – cerebral humor, and he still has it. And he showed it during a paid appearance last Friday at Northtown Lexus in Amherst.
"People ask me, 'What's the formula for the Bills to get back on the winning track?' Levy said.
The solution, he said, is to adopt a fight song he wrote for the team. It's titled "Go Bills!" and it's not new. Levy wrote it in the mid-'90s and used to play it for the team.
"We played it about 15 times, 15 games, and every one of them, we won," he said. "So this is the answer."
Levy then handed out lyric sheets to dozens of the audience members and led them in a full round of the song: "Go Bills, for we are here to cheer for you. Go Bills, we are your fans so true…"
He'll sing his song and root them on, but Levy knows these aren't his Buffalo Bills anymore.
His friend and boss, team founder Ralph Wilson Jr., died in 2014. One of the last key players from his era as general manager, running back Fred Jackson, whom Levy argued with Wilson to sign, was released in August. As he looks through the media guide at front office staffers, he knows fewer people.
Life evolves that way, and Levy doesn't dwell on it. Nor does he spend a lot of time looking back. He prefers what's next. He's impressed with the Bills' new owners, Terry and Kim Pegula, whom he met by chance on an elevator ride last week inside the HarborCenter's Marriott hotel.
Terry Pegula looked at Levy, who was with Fran, and said, "I know who you are, but you don't know who I am."
But Levy did recognize the man with neatly combed gray hair and glasses. He's watched interviews with the owners and kept tabs on what they're doing.
"Oh, yes I do," Levy said. "It's a pleasure to meet you."
The two couples chatted briefly before Marv and Fran exited at the 14th floor. Since then, Kim Pegula has been in touch by email.
Levy has his own plans: writing that next novel, perhaps. Spending time with his two grandchildren, for sure. He and Fran want to travel more. They spent 21 days last year in the British Isles. A long New York City weekend may be on their calendar sometime soon.
Levy may not live in the past, but in Buffalo, memories are never too distant. As Marv and Fran finished their dinner at Brierwood, they stepped away from the table and headed for the door. A half-dozen customers, all men of varying ages, were waiting for him at the bar. They kept a respectful distance while Levy was eating but couldn't let him leave without a hello, a thank you, and a reminder that he'll always have a place here.
One of the men, a young guy with a scruffy beard who looked just old enough to remember those Super Bowl glory days, said, "Welcome home, coach."