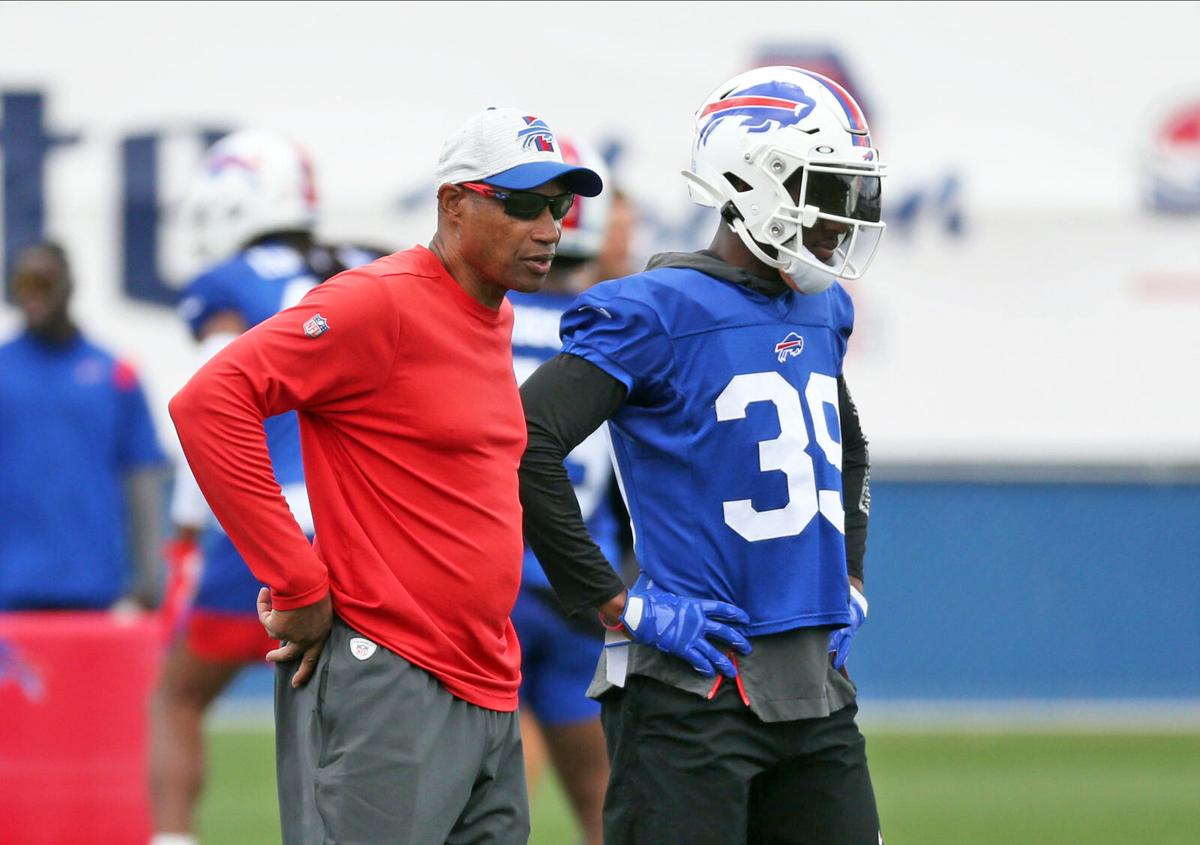 When Levi Wallace looks around Buffalo Bills training camp, the fourth-year cornerback senses a different feeling this year.
"I think there's a little bit more anger this year and urgency," Wallace said Friday. "Obviously, I came back to be with these guys. It was many nights where I was just sick to my stomach about how we ended last year. And I think a lot of guys are still (ticked) off about that."
The 6-foot-8-inch, 311-pound rookie Spencer Brown was especially noticeable during the Bills' third day of training camp practice Friday, when he got into a fight with defensive tackle Ed Oliver during 11-on-11 drills in Orchard Park.
But any anger is directed outward and used as fuel. Within the team, there's a goodwill that even overcomes positional battles. Wallace is a prime example of that. Defensive coordinator Leslie Frazier noted that while most starters are solidified, Wallace is still competing.
"The one spot we'll probably have a battle is probably at the right corner position," Frazier said. "Levi and Dane (Jackson) battling over there, and maybe one of the young guys will show up as well."
Wallace spent the majority of the offseason in Buffalo, where he worked out with a few teammates, including Jackson, a seventh-round draft pick in 2020. While the two will compete for that starting role, Wallace brushed off any idea of that making offseason workouts awkward.
"I think if you know me, you wouldn't really be surprised. Or Dane," Wallace said. "We're brothers on this field. … We're just trying to make each other better. If he's getting better, I'm getting better."
So they push each other, and they look for ways the other can improve. Walking off the field Friday, Wallace said he and Jackson were talking about Jackson's off-man coverage. Coming from Alabama and Pittsburgh, respectively, both are used to playing more press.
Wallace said his off coverage is where he's developed the most over the years, in large part from watching teammate Tre'Davious White and his patient approach.
"He's the best off-coverage corner I've ever seen in my life," Wallace said.
So Wallace asks plenty of questions, and he observes. He doesn't aim to simply mimic White – he knows their skill sets are too different. Instead, he blends the advice with his abilities. And he relays that to Jackson as well.
"For me, I'm old school," the veteran wide receiver said Thursday when asked how long it takes to build chemistry with a quarterback. "I'm backyard football. Let's strap up. 'Hey, you. Hey, kid. Get in here. Right? Let's play football.' That's just how I think."
"I said, 'Bro, it just takes time,' " Wallace said. " 'It does. It's taken me, what? Three or four years now to really feel comfortable in me being off.' And Dane said he's just now starting to feel good in being off. So, try to help him in that aspect."
It stems from Wallace's belief that no matter who improves, any progress helps the team and the secondary as a whole. Frazier calls him "mellow," but just in that his focus is only on bettering himself. Plus, Wallace has proved himself before. A walk-on at Alabama who later went undrafted, Wallace's track record is one of perseverance.
"Each and every year, they bring somebody in to try to beat him out," White said Friday. "And he just stands strong each and every time. And that says a lot about him."
Wallace's drive comes from wanting to demonstrate he belongs. But it's not about proving it to the outside world – just to himself. 
"I think I never get overlooked," he said, "because the opinions of others don't really matter to me."
One might think that Stefon Diggs would struggle to come up with an area in which he could improve on his 2020 performance.
In 2020, Wallace had two interceptions in 12 games, matching his two picks the year before in four less games. He's started all 35 games he's played over three seasons .
"He just finds a way. He's always in the right spot," general manager Brandon Beane said Wednesday. "His teammates love him. He's just one of those guys – (head coach) Sean (McDermott) uses this term and I agree with – like a glue guy. Just guys are confident, they don't worry about him."
White said he's learned from Wallace's mental approach, too. He tells Wallace that anytime he can, letting him know he respects what he's been through.
"From the get-go, his chances of making it were slim," White said. "He's been holding on ever since. So what else could you say about the guy? So it's just good to watch on a day-to-day basis."