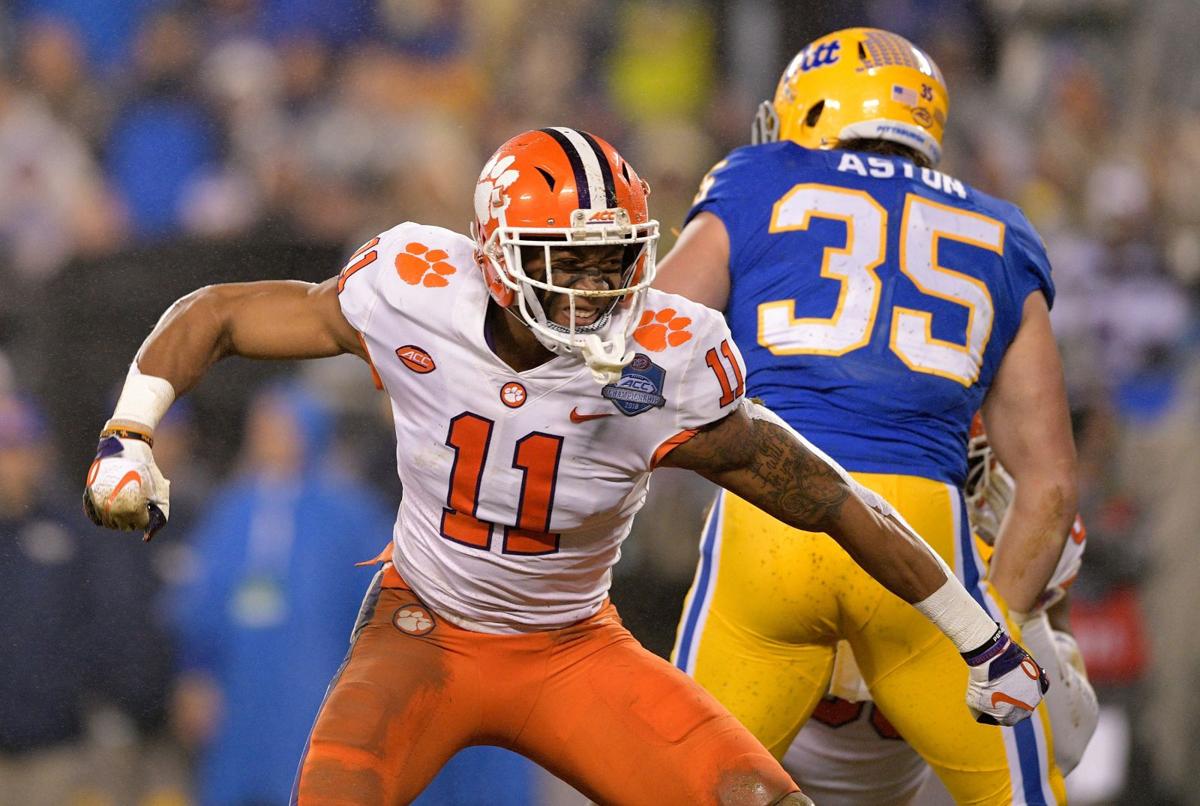 There are few guarantees when it comes to the NFL draft, but here's one.
You can bet on at least two, but no more than four, linebackers being chosen in the first round. That's been the case in the last eight drafts, and it looks like history will repeat itself later this month.
While the linebacker class has its usual amount of top-end talent, NFL Network draft analyst Daniel Jeremiah termed its depth "a little bit of a shallow group."
A common theme among any linebacker chosen in the first round is athleticism. Two-down, run-stuffing linebackers simply aren't a high priority for defenses in today's NFL. Instead, linebackers need to be able to do it all – defend the run, rush the passer and, perhaps most importantly, cover sideline to sideline.
As you might expect, then, linebackers make up some of the most genetically gifted athletes in a sport full of them.
Overall position ranking: 4 out of 10.
Bills view: There is no obvious backup to middle linebacker Tremaine Edmunds currently on the roster. If something were to happen to Edmunds or Matt Milano, the defense would be in a good deal of trouble. A.J. Klein, signed in free agency, figures to be the third starter in the base 4-3 scheme. Klein won't be a three-down player like Edmunds and Milano. Tyler Matakevich, another addition in free agency, will have one of the backup linebacker jobs given that he is going to be one of the team leaders on special teams. The Bills have three young backups – Corey Thompson, Vosean Joseph and Tyrel Dodson – who will compete for what figures to be no more than two jobs. The Bills don't have a lot of veteran depth at linebacker, but if they want that they'll have to find it in free agency – not the draft.
Bills' need ranking: 3 out of 10.
The best: Isaiah Simmons, Clemson. Simmons was going to be a top-10 pick anyway, but his performance at the NFL scouting combine solidified that. At 6 feet, 3 inches and 238 pounds, Simmons ran the 40-yard dash in 4.39 seconds. According to Pro-Football-Reference's combine results play index, there are two prospects who have ever run a sub-4.4 40-yard dash at at least 6 feet, 4 inches and 230-plus pounds: Simmons and former Lions wide receiver Calvin Johnson.
"I think we all knew he was fast, but that's a different level, man," ESPN draft analyst Todd McShay said. "He can still improve in terms of getting off of blocks. He can be a quarter count late in terms of recognition skills against the run sometimes, but the dude can play. He's sideline to sideline. He can play in the box. He can cover up a tight end in the slot. … He fits today in the league perfectly. He allows you to be multiple, which is what so many coordinators today are looking for because of the way the game has changed. Simmons, to me, he's a top-10 pick."
In 2019, Simmons played 218 snaps at safety, 286 snaps at slot cornerback, 160 snaps at outside linebacker, 120 snaps at inside or middle linebacker and 17 snaps at boundary cornerback. The ultimate chess piece, indeed.
The sleeper: Davion Taylor, Colorado. A sprinter on Colorado's track and field team, Taylor has one of the more unusual backgrounds of any prospect this year. He did not play football in high school as religious beliefs conflicted with the game schedule. As such, he's thought to need some extended time to develop. He's got excellent physical traits, though, and turned himself into an honorable mention on the All-Pac-12 team as a senior, posting 69 tackles, 8.5 for losses and tying for the team lead with seven passes defensed.
Think twice: With NFL facilities around the country closed due to the ongoing coronavirus pandemic, teams may not be able to dig as deeply into the backgrounds of some prospects as they might like. That presents an interesting scenario for Mississippi State's Willie Gay Jr. He had an excellent performance at the NFL scouting combine, with his 4.46-second 40-yard dash trailing only Simmons among linebackers. Gay, however, played in just five games in 2019 for Mississippi State. He was suspended eight games for his role in a cheating scandal, and also reportedly was involved in a fight with the Bulldogs' starting quarterback. Gay has the physical tools, but unless teams feel very comfortable in their evaluation of him off the field, he could see his draft stock slip.
NFL draft top 10 linebackers
Isaiah Simmons*, Clemson, 6-4, 238
Kenneth Murray*, Oklahoma, 6-3, 241
Patrick Queen*, LSU, 6-0, 229
Zack Baun, Wisconsin, 6-2, 238
Akeem Davis-Gaither, Appalachian State, 6-2, 220
Troy Dye, Oregon, 6-4, 226
Malik Harrison, Ohio State, 6-3, 245