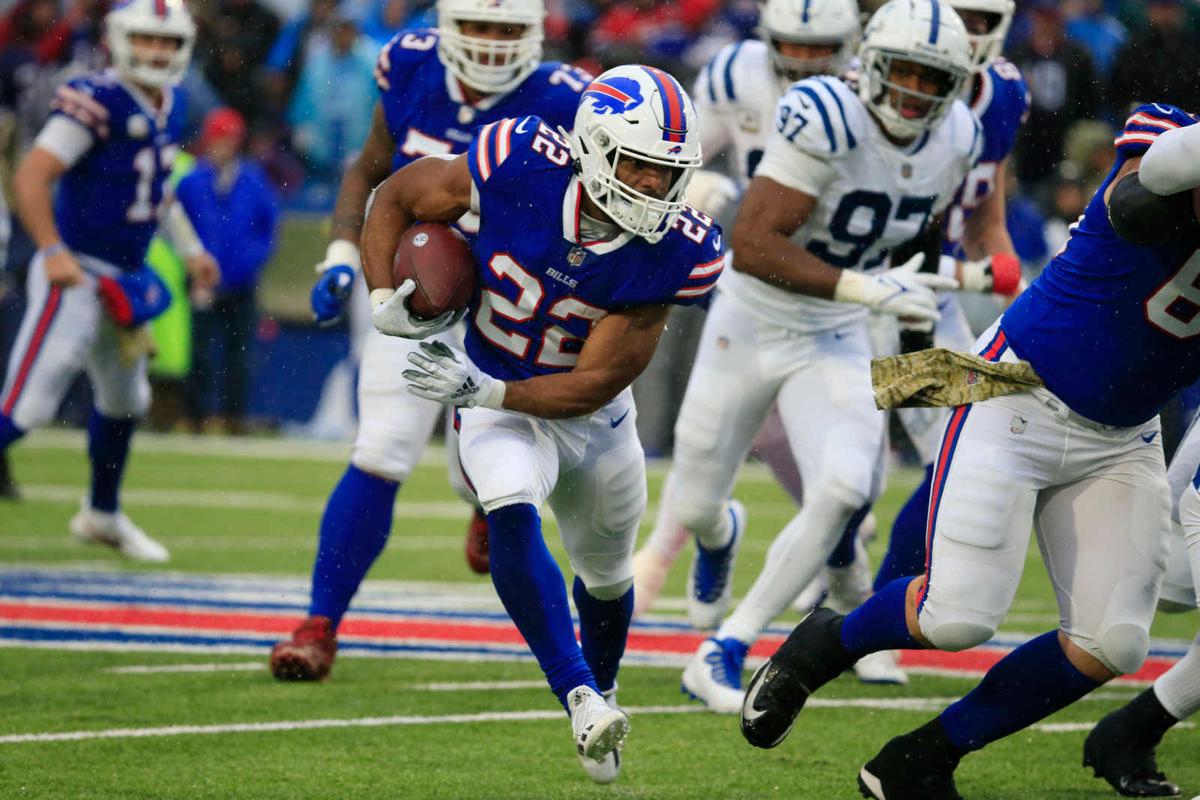 If the Buffalo Bills' season needs a little spice, perhaps they mix in a little Matt Breida. The running back is known for the speed he brings, and Stefon Diggs thinks it adds excitement to the offense. 
"Oh yeah, you see they got a little spice in there, you add a little 22 in there," Diggs said Tuesday.
Breida has only been active four times this season, but 79 of his 83 rushing yards have come on eight carries in the last two games. He's also had 38 receiving yards on four catches, as well as two total touchdowns over that stretch. It could suggest a larger role for the fifth-year back, as the Bills try to establish a consistent run game.
While Bills coach Sean McDermott says Breida has earned his opportunities and performed well with them, he was coy on if the team will get him more involved. That's fine with Breida, who, while competitive, just wants his team to win. He thinks back to his time in San Francisco, and the taste of a Super Bowl.
"I think the big thing is know your role," he said Tuesday. "Not everyone's gonna be a superstar, and not everyone's gonna be the guy. You've just got to know your role, and I think that's what makes the Super Bowl teams, the great ones. I've been to one before, with Emmanuel (Sanders), and we had a bunch of unselfish guys on the team. We didn't care about stats or who got the ball. At the end of the day, we just wanted to win. I think we've got the same group here."
He's focused first on improving his play. This last offseason, ahead of his first year with the Bills, Breida's close friend and Kansas City running back Jerick McKinnon brought him to PER4ORM Sports and Fitness Training in Davie, Fla. There, Nick Hicks, co-owner and director of performance, saw the already-heralded quickness up close. Hicks works with a slew of standout running backs, but Breida still separated himself.
"Matt Breida has got really, really, really, really raw speed," Hicks said. "That's like his thing. He's a speed demon."
In 2019 while with San Francisco, Breida hit 22.30 mph on an 83-yard touchdown run. It was the fastest recorded speed by a ball carrier all season, per Next Gen Stats. The fastest speed in the 2018 season also was Breida, this time a 33-yard run on which he reached 22.09 mph. That speed was faster than any set in 2017.
"It's his acceleration," Hicks said. "He can get to top speed faster than most. That's one of his traits that he showed off in San Francisco, and that you've seen here. When the ball gets in his hands, he just hits another gear quicker than everybody else, which allows him to separate himself and then go score. … That's his specialty – that first step quickness and being able to just catapult his body through a hole or past a defender and go score."
But no matter how explosive Breida was naturally, he had other things to work on. It drew him to PER4ORM, where Bills running back Devin Singletary also trained.
"Me and him got really close, and it's helped with our running back group bonding together and being really close," Breida said. "So I think that's a unique thing, that a lot of teams may not have, is that closeness."
Singletary shared everything about the Bills with Breida as they worked on different drills. Hicks plans workouts around individual needs, rather than just grouping by position. So while Singletary focused on speed, Breida was the opposite.
"His shiftiness wasn't really there," Hicks said. "The very first session that we did, you could see he was definitely out of his comfort zone. And it was getting frustrating. But he stuck with it, and he told me there after the very first session: 'This is exactly what I need. … This is the part of my game that's been missing.' "
It was footwork, lateral movements, different cuts. All sorts of drills to replicate game situations. Over six or seven weeks, Hicks saw him improve on all areas. Now, he sees it translating to games. It was so apparent against the Colts that Hicks edited two clips back to back: In the first, Breida runs through a bounce drill during the offseason, pummeling straight toward a step-over dummy before cutting left. In the second, it's just bouncing around a defender.
It was good for 28 yards, Buffalo's longest run of the day, and the first of three plays in a row where the Bills went to Breida.
"I was able to break off a big chunk in the first play, which O-line and receivers did a great job blocking on the edge," Breida said. "I was able to get out there. And then came back to me twice. I think it was just one of the things where like, when you get a rhythm going – (Brian) Daboll knows that, too, when you've got a rhythm, whether pass or run, you just want to keep that going."
But with such limited snaps this season, it's no small task getting into a rhythm.
His 18 snaps on offense (32%) against the Colts were his most this season. With that, he led the Bills with 51 rushing yards on five attempts.
Against the Jets, he played eight snaps on offense, in which he squeezed out 28 rushing yards and a touchdown on three carries, along with 22 receiving yards and a touchdown on three catches. He lost a fumble as well. It was his first game active since Week 2.
"He's been a resilient player for us," Daboll said Monday. "Being inactive is a hard thing for almost everybody because of how competitive you are, but he's kept a good attitude. He's stayed in his book and understood the game plan. These last couple weeks he's had an opportunity and he's made the most of them."
Breida says the heavy running back rotation in San Francisco helped him with some of that patience. But it also dates further back.
He was overlooked coming out of high school. He was injured in college. He leans on his faith and is driven, wanting to give back to his parents, who adopted him right after he was born. All of it made him humble while staying optimistic. With that demeanor, he thinks the Bills are getting better.
"We've been hitting on some runs, bigger runs, and I feel like we're going the right direction," Breida said. "We're still gonna throw the ball. I think that's our strength of our team, is our receiving corps and our quarterbacks. So we're just gonna keep going what we're doing."
But if throwing the ball remains the team's strength, which is to be expected, Breida can still play a big part.
"Matt's most dangerous, I think, when he's got the ball in space," Hicks said. "And the best way to get a guy like him up in space is just to swing out to him a little more, or a screen play or quick dump off. Because, again, that's where he's most special.
"If you get him inside of a five- or six-yard cushion of any defender, he's just going to beat you with speed. I don't care who you are."
His speed won't surprise anyone at this point. Diggs believes it's a testament to the Bills' roster. The challenge is making sure they use each player's abilities.
"We've got so many talented guys that can do a lot of different things," Diggs said. "Like Matt Breida brings a little bit more of an element, something that maybe Z-Mo (Zack Moss) or Motor (Singletary) can't bring, you know what I'm saying? He brings a little bit of this, and little bit of that.
"They've all got different games, but as far as on offense, we've got so much talent that you throw a guy out there, to everybody else, he's a surprise. But for us, we've been seeing him all camp, we've seen him all season."
Linebacker Tremaine Edmunds (hamstring) was a full participant in Tuesday's practice. Wide receiver Cole Beasley (ribs) was limited. 
Rookie wide receiver Marquez Stevenson practiced for the first time this regular season Tuesday, as he was designated to return from injured reserve. McDermott said that "everything's on the table at this point," as far as when Stevenson could play.