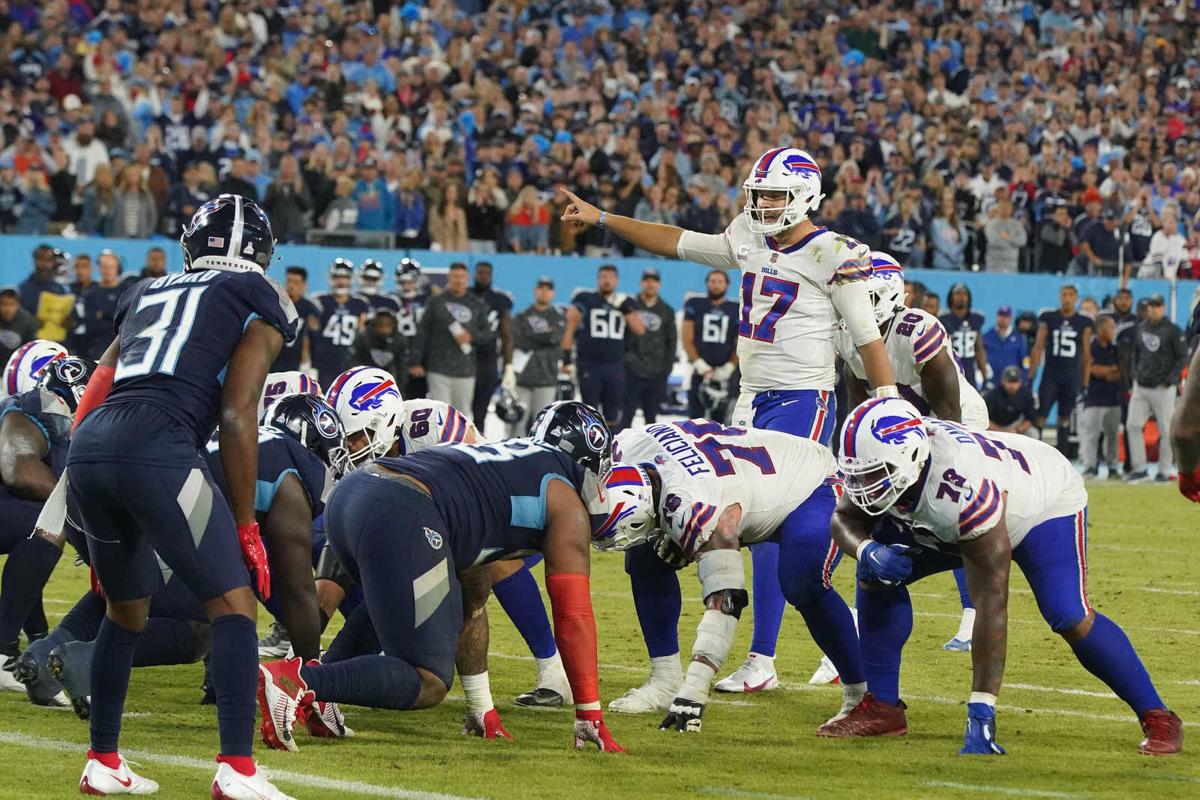 Whether the Buffalo Bills should have gone for it on fourth-and-inches in the final moments of Monday's loss to the Tennessee Titans will be debated, but the analytics indicate a clear lean toward coach Sean McDermott having made the right call.
According to the NFL's Next Gen Stats, the conversion probability was 75%. The win probability was 63% if the Bills went for it and 42% if they went for a field goal. The difference of exactly 21.3% made going for it "unequivocally the optimal call," per Next Gen. 
The Bills decision to go for it on 4th & inches from the Titans 3 (trailing 34-31) was unequivocally the optimal call according to the NGS Decision Guide.🔹 Conversion Probability: 75%🔹 Win Probability: 63% if GO, 42% if FG🔹 Recommendation: GO FOR IT (by 21.3%)#BUFvsTEN

— Next Gen Stats (@NextGenStats) October 19, 2021
ESPN's win probability model had it as less than a clear call. Going for it generated a 48.9% win probability, and a field goal was 47.5%.
The Bills are noted to be among the more savvy teams when it comes to analytics, but McDermott pointed to more than numbers when he talked about his decision and his belief in his players.
"I mean we're this far (gesturing just inches) from winning the game," he said. "And I owe that to my players, and I believe in my players. I believe in our quarterback. So, I trust my guys. Obviously, we didn't get it done in this case, but I trust my players."
Quotes on going for it on 4th down:"I'll trust him again if we're in that situation again. I'll take Josh Allen 10 times out of 10." "I gotta go out there and prove him right." "Who better to have the ball in their hands than 17. Nobody's mad at anybody for any calls." pic.twitter.com/qurZsyxGNf

— Heather Prusak (@haprusak) October 19, 2021
McDermott said quarterback Josh Allen's success on similar short-yardage plays impacted his decision, as well. According to ESPN, Allen has converted 13 of 14 plays of fourth and 1 or less in his career entering the game. The one miss was on a botched snap.
"Josh is usually spot on with those. You've seen him have a lot of success in those situations," the coach said. "So, again, give them the credit. They made the play when they had to make one. I felt, 'Hey, if we're that far from potentially winning the game right there, it was the best thing we could do.' We hadn't stopped them on defense for a number of drives there in the second half, really, so ... felt like we could go and win the game right there and obviously didn't get it done."
As to why the play failed, McDermott's first glance showed him Titans defensive tackle Jeffery Simmons blowing up the play from the left side of the Bills' offensive line.
"It just looked like there was some penetration there off our left side and they pinched down," he said. "It looked like there was an opportunity, but at the end of the day I trust him and I'll trust him again if we're in that situation again. So, I'll take Josh Allen 10 times out of 10."