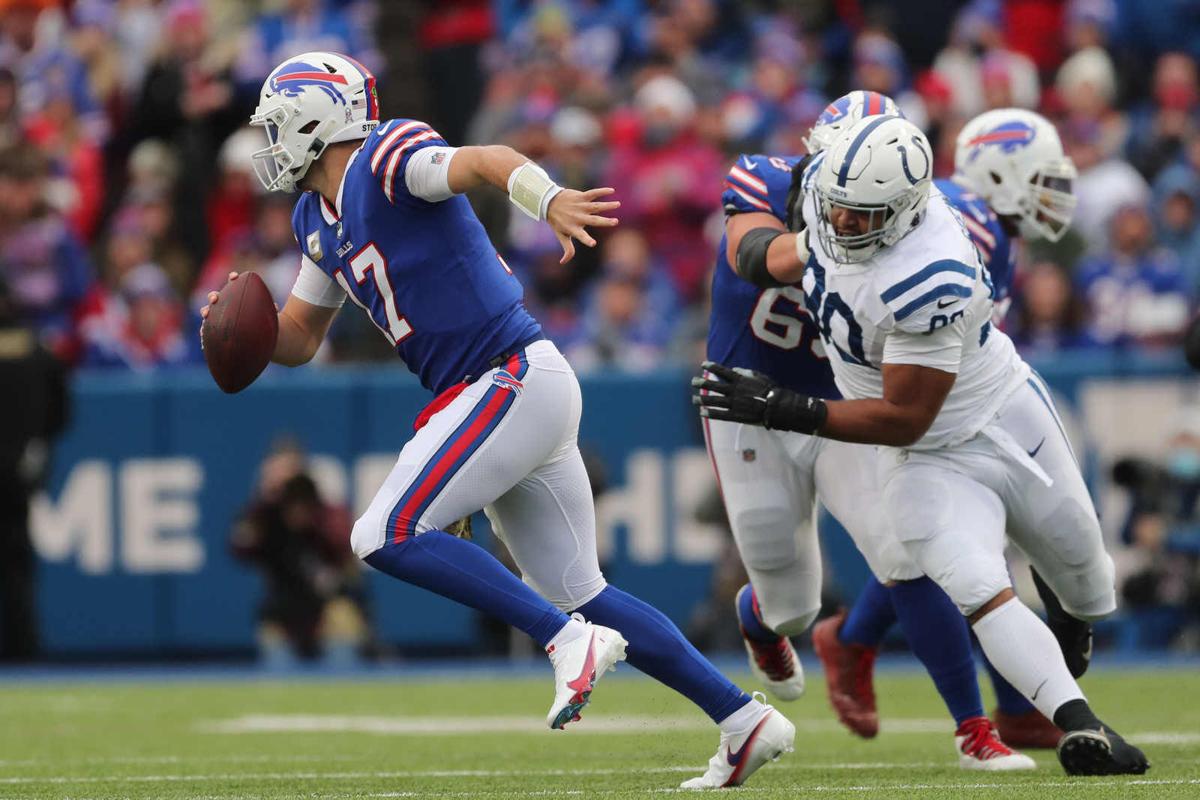 You'll never go broke taking a profit.
It's a cliché football coaches use in telling quarterbacks to take what the defense gives them.
It applies more than ever to Josh Allen in the wake of Sunday's 41-15 loss to the Indianapolis Colts.
The Buffalo Bills' quarterback needed to make a few more boring plays and take a few less chances in a game in which the Bills could ill afford to turn the ball over.
Would it have changed the result on a day when the defense gave up 264 rushing yards? Probably not. Allen was not the Bills' biggest problem vs. the Colts. But the Bills are reeling in the wake of two ugly defeats. They need their quarterback to lead the way in avoiding big mistakes.
The first interception, which helped put the Bills in an early hole, was an example.
Mistakes by the offensive line on the two previous plays had put the Bills in a third-and-18 situation. Did Allen feel subconscious pressure to make a spectacular play? Who knows? But with the Colts protecting in a two-deep zone, the odds of throwing beyond the sticks for a first down were low.
The pass protection by the offensive line was good. Running back Devin Singletary was open on a check down underneath. Allen opted to throw 21 yards downfield for Gabriel Davis, and safety George Odom easily stepped in front of the throw for an interception.
"Just shell coverage," Odom said. "We talked about it that week. Just holding the disguise and when he's looking at you, just hold it and have ice water in your veins. ... On that play in particular, he kind of pump-faked away from me so I thought of breaking that way. But I seen him look back and I was just going to cut the route."
Allen took responsibility.
"Maybe they were sitting on it," he said. "It's no secret. Again, I've just got to be smarter with the football there."
On the Bills' second drive, which ended in a touchdown, Allen almost threw an interception on a deep pass to the end zone for Stefon Diggs. It was a first-down, play-action deep shot. It looked as if Allen thought Diggs was coming back to the ball. Diggs was going deeper in the end zone. But the Colts had the play well covered. It was risky. Tight end Dawson Knox was open on the check down for a short gain.
Allen's second interception also was a forced throw in a risky, third-and-8 situation. It was a seven-man pass protection with only three men in the pattern. Nobody was open vs. a two-deep zone, and Allen didn't get the protection he needed. But he put the ball in harm's way.
"There's all these stats that support being in third-and-long is obviously not what you want to be in," Allen said. "One thing leads to another. It starts with me. So I have to find a better way to not put us in that situation."
Allen did it again late in the third quarter on a near interception on a sideline throw for Emmanuel Sanders against Cover 2. Knox was open underneath.
Allen knows the Bills need some playmaking. But with the team reeling, he probably needs to play more conservatively. Allen has thrown five interceptions in the last three games.
There's no doubt defenses are taking chances in coverage at a dramatically lower rate against Allen than last year.
The Colts blitzed on just six of 38 dropbacks in Sunday's game.
For the season, opponents are sending five or more pass rushers on just 19.6% of Bills pass plays, according to Buffalo News charting. In 2020, Allen was blitzed at a 32.7% rate, and he killed the blitz. He averaged 8.2 yards per attempt with 14 touchdown passes and two interceptions. In 2019, Allen was blitzed at a 31.6% rate.
The way to defend the Bills this season is clear: Protect deep and make the Bills go on long marches. Hope that somewhere along the way the four-man pass rush will cause a mistake or that the Bills will derail themselves with a penalty.