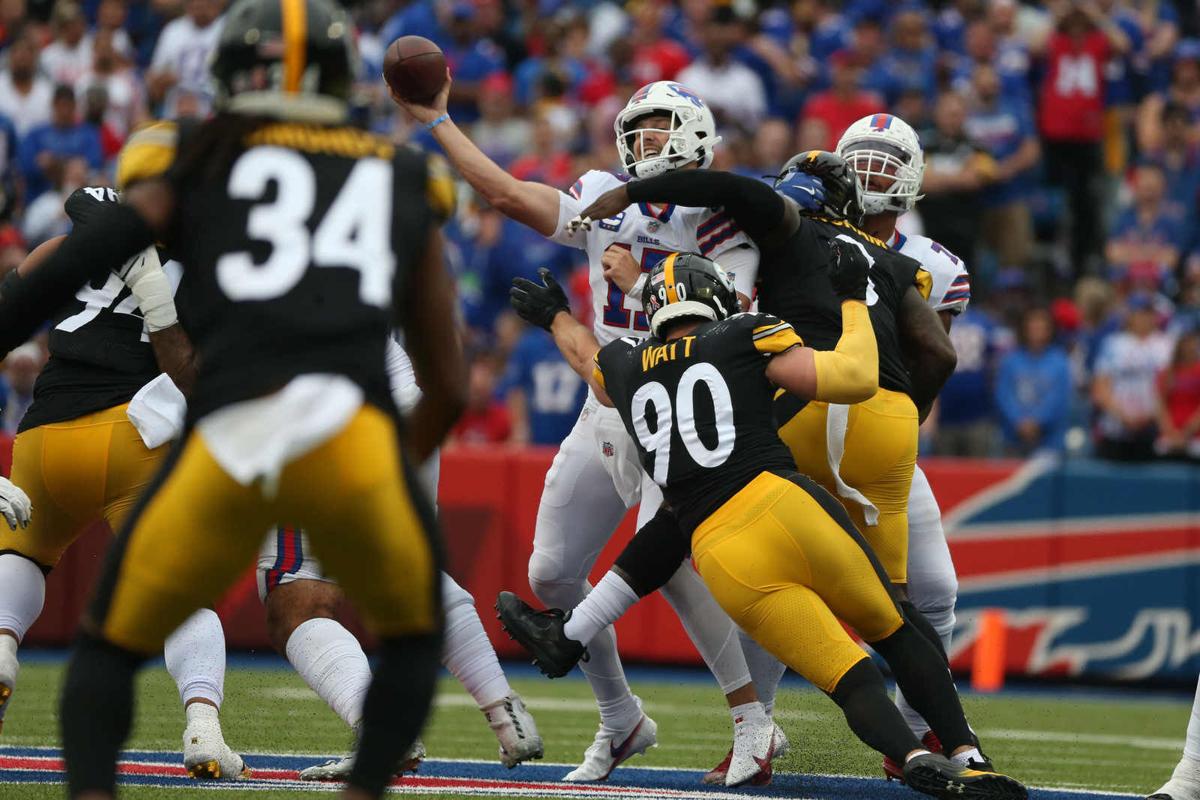 Brian Daboll and the Buffalo Bills' offense will ride or die this season with the team's deep, talented wide receiving corps.
One bad result will not – and should not – change the approach.
Yet the Bills probably left their offensive tackles on an island too often in Sunday's 23-16 loss to the Pittsburgh Steelers.
Maybe when the Bills are facing other great front fours later this season – as in games against Washington and Tampa Bay, to name two – they might have to give their offensive line more help.
Going with an empty backfield generally has been a good strategy for Daboll and quarterback Josh Allen. While the offensive line doesn't get any help blocking, it simplifies the pass protections and the kinds of pass rushes the defense can bring.
The problem vs. Pittsburgh was the Steelers' front four beat the Bills' front five in empty sets too often. Edge rushers T.J. Watt, Melvin Ingram and Alex Highsmith, along with defensive tackle Cameron Heyward, all played big.
The Bills went empty on 23 snaps against the Steelers and netted only 3.2 yards per play, thanks to two sacks and two holding penalties, according to Buffalo News charts.
"I can't say enough about how we collectively got after it," Steelers coach Mike Tomlin said. "Those three edge guys that you've been asking a lot about – Watt and Highsmith and Ingram Þ they delivered today, along with others, obviously Cam Heyward."
Pittsburgh was able to drop seven men into coverage on virtually every play of the game – 78 of 79.
There was only one play in 60 dropbacks by Allen on which the Steelers rushed five or more men, and that might not even have been a blitz call. It was on the third-and-1 flea-flicker in the first quarter that fell incomplete. One of the Steelers linebackers probably just rushed on his own once he saw the toss-back to Allen.
It was the fewest blitzes Allen has seen in his pro career. And it was in contrast to last year's game, when Pittsburgh blitzed on 56% of the drop-backs, the second most in Allen's career.
Obviously, it was a rough day on the offensive line, especially for Dion Dawkins, Jon Feliciano and Daryl Williams.
Dawkins gave up six pressures and was called for holding on three of those plays, according to News charts. Four of those plays were against Ingram, the 32-year-old former three-time Pro Bowler. Dawkins also was beaten cleanly by Highsmith at the point of attack on two run plays. Just like in last year's game against Pittsburgh, Feliciano struggled vs. Heyward, who has made four consecutive Pro Bowls. Feliciano was beaten four times for pressures by Heyward. The first sack by Watt was created because Heyward used his quick feet to get inside Feliciano off the snap and flushed Allen out of the pocket. Williams' day wasn't as rough as Dawkins, but he gave up three pressures to Watt. Williams had to solo block Watt, the NFL's highest paid defensive player, for much of the day.
The Bills opened the game in "double-zero" personnel – no back, no tight ends and five wide receivers. They played that five-wide look on nine plays, with little success. There were two sacks on those nine plays and two other hits on Allen. Allen was just 3 of 7 for 9 yards with five wides on the field, and the nine plays netted negative-4 yards.
Daboll had used five wides on only five plays in the previous three seasons, once last year and on four plays in a game against Detroit in 2018.
It was a bad day for the offense.
That doesn't mean Daboll should ditch the empty formations. Last year, Allen ran out of an empty backfield on 108 plays, or 10.4% of the season, according to News charts. He completed 68.7% of his passes out of empty for 9.5 yards per catch and 5.8 yards per snap (which factors in penalties and sacks).