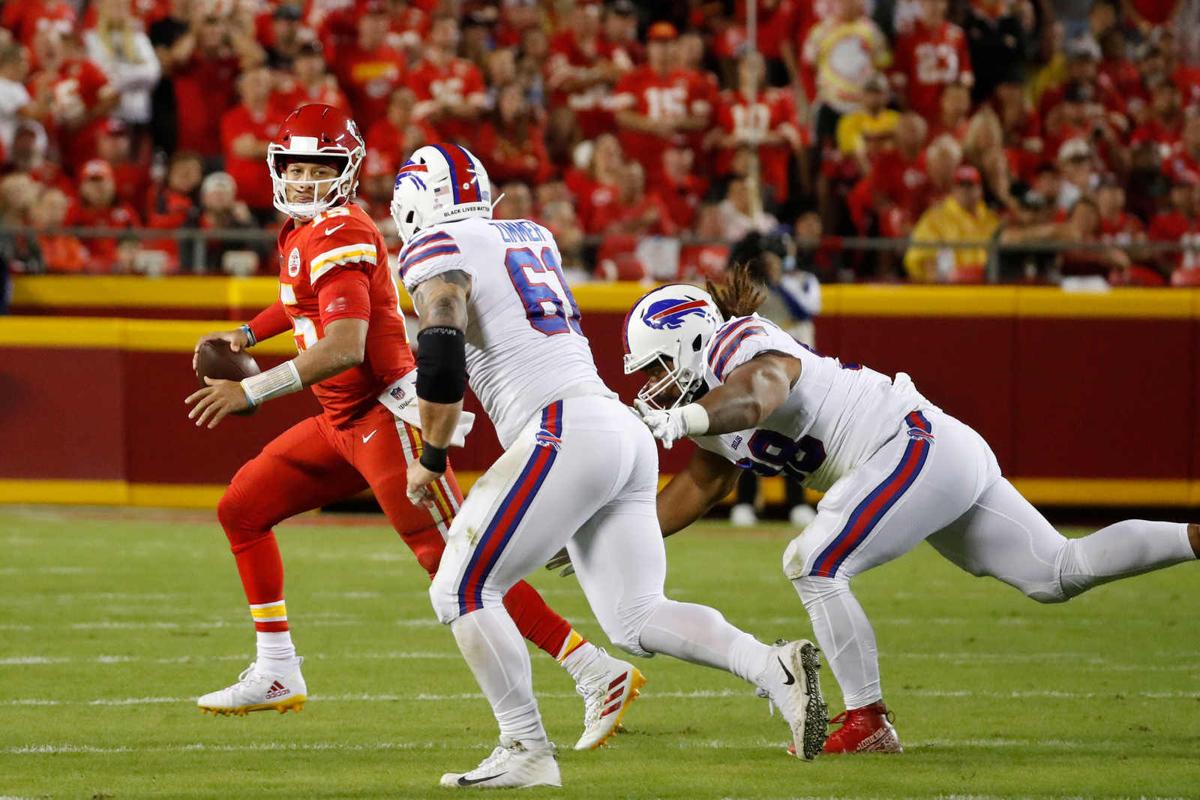 The Buffalo Bills' offseason vision for its front four turned into a reality as good as the team's braintrust could have imagined Sunday night in Kansas City.
The Bills got enough pressure on Chiefs quarterback Patrick Mahomes with a four-man pass rush to hold the Chiefs to 20 points, their second lowest total in the last 32 regular-season games. Mahomes' quarterback rating of 70.6 was his lowest in his last 46 regular-season games, dating to the middle of the 2018 season.
Bills cornerback Taron Johnson played all but one defensive snap against the Chiefs.
The Bills did it without blitzing once, the first game in the Sean McDermott era in which the Bills didn't rush five or more men on any snaps. The Bills didn't even call one "zone dog," with a linebacker or defensive back joining a four-man rush.
Defensive coordinator Leslie Frazier had to laugh Monday when asked what his old Chicago Bears coach, blitz-happy legend Buddy Ryan, would say about the game plan.
"I thought about that when we were putting this plan together," Frazier said, chuckling. "I don't know if I've ever been in a game where we didn't pressure at least once. So this was unusual. But for this opponent it was the right thing to do.
One game at a time has been the Bills' approach – and that's going to continue.
"The more we studied Kansas City and their offense, and watching Mahomes and how he operated versus pressure, man, it just created a lot of problems for defense because of his ability to be able to see things and identify early and make you pay for bringing pressure. I'm not saying that will always be the strategy. But for this game that was the right thing to do."
The previous low for blitzes by a Frazier defense with the Bills was just one in 33 dropbacks – in last year's regular season game vs. Mahomes.
Obviously, superb coverage by the back seven of the defense was just as big a part of the 38-20 victory.
But the Bills' defensive line performance was vastly superior to its showing in the two meetings with Kansas City last season.
Defensive ends Jerry Hughes and Greg Rousseau were the big stars on the D-line.
Rousseau's interception was a big play for the first-round pick, but also just the latest example of what this Bills' defense is capable of doing.
Hughes had six pressures on Mahomes and shared a sack with rookie Carlos Basham. Rousseau had three pressures, including a sack. And he used his 83 1/4-inch wingspan to deflect and then intercept a Mahomes swing pass in the third quarter.
The Bills sat back with two deep safeties virtually the entire game and still were able to stop the run. In the first three quarters, Chiefs running backs combined for just 30 yards on 12 carries, a 2.5-yard average.
What a difference a year makes. In last year's regular-season meeting, Chiefs running backs rushed 32 times for 187 yards, a 5.8-yard average.
Rousseau was superb against the run. He used his long arms to trip up Jerick McKinnon on a 2-yard run early. He set the edge on a 1-yard run-stuff on the second drive. He chased down a run by Darrel Williams for a 1-yard loss on a third-and-2 situation on the third drive.
Defensive tackles Ed Oliver and Star Lotulelei played stout in the middle. Oliver beat guard Joe Thuney at the point of attack on the Williams 1-yard loss. Oliver was in on two other run stuffs, as well.
Any fears about the moment being too big for the Bills were quickly erased. 
"It is fun to watch them play because they are a very unselfish group and they work hard during the week," McDermott said. "Their successes is by no accident."
The defensive linemen balanced the need to get some heat on Mahomes while also trying to keep him from running wild.
It wasn't easy. Mahomes gained 61 yards on eight carries.
On a key fourth-and-5 play from the Bills' 32 in the second quarter, the Bills used a two-man initial rush, with Hughes and Basham crashing the middle of the line. Mario Addison dropped two steps back and waited, making sure Mahomes didn't escape toward the sideline.
Addison got around guard Trey Smith, but held up instead of rushing toward the QB. Mahomes was in the pocket 8 seconds before finally throwing incomplete for tight end Travis Kelce. Jordan Poyer tipped the pass.
"The huddle call was 'Spy' and then the coverage," Frazier said. "That was his role, to keep him in the pocket, and if he tried to break the pocket, then go tackle him. He did a great job being able to mirror him, make him stand there and make a decision. You have to credit our guys on the back end, who had tight coverage. Then Jordan Poyer comes up with a big-time pass breakup."