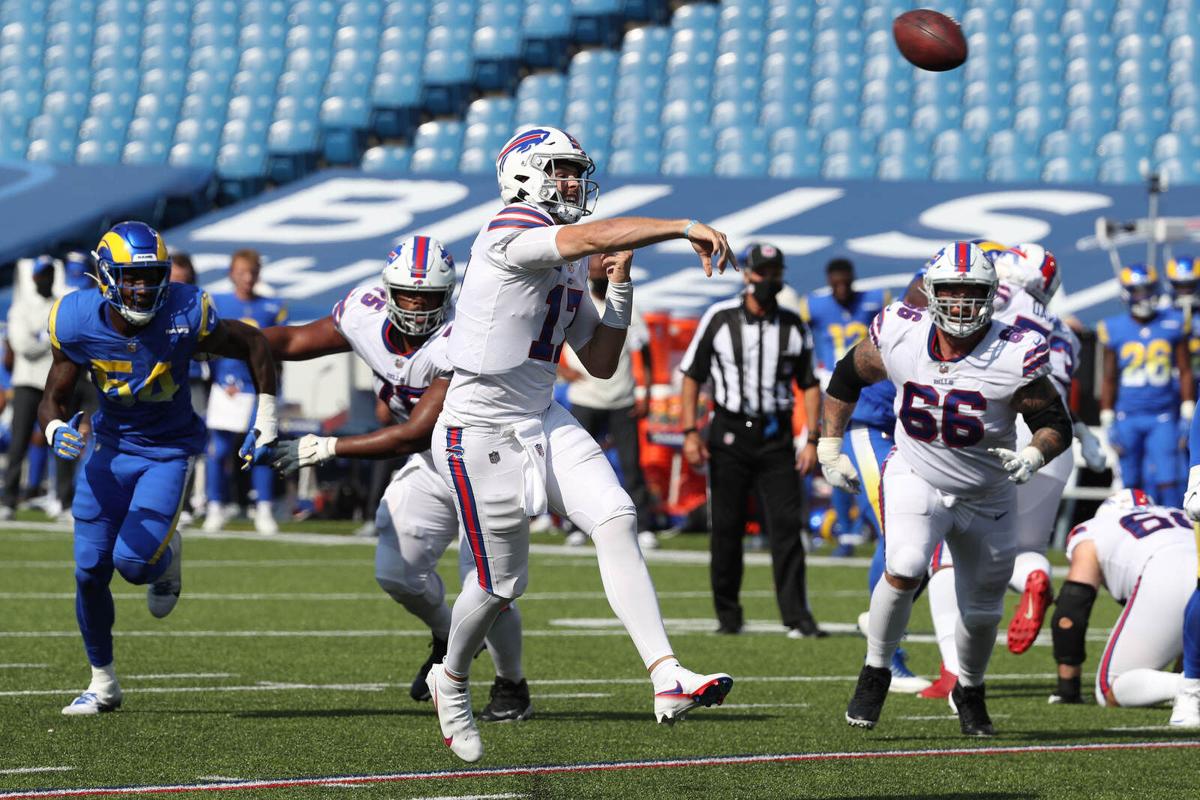 Josh Allen and Cole Beasley have a telepathic mind meld after playing 20 games together.
Their ability to play on the same wavelength saved the Bills in Sunday's victory over the Los Angeles Rams.
Allen's 22-yard pass to Beasley on a third-and-22 play kept alive what surely ranks as one of the more frantic, schizophrenic, game-winning drives in Bills history.
The Bills marched 75 yards in 11 plays, plus one defensive penalty and one offensive penalty. Here's a closer look at the march:
Beasley finds the hole. Both Allen's rifle arm and his mobility made it happen on third and 22 with 3:22 left.
"Me and Josh actually talked about that route Week 1, because there was a time last year when we were playing the Jets the very first game of the season and we ran this play and we weren't on the same page," Beasley said. "He threw it and I wasn't ready. So we talked about it. I was really just getting in the middle and finding a window for him. He knows exactly what I'm going to do, and I knew exactly what he wanted from me. It's just all the talking that we've done off of the field helped us on that play."
The Rams had three defenders – linebacker Micah Kiser, safety John Johnson III and cornerback Troy Hill – in an underneath zone and two safeties deep. Beasley ran from the right slot, with Hill giving him cushion.
Allen escaped the pocket to his right, which caused both Hill and Johnson to take two steps in that direction, toward Stefon Diggs. Oops. If Johnson stays put, Beasley probably is covered. Allen's strong arm made the play look easy.
"Honestly, it just kind of turned into some backyard ball," Allen said. "I just tried to find some time to throw. Me and Cole talked about this route many a time, and they just kind of went outside. Cole found a spot in the middle, made a good catch and took it upfield for a first down."
Another Allen bullet. Three plays later, Beasley was in the left slot and ran a seam route. Again, the Rams were in zone coverage underneath, and Hill was giving Beasley a lot of cushion. Kiser was sitting in the middle of the field and froze for an instant as Allen looked left. Kiser couldn't beat Allen's throw to Beasley.
"It was an option route," Beasley said. "We've worked on that. It was a new add this offseason. We worked on it a lot. I'm glad we finally hit one.
"He knew exactly what I was going to do, he put it right where he needed to," Beasley said of Allen. "When he puts it right on the money, it allows me to get more yards after the catch and makes my job easier. He did a heckuva job knowing what I was doing."
That put the ball on the Rams' 15 with 57 seconds left.
Face mask. The Rams blitzed linebacker Justin Hollins off the Bills' left edge two plays later. He was untouched, and Allen grabbed his facemask as he tried to elude the sack. The 15-yard penalty pushed the ball back to the Rams' 30.
Bullet beats zone again. On third-and-25 with 31 seconds left, Allen hit Stefon Diggs for 17 yards to the Rams' 13. Diggs was lined up in the left slot, with Beasley and Gabriel Davis to his outside. Again, it was underneath zone coverage, with the Rams' safety, Johnson, sitting in the middle of the field, while safety Terrell Burgess was behind Diggs. But Allen's arm was too strong, and the ball beat the safety to the receiver.
"He's a big, strong kid," said Rams coach Sean McVay. "His ability to extend plays is one of his elite traits and keep his eyes down the field. I think the receivers do a good job of working off script and off schedule for him and hats off to him."
Fourth-down penalty. On fourth-and-8 from the Rams' 13 with 25 seconds left, Rams cornerback Darious Williams was flagged for pass interference on Davis, who was trying to run a slant from the left side.
"I was trying to run my route," Davis said. "I felt like he was holding and grabbing me and pulled me. I couldn't get to where I needed to be. So I heard the whole sideline say it was a holding call. Once I saw the flag it made me real happy."
Williams grabbed Davis at the Rams' 9 but kept holding him to the 5-yard line before letting go.
The winning TD. Tight end Tyler Kroft ran a cross from the right side, while Davis ran a cross from the left. Rams' linebacker Hollins grabbed Kroft as he left the line of scrimmage, but Hollins couldn't keep up with Kroft across the field.
"It was the play we ran in the first quarter that went to Stef, the one that got called back," Allen said, referring to a 1-yard scoring pass wiped out by penalties. "You know it's the staple play for us, we practiced it many times this week. It's really just kind of read it out and find the open guy, and Tyler did a great job of separating and he made one hell of a catch."
Here were two of many other throws that showed off Allen's elite arm talent.
Beasley up the sideline. With 55 seconds left in the first half, Allen threw a 29-yard dart to Beasley late in the second quarter to set up the Bills' third touchdown. First, Allen looked to T.J. Yeldon in the right flat. Beasley hesitated as if he were running an out to kill the clock, then blew past Hill, who was looking in the backfield, thinking about the check-down throw. The throw traveled 38 yards in the air, and Johnson couldn't get over in time.
"I think it was quarters on that play," Beasley said of the coverage. "That one surprised the heck out of me. I should have scored on that one, but I'm glad we didn't. We ran a lot of time off the clock after that. But really I should have scored. ... Josh found the hole and put it right on the money. That was a dime. That was one of the best throws I've seen him make. It basically caught itself."