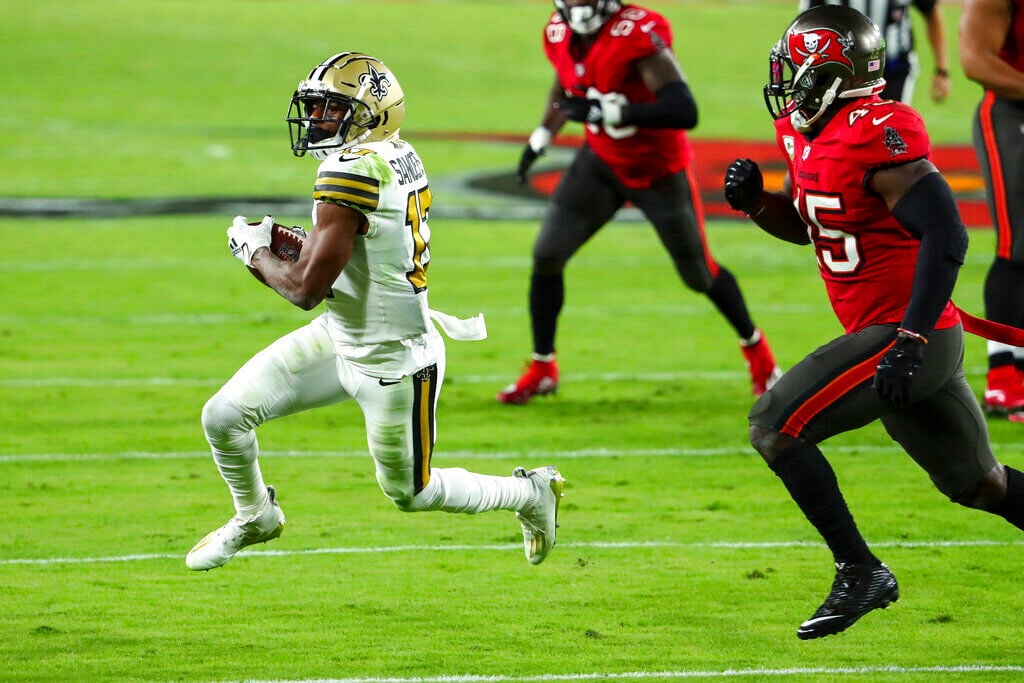 As long as he doesn't hit an "age wall," Emmanuel Sanders should be a slight upgrade on John Brown at wide receiver for the Buffalo Bills.
That's no knock on Brown, who gave the Bills two good seasons, even counting his nagging injuries this season. And it's despite the fact Sanders isn't quite as fast as Brown. Sanders ran a 4.39-second 40-yard dash coming out of college; Brown ran 4.34.
However, Sanders has been consistently more productive than Brown throughout his NFL career. Sanders is just a little bit more explosive in the short areas than Brown, he's a little bit more physical and he's a little better running with the ball in his hands. He's a little more versatile.
In a perfect world with unlimited cap space, you'd love to see Carolina free agent Curtis Samuel, a 24-year-old, 4.31 speedster in a Bills uniform. But for one year and $6 million, Sanders, who officially signed on Wednesday, is a darn good alternative.
Sanders turned 34 on Wednesday. Watch his play for New Orleans last season and you don't see a guy who has trouble separating from cornerbacks. Sanders looks like a receiver with "juice."
The concern for any player well into his 30s is durability and availability. Will injuries put him on the shelf?
Sanders played 16 of 18 games last season for the Saints, and the only two he missed were spent on the Covid-19 list. A torn Achilles injury cost Sanders the last four games of 2018, but he came back in 2019 and played 20 out of 20 games, spending the first half of the season with Denver and the second half with San Francisco.
You worry about soft-tissue injuries with older receivers. Sanders hasn't had trouble with those so far.
Sanders gives the Bills three veteran receivers who create separation early in the down, who create space at the top of their routes and who know how to get open against any defensive coverage.
"There's a savvy about how he plays, and he understands the holes in the seams," Saints coach Sean Payton said last season on Sanders. "Sometimes a two-high look is different than a single-high look or a quarters look. He's someone that understands that, and understands what to do with that in some of these shot plays. And that is very quarterback friendly, that is something he reads and sees well."
Quarterback friendly. There isn't a No. 1 wideout more QB-friendly than Stefon Diggs. There isn't a slot receiver in the NFL more QB-friendly than Cole Beasley. Sanders is QB friendly. Young Gabriel Davis brings the size. That's an awesome top four for Josh Allen.
"He's a weapon, he can do a lot of things," Saints quarterback Drew Brees said last season. "He's a savvy football player, he's played a lot of football. He understands the game, you know, he understands so many things about how to run, how to run certain routes, how to get separation when the ball is coming."
The now-retired Brees was a master at working the middle of the field. Sanders caught a lot of balls last season on in-cuts vs. zones, sitting down against zone coverage on crossing routes and up the seams vs. zones. You see him giving the QB a good target, leaning away from the zone coverage defender. He will be able to find the right spots for Allen against zones.
Against man coverage, Sanders is good in and out of his breaks, just like Brown was the past two years. Sanders also caught a lot of shallow crosses for the Saints. He can do that in Buffalo. He runs pivot routes well. That's a staple of the Bills' offense.
Obviously, there's only one ball to go around, and Diggs is the Bills' No. 1 target. Beasley is a security blanket in the slot.
But there's also reason to think Sanders has upside in Buffalo, because the Bills' passing game is more dynamic than that of the Saints. Buffalo ranked No. 2 in pass yards, the Saints ranked 19th.
Allen stretches the field far better than Brees, and Sanders still can get downfield. Late in the 2019 season with the Niners, he split two deep safeties for a 75-yard TD in New Orleans. Allen ranked seventh in pass attempts that went 20-plus yards downfield last season with 72, according to Pro Football Focus. Brees was 32nd with 26. Brees had no equal at getting the ball out quick; he has a doctorate in the timing and placement of checkdowns.
The Saints also didn't spread the field like the Bills, who were No. 1 in spread formations. The Saints were 24th in 11 personnel percentage (three wideouts). The Saints have a great offense under Sean Payton. But they don't do a ton of play-action passing, don't do much empty backfield sets, don't do a ton of bunch-receiver formations.
Sanders is going to see all of that with Brian Daboll in Buffalo. Sanders has spent most of every season as an outside receiver. But with Denver in 2018, 42 of his 71 catches were from the slot. Last season, he played 426 snaps outside and 225 in the slot. So he provides a backup in the slot if Beasley gets hurt.
Sanders only had one carry last season and only has five rush attempts the past four seasons. But he has the physical tools to fill the Isaiah McKenzie role as a Jet-sweep threat, as he showed on a 12-yard run last season for the Saints.