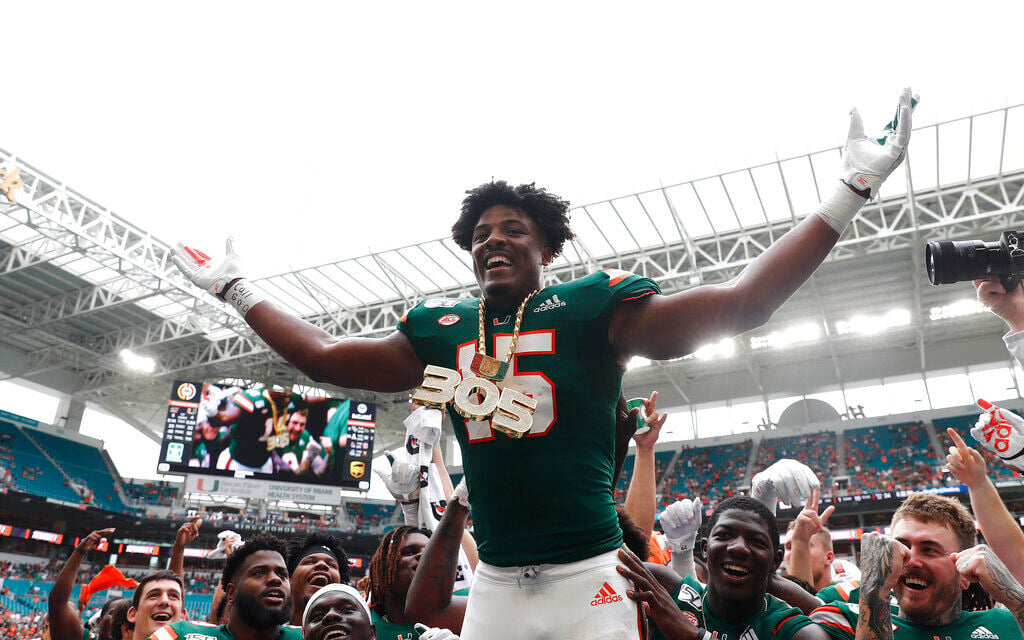 You knew Miami was going to get a big-time playmaker with the No. 6 overall pick in the NFL draft. The Dolphins took Alabama star wide receiver Jaylen Waddle.
Buffalo News sportswriters offer their grades for how the Bills performed in the 2021 NFL draft. 
You knew the New York Jets were going to get their next franchise quarterback with BYU's Zach Wilson at No. 2. I have reservations about him, but he's talented. You figured Bill Belichick was going to find a way to get one of the top five quarterbacks. He stood pat at No. 15, and the Patriots picked the fifth guy, Alabama's Mac Jones.
Here is a sampling of how national draft analysts viewed the Bills' draft.
Yet, if I was Bills defensive coordinator Leslie Frazier, the one enemy pick that would be sticking in my throat today like a stubborn piece of phlegm is Elijah Moore to the Jets at No. 35. Not many saw that coming, with receiver being a lesser of the Jets' many needs.
While I'm not saying Moore is going to turn the Jets into an 8-8 team this season, watch some highlights. Moore is electric. He makes the hair stand up on the back of your neck. He runs a 4.35 time in the 40-yard dash, and he goes 0 to 60 in one step.
"We're aware of that. We've had conversations and we'll get that handled by the deadline Monday," Bills GM Brandon Beane said in his post-draft news conference Saturday night.
If you spent a chunk of the weekend watching the draft, it was the story over and over as the picks scrolled by.
The arms race on offensive speed in the NFL keeps sprinting forward.
Fifteen receivers went in the top 100 picks, and 10 of them run 4.40 or better. Yikes.
As football coaches at all levels have been saying for years, the game is changing. With jet-sweep action, run-pass options and receiver screens, offenses have figured out how to get fast guys in space, and there's nothing defenses can do about it. Except chase.
"Significant improvement through the draft becomes less necessary when you already have one of the top teams in the NFL. You're not pacing through the draft room or holding your breath, hoping a specific prospect falls your way."
Alabama coach Nick Saban waxed philosophically about it in an interview with ESPN in October.
"It used to be that good defense beat good offense," Saban said, days after a 41-21 win over a good Georgia defense. "Good defense doesn't beat good offense anymore."
Saban even tried out his elite wideout, DeVonta Smith, in cornerback during practice in preseason, as a precaution.
"None of these skill guys grow up playing defense, from junior high, high school, whatever," Saban said. "So all of the best athletes end up playing offense. One of the best corners on our team is him. This year in camp, I trained him at corner. He can cover anybody, and he never played defense in his life because he was on the offensive side. You don't think Jaylen Waddle would be a good defensive back?"
Saban, maybe the greatest secondary coach in football history, saw this coming years ago and was ahead of the curve. It's why he hired Lane Kiffin (now the Ole Miss head coach) as offensive coordinator in 2014. Bama's national championship win in January was its 26th straight game with 31 points or more.
Forfeiting the remainder of his college eligibility allowed Rousseau to sign with an agent, and the influx of money as he prepared for the draft allowed his mom  to leave her job as an ICU nurse in Florida at the height of the Covid pandemic.
The college talent and approach has flowed to the NFL.
Fast rookies the Bills will see this season include: Waddle (estimated 4.35), Moore (4.35), Travis Etienne (4.44), Kyle Pitts (4.44), Terrace Marshall (4.43) and Dez Fitzpatrick (4.45).
Every Bills fan on the planet is counting the game against Washington – at home – as a W. Take a look at the weaponry that is going to be at the disposal of gunslinger Ryan Fitzpatrick: Curtis Samuel 4.31, Terry McLaurin 4.35, Antonio Gibson 4.39, rookie Dyami Brown 4.46, tight end Logan Thomas 4.61.
This isn't a defense-is-dead proclamation. Offenses can be shut down.
The Steelers came to Orchard Park in December with a one-dimensional, dink-and-dunk passing attack. The Bills whipped them 26-15.
Bills General Manager Brandon Beane was eager to get his post-draft news conference finished…
The Ravens showed up for the divisional playoff in January with a powerhouse run game but pop-gun pass attack. The Bills' defense was brilliant, winning 17-3. (The Ravens drafted a 4.39 receiver Thursday in Rashod Bateman.)
Go up against a good, balanced offense, however, and you better not be playing for a Dick Jauron-style, 17-16 result.
The Bills' 27-24 playoff win over a quality Colts team was a great example.
Indianapolis rolled up 472 yards and 27 first downs. Everything under the sun went wrong for the Bills from a field-position standpoint. Josh Allen played like Superman. The Bills' defense got three red-zone stops with key plays on two third-and-7s and a fourth-and-4 situation.
As an aside, some will point out that Tampa shut down the mighty Chiefs in the Super Bowl. All credit to Tampa, which has a great defense – better than the Bills' defense. But the Bucs' job was made easier by the fact the Chiefs were playing with two backup tackles. Tampa is not holding the Chiefs to nine points if the Chiefs had their two starters.
Anyway, it's all about third downs and red zone. Those are the defensive metrics that matter more than ever, not yards and first downs.
How do you get those stops? The best way is pass rush.
"It's really won and lost up front," Bills general manager Brandon Beane said. "You can have all the dynamic receivers and playmakers you want, if the quarterback can't stay on his spot or can't get out of trouble, or he's having to flush to the right. The left side receivers are out of place, so anything that you can do to affect that guy. We're going to play some really good quarterbacks this year. And every year, it seems like another five in the first round.
"The way the game is changing with all the 7 on 7's, and it just seems like there's so many quarterbacks that are being made ready coming in. It's not a three-to-four-year window, now these guys are coming in playing as rookies and second-year players. So, the best way to stop them is to put them on their back."
The Bills needed to fortify their pass rush, and they did it with top two picks Greg Rousseau and Carlos Basham. They join young A.J. Epenesa. At the least, the Bills need two of those three to be very, very good for the long term.
Frazier has four months to get ready for the speed assault. He's going to need it.