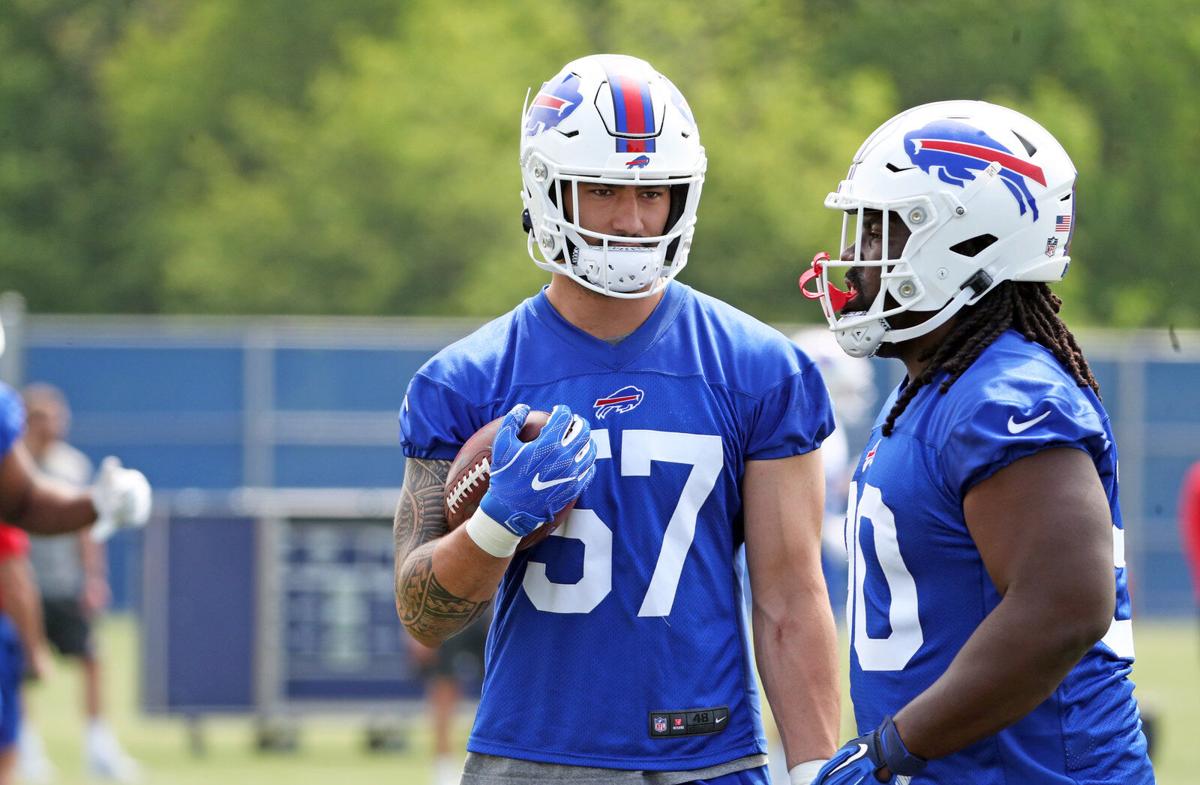 By the end of last season, the Buffalo Bills' main football decision-makers felt better about A.J. Epenesa's performance than they did through the first half of the year.
How much better is debatable.
In 2020, the Bills invested a second-round draft pick in the defensive end. Last month, they used first- and second-round choices on two players at his position.
Though the additions of Greg Rousseau and Carlos Basham don't necessarily mean the Bills are less enthused about Epenesa than when they drafted him, they do shine a brighter light on Epenesa's efforts to rebound from what can be best described as an up-and-down rookie year.
Coach Sean McDermott and General Manager Brandon Beane say they were encouraged by the progress Epenesa showed after a slow start.
"Very pleased with how he played the second half of the year," Beane told reporters in January shortly after the Bills' loss against the Kansas City Chiefs in the AFC championship game.
"He's in great shape right now," McDermott told reporters Tuesday before a practice during organized team activities. "He looks as good as I've seen him look and credit to him for being here; he's been here most of the offseason."
The coach and GM also recognized that at least part of what contributed to Epenesa's lack of effectiveness, especially as a pass rusher, in the first half of last season dealt with Epenesa's weight.
When he joined the Bills, he carried about 275-280 pounds on his 6-foot-6 frame. That was ideal for his role at the University of Iowa, but not so much for what the Bills wanted him to do in their defense.
"When I was at Iowa, we played a completely different kind of defense than we do here with the Bills," Epenesa told The Buffalo News after a recent practice. "We played a lot of heavy techniques, a lot of two-gap techniques. I would be basically almost in a head-up alignment against a 320-pound offensive lineman, whereas compared to now I'm working the edges and I'm working speed rushes and things like that.
"So, the game's overall different."
A major factor in reconfiguring the way he played in college involved reconfiguring his body. That meant needing to lose a whole lot of weight.
"It was just a huge transition, coming down from such a heavy weight, to changing my whole style of game," Epenesa said. "I mean, cutting the weight was as simple as basically just not eating as much and eating healthier."
Weight loss goes too well
While at home in the offseason with his parents in Iowa, he began consuming plenty of rice, chicken and fish. He also made frequent visits to "local smoothie places" for healthy drinks and sandwiches.
"Just the stereotypical healthy things to try to drop some of the weight and body fat percentage," Epenesa said. "During my time at Iowa, I think it was at least 23 at some point, 24. By the end of the season last year, I think I was measured at like 16 or 15.
"In my workouts, I wasn't doing so many heavy lifts. I wasn't necessarily max-out squatting every day, like at Iowa and those programs where they try to build you up. I was still maintaining and getting stronger, but it wasn't trying to bulk at that point.
"That process went well."
As it turned out, it went a little too well.
Epenesa got down to 245 pounds, which he soon discovered had sapped him of much of the power that had made him a highly rated NFL prospect. At Iowa, he had become one of college football's foremost power rushers. In three seasons with the Hawkeyes, Epenesa had 26.5 sacks, including 11.5 in 2019.
His attempt to strike a good balance between power and quickness as a pro had backfired.
"I think he came in and started a little slow, and we were a little worried how he was going to hold up against the run early on," Beane said.
Initially, Epenesa took his weight-loss process into his own hands. Eventually, he got advice from Bills and Sabres nutritionist Christine Dziedzic. He said her feedback was consistent with what he already was doing.
"She was encouraging, saying that I was on the right path," Epenesa said. "Then, it got to the point where I said I had lost too much. And then I met with our nutritionist again. The process of starting to gain weight back and kind of getting back to just eating anything, just getting more calories in my body, was kind of a challenge.
"It was just bigger meals at times. Before, I would still eat all my meals in the day, but just not as much food. Now it was basically more food at each meal, get a couple snacks here and there, just kind of keep eating throughout the day so I was never just hungry."
Doing the yo-yo thing with his weight wasn't the only obstacle for Epenesa.
'Couldn't live normal life'
The Covid-19 pandemic eliminated in-person offseason work for all NFL teams, put limitations on training camp practices and wiped out the preseason schedule. That proved particularly difficult for a rookie whose body and game were undergoing a makeover.
"Last year was a huge challenge with just the Covid aspect," Epenesa said. "And then, obviously, with all the different protocols it took just to get inside the building, and all the limitations they put on hanging out with teammates, seeing family. There were so many restrictions to where you couldn't really live your normal life.
"It got to the point to where it was really just go to work and then go home in my apartment, and then we were not allowed to see any of our teammates. I'd play some video games, talk to my parents and talk to people on the phone, because that was really what we were limited to do at the time.
"Family's a big thing to me, so being able to see my family was something I wanted to do really bad, but Covid restricted all of that. They were able to travel to some away games in other states that allowed them to come and participate. But they didn't get to come to too many like they did in college."
It wasn't until late December, just before the regular-season finale against the Miami Dolphins, when Epenesa began to notice a positive impact from the weight gain. It was around that time that he also noticed improvement in his play.
Epenesa played in 14 games as a rookie, with one start, in the Jan. 3 victory against the Dolphins. He finished the regular season with 14 tackles (three for loss) and a sack that came against the Los Angeles Rams in the third game of the season. He also had a pass defense.
"I think the first half of the season wasn't really up to my own expectations," Epenesa said. "But being able to get more repetitions and more practice in, all the things that I kind of was unable to get in the preseason, once I was able to get some of those things under my belt, I was able to kind of get a feel for the speed of the game and for the tempo and the strength. It was a big adjustment, but I was able to make it. And then the second half season went through pretty smoothly.
"Everyone's a hell of a player, everyone's a good football player. And there's no week where you ever think that you've got someone less in front of you. You've always got a great competitor, a great athlete in front of you. So you've got to show up every week to compete.
"And every day at practice, you're competing against some of the best linemen in the NFL, so every day is just a challenge. You've just got to keep showing up to the challenge and keep attacking every single day. That was kind of my mindset throughout that season and that's what kind of helped me progress through the season to finish strong like I did."
Thanks to spending a good portion of the offseason at the Bills facility and having better-defined physical goals in his diet and conditioning, Epenesa is in top shape. He reported for OTAs at 252 pounds.
"The goal this offseason was (gaining) weight, explosiveness and speed for me," he said. "I wanted to gain the weight back, but I wanted to keep my speed and I wanted to keep my explosiveness."
"He's in a great spot now," McDermott said. "He's in shape and he's on track to have himself ready to go for training camp. What I've seen to this point is very encouraging."
When the Bills drafted Rousseau and Basham, Epenesa's thoughts promptly went to the fact that there would be considerable competition for playing time and even a spot on the roster.
"Competition breeds excellence, in my opinion," Epenesa said. "That's the way of the business. These guys are great guys and they've been working hard. They've done some great things out on the field. Competition just pushes people to get better and that's what it's all about.
"So, we have more people to compete with and I'm just looking forward to how far they can push me to get better at the game."