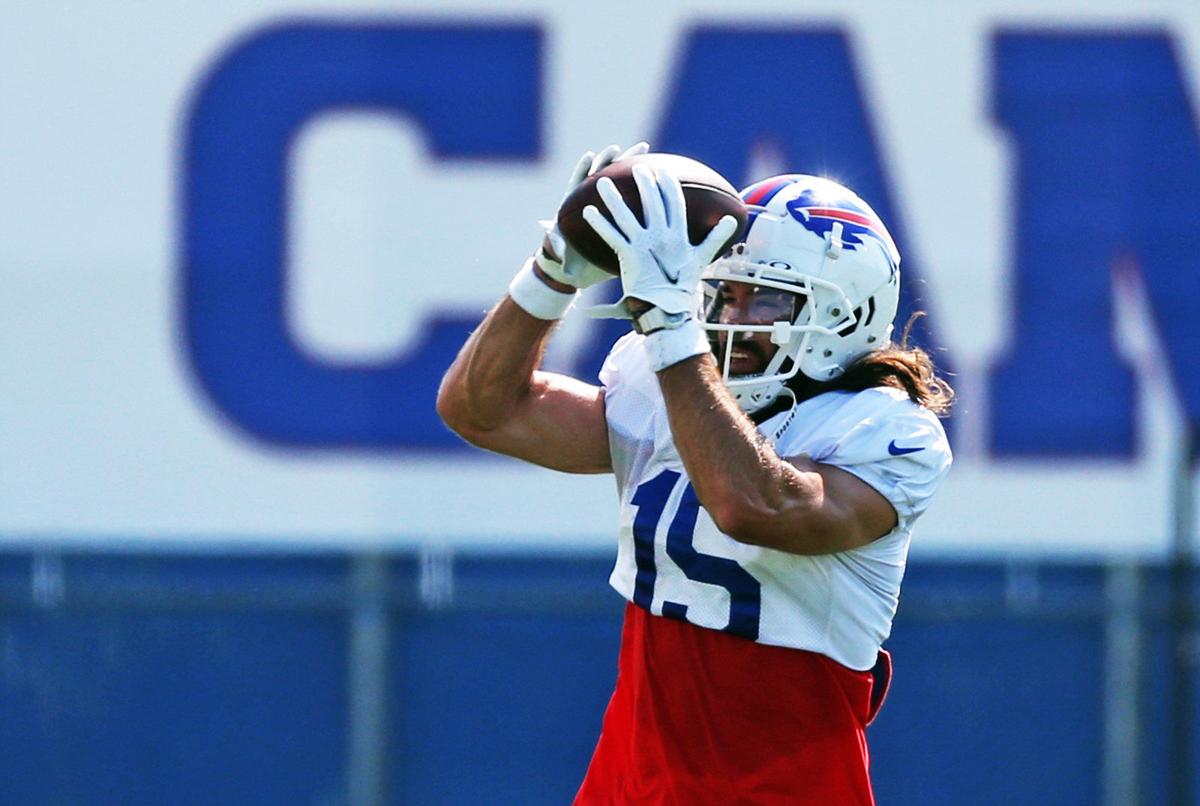 In a press conference last week, Packers quarterback Aaron Rodgers delved extensively into the saga that has been his offseason with Green Bay. He said around 4,000 words in response to more than 20 questions, but four words reverberated deeply in Buffalo: "second-best wide receiver."
Rodgers called journeyman Jake Kumerow the Packers' "second-best wide receiver in training camp last year." The high praise from Rodgers came at an interesting time for Kumerow, who is making a case for himself during training camp with the Bills. He heard about the quote more from friends inside and outside the locker room, staying off social media himself. But the compliment wasn't lost on him.
The Bills were 20th in rushing last season, and now have to navigate what their 2021 run game will look like.
"It means a lot. He's one of the best, if not the best of all time, doing his thing," Kumerow said. "So it means a lot to hear that from the guy, but I'm glad to be here in Buffalo, and glad to be playing with (Bills quarterback) Josh (Allen), because that kid's elite."
Kumerow's role in a major storyline this season is passive. He's fine with that.
"It's cool, I guess. Good spot to be. I don't have to say anything, I just come out here and do my work," Kumerow said.
Here are top observations from Day 6 of training camp at the fields next to ADPRO Sports Training Center.
So he focuses on that, as he's used to doing. The Bills have already solidified most of their receiving corps, and Kumerow wants to carve out his spot. He entered the league as an undrafted rookie free agent with the Bengals in 2015. He's spent a lot of time on different practice squads, but between Green Bay and Buffalo last year, has played 25 games in his career.
Kumerow was waived by the Bills on Christmas Eve, just five days after his 22-yard touchdown against Denver, his lone target of the season. He knows how harsh the business side of the NFL can be, and doesn't seem to harbor any ill will. He even looks at it now as full circle. He was claimed off waivers by the Saints on Christmas, and eventually signed a reserve/futures contract back with Buffalo in late January of 2021. He's fine with all that, too.
"I just have to look at it in a positive manner," he said. "As long as you're in the league somewhere, it's never a negative situation. As long as I'm out here playing, doing my thing, I'm happy."
That approach stands out to his teammates and coaches. Head coach Sean McDermott values players who he believes connect the locker room. When Kumerow was gone, he felt it. So bringing him back for training camp was meaningful.
"His road has been rocky to this point. I can tell you this, though: When he left towards the end of the year last season, he was missed," McDermott said Tuesday. "Just in the locker room, the vibe of the team, and so to have the chance to get him back here was a big opportunity for us."
"You will never get over it. You just have to learn to live with it and that's what I'm doing now," he said. "I'm in a better mental state right now," Addison said.
He's making the most of it right now. McDermott said the 29-year-old is off to "a great start," and teammates on defense have noted his speed. Cornerback Dane Jackson said it's significant for a 6-4 receiver. But speed and stats aside, the Bills see some easy reasons to root for Kumerow. They're traits that he recognizes in others.
"If you're one of those guys out on the field that's working really hard, and you're not taking too many plays off, you're doing your thing, guys tend to catch on to that. You like to root for a guy that's working hard," Kumerow said.
"When I see a guy that's busting his butt every day, and then I see him make a play, I see him in the locker room – it's easier to go say what's up to him, give him a high five, and be boys with him, because he's working hard, just like you are."