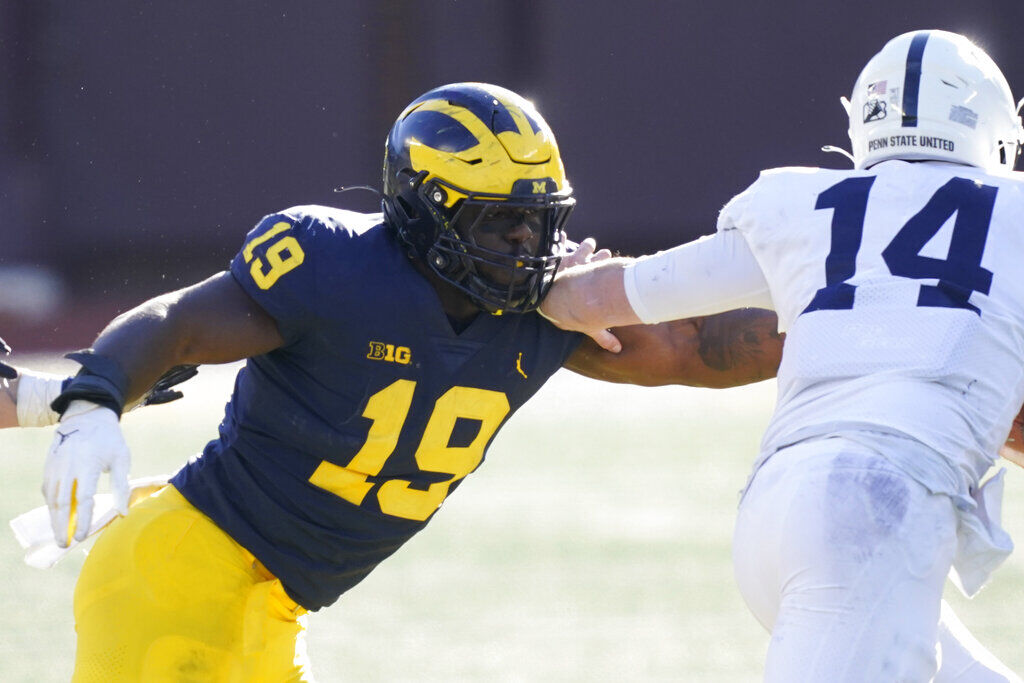 This is the seventh in a series previewing each position in the April 29-May 1 NFL draft. Today's installment looks at edge rushers.
The Buffalo Bills went through free agency without taking any major steps to address their most crying need: Edge rusher.
They did pick up defensive end Efa Obada, but he was a lower-tier signing.
Logic would suggest that if the Bills have any intention of filling the edge-rusher hole this year, they'll do so in the draft.
Picking 30th, they might have a tough time finding a player with a genuine first-round grade. They could always trade up, which would be consistent with the history and reputation of General Manager Brandon Beane. It's also possible a legit first-round edge rusher, or two, could fall to the Bills as teams with other pressing needs make their selections.
Either way, it's hard to see the Bills coming away from this draft without a player to enhance a pass rush that could use a significant boost. 
NFL talent observers generally believe the position group lacks a dominant player, but that it has multiple players worthy of strong consideration between the middle and bottom of the first round. Kwity Paye of Michigan is a name many Bills fans hope will end up in a Buffalo uniform. The same could be said for a pair of former Miami standouts, Jaelan Phillips and Gregory Rousseau, and Jayson Oweh from Penn State.
Overall position ranking: 6 out of 10.
Bills view: The Bills could go in multiple directions at No. 30.
Running back is one. That wouldn't be the worst idea, given the seasonlong struggles of the running game in 2020.
Cornerback is another. The Bills need a quality answer opposite Tre'Davious White. They also could use help at tight end.
But the one spot that would figure to resonate the most is edge rusher. When you look at the sizable gap between the Bills and the Kansas City Chiefs, the team they must beat to get to the Super Bowl, the most glaring missing ingredient is the ability to put consistent pressure on Patrick Mahomes.
The fact is, the Bills didn't consistently apply enough heat to most opposing quarterbacks. Jerry Hughes is 32 and in the final year of his contract, and when opponents focus on neutralizing him, no one else stepped up in a meaningful way to provide the kind of pressure that would do wonders to put them over the top. The Bills are hopeful that 2020 second-round pick A.J. Epenesa can provide an additional boost. 
Bills need ranking: 8 out of 10.
The best: Kwity Paye, Michigan. He's among the draft's more versatile players at the position. Paye can play the run well, as well as get after the quarterback. He usually gets good leverage and makes the most of his strength and athleticism. He's also highly disciplined, careful to avoid over-pursuit and vacating his gap.
That's the exact type of player coach Sean McDermott and defensive coordinator Leslie Frazier would want in their defensive front. Provided, of course, that he's productive, and Paye checks that box.
After becoming a full-time starter in 2019, he had 50 tackles, 6.5 sacks, 12.5 tackles for loss and 37 pressures. The analytics website Pro Football Focus gave him an overall defensive grade that year of 80.9.
Thanks to a pandemic-shortened schedule and an injury that caused him to miss two games, Paye played in only four games in 2020. He was impressive nonetheless, with 16 tackles, a pair of sacks and 22 pressures. PFF gave him a pass-rush grade of 87.1 and an overall defensive grade of 86.3.
Names to know: Jaelan Phillips and Gregory Rousseau of Miami, and Jayson Oweh of Penn State.
Though a series of injuries, including concussions, forced him into temporary retirement from football while at UCLA after the 2018 season, Phillips transferred to Miami and came back to establish himself as an explosive force off the edge. Some talent evaluators will question his injury history and lack of ideal size, but his talent is impossible to ignore.
Rousseau opted out of the 2020 season because of the pandemic, opening a starting spot for Phillips. He only has one season of college football, but he has displayed enough difference-making skill to warrant a fair amount of attention.
"I don't have a lot film, but I feel like I showed a lot in the time that I did play, my redshirt freshman year," Rousseau told reporters. "I feel like I proved a lot. I also feel like I'm a very versatile athlete and I fit into a lot of schemes and I'm just going to be somebody who's hardworking from Day One.
"I'm ready to get to the next level."
Oweh doesn't have much in the way of bulk, but he's an exceptional athlete with superb techniques. He ran a blazing 4.36 seconds at Penn State's pro day at 6-5 and 257 pounds and reached 39.5 inches in the vertical jump. 
"If you really understand what is going and you watch film, you don't just look at the box score, you understand that that's not even who I am," Oweh told reporters at his pro day. "If you go off Indiana, that game, I would have had five sacks that game if I wasn't just a split-second off. ... My best years in football are ahead of me."
From catching passes to catching QBs: Joseph Ossai was born in Lagos, Nigeria, and arrived in Houston at age 10 with seven other family members. Soccer was his original sport, and he switched to football in seventh grade.
Ossai's first position was wide receiver. He also played high school basketball. Before he would finish his scholastic career, Ossai would be ranked as the 12th-best weakside defensive end in Texas.
Multisport star: Kwity Paye was a refugee from Guinea and migrated to the United States soon after he was born. After settling in Rhode Island, he established himself as a tremendously versatile athlete.
He was outstanding in track and field, winning state championships as part of the 4x100 relay team and in the long jump. Paye played running back in high school, rushing for 651 yards and 13 touchdowns as a senior. He also played linebacker.
Player School Height Weight.
1. Kwity Paye Michigan 6-2 261
2. *Jaelan Phillips Miami 6-5 260
3. *Gregory Rousseau Miami 6-6 266
4. *Jayson Oweh Penn State 6-4 257
5. *Joe Tryon Washington 6-4 262
6. Quincy Roche Miami 6-3 243
7. *Joseph Ossai Texas 6-3 256
8. *Azeez Ojulari Georgia 6-2 249
9. Carlos Basham Wake Forest 6-3 274
10. *Ronnie Perkins Oklahoma 6-2 253