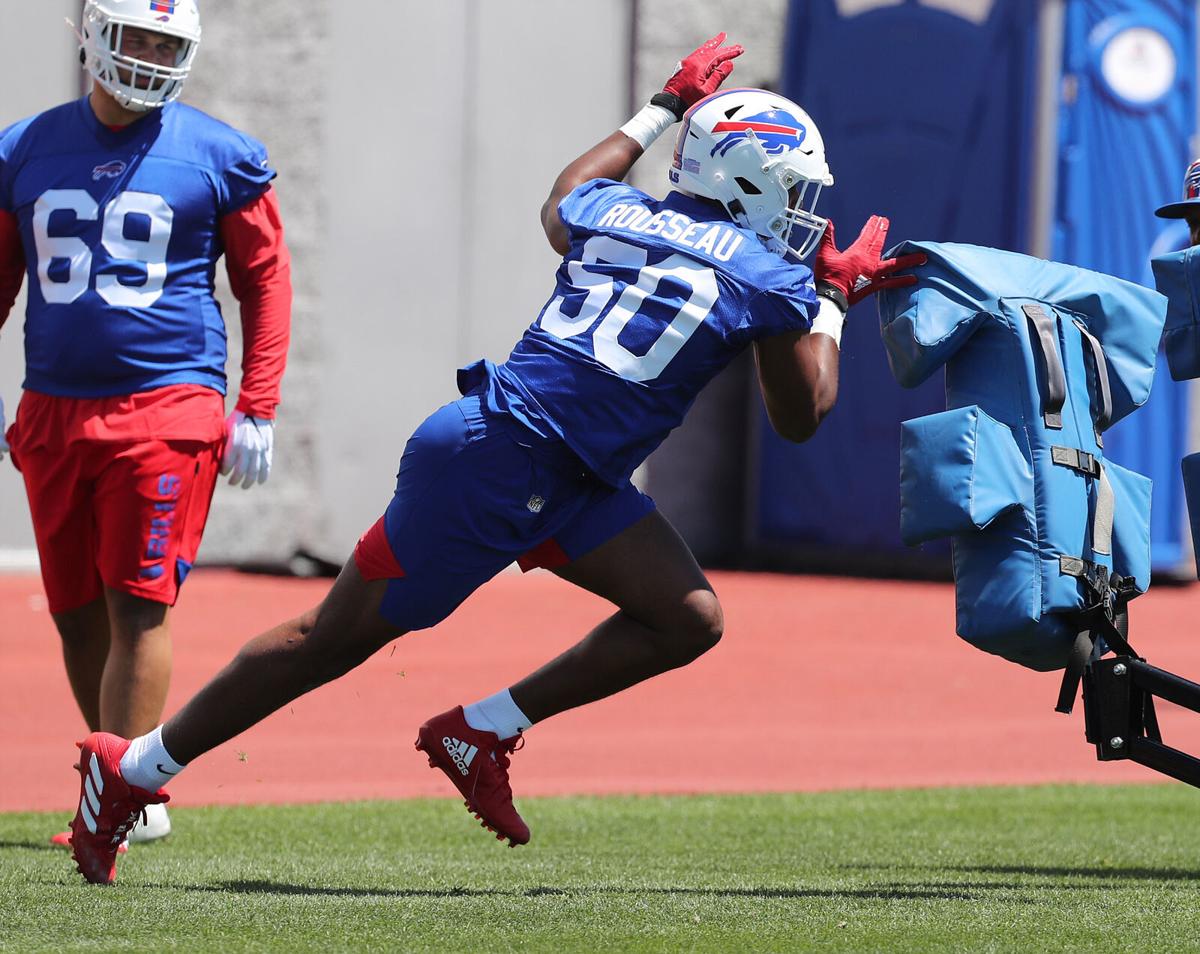 The Buffalo Bills have a lot of work to do in the next seven weeks to get the defensive line ready for the season opener against the Pittsburgh Steelers.
Head coach Sean McDermott and defensive coordinator Leslie Frazier have stressed for years that winning the line of scrimmage with the front four is key to their defensive system.
"You're always trying to tweak things and make it a little bit better, but at the end of the day you better make sure that what you say you are, you're good at that," Frazier said during the June minicamp. "So we have some principles that we hang our hat on. Yeah, you can tweak things here and there, but you don't want to get away from what's helped you to be successful."
The Bills have been the best defense in the NFL over the past four years at limiting explosive pass plays. They play more nickel personnel than any defense in the league. They play more zone coverage than man coverage. While their blitz rates have gone up and they can't be called conservative, they still rely on their four-man rush a lot. The Bills ranked eighth in four-man rushes in 2019 and 12th in 2020, according to Football Outsiders.
"I want us to be better in getting hits on the quarterback, coming up and giving Coach Frazier the option of calling front and coverage and being able to count on our four-man rush getting the job done for us," said defensive line coach Eric Washington.
This is why there's a lot of work to be done: The Bills' sack total dropped from 44 to 38 last season, and the team was 14th in sacks per pass attempt. Not bad. But not good enough, especially considering the Bills held a double-digit lead in 14 of their 19 games, counting playoffs.
The Bills had just 13.5 sacks from their edge rushers or 35.5% of their sack total, last in the NFL. The Bills had 18 sacks on four-man rushes in 2020, according to Buffalo News charts. That was a decrease from 25 in 2019.
The statistics simply support what fans saw with their eyes. In the AFC championship game, Kansas City's Patrick Mahomes could have played in a tuxedo.
Here's a look at this summer's to-do list for the defensive line in its quest to improve in 2021:
1. Get the rookies up to speed.
How quickly can first-round pick Greg Rousseau and second-round pick Carlos Basham help? Obviously, they weren't drafted that high (30th and 61st overall. respectively) to sit on the bench. Look for both to get plenty of work in training camp and in preseason.
Rousseau's last game was as a redshirt freshman for the University of Miami 19 months ago. Nevertheless, defensive line coach Eric Washington said he thinks Rousseau can make an impact.
"I think he's got an exciting skill set," Washington said. "His attitude and intelligence – he's got a lot of things to work with as far as growing into a consistent formidable one-on-one edge rusher. I won't try to predict the future. I'm just excited about working with him.
"I anticipate him being productive for us this year. But like every young player, every rookie, he has a long way to go. We all have a long way to go. For Greg, it's about building a skill set, developing the right habits and learning how to win at this level when the opponent is equal to you in terms of his physical prowess."
"The thing with guys who are tall – and Greg will find this out – is playing with the appropriate pad leverage when you are in that 6-foot-6, 6-7 range," Washington said. "At that size, it's a tremendous asset, but the low man wins in pro football, especially on the line of scrimmage. So getting those guys to attack but doing it with the appropriate pad level is going to be something that's really important."
Basham, meanwhile, played 45 games in his college career. He should be farther along than Rousseau.
"Carlos is a versatile player," Washington said. "He has already a polished one-on-one skill set in terms of rushing the quarterback. We are doing some things to give us the ability to utilize him in different situations. Dave Cohen, the defensive line coach at Wake Forest, I know him over the years. Dave and Carlos did a tremendous job working together at Wake Forest. You can see the influence. You can see Carlos pays attention to the details. He's a quick study. When you give Carlos some feedback, you can see him applying that in real time almost on the next play."
2. Get a leap forward from A.J. Epenesa in Year 2.
The second-round pick from 2020 played 41% of the defensive snaps over the last nine games. He has had a year in the Bills' strength program to improve his body. Can he show more pass rush?
"I have so much respect for A.J. Epenesa," Washington said. "Talk about coming into the NFL, coming into pro football under the circumstances he did. He came in without the benefit of an offseason, without some of the traditional things that give a rookie a chance to be ready to go in the early part of the season. He kept fighting. We saw the consequence, if you will, of the lack of an offseason early. Then A.J., to his credit, with every day and every week we saw him getting better and better and more confident in what he was doing. By the third game, he had his first NFL sack. He kept going from there. He's really looked good in the offseason. He's quick. He's mature. You can see the results of him investing time and developing himself. Our strength and conditioning staff have done a good job with him. He's looked really good in camp thus far."
3. Get more out of the aging veterans on the edge.
Jerry Hughes turns 34 in August. Mario Addison turns 34 just before the season opener. Hughes played 59% of the snaps last year, Addison 57%. Ideally, the development of the young edge rushers will allow the Bills to keep Hughes and Addison fresher. Will the young trio come on so quickly that it threatens Addison's position on the roster?
Hughes remains the best pure speed rusher on the team. He ranked 16th among edge rushers in pressures last year, according to Pro Football Focus. He did it mostly from the left side, as opposed to previous seasons when he rushed primarily from the right. That's because Addison is much more comfortable rushing from the right.
"From an unselfish standpoint, Jerry was the guy who said, 'Listen, I will go to the left side,' because he wanted Mario to be in a position he thought Mario was most comfortable," Washington said. "That tells you who Jerry Hughes is. We didn't ask Jerry to go over there. He volunteered to go over there. Maybe there was a little bit he had to tighten up in terms of coordinating some of his rush, and he worked at it and did it and made some big plays for us in critical moments."
4. Get more finishing out of Ed Oliver.
The first-round pick from 2019 was 20th among defensive tackles in pressures and finished with only three sacks. This is the first full offseason Oliver has been able to spend in Western New York. Washington thinks that will help.
"Get the QB down, I'm thinking of a play or two vs. Patrick Mahomes in Kansas City," Washington said, referring to a near-sack by Oliver in the AFC title game. "What Year 3 will bring for Ed, especially when you are a gap-aligned defender and we're trying to win one on one, there's a lot of detail and precision that goes with that. Steps have to be precise. If Ed is in position and he's not getting the guy down, we have to improve some action in that chain of events that will allow us to finish that play. We've been looking at all of those scenarios. We've identified some specific things Ed has been really tuned into. I believe very strongly that we're going to see improved production from Ed in certain areas this year."
5. Improve at the 1-technique position.
In theory, this should be a done deal. Star Lotulelei returns after opting out of the 2020 season. The Bills had to improvise last year at the defensive tackle position that lines up opposite a shoulder of the center. Undersized Quinton Jefferson, Vernon Butler, Harrison Phillips and Oliver saw action there.
"I'm excited about reuniting with Star," said Washington, who worked with Lotulelei with the Carolina Panthers. "I had the good fortune of working with him for five years and watching him come into pro football and ascend to someone who's very dependable and someone who's going to be a strong factor in the overall success of our defense. Star is a big strong guy. He understands blocking combinations. He knows how to rush protections. Star will be on the field in a variety of situations and help us with his knowledge with his ability to communicate to the front and just what he will do in terms of collapsing the pocket and winning one on one. I'm real fired up about us getting back together and what's that going to mean in 2021 for the Bills."
6. Figure out who is the backup to Lotulelei?
The best solution for the Bills is for Phillips, the third-round pick entering his fourth season, to raise his level of play and become an asset behind Lotulelei. Phillips had a tough task last year, coming back from major knee surgery. He looked a little better late in the season. Phillips played 31% of the snaps. He will be challenged by Justin Zimmer, who played 26% of the snaps. Zimmer isn't quite as big as Phillips or darkhorse defensive tackle Eli Ankou, who signed with the Bills in the offseason after playing seven games with the Dallas Cowboys last year. 
The perception is Butler is better at the 3-technique spot, backing up Oliver. But Washington wasn't interested in pigeon-holing his backup candidates.
"I don't know what Star being back necessarily will mean for Vernon," Washington said. "We'll let that play out and see where the best roles are for all of the different guys. Once we get everyone together and see how the group comes together, then roles will get defined. Vernon is a versatile player. He can play the 1, the 3. He's quick, he's got 35-inch arms and he does a lot of things whether he's at the 1 or the 3. We'll just see what happens."