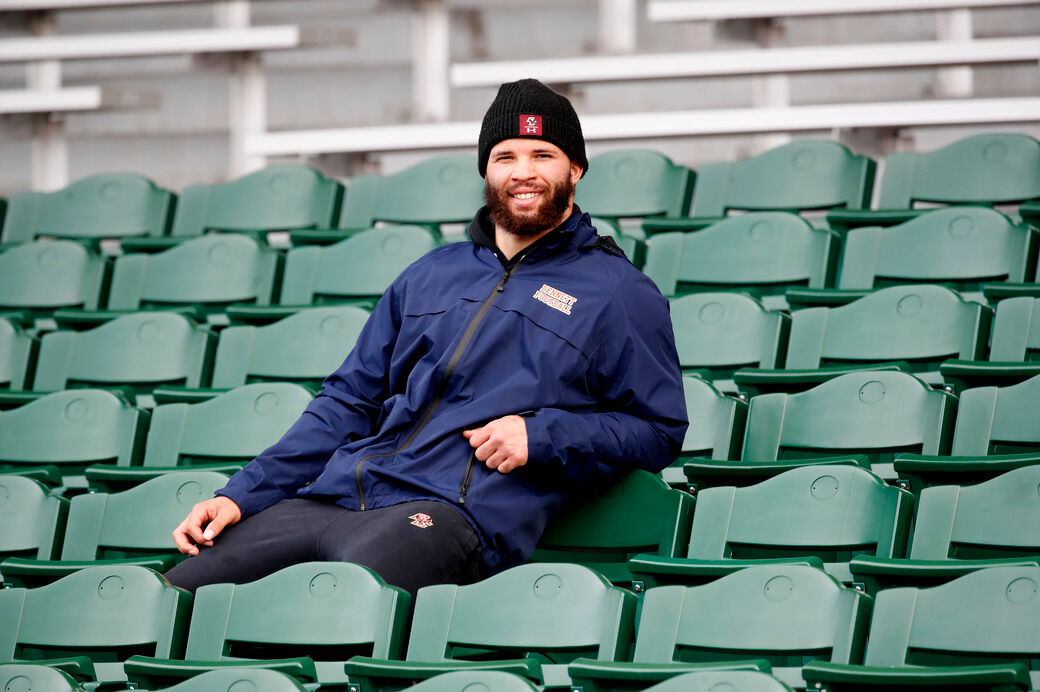 The Buffalo Bills enter Day 3 of the 2021 NFL draft on Saturday with four picks.
The Bills have no fourth round pick. They have two fifth-rounders (Nos. 161 and 174), one sixth-rounder (No. 213) and one seventh-rounder (No. 236).
In 31 games the past three seasons at Wake Forest, Basham made 33.5 tackles for loss, 19.5 sacks, seven forced fumbles, and a defensive touchdown.
Three players have been added so far: defensive ends Greg Rousseau and Carlos Basham and offensive tackle Spencer Brown.
The Bills still have numerous need areas they could address.
"Without giving away too much, the premium positions are getting thin – tackle being one of them, corners, there's been several runs on those," Bills GM Brandon Beane said late Friday night. "I still think there's a decent amount of receivers and there's still some ends as well, not that we're trying to add another one, necessarily. I do think there's still some depth hanging around. I wish I had a fourth round pick but I don't, so we'll have to be patient. We do have the two fives, so hopefully there's some guys that we're still really excited about once the fourth round is done."
Here are some names to keep in mind as the Bills complete their selection process.
Cornerback: The Bills passed in the third round on Syracuse's Ifeatu Melifonwu, who went at No. 101 to Detroit. They're not likely to find a prospect who is going to present a strong challenge for a starting spot in the fifth round or later. Among the best available who have long enough arms to meet the Bills' preferences are Central Arkansas' Robert Rochell, Ohio State's Shaun Wade and Georgia's D.J. Daniel. None may make it out of the fourth round. Ditto for a quality slot prospect, Michigan State's Shakur Brown. Among the late-round prospects are 6-4 Isreal Mukuamu of South Carolina, slot prospect Camryn Bynum of Cal, Brian Mills of UNC-Central and Boise State corner/kick returner Avery Williams.
The 6-foot-3, 274-pound redshirt senior is known for his burly build, powerful hands and counter spins, as well as his hard hitting and relentless pursuit of the quarterback.
Defensive tackles: The best options for 1-technique defensive tackles who could be available in the fifth round are Texas A&M's Bobby Brown and Southern California's Marlo Tuipulotu. Brown is 6-4, 321. He has long arms (34 3-4 inches) and while run-stuffing is his calling card, he had 5.5 sacks last season. Tuipulotu is 6-2, 308. However, both could go in the fourth round. A sixth-rounder prospect at 1T-DT is Brigham Young's Khyiris Tonga, 6-2 and 326. Seventh-rounders or undrafted free agents who play the 1-technique spot include Michigan State's Naquan Jones and Kentucky's Quinton Bohanna.
Running backs: If the Bills are looking for an all-around back in the fifth round, the best might be Mississippi State's Kylin Hill, who rushed for 1,350 yards in 2019 and opted out in 2020. If they're looking for a backup with speed – a more likely scenario – there are several candidates. They include Louisville's Javian Hawkins, Kansas' Pooka Williams, Iowa State's Keke Nwangwu and UCLA's Demeric Felton. Hawkins ran 4.48 in the 40-yard dash, Williams ran 4.38, Nwangwu ran 4.32 and Felton ran 4.59.
Brown put himself on the radar as an NFL prospect when he was named a second-team All-Missouri Valley Conference selection during the 2019 season, starting every game at right tackle.
Tight end: Who are tight ends who can block? Guys who qualify who could still be on the board in the fifth round or later include: Michigan's Nick Eubanks, Virginia's Tony Poljan and Boise State's John Bates.
Safety: Currently, the Bills have 2019 sixth-round pick Jaquan Johnson as a backup, along with a college free agent from last year, Josh Thomas. So there is a need for more depth. Florida State big-nickel prospect Hamsah Nasirildeen probably won't make it out of the fourth round. Same goes for Illinois State's Christian Uphoff. Good fifth-round prospects might include Cincinnati's James Wiggins, Missouri's Joshuah Bledsoe, Georgia's Richard LeCounte, LSU's JaCoby Stevens and Cincinnati's Darrick Forrest.
In 2019, Brown started every game at right tackle and received Missouri Valley Conference honors. As a redshirt sophomore in '18, he played in 13 games, with 12 starts.
Linebackers: The Bills could use another young speed linebacker candidate to join young backups Tyrel Dodson and Tyrell Adams. Garrett Wallow, a converted safety from TCU, ran a solid time of 4.65 seconds and brings special teams ability. Isaiah McDuffie, from Buffalo's McKinley High School, could be a sixth- or seventh-round pick out of Boston College.
Offensive line: Late-round interior offensive linemen who might make sense for the Bills include Robert Jones of Middle Tennessee, Ole Miss' Royce Newman, Grambling's Dan Moore, South Carolina's Sadarius Hutcherson and Miami Ohio's Tommy Doyle.
Receiver: Florida State's Tamorrion Terry has size (6-3) and speed (4.45) that could be attractive as an outside depth option. If the Bills want more depth and speed from the slot, candidates include North Carolina's Dazz Newsome (5-10, 4.59) and North Texas' Jaelon Darden (5-7, 4.46). Newsome may not make it out of the fourth round.