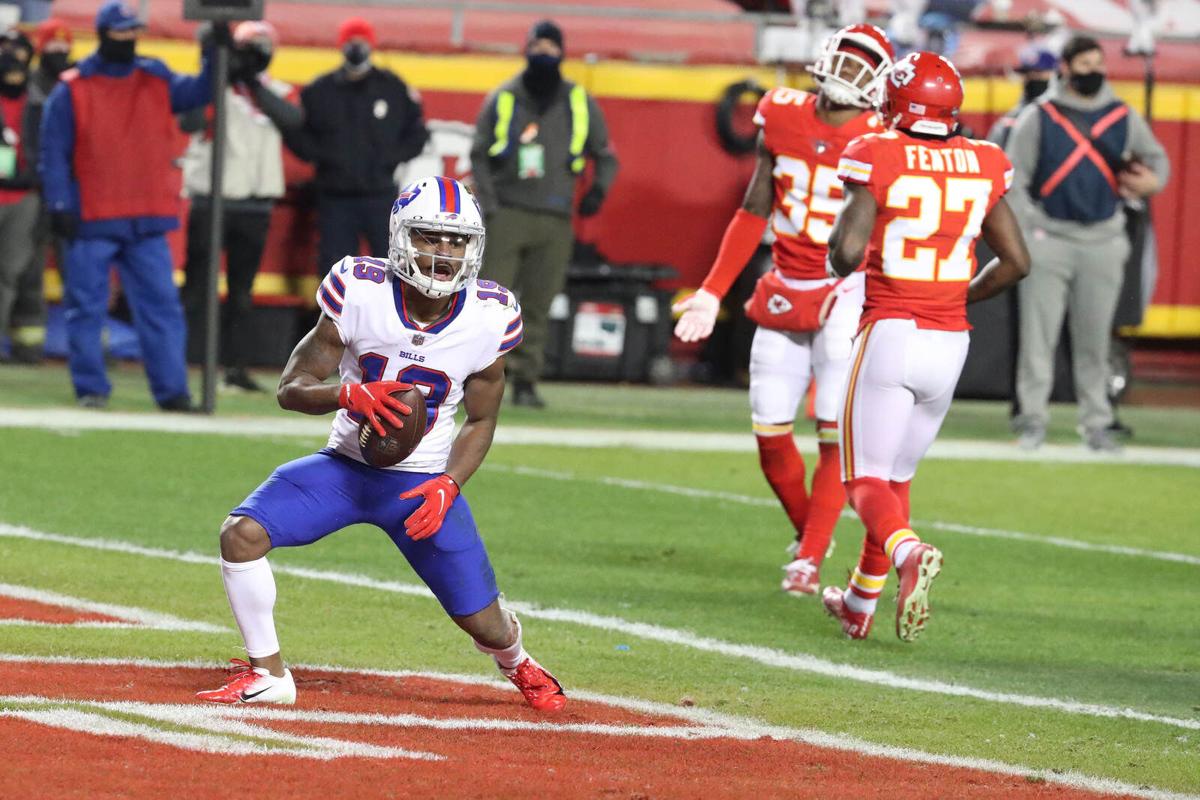 The Buffalo Bills have logjams at a couple positions and are a bit thin at others.
That's the main takeaway when analyzing the roster following the NFL draft. There are still a few additions to make. The team has yet to make official any of its undrafted rookie free agents signings, choosing to get more clarification from the league on what roster sizes will be for training camp.
General Manager Brandon Beane also is continuing to monitor free agency, which could yield some veteran additions to the pool if teams decide to make cost-cutting moves with veterans who they feel can be adequately replaced by rookies.
Nevertheless, we have a very good idea of what the Bills' opening-day roster will look like come September. Keeping in mind that plenty can change between now and then, here is The Buffalo News' first 53-man projection of the offseason, predicting what the opening-day roster may look like:
Quarterbacks (2): Josh Allen, Mitchell Trubisky.
Cuts (2): Jake Fromm, Davis Webb.
Analysis: The Bills kept Fromm on the active roster last season with Allen and Matt Barkley, with Davis on the practice squad. That made sense because of the threat of Covid-19. As the Denver Broncos showed, it was possible for an entire position group to be wiped out because of close contacts to an infected player. The Bills isolated Fromm from the other three quarterbacks as protection. With Covid-19 hopefully kept at bay by September, the Bills might go back to their 2018 plan, which included just two quarterbacks on the active roster. Given the amount of talent at other positions, the Bills may not have the luxury of devoting a spot on the 53-man roster to another quarterback. Keeping Webb on the practice squad as insurance provides enough depth, leaving Fromm as the odd man out.
Running backs (4): Devin Singletary, Zack Moss, Matt Breida, Taiwan Jones.
Cuts (2): Antonio Williams, Christian Wade.
Analysis: The Bills may lack a "home-run hitter," as Beane said before the draft, but it was the right call to give Singletary and Moss another chance. It's too soon in their careers to write either of them off. Breida is one of the fastest players in the NFL. It should be interesting to see how Brian Daboll chooses to use him. Jones' role as the No. 4 running back who specializes in special teams figures to be safe. Wade is eligible for an exempt spot on the practice squad again, but there's a chance he may not want to take that route if he thinks he can earn a job on a 53-man roster somewhere else. Williams impressed in Week 17 last year against the Dolphins. It's not out of the question that he challenges Breida for the No. 3 job. At worst, Williams would be a solid addition to the practice squad.
Wide receivers (6): Stefon Diggs, Cole Beasley, Emmanuel Sanders, Gabriel Davis, Isaiah McKenzie, Isaiah Hodgins.
Cuts (5): Brandon Powell, Tanner Gentry, Duke Williams, Marquez Stevenson, Jake Kumerow.
Analysis: This is easily one of the tougher positions on the roster to sort out. The top four of Diggs, Beasley, Sanders and Davis appear set. After that, it's wide open. McKenzie figures to get the first chance at winning the return jobs, which would give him the inside track to a roster spot. He'll face serious challenges for that spot from both Powell and Stevenson, who was a sixth-round draft pick. Beane has shown he likes to give his draft picks every chance to make the 53-man roster, so that competition at training camp should be intense. The same goes for the sixth receiver, assuming the Bills keep that many. Hodgins, Williams and Kumerow all are bigger targets. Hodgins, who spent his rookie season on injured reserve, gets the early edge as a 2020 draft pick.
Tight ends (3): Dawson Knox, Jacob Hollister, Reggie Gilliam.
Cuts (2): Tommy Sweeney, Nate Becker.
Analysis: Gilliam made the 53-man roster last season as an undrafted rookie free agent thanks mostly to his contributions on special teams. Given the improvement that unit showed, it would make sense to minimize changes there. Sweeney missed all of last season following complications from Covid-19. He did some good things as a rookie in 2019, but it's hard to predict the impact a year away from football will have.
Offensive line (9): Dion Dawkins, Cody Ford, Mitch Morse, Jon Feliciano, Daryl Williams, Ike Boettger, Ryan Bates, Spencer Brown, Tommy Doyle.
Cuts (4): Jordan Devey, Jamil Douglas, Bobby Hart, Forrest Lamp.
Analysis: Perhaps the biggest loser for the Bills coming out of the draft is Hart, who was signed as a free agent away from the Bengals. By drafting Brown in the third round, he immediately became the favorite to win the swing tackle job. It's highly unlikely the Bills would move on from any of their projected five starters (from left to right, Dawkins, Ford, Morse, Feliciano and Williams), but after that, the competition is wide open. Even Doyle, as a fifth-round draft pick, is not a roster lock. Bates' versatility should be enough to keep his spot on the 53-man roster, while Boettger showed during the second half of 2020 that he can provide quality depth at the very least.
Defensive ends (6): Jerry Hughes, Mario Addison, A.J. Epenesa, Greg Rousseau, Boogie Basham, Efe Obada.
Cuts (3): Bryan Cox Jr., Mike Love, Darryl Johnson Jr.
Analysis: The Bills have seven proven NFL defensive ends. Simply put, that's too many. Keeping six would be a lot. That's going to lead to a lot of speculation between now and the start of the season. One reason they might, however, is the flexibility of some of them to bump inside on passing downs. Epenesa, Rousseau and Basham are capable of that, so think of them more as defensive linemen as opposed to strictly edge rushers. Beane sounded genuine in his support of Addison and what the veteran brings to the roster, but there is no ignoring his salary makes him a prime cap casualty candidate. That will be debated until final cuts. Obada likely will have to show he can contribute on special teams to beat out Johnson for a spot. The Bills would be wise to let this competition play out at training camp. Perhaps Beane can swing a trade before final cuts with the odd man (or men) out.
Defensive tackles (4): Star Lotulelei, Harrison Phillips, Vernon Butler Jr., Ed Oliver.
Cuts (2): Justin Zimmer, Brandin Bryant.
Analysis: The Bills didn't take a run-stuffer in the draft, banking on the expected return of Lotulelei providing a big boost to the defense. Phillips makes this projection as the one-technique backup, but the former third-round draft pick is by no means guaranteed a spot. He'll need a strong training camp to hold off Zimmer, who impressed last season.
Linebackers (5): Tremaine Edmunds, Matt Milano, A.J. Klein, Tyler Matakevich, Andre Smith, Tyrell Adams.
Cuts (2): Tyrel Dodson, Marquel Lee.
Analysis: The Bills have gone all in on the pairing of Edmunds and Milano. Edmunds' fifth-year option was picked up, while Milano signed a lucrative, four-year contract extension. Klein is the projected starter in the base 4-3 defense, but that position is the first to come off the field when the team plays its nickel scheme, which is a greater percentage of the snaps. Matakevich and Smith are important parts of the special teams units, while Adams had a productive season last year for Houston.
Cornerbacks (6): Tre'Davious White, Levi Wallace, Dane Jackson, Taron Johnson, Siran Neal, Rachad Wildgoose.
Analysis: Beane joked that he felt some glares through his video conference call with the media after waiting until the third day of the draft to select a cornerback. That can be taken as a vote of confidence for Levi Wallace and Dane Jackson – for now. There are still some veteran cornerbacks available in free agency, most notably Richard Sherman, who could be late additions to the roster. If not, the Bills have to hope Wallace and Jackson can hold down the spot opposite White. Wildgoose has the ability to play both outside and in the slot, which should help his chances of sticking on the 53-man roster.
Safeties (4): Jordan Poyer, Micah Hyde, Jaquan Johnson, Damar Hamlin.
Analysis: Even after taking Hamlin in the sixth round, the Bills remain thin at this position. When their undrafted free agents are finalized, it's a good bet at least one or two of them will play safety. It's a mild surprise the Bills didn't bring Dean Marlowe back as a free agent, leaving only Johnson as a projected reserve with any type of NFL playing experience.
Specialists (3): Matt Haack, Tyler Bass, Reid Ferguson.
Analysis: No drama here, which is a nice change of pace after trying to sort out the rest of this roster.