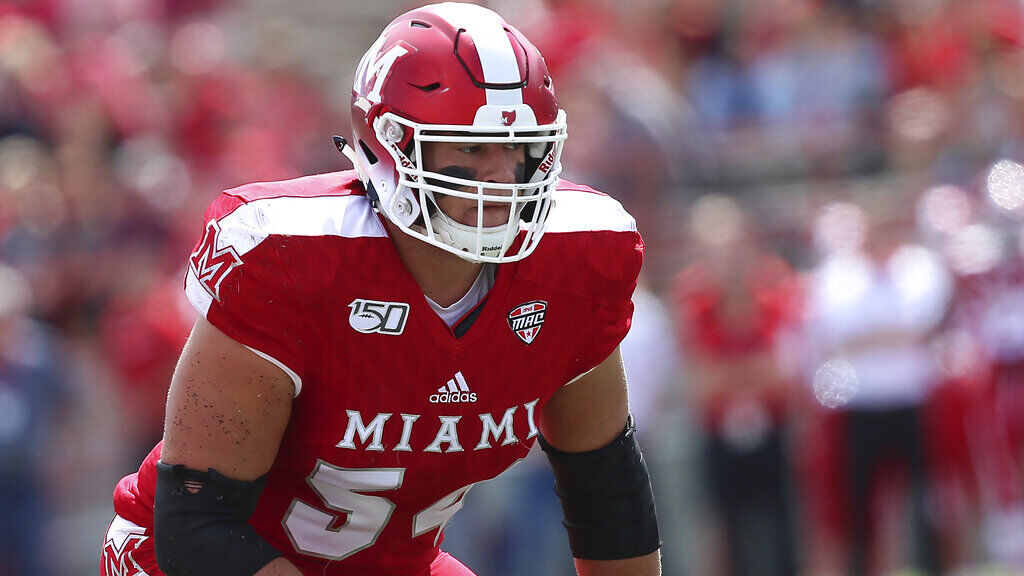 Here are five things to know about Miami (Ohio) offensive tackle Tommy Doyle, selected by the Bills in the fifth round, 161st overall, on Saturday:
1. Hockey was first love. When you grow up in Edina, Minn., chances are you're going to play hockey. That's the dominant sport in town. Doyle was no exception. "Seems like the first thing you learn how to do is skate," he told WCPO. Doyle dreamed of playing in the NHL. Of course, as he continued on the growth path to 6-foot-8, 320 pounds, football became an obvious alternative. He gave up hockey in his sophomore year of high school and became a dominant player on defense. He said his sporting idol was late Minnesota Wild winger Derek Boogaard, who was 6-7, "because he was an enforcer." His family has had success in other sports, though. His father, Tom Doyle Sr., was a pitcher on the University of Minnesota baseball team; his mother, Krista, played volleyball for the Gophers.
2. Too slow for defense. He had hoped to play defensive end in the NFL, but he was told in high school that he was too slow off the ball to have a legitimate chance. So he switched to offensive tackle. It was a challenging transition at first. He liked the reckless nature of playing defense and struggled with the need to master fundamentals, technique and the overall demands to be sharper with the mental aspects of the game on the O-line.
3. Excelled in Covid-19-shortened season. The RedHawks played only three games in 2020 before their season was shut down due to the Covid-19 pandemic. As a redshirt senior, Doyle started all three games and performed well enough to earn the second of two All-MAC honors. In 2019, he started all 13 games at left tackle, leading a line that allowed only two sacks per game, and was named one of Miami's offensive players of the year. He twice received All-MAC academic honors.
4. First start against new teammate. Doyle's first start at left tackle was against Bills defensive end A.J. Epenesa, when Epenesa was at Iowa in 2019. Doyle played four games as a freshman before suffering a foot injury. He started 10 games as a sophomore at right tackle. 
5. Scouting report. From the NFL Draft Bible: "Doyle is a flexible athlete for 6-foot-8 and 326 pounds and is able to generate a lot of power within that frame. He has a smooth pass set and is able to keep rushers off his quarterback consistently. His hands complement his feet perfectly in pass protection as he is able to control defenders with his initial punch. Where Doyle struggles is in space in the run game. He can generate power when operating in a phone booth, but has trouble engaging and creating movement when he has to go get the block. His best fit is on a team that is pass-dominant and won't ask him to work in space too often. He has a lot of potential to continue to grow into his massive frame and refine his game as he moves on to the next level."