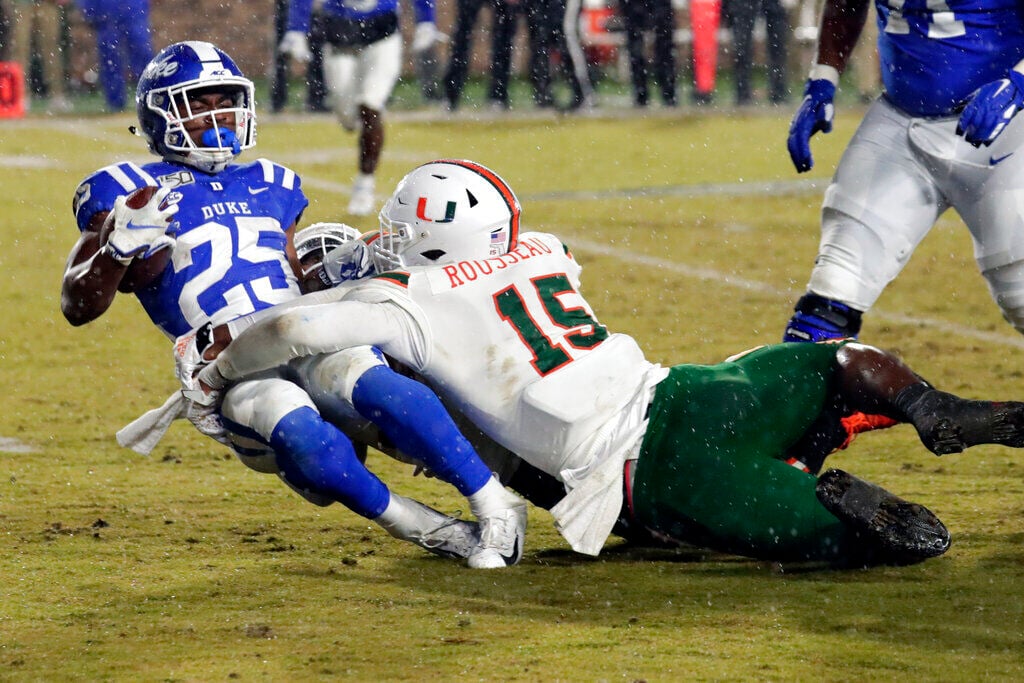 Here are five things to know about Miami (Fla.) edge rusher Gregory Rousseau, selected by the Buffalo Bills in the first round, 30th overall, on Thursday:
In making former University of Miami standout edge rusher Greg Rousseau their first-round pick in the NFL draft Thursday night, the Bills look to have put some much-needed teeth into their pass rush.
1. He didn't play a lot of college football. Rousseau opted out of the 2020 season because of concerns about the Covid-19 pandemic. Rousseau's mother is an emergency room nurse who saw firsthand the impact the virus had on those who became sick. As a true freshman in 2018, Rousseau played in just two games before suffering a season-ending ankle injury. When Rousseau did play in 2019, though, he produced. His 15.5 sacks finished second in the country behind eventual No. 2 overall draft pick Chase Young of Ohio State. Rousseau was named first-team All-Atlantic Coast Conference in 2019. In all, Rousseau has just 15 games of college experience.
2. He's relatively new to the edge. Rousseau grew up in Coconut Creek, Fla., and attended Hialeah Champagnat Catholic. He was considered a three-star prospect by ESPN as a two-way player, playing wide receiver and safety on a state championship-winning team. He chose Miami over offers from Oregon, LSU and Georgia.
Quarterbacks dominated the first half of the draft, with five going in the first 15 picks. Here's how the second round may play out Friday night.
3. He's bigger than the last time he played. Rousseau has added 25 pounds since the 2019 season. He now checks in at 6 feet, 6 inches and 266 pounds. He has a wingspan of 83 1/4 inches and 11-inch hands. Rousseau, though, had an uninspiring pro day, with a reported 4.68-second 40-yard dash and 4.45-second three-cone shuttle were both average at best.
"I'm just a football player," Rousseau told the South Florida Sun Sentinel. "I'm not like a super athlete or anything like that. I'm just a ballplayer. I love being here in between the white lines and getting after it. I love pass rushing. I like stopping the run. I love football. I don't live for, like, the drills or how fast can I touch this cone. It's just not me."
Plenty of spots remained to be filled on the roster as the NFL conducts the second and third rounds of the draft Friday night.
4. He has a former Hurricane on his side. In response to a tweet from an NFL Network reporter that in part called Rousseau a "tough evaluation," because of his size and athleticism, former Miami defensive end Calais Campbell, a 13-year NFL veteran, took offense.
"I wonder what the scouts were saying when I was coming out," Campbell tweeted in response. "Not athletic enough? Not strong enough? I am not a scout and I know they have a tough job. But I hope they don't overthink this one." Rousseau "can play football. He is a playmaker! Shows up in both the run and pass game."
5. Rousseau and Jaelan Phillips did something rare. Phillips, another Hurricanes defensive end, was drafted 18 overall by the Miami Dolphins. They became the first pair of defensive ends from the same school to be drafted together in the first round since Mario Williams went No. 1 overall to Houston in 2006 and teammate Manny Lawson went No. 22 to San Francisco out of North Carolina State.