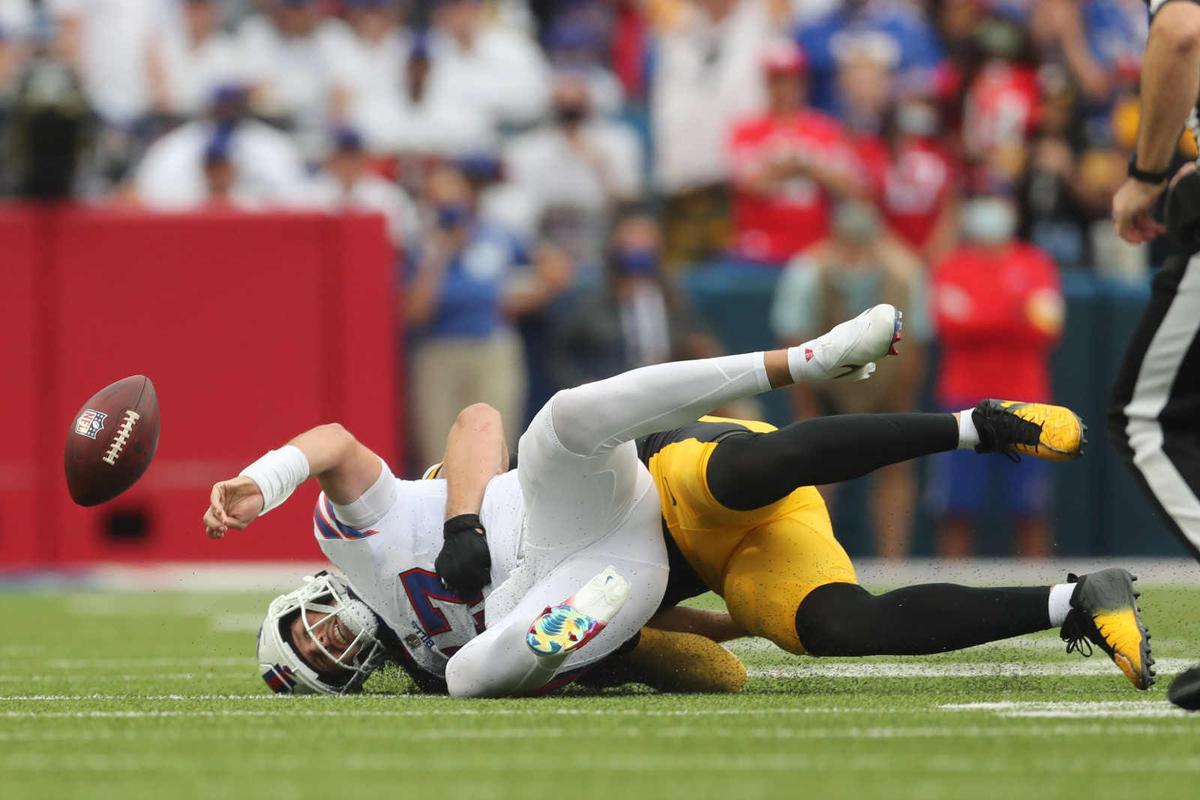 Josh Allen's MVP candidacy is off to a rocky start.
The Buffalo Bills' franchise quarterback didn't exactly look the part during Sunday's season opener at Highmark Stadium. Allen was off target basically all afternoon, as the Bills' high-powered offense from a year ago never showed up in a 23-16 loss to the Pittsburgh Steelers.
"It's not what we hope for, what we strive for, how we want to start the season," a downtrodden Allen said after the game. "That's why we're playing 17. You know, we're not expecting to win them all. We go into each game expecting to win, but we understand that it's a long season. A lot to learn from this tape, honestly starting with me."
The trouble started early for Allen. The Bills' quarterback had veteran wide receiver Emmanuel Sanders wide open deep in the first quarter, but overthrew him by at least a couple yards.
"That's one I need back," Allen said. "A defense like this gives you that type of opportunity, you've got to execute and make those plays happen. You know, I didn't. We didn't."
Allen chalked up some of his troubles to being too aggressive, instead of taking what the Steelers were giving him. He pushed back against the idea that he was pressing, although his description sounded … pretty much like that.
Grading the Buffalo Bills after their 23-16 loss to the Pittsburgh Steelers on Sunday at Highmark Stadium:
"There's some plays he wants back, I know that just talking with him a little bit during the game," coach Sean McDermott said. "That's what we all have to do. We all have to do our part. It can't just be Josh, it's a team game here."
Allen's accuracy, much dissected during his first two years in the league, took a huge step forward in his third season, as he completed nearly 70% of his passes. It was not good enough Sunday, however, as he finished 30 of a career-high 51 attempts for 270 yards and one touchdown. His completion percentage of 58.8% was his lowest in a regular season game since completed 55.8% in the win against Pittsburgh in Week 13 last season. His passer rating of 79.7 also was his lowest since 77.5 against the Steelers. 
Allen's inaccuracy was a consistent problem. The deep overthrow to Sanders was bad, but the most egregious example may have come in the second quarter, when he fired the ball into the feet of receiver Cole Beasley on a third-and-short play, leading to a Buffalo punt.
Here's a look at some of the key plays in the Bills' 23-16 defeat, starting with the decisive special teams turnover.
"We just played Steeler D. We respect Josh Allen and their group, but I have an expectation we're going to go into every football game like that," Steelers coach Mike Tomlin said.
Allen had an expectation it would be tough sledding Sunday.
"I think we expected this type of game and this type of game plan from them," he said. "Make no mistake, they get paid on that side, too, and they've got some really good players over there. They made some plays today."
To be fair, it wasn't all on Allen. His offensive line was consistently mauled by Pittsburgh's pass rush. The Steelers were credited with three sacks and eight quarterback hits. The Bills, though, paid Allen a contract that could be worth more than $250 million this offseason to lift his team on days when nothing else was going right around him.
On Sunday, he was unable to do that. It led to an overall deflating environment for the first game back in front of a full audience since the 2019 season.
The game's result had more to do with the Bills' shortcomings on offense and questionable play-calling than anything Pittsburgh did.
"I wish we could have put on a better show for the fans and obviously that's not how they wanted it, nor us," Allen said. "Hopefully that next game, we'll be able to go out there and give them something they like."
2. Levi Wallace had a tough series. The veteran cornerback earned the starting job after beating out Dane Jackson in a training-camp competition. Wallace had mostly a quiet game … until the fourth quarter. He was called for a big pass-interference penalty after not getting his head around in coverage against Steelers receiver Chase Claypool. The penalty went for 26 yards and moved the Steelers to the Buffalo 23-yard line. Two plays later, Wallace was in coverage when Steelers receiver Diontae Johnson made a terrific touchdown catch, which gave Pittsburgh its first lead. Wallace's coverage was good, but Johnson's catch was much better.
3. Isaiah McKenzie made a splash early. McKenzie, who has taken over for Andre Roberts as the starting kick and punt returner, took the opening kickoff 75 yards, as Highmark Stadium shook in excitement from the roars of the sold-out crowd. It was Bills' longest non-scoring kickoff return since Leodis McKelvin had an 85-yard return in 2008 at New England. 
"Those fans are awesome. They were loud. It was very, very loud," Roethlisberger said after the game.
McKenzie's return set the offense up with excellent field position at the Pittsburgh 24-yard line, but the offense couldn't do anything with it, settling for a 37-yard field goal by Tyler Bass.
On McKenzie's first punt return, he made a fair catch, but then immediately came off the field and headed to the trainer's tent on the sideline. A short time later, he went to the locker room and the Bills announced he was questionable to return with a shoulder injury. McKenzie was able to return.
He had a mostly quiet game thereafter, although there was one example of an area in which he'll need to improve. Instead of running up to make a fair catch of a Pittsburgh punt, he let it bounce, costing the Bills about 10 yards of field position. That was an area in which Roberts consistently made the right decision.
4. Tre White's would-be interception got wiped out. The Bills' No. 1 cornerback intercepted Steelers quarterback Ben Roethlisberger on Pittsburgh's first drive of the second half, but the play was wiped out because White was called for holding Johnson. The call was questionable at best, but proved to be a pivotal moment. The Bills beat the Steelers in each of the last two years based largely on the defense's ability to force turnovers, including five in the 2019 matchup. 
The fans have returned and the tailgating has begun for the Buffalo Bills season opener against at Highmark Stadium.
"If we were to find a way to get a takeaway, who knows which way the momentum would've swung," safety Jordan Poyer said.
5. The rotation continued at right guard. The Bills stuck with their plan from the summer of using both Cody Ford and Ike Boettger at right guard. Ford, the third-year pro who was drafted in the second round in 2019, got the start and played the first two series, before being replaced by Boettger for the third offensive series. 
6. Zack Moss was a surprise inactive. Moss, the second-year running back, was a healthy inactive against the Steelers, with the Bills going with Devin Singletary, Matt Breida and Taiwan Jones at running back.
Moss had surgery on his left ankle in January after being hurt in the team's playoff game against the Indianapolis Colts. He also suffered a hamstring injury during training camp that kept him out for a brief amount of time. Moss worked out on the field early Sunday – an indication he would not play.
"We're not going to panic; 16 games left," quarterback Josh Allen said.
"Just numbers," is all McDermott offered by way of an explanation in his postgame press conference.
7. Boogie Basham's debut will have to wait. The Bills' second-round draft pick was a healthy inactive against the Steelers. That's not a huge surprise, as Basham has been with the second- or third-team defense throughout training camp and the preseason. Last year, the Bills also made A.J. Epenesa, their second-round draft pick in 2020, inactive for the season opener.
The Bills' other inactives were rookie offensive tackle Tommy Doyle and linebacker Andre Smith. Because the Bills did not call any players up from the practice squad and dressed eight offensive linemen, they were able to dress 48 players for the game.
Frustration boiled among those following the game on Twitter, venting about offensive coordinator Brian Daboll's fourth-down call and displaying shock that reality did not meet expectation. 
8. Star Lotulelei was the Bills' lone injured player. The veteran defensive tackle was ruled out of game Friday because of a calf injury suffered in the preseason finale against Green Bay. Lotulelei did not participate in practice in the week leading up to the game.
With Lotulelei out, the Bills started defensive tackles Ed Oliver and Vernon Butler Jr., with Harrison Phillips and Justin Zimmer rotating in.
9. Before the game, Brandon Beane did some roster management. According to a report Saturday from ESPN's Field Yates, the Bills converted $5.2 million of Poyer's 2021 base salary into a roster bonus, which creates $2.6 million in cap space for this season. According to contracts website spotrac.com, the Bills have $3.36 million in available cap space, which ranks 24th in the NFL. Beane needed to create a bit more of a cushion in case of any necessary roster moves that need to be made during the season.
10. Rochester's Jamir Jones made his Steelers debut. Jones, a graduate of Aquinas Institute, made the Steelers' 53-man roster, thanks largely to his performance on special teams this summer. He did not record any statistics.
Photos: Bills open season against Steelers
Bad break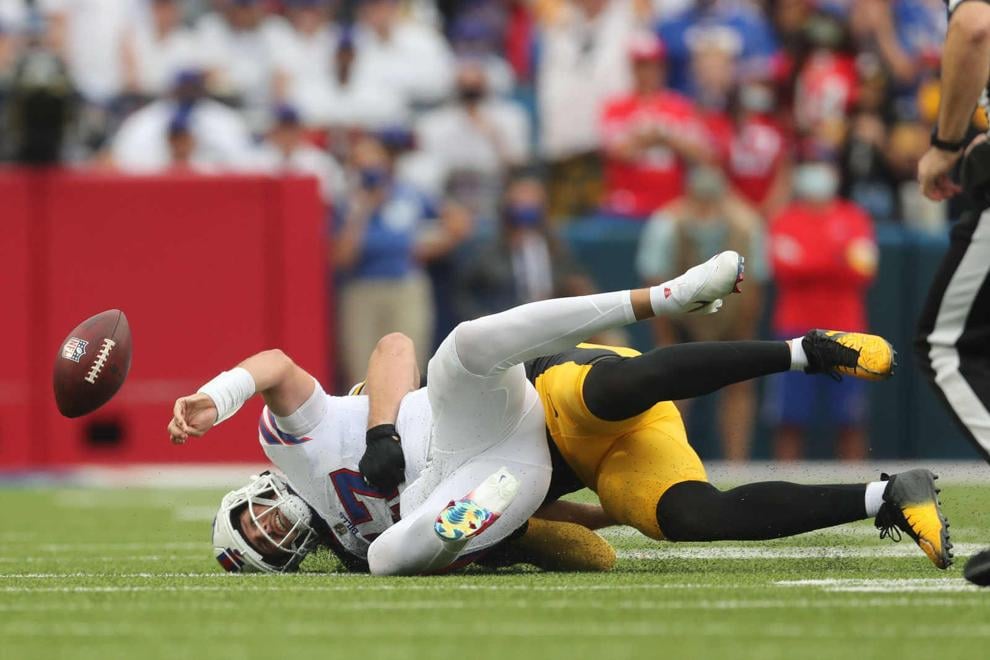 Turning point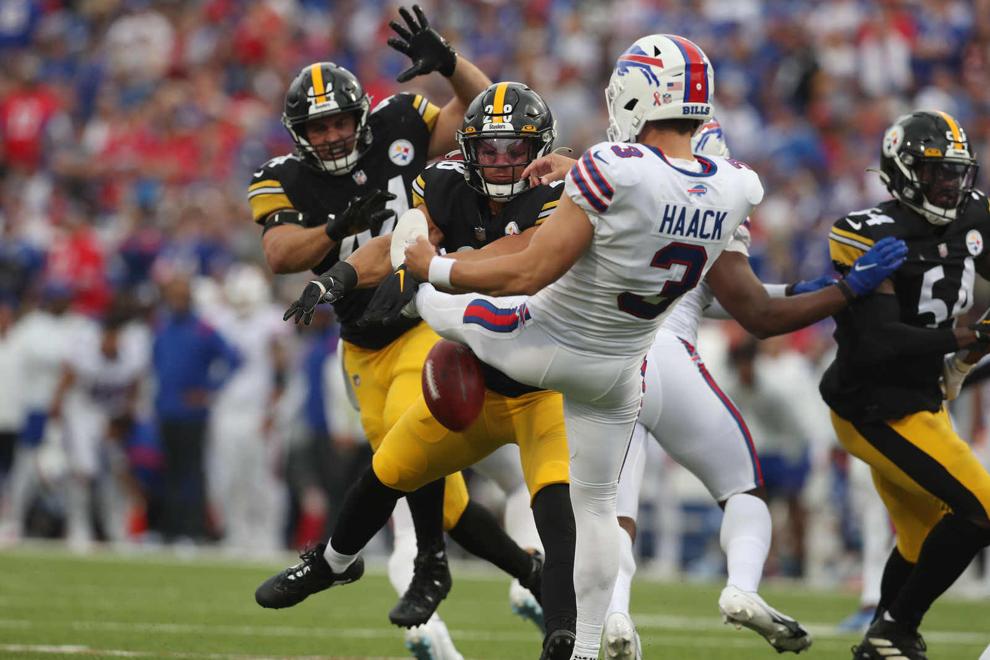 End zone strike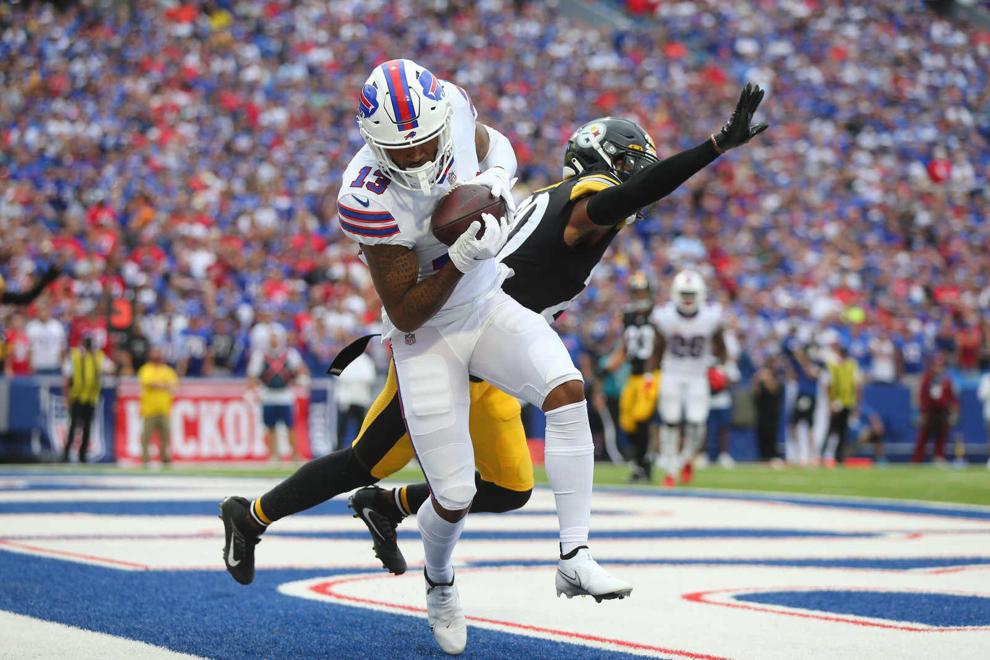 Celebrating with fans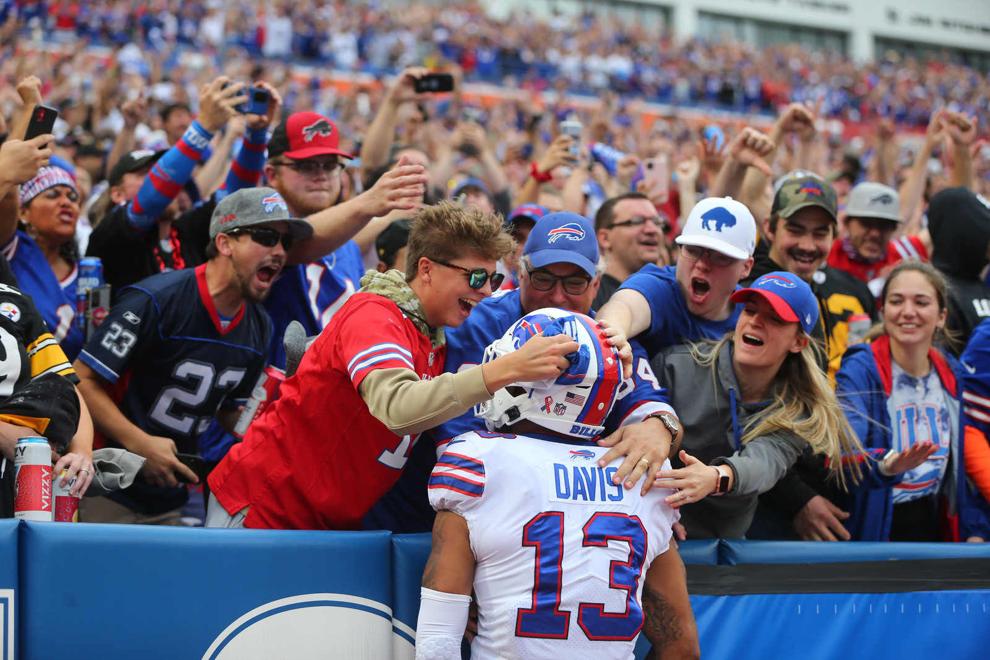 Upper deck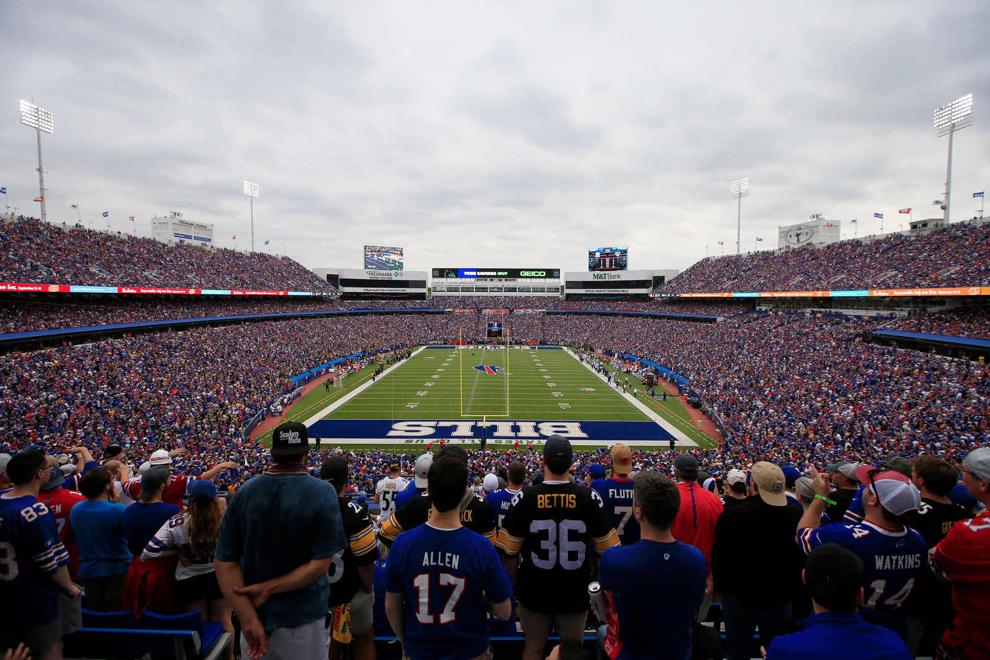 Trouble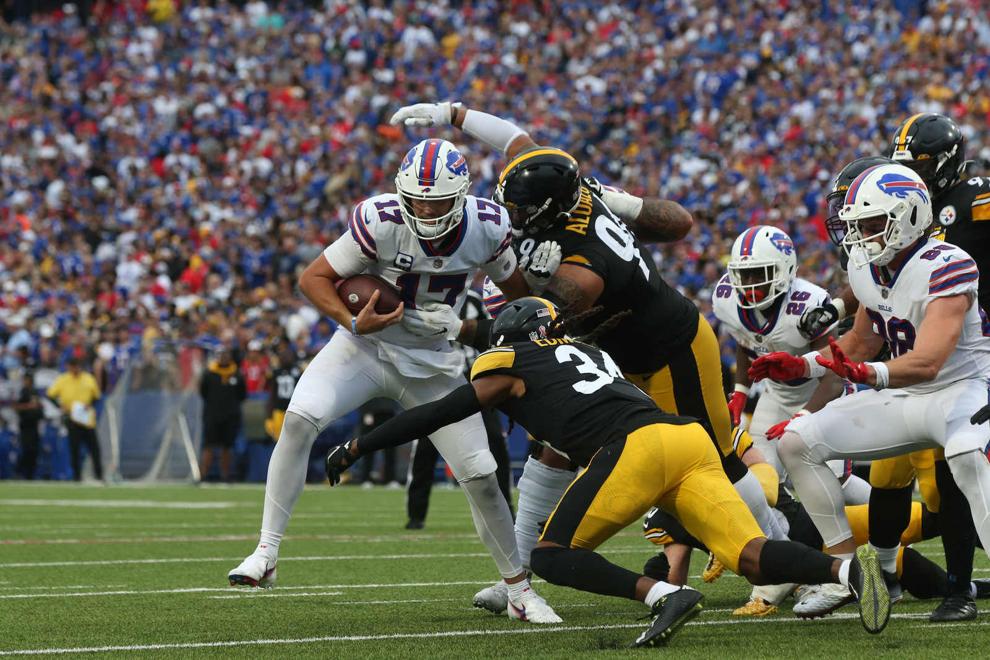 Beasley bounces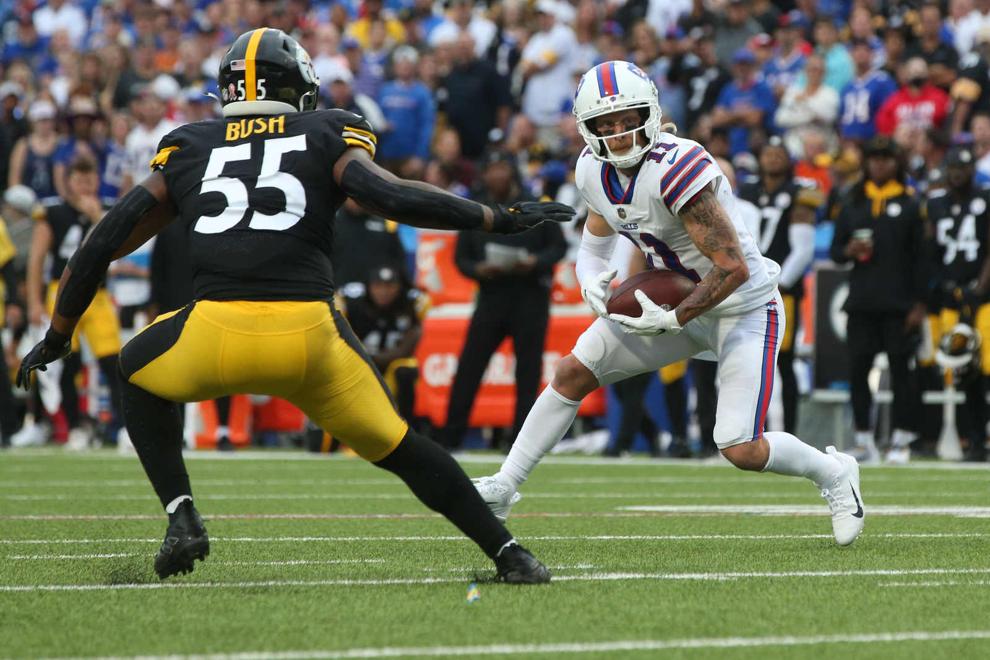 VIP fan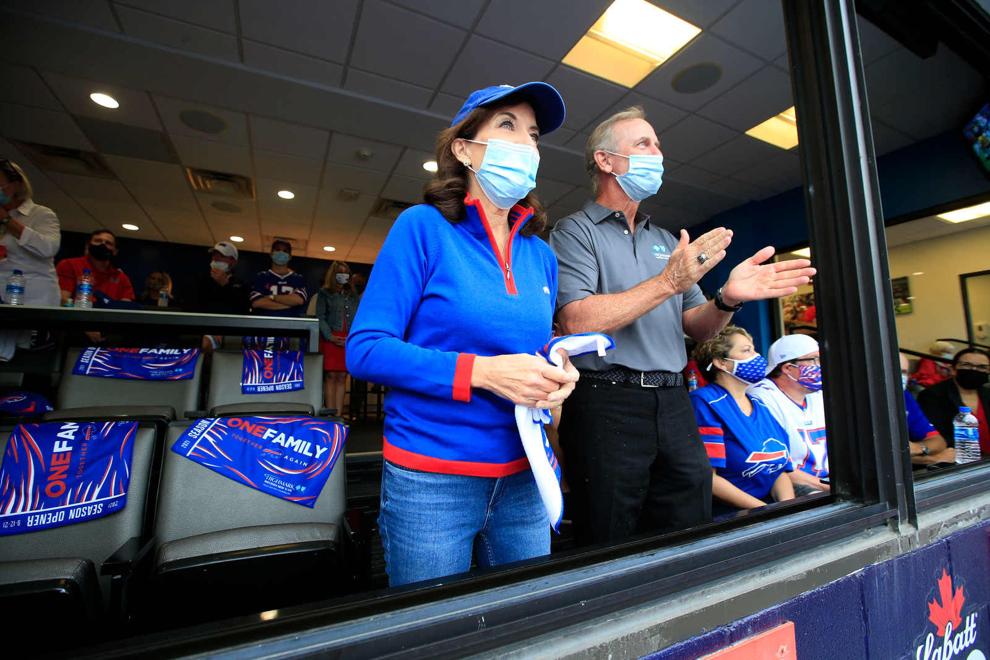 Knox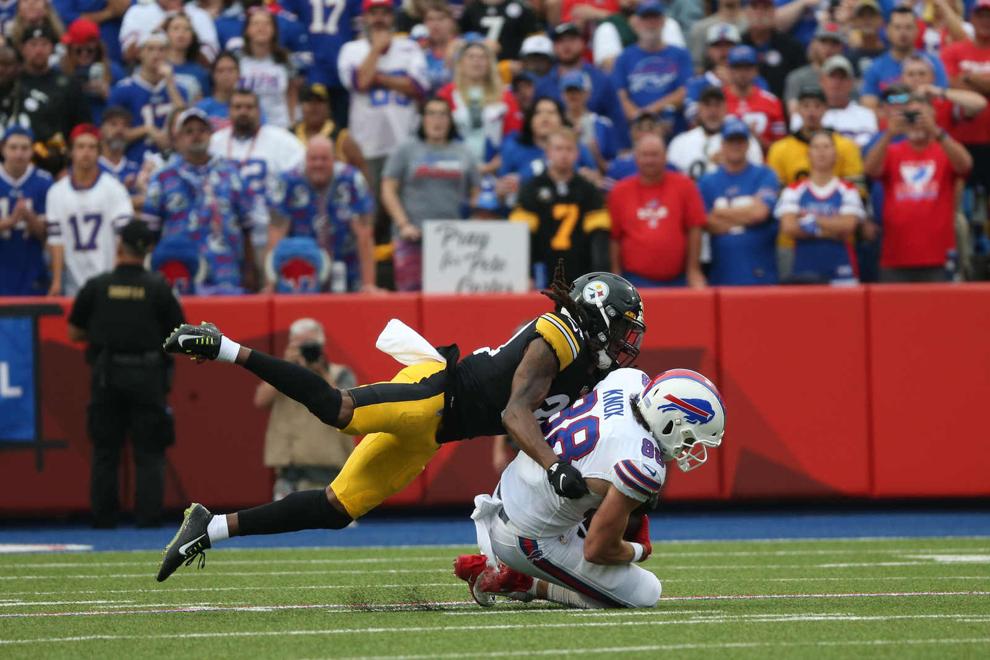 Twisted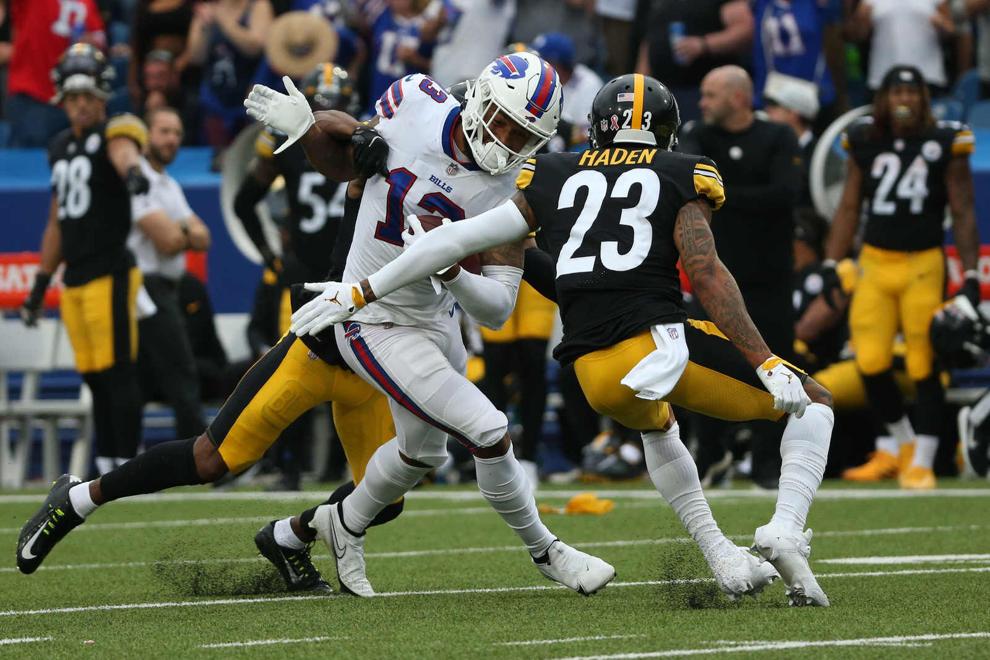 Rushing yards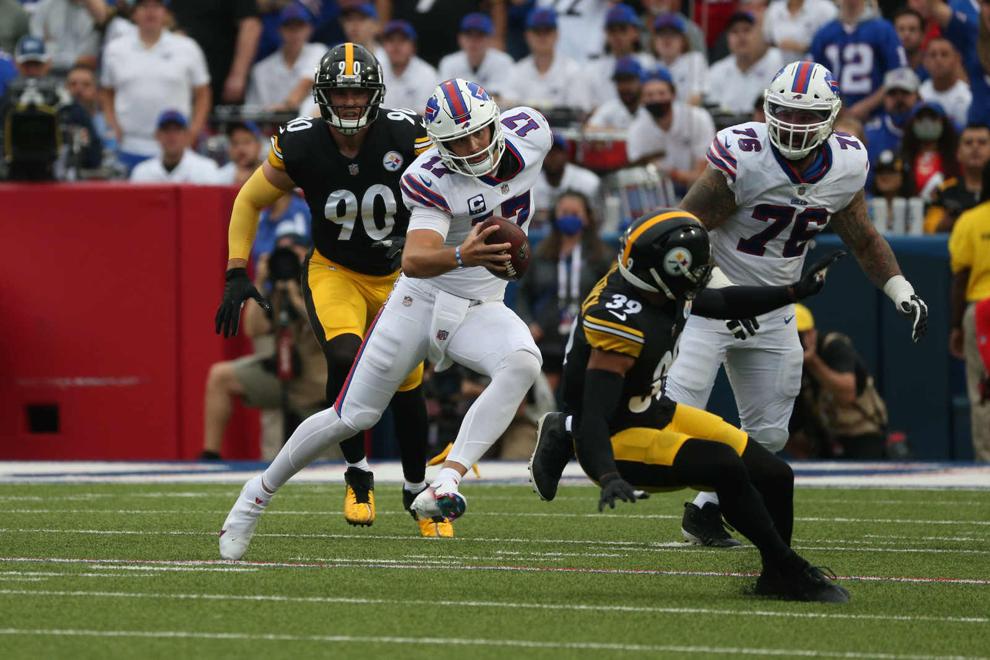 Tracking down the ball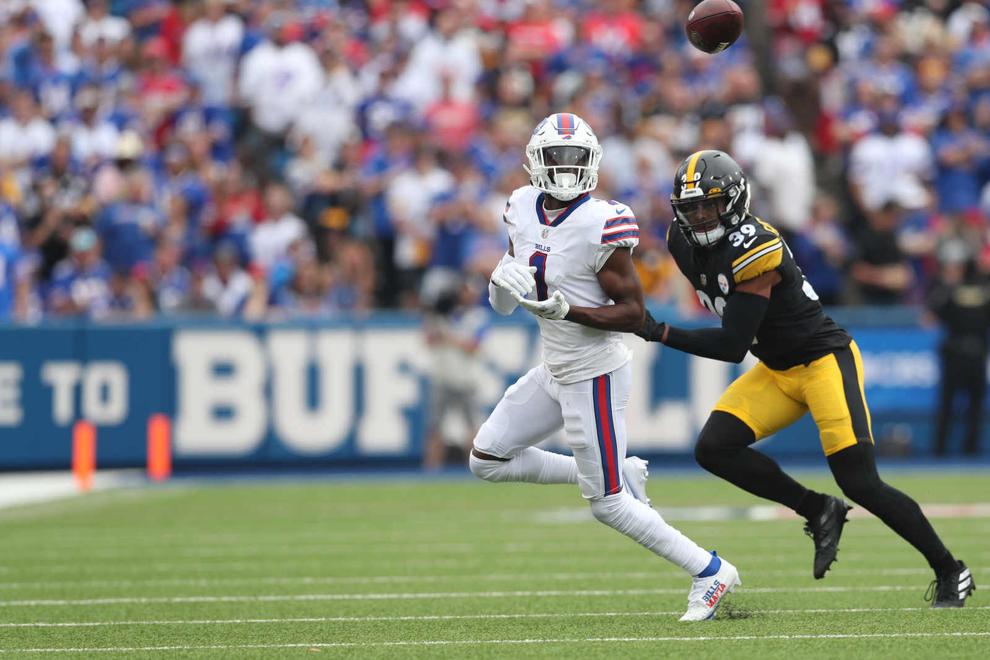 Diggs pulls it in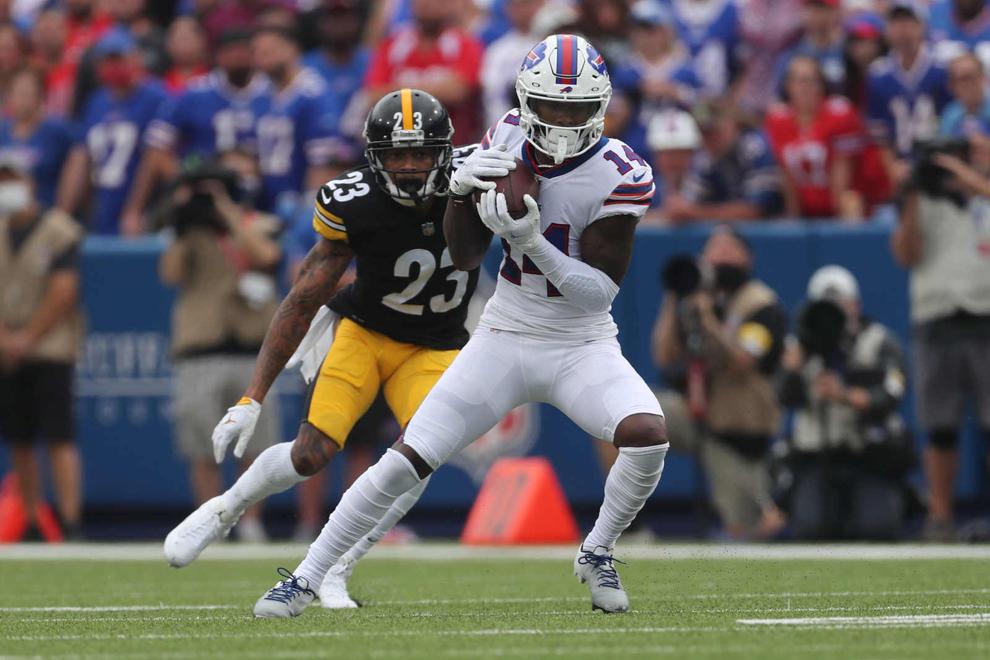 Full house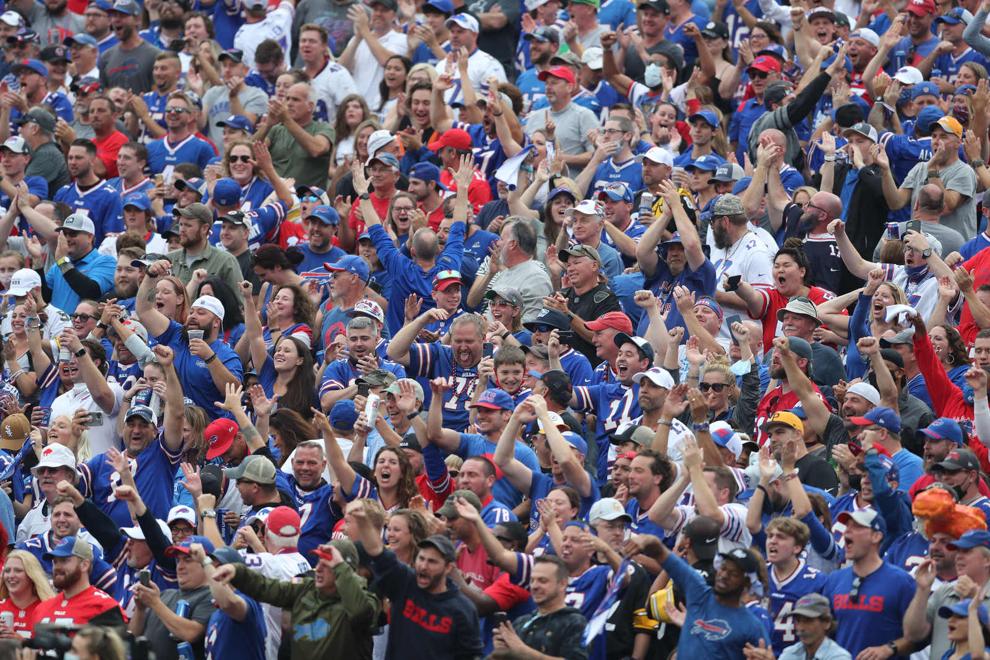 Early fumble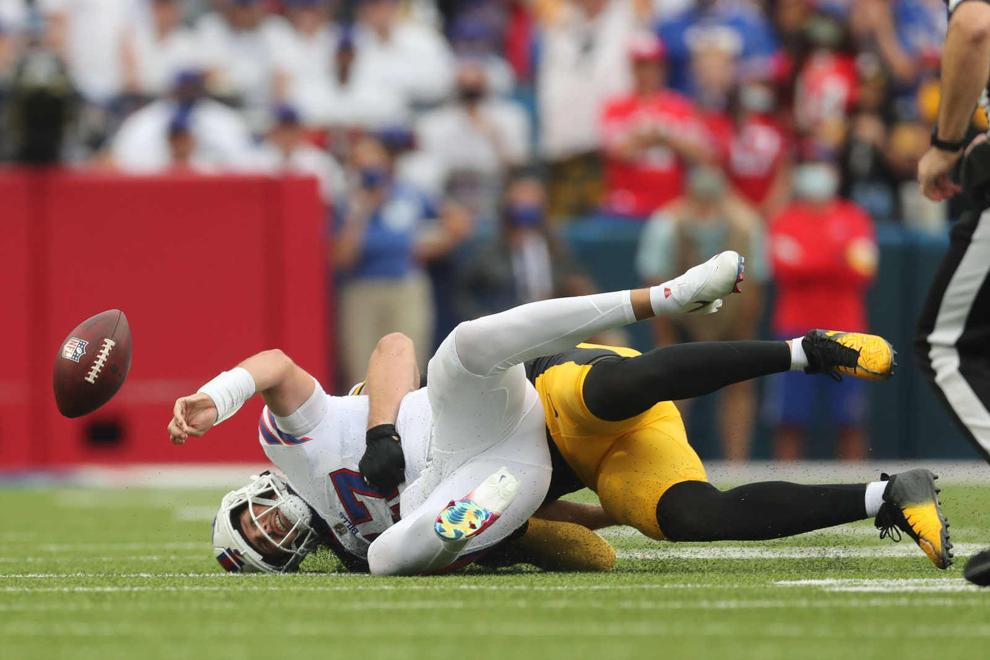 Knoxed out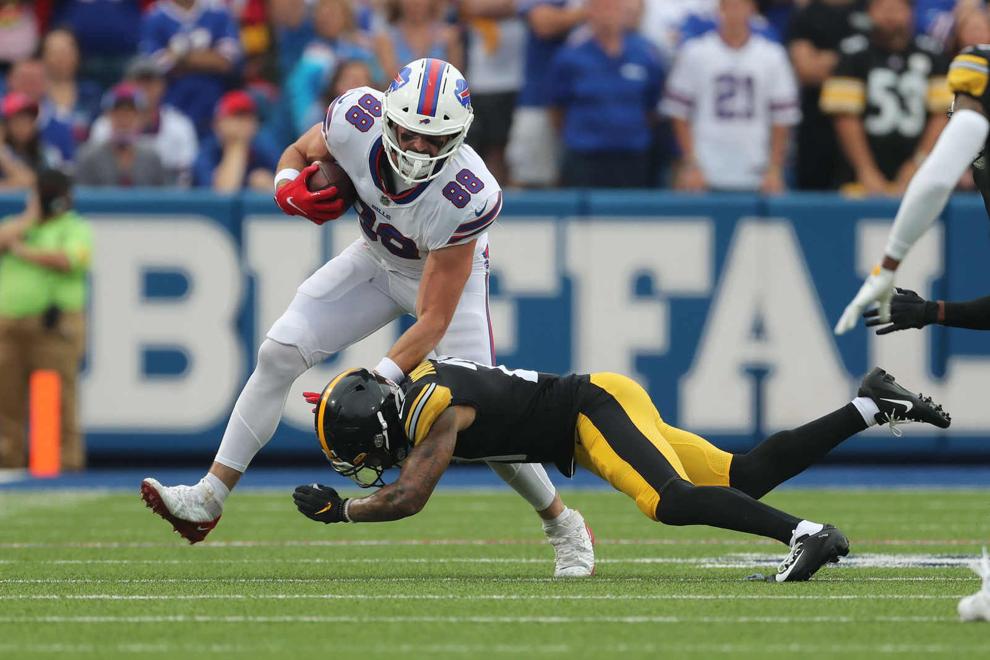 Hard to tackle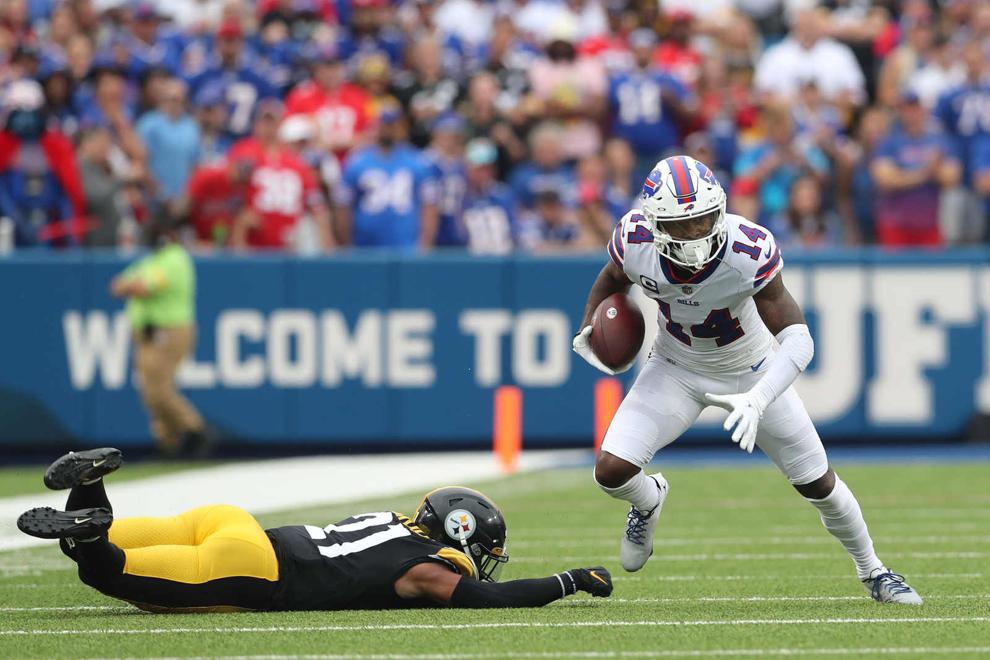 Make me wanna shout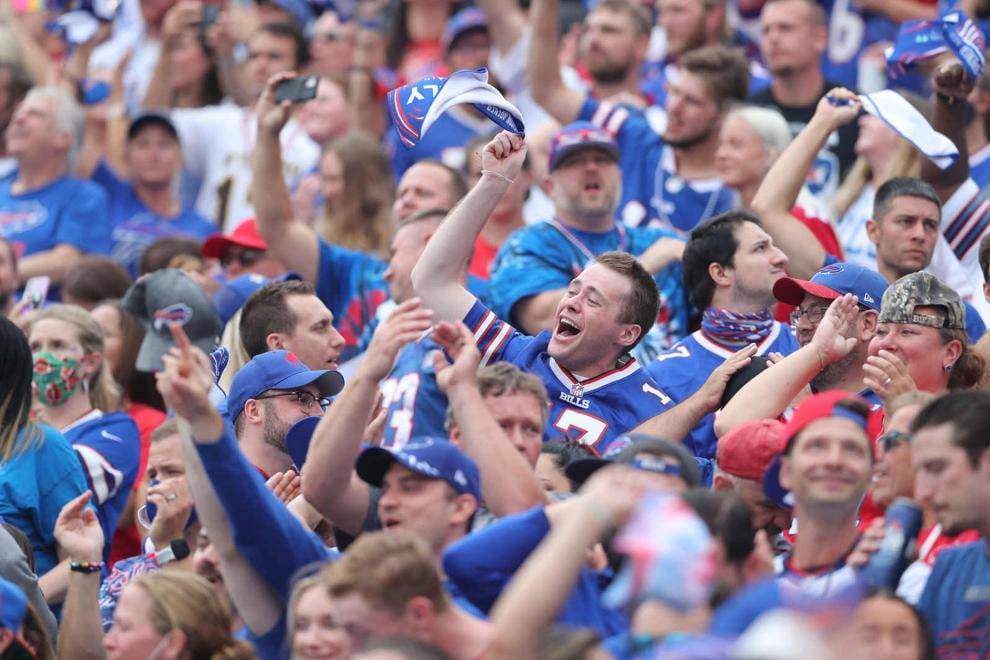 Starting early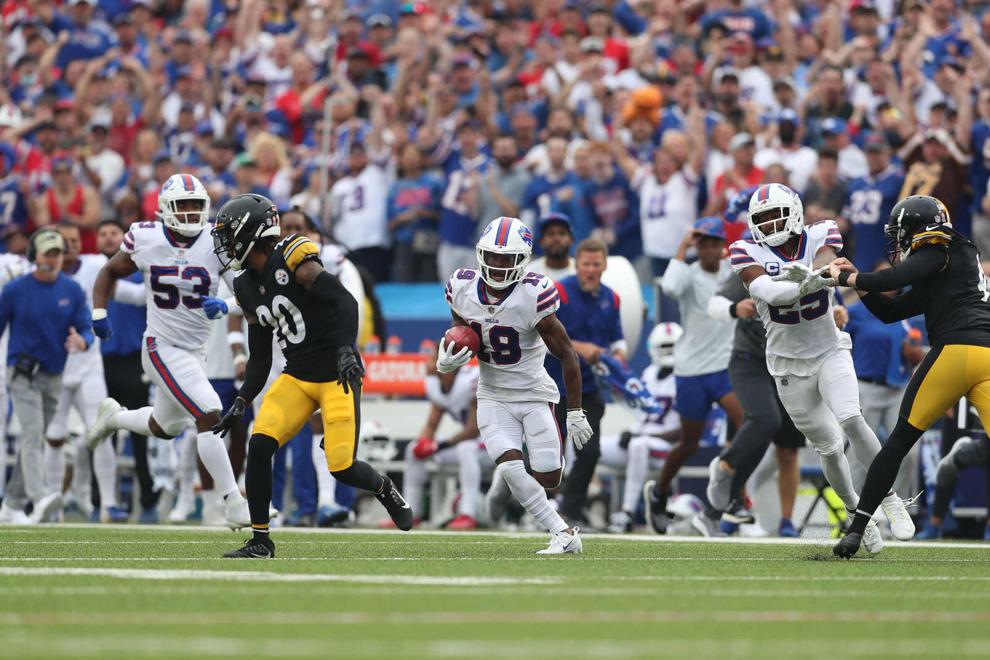 Air ball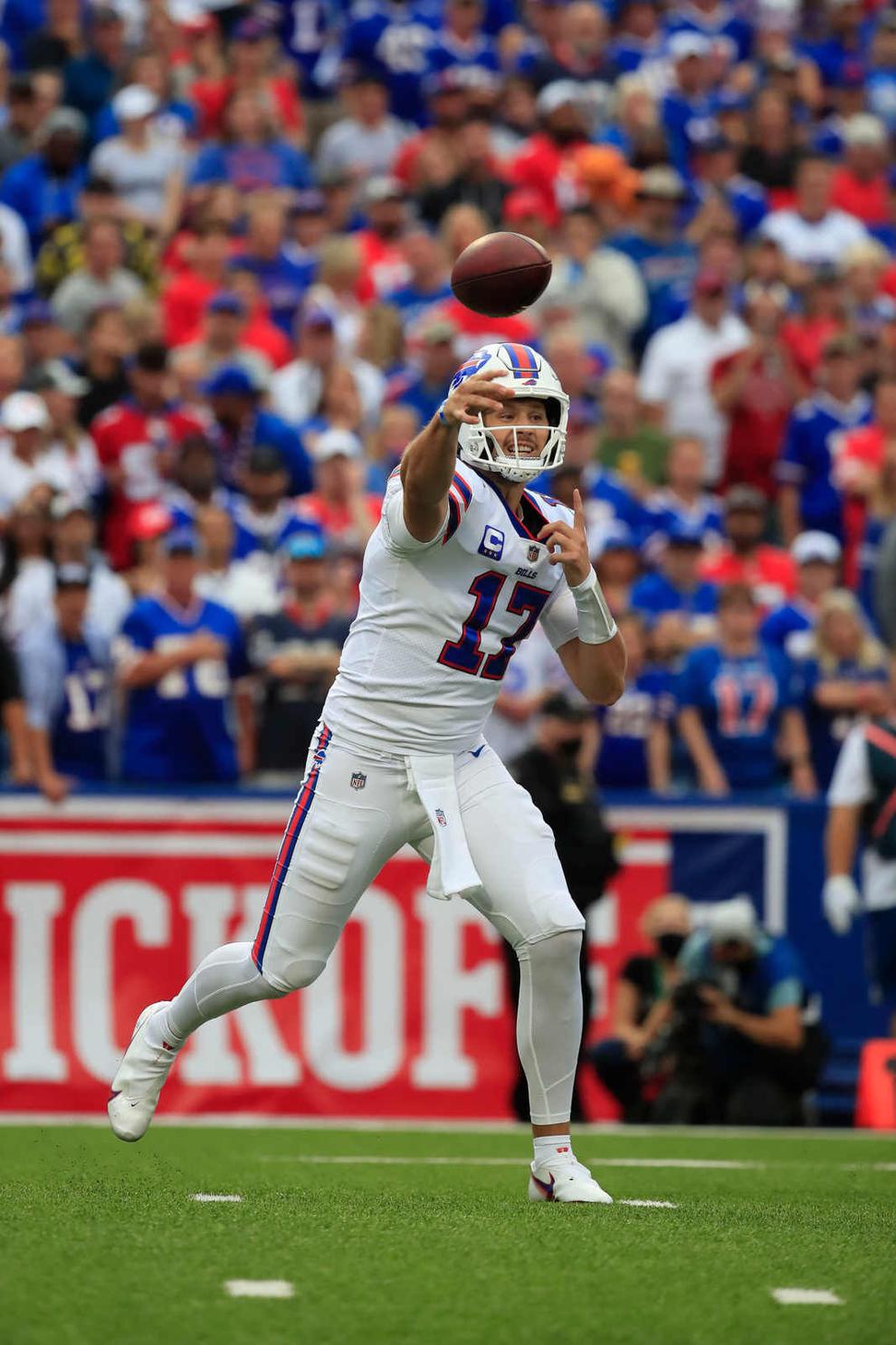 Back to pass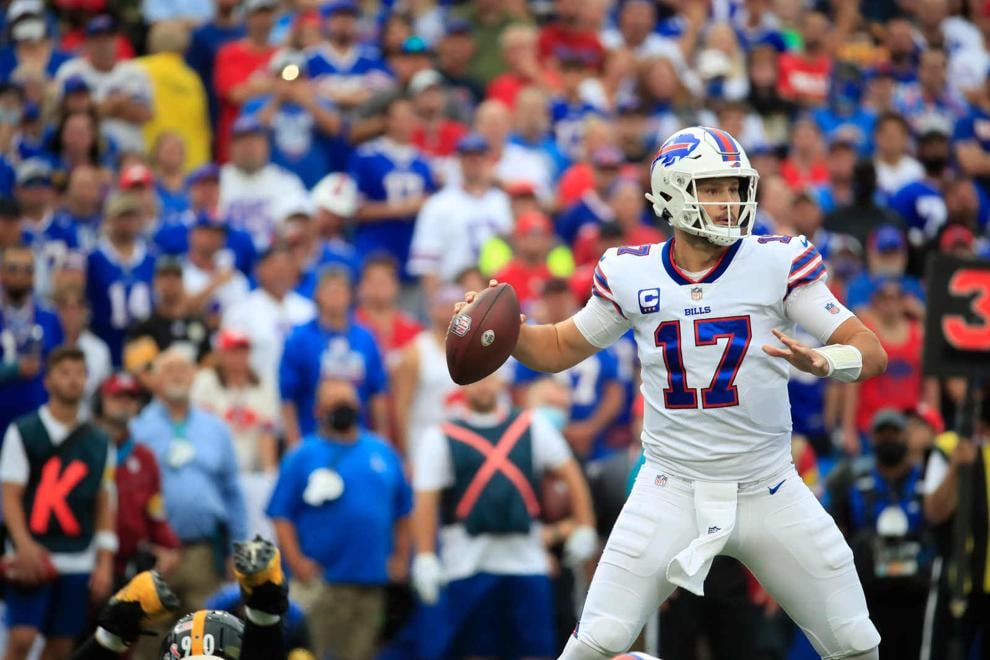 Singletary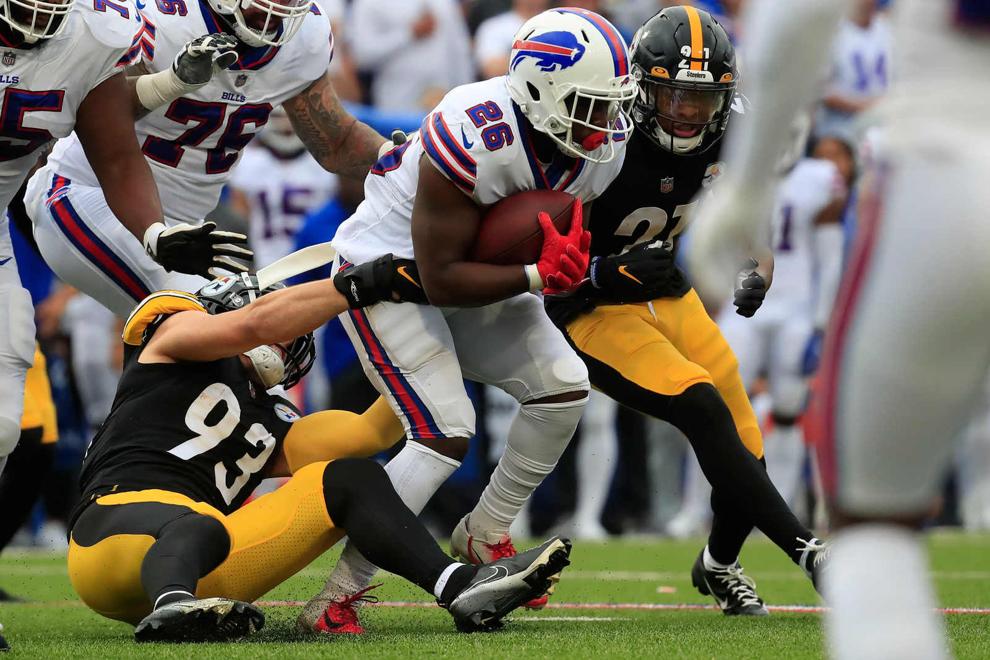 Bills Steelers first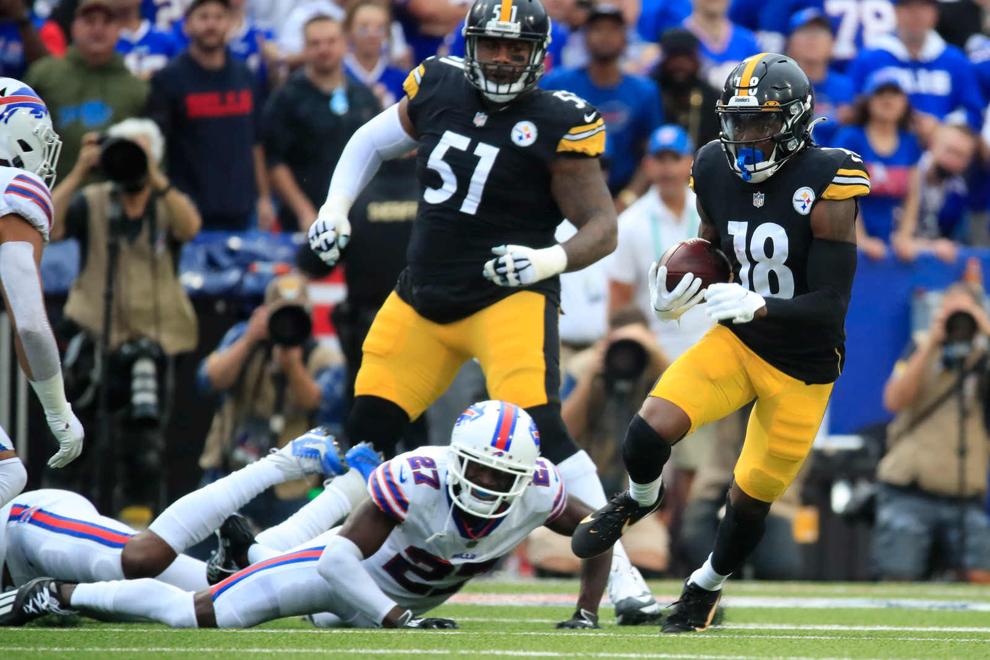 Complete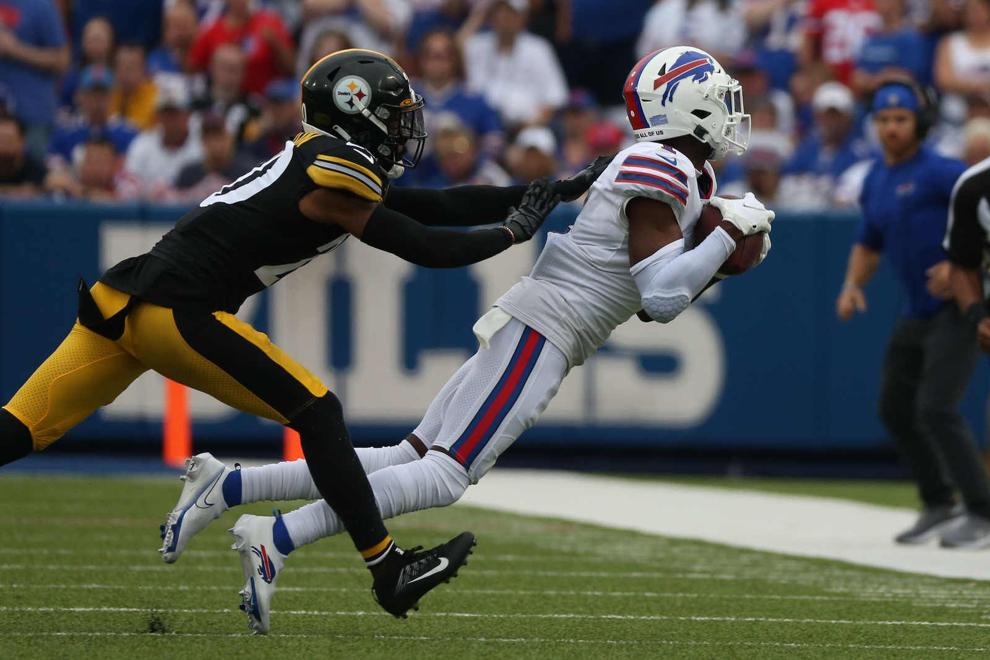 On the run
First down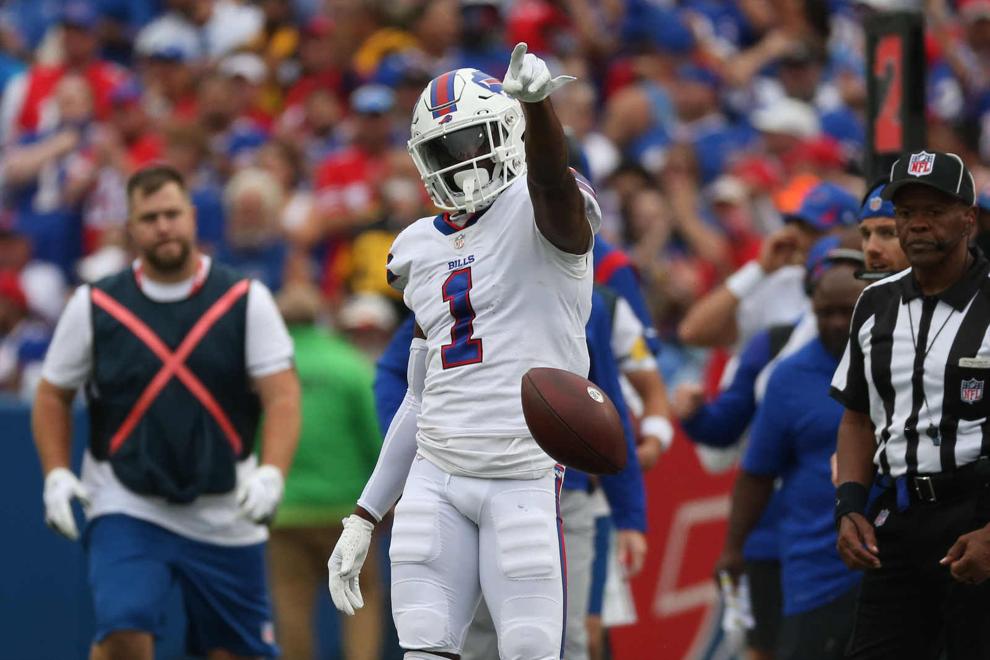 Nowhere to go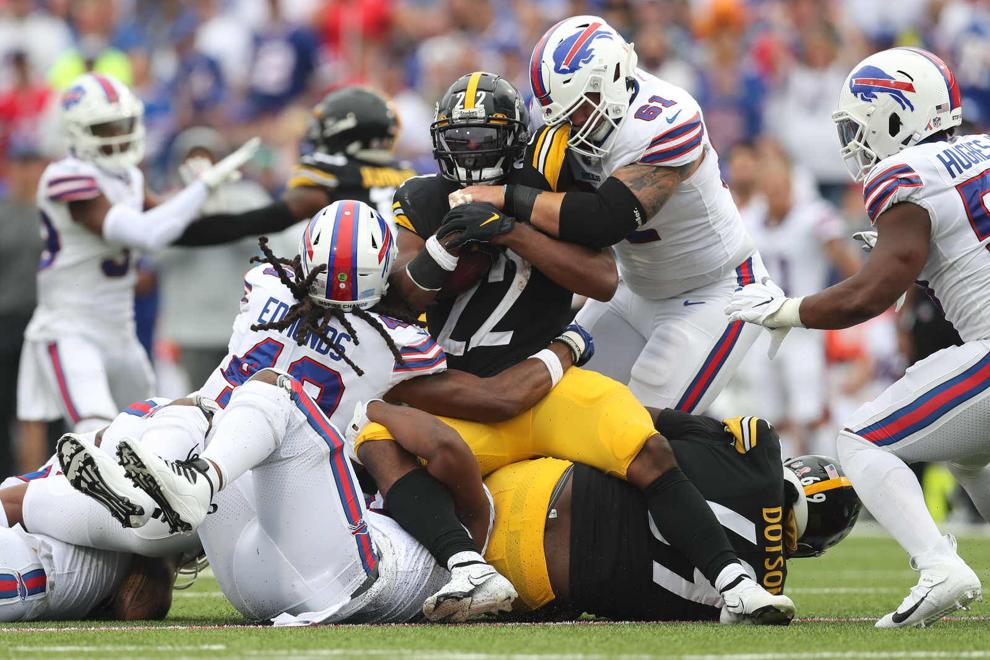 Super Mario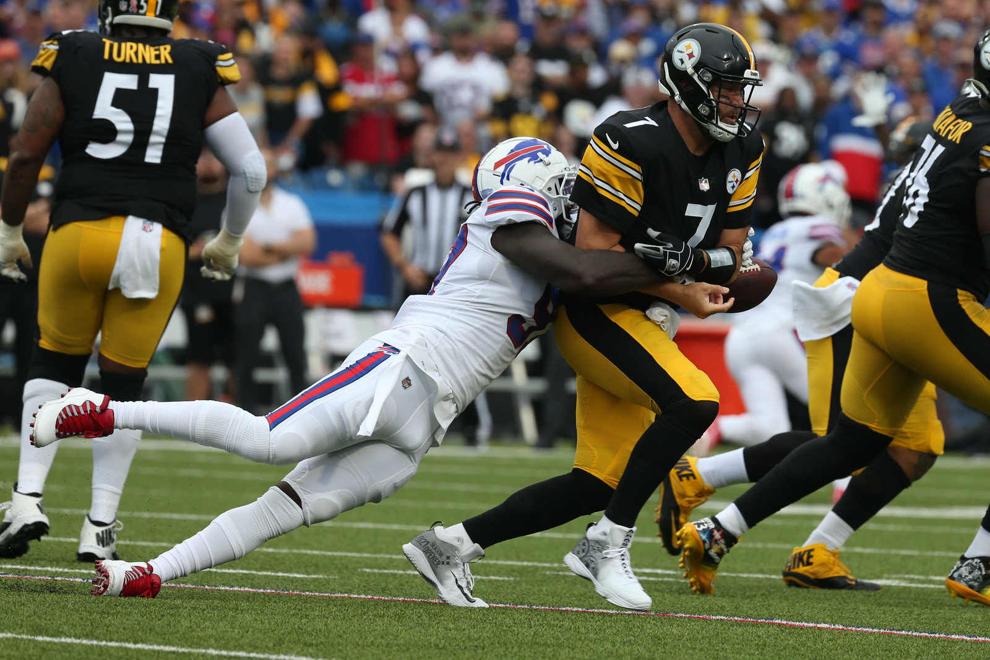 Airing it out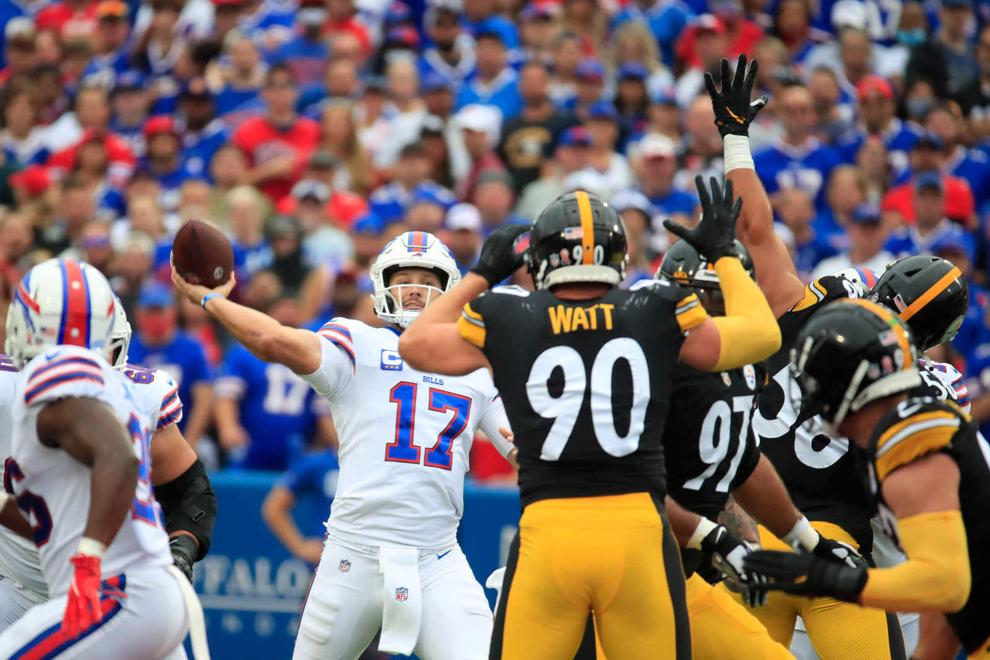 Pittsburgh passer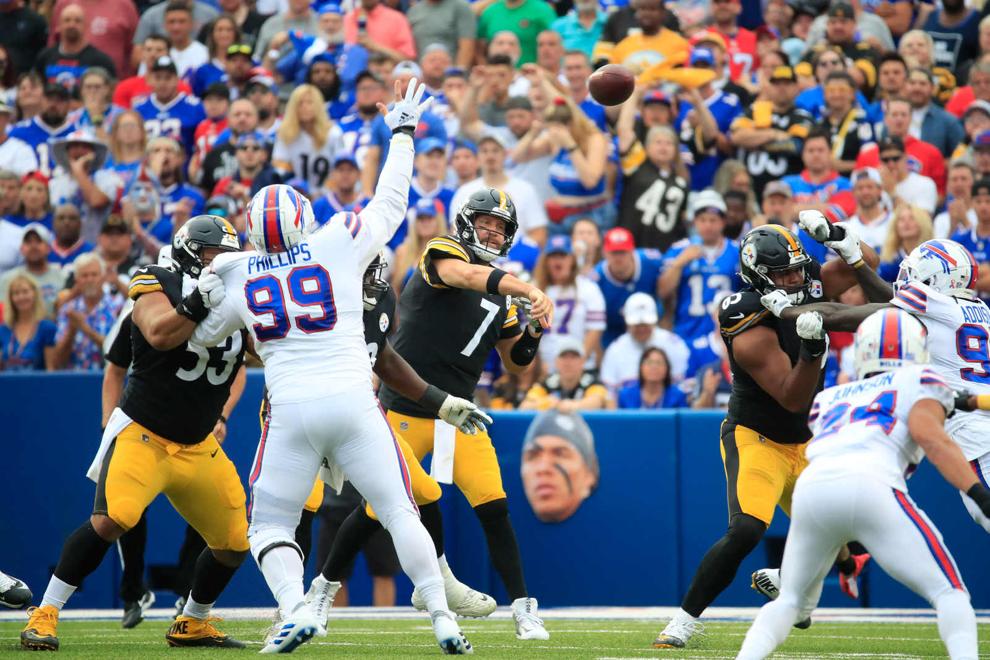 Coach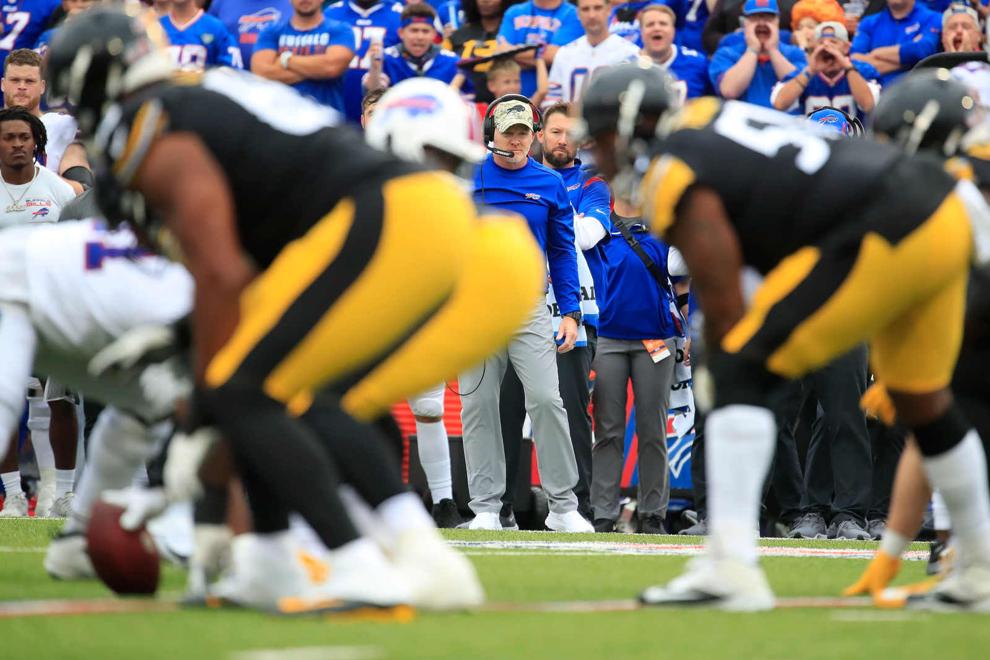 Battle of the backs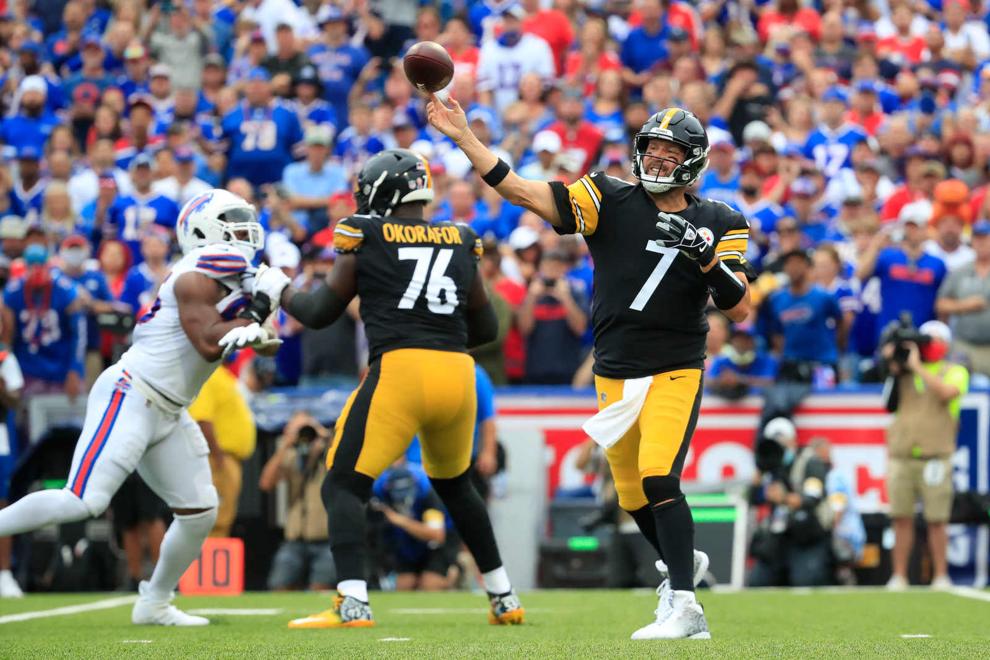 Tomlin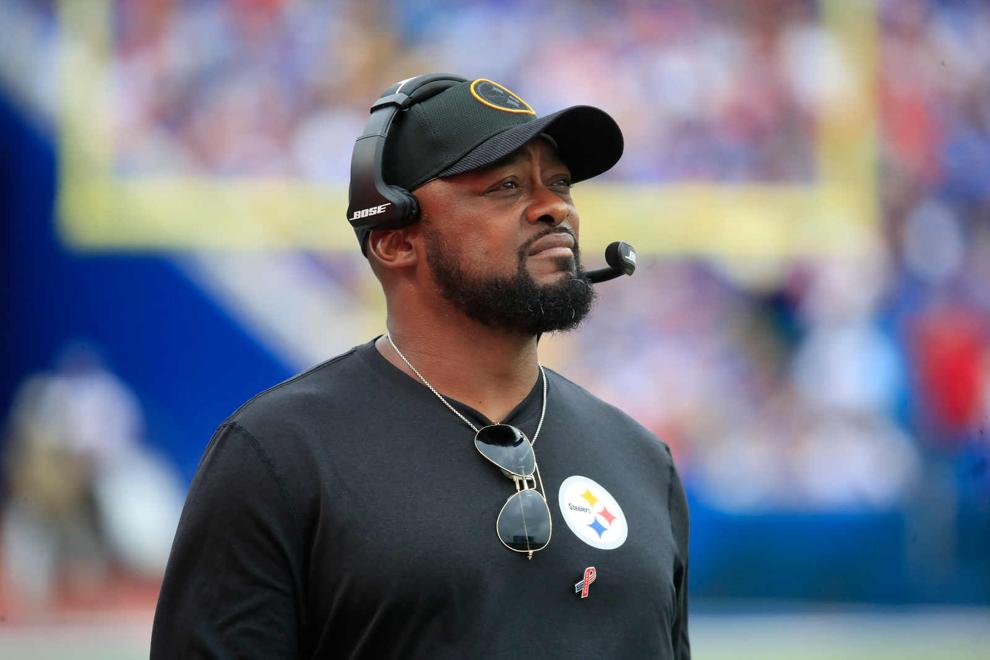 Big play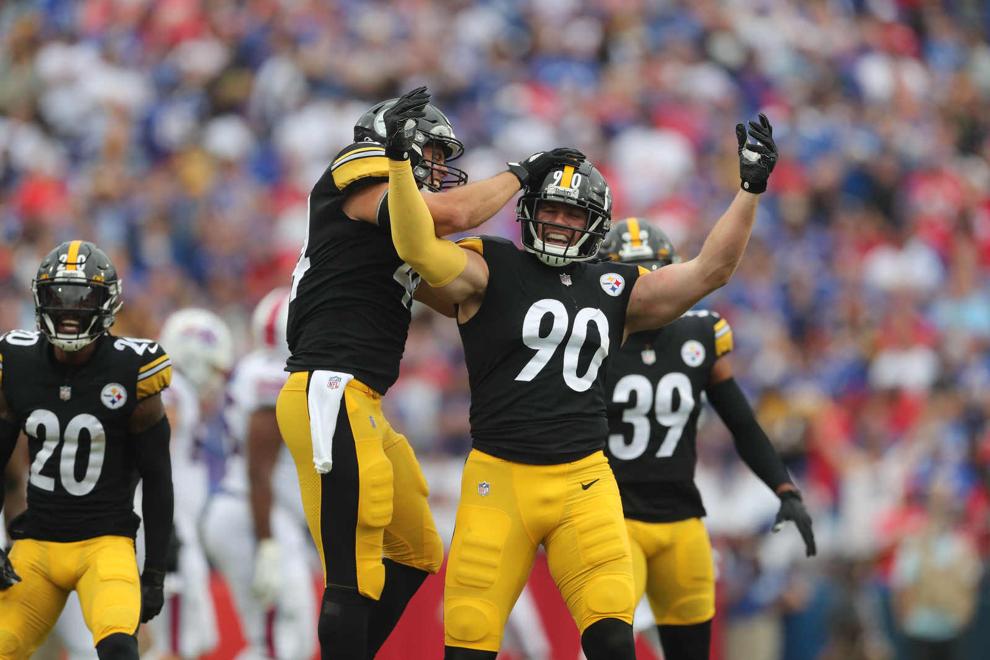 Watch now: Bills defender Micah Hyde speaks after loss to Steelers
Watch now: Bills' Jordan Poyer talks about loss to Steelers
Watch now: Bills quarterback Josh Allen speaks after loss to Steelers
Watch now: Bills lineman Mitch Morse speaks after loss to Steelers
Watch now: Bills RB Devin Singletary speaks after loss to Steelers
Watch now: Bills head coach Sean McDermott discusses going for it on fourth down
Sack
Can't hang on to Claypool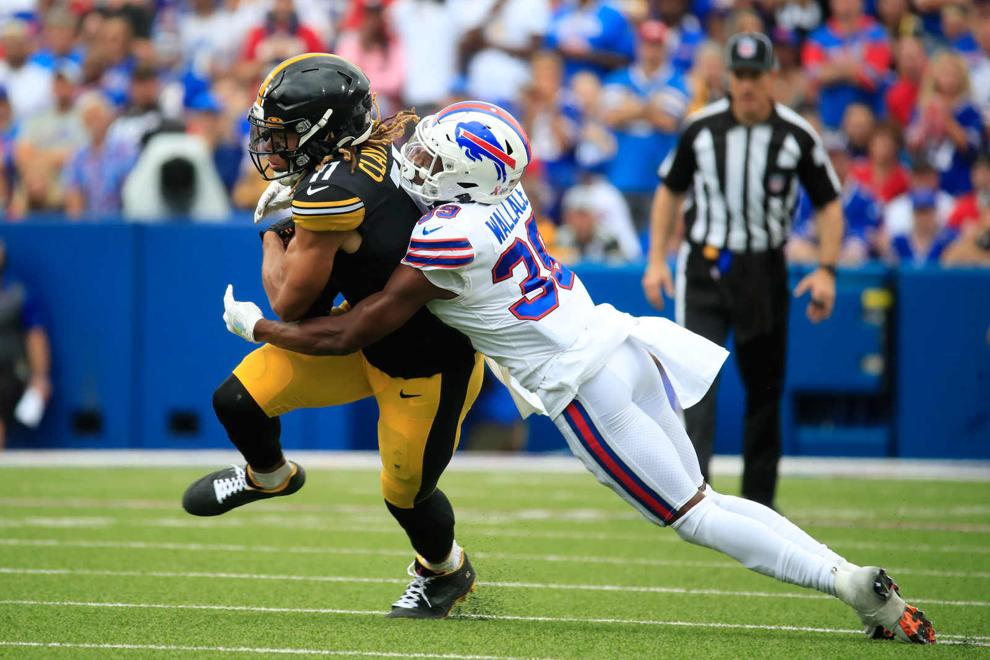 Broken play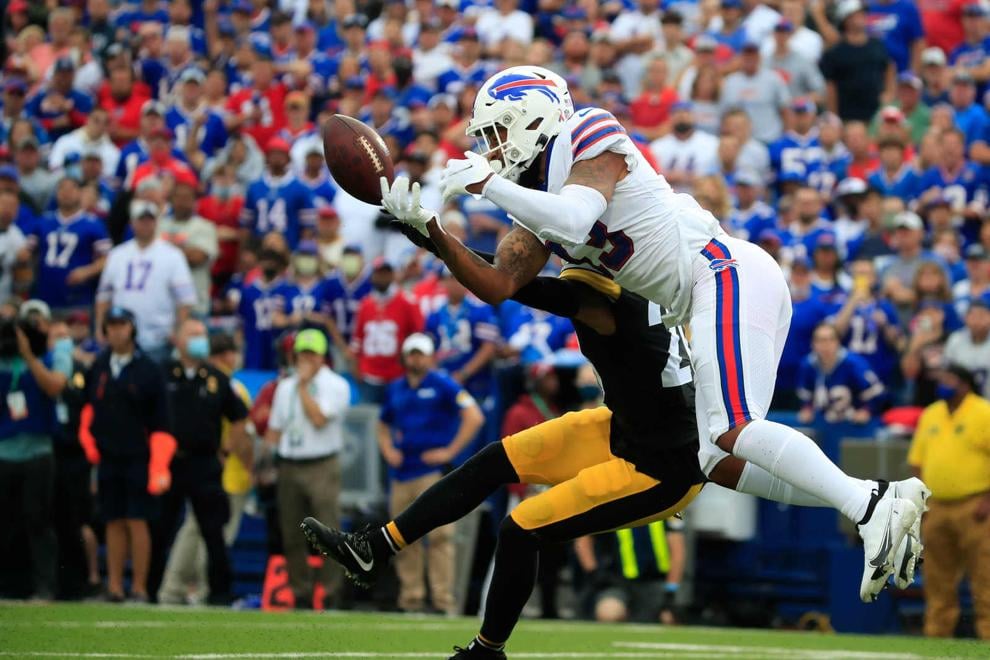 Brieda from the backfield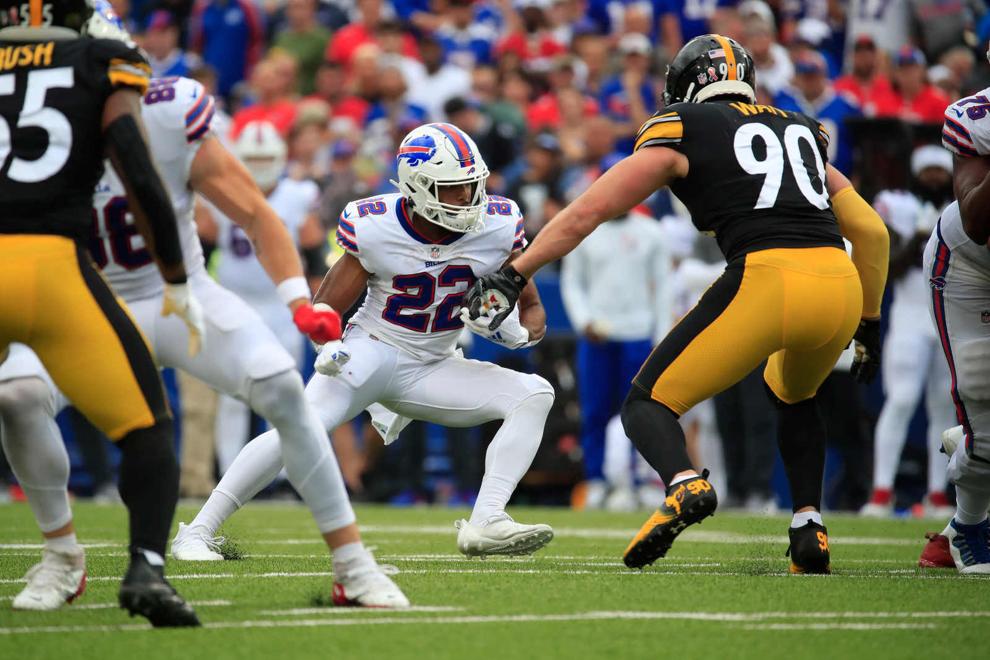 Trouble in the secondary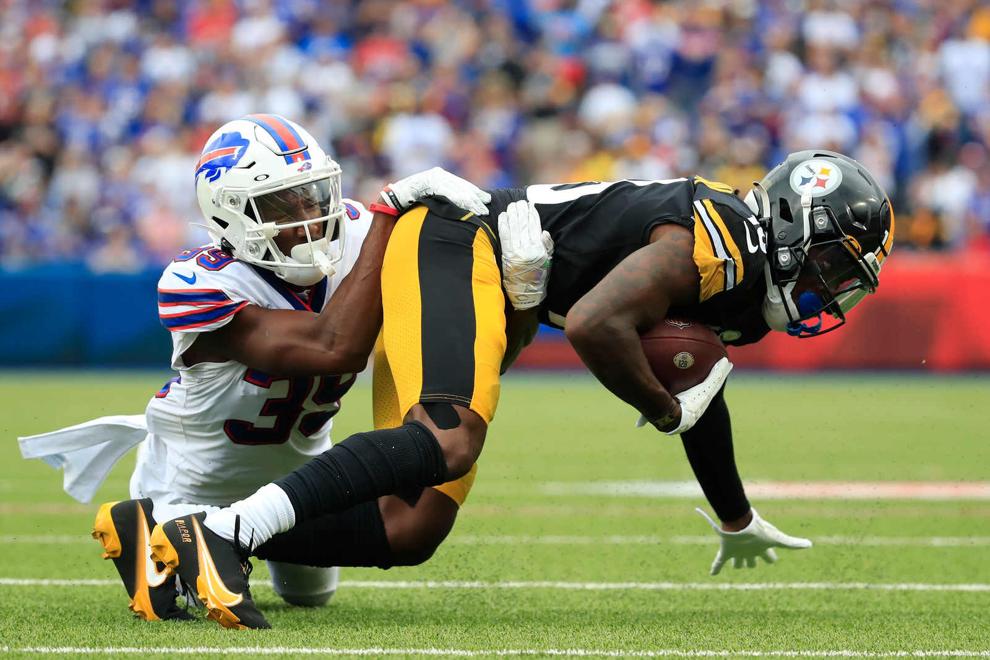 Roethlisberger fires
Big catch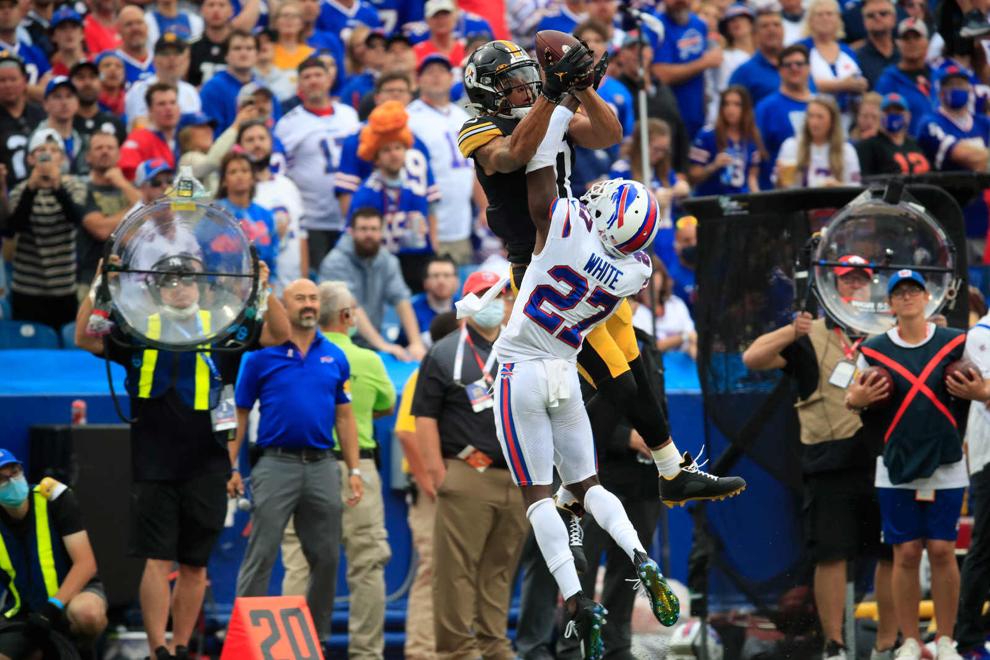 Hanging on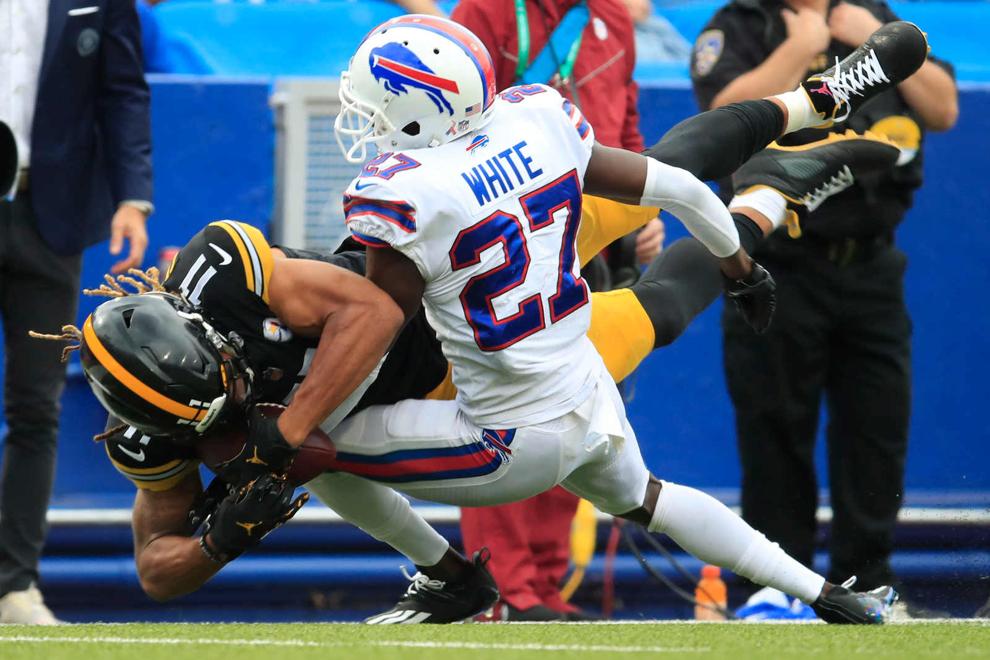 Johnson covers Johnson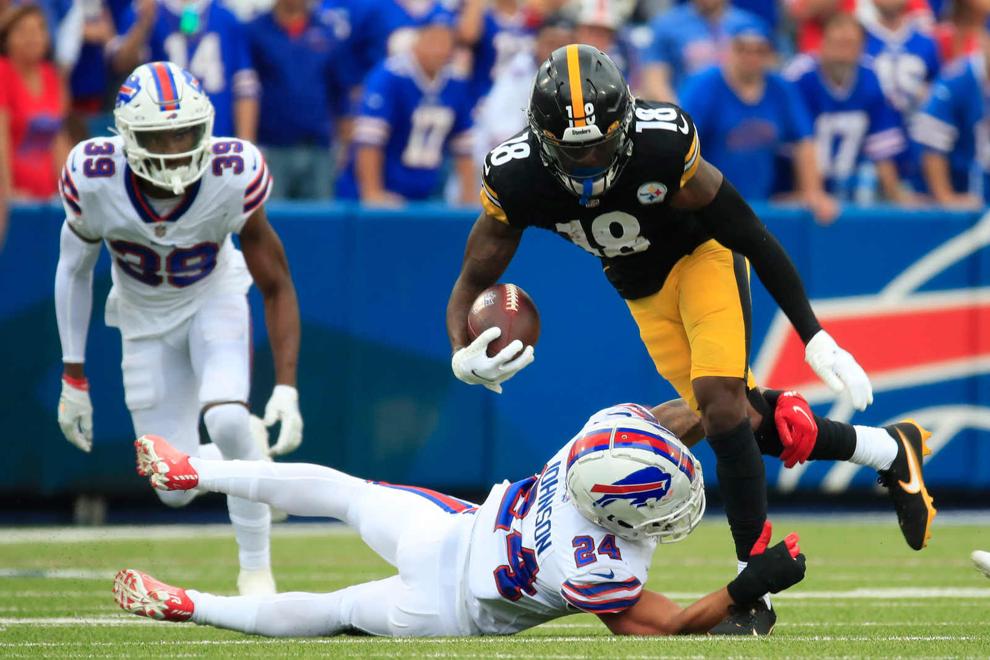 QB keeper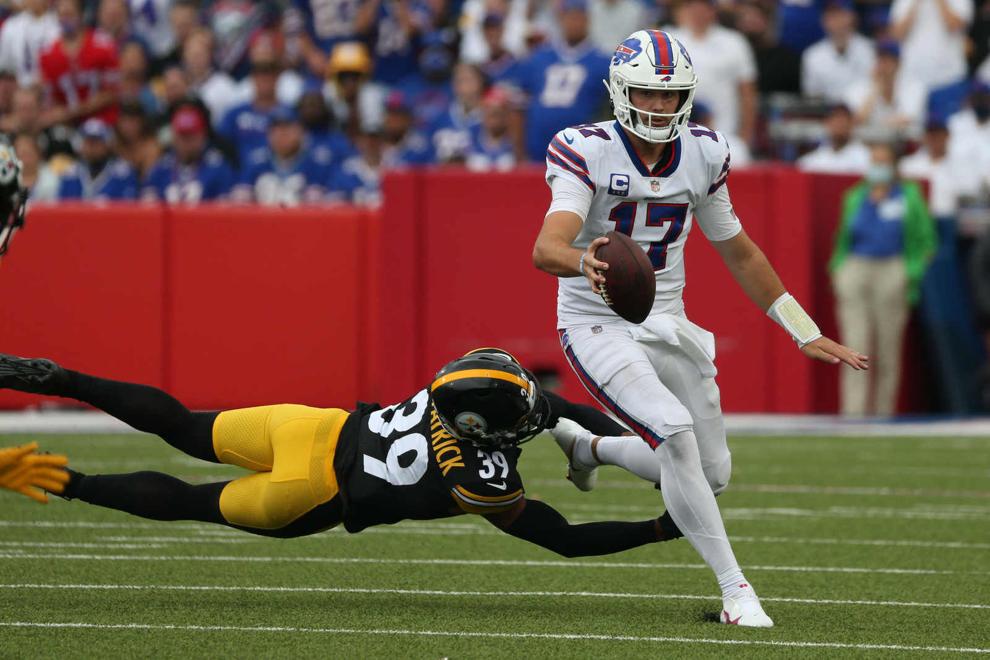 Sideline focus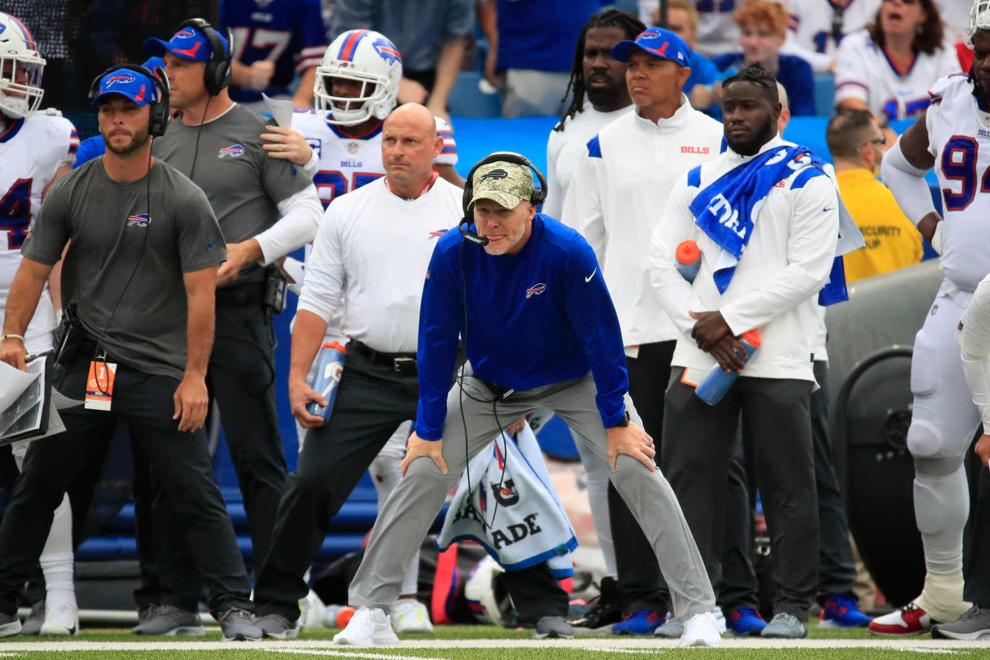 Game changer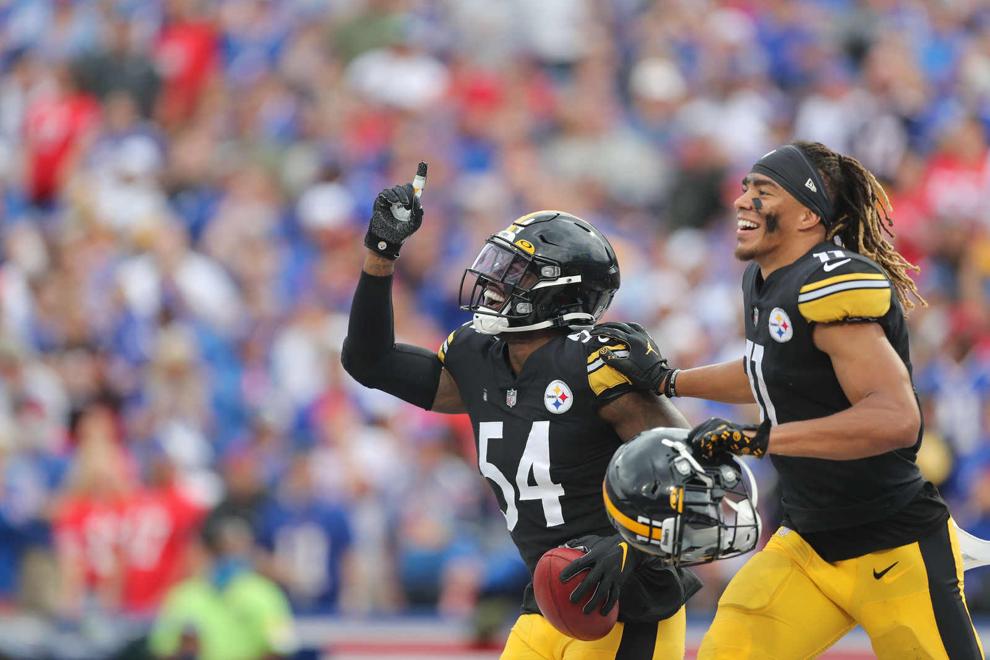 Pulling away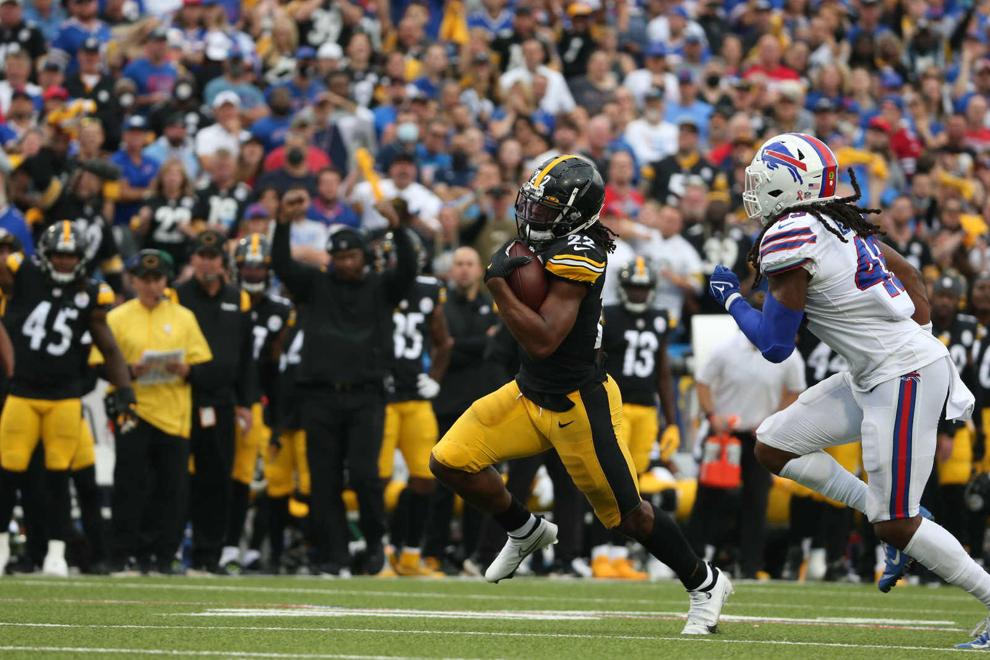 Airborne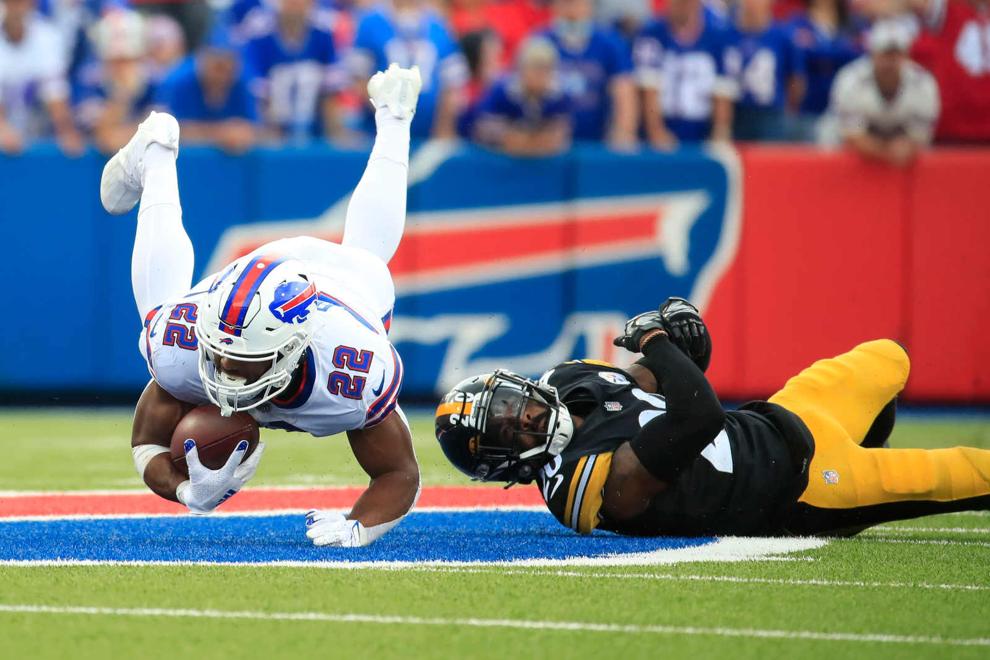 Harris breaks out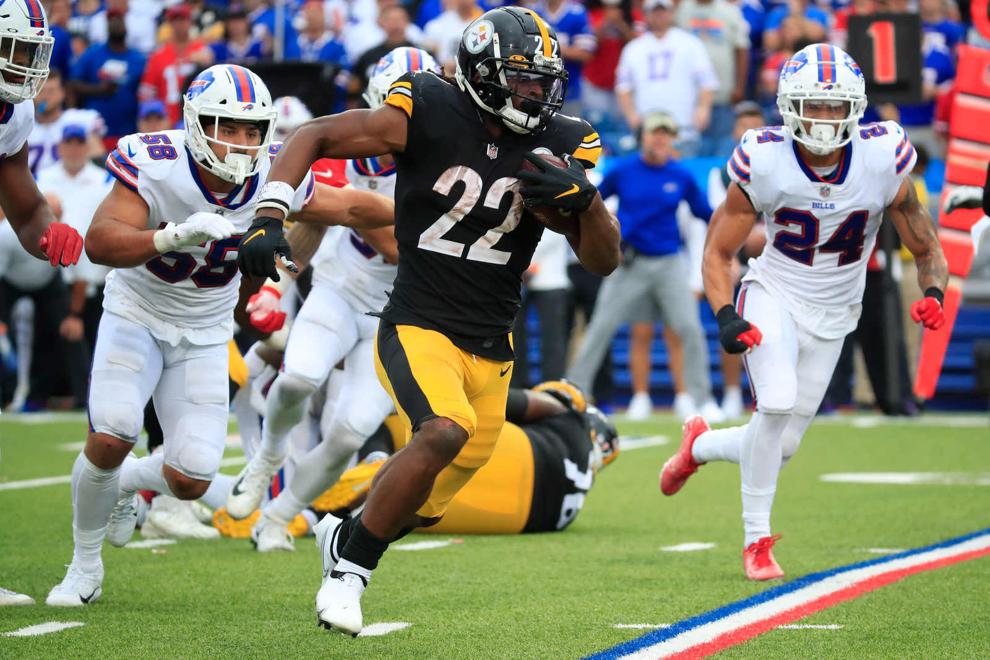 Unanswered points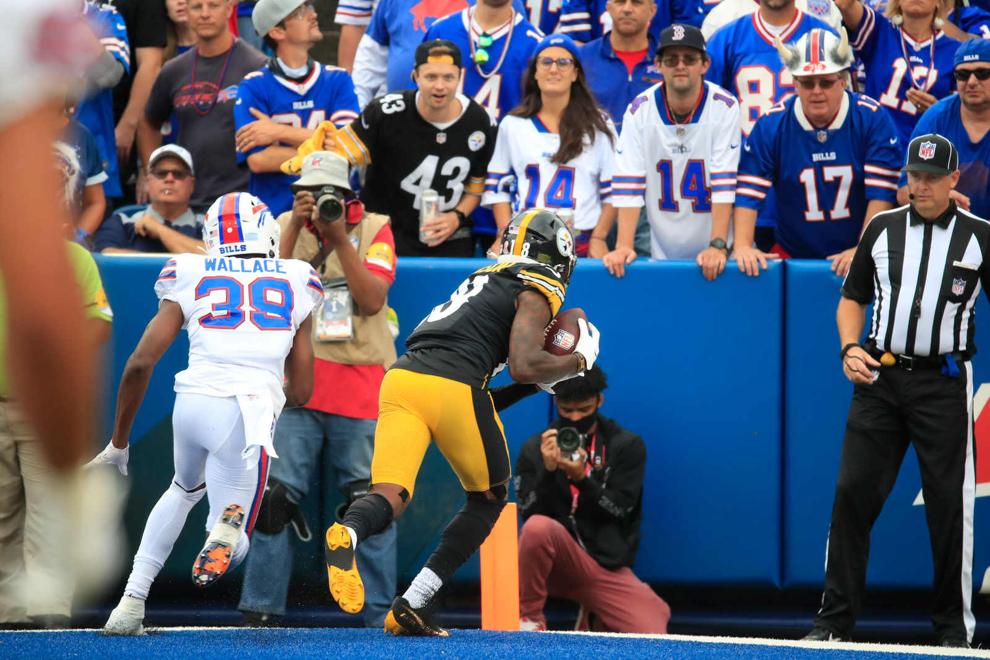 Hard feelings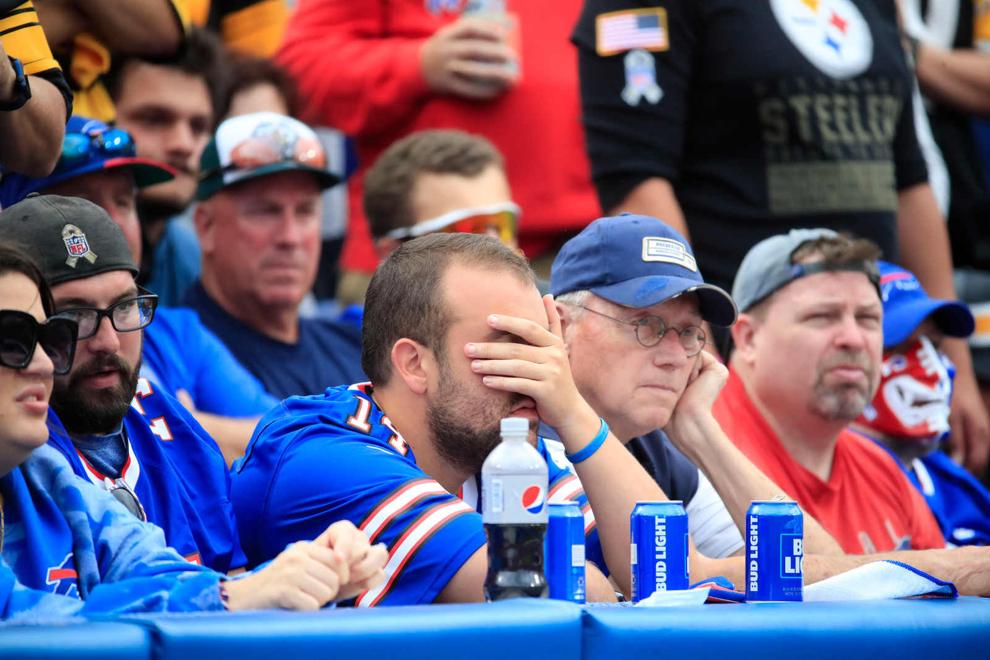 Singletary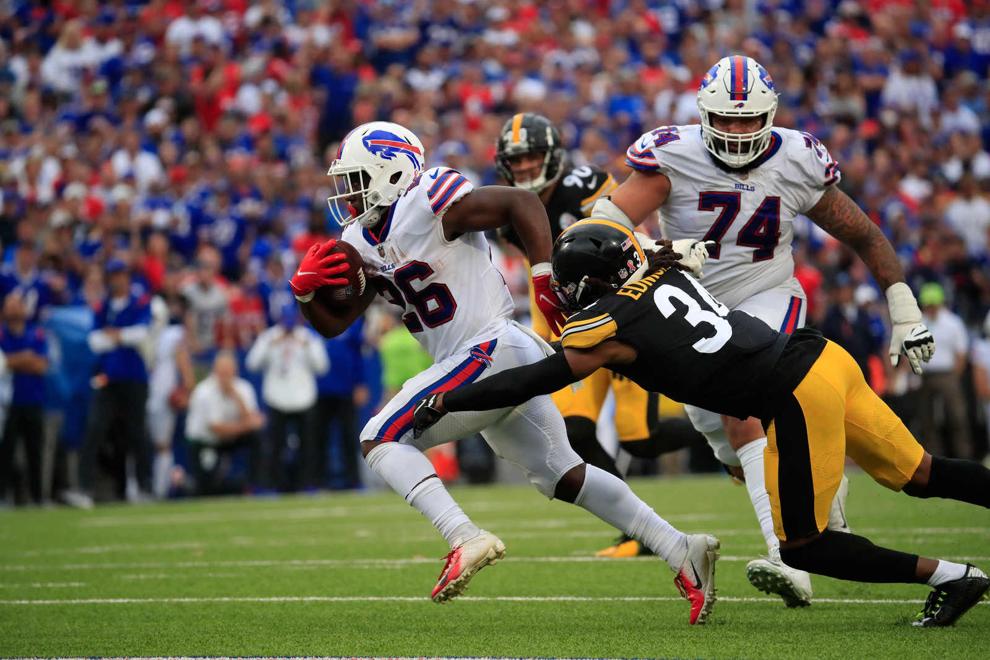 Facing adversity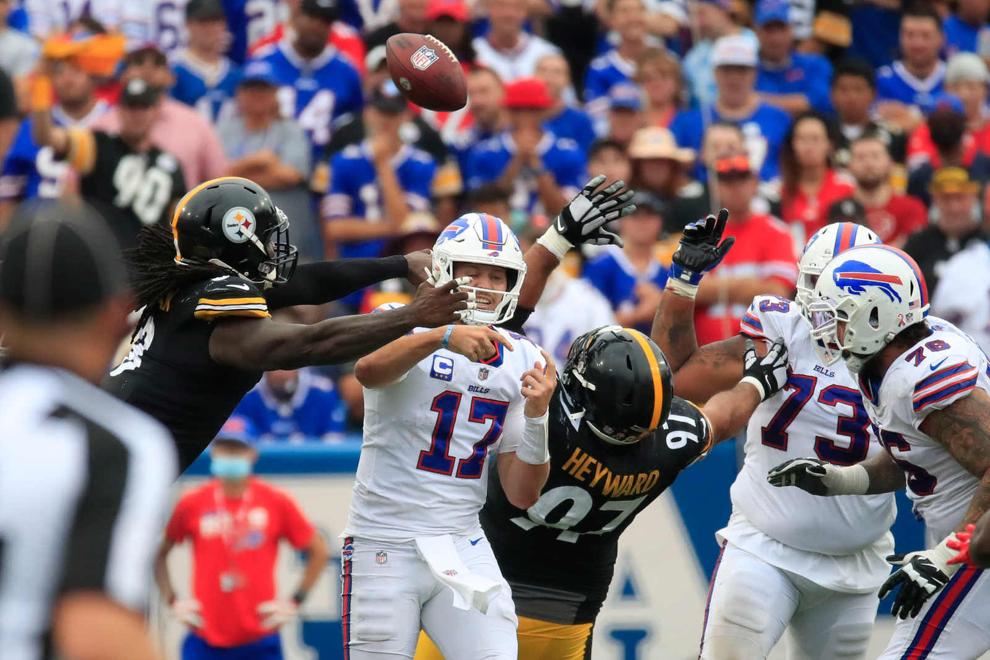 Reception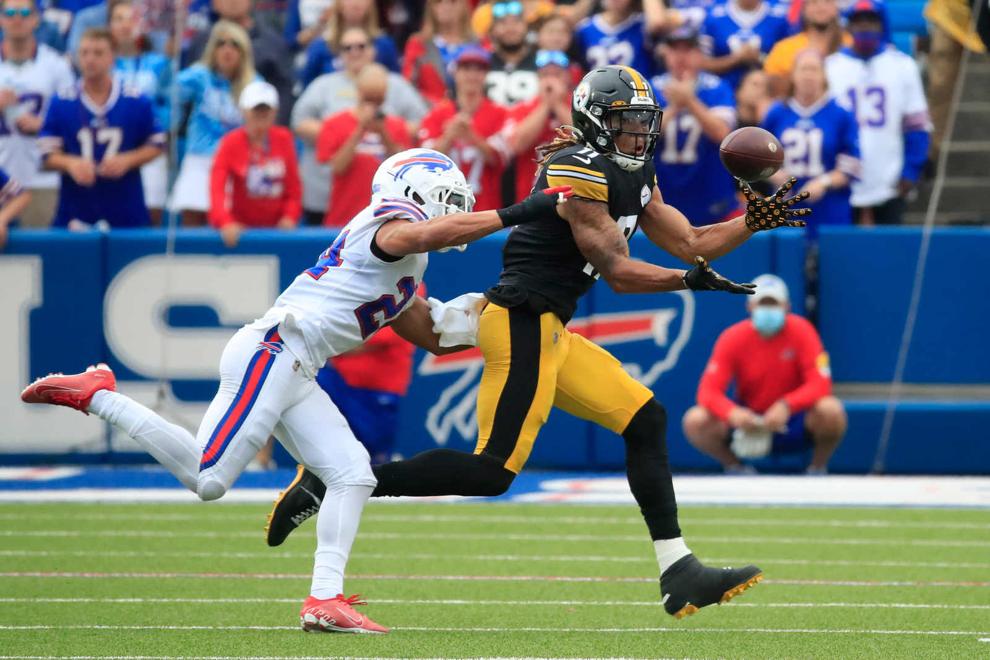 Going nowhere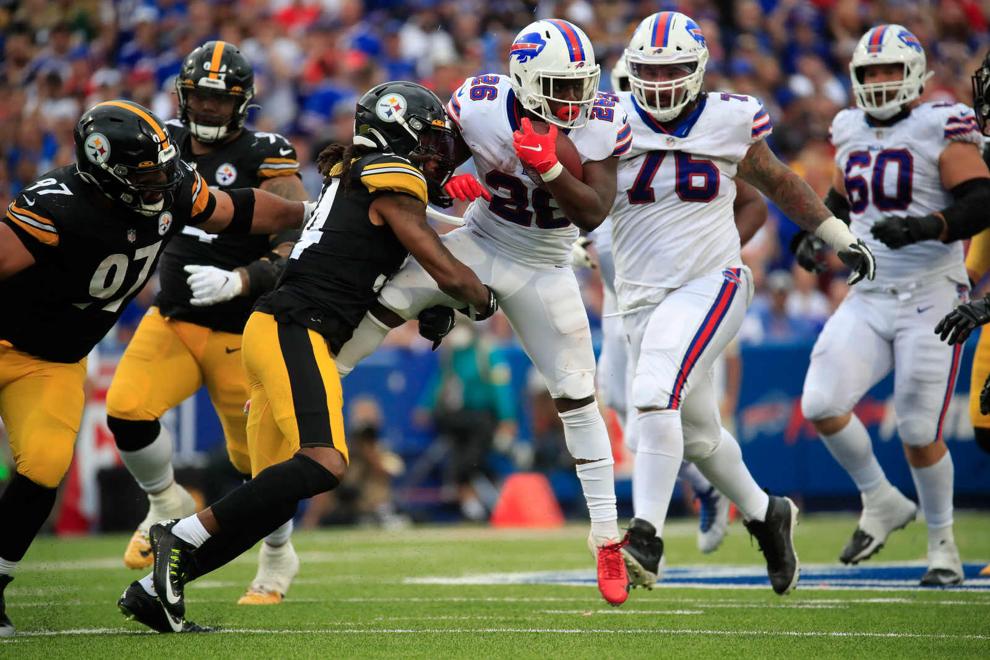 Flat tire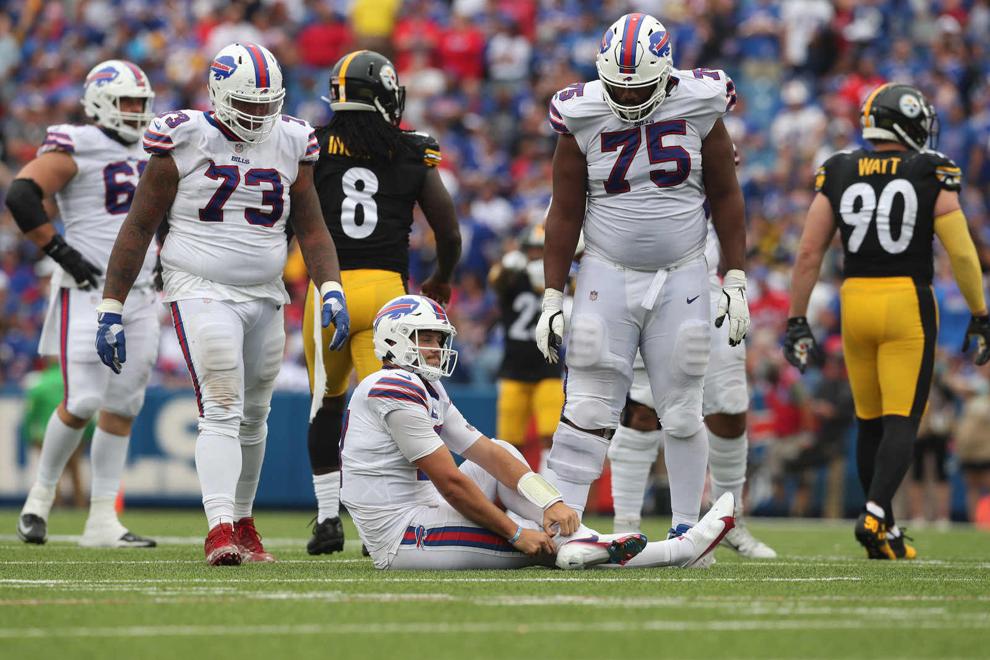 Sad ending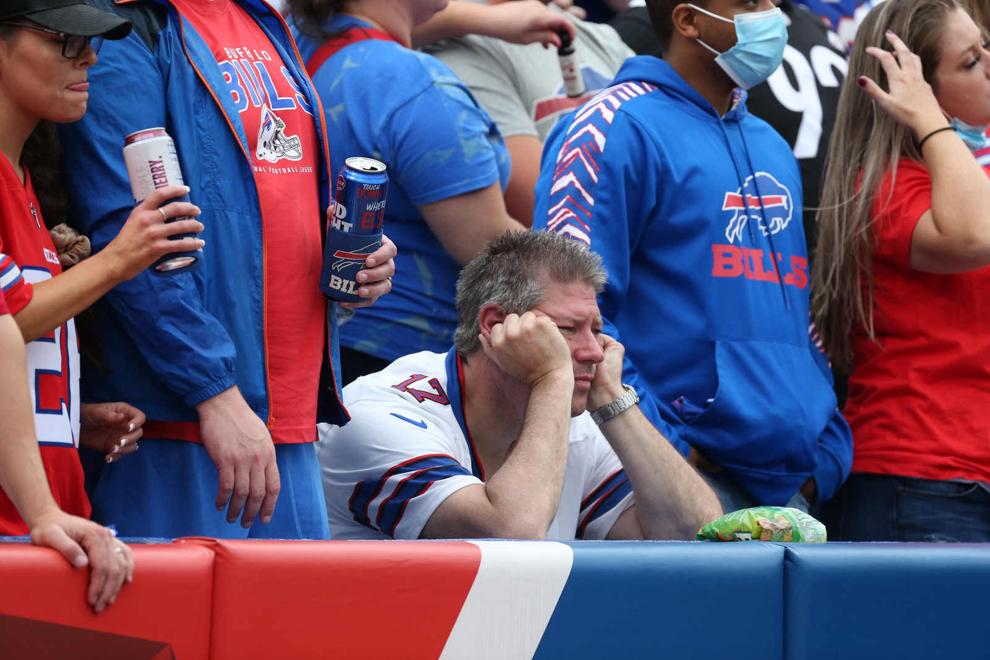 Motivated for next week