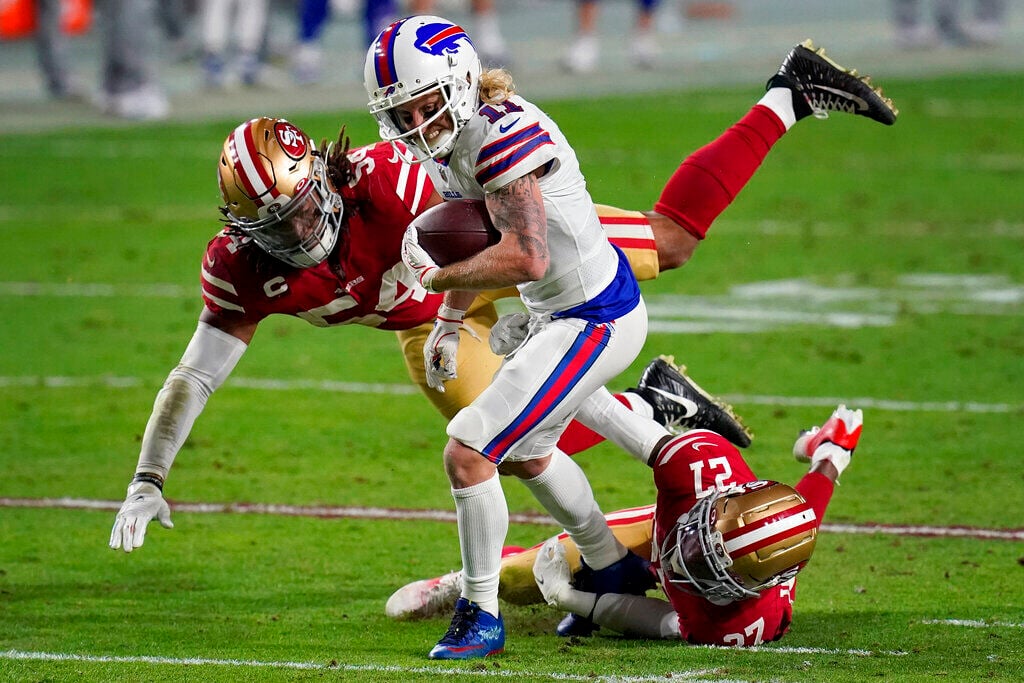 Cole Beasley was free money Monday night.
Betting lines had the Buffalo Bills' wide receiver over/under 4.5 catches and 59 receiving yards on Monday Night Football against the San Francisco 49ers.
Had you taken the over on both of those bets, you could have cashed in before halftime in laughably easy fashion. Beasley dominated the first half, racking up seven catches for 113 yards and a touchdown. He slowed down a bit in the second half, but still finished with nine catches on 11 targets for 130 yards in what was an easy 34-24 victory at State Farm Stadium in Glendale, Ariz. The 130 yards blew away Beasley's previous single-game best of 112 yards.
"It's the grass, man," Beasley said. "I like the grass here."
Beasley got started early, catching two passes for 34 yards on the game's opening drive, but the team announced a short time after his second catch that he was being evaluated for a head injury.
Luckily, the receiver was able to return a short time later. That proved to be huge for the Buffalo offense. Beasley entered with a favorable matchup, as the 49ers were without cornerbacks Emmanuel Moseley and K'Waun Williams. That's after San Francisco put cornerback Jamar Taylor on injured reserve, meaning the 49ers were down to at least their fourth option at the position.
Sensing that mismatch, offensive coordinator Brian Daboll went to Beasley early and often. The receiver had three catches for 69 yards in the first quarter alone, then opened the scoring for Buffalo with a touchdown early in the second quarter.
"Any time I can get a few deep ones, a few big gains, that helps me a lot," Beasley said. "I do a lot of work underneath, so any time I can get over the top, behind the defense from time to time, that definitely helps with that. That's what happened today, and (quarterback Josh Allen) did a good job of extending plays and finding me. I'm just glad I was able to make the plays for him."
The only one to slow Beasley down Monday was Bills guard Jon Feliciano. He picked the receiver and "rocked him to sleep," after the score, one of the more creative touchdown celebrations of the season.
"Feliciano came up that idea. He came up with it at practice the other day," Beasley said. "I told him if I got in the end zone, I'd let him rock me to sleep. He did a good job. I was really happy he came and found me when I got in there."
With that score, Beasley has 33 career touchdowns – the most ever for a player 5-foot-8 or shorter, according to ESPN's Stats and Information.
Beasley has 66 catches on the season for 797 yards, eclipsing his total of 778 yards last season in his first year with the Bills. 
Playing against his childhood team, Allen was absolutely masterful on the national stage, writes Jay Skurski.
2. The Bills got a major key to their defense back. Linebacker Matt Milano was activated from injured reserve prior to the 4 p.m. deadline, which made him eligible to play in Week 13. Milano, though, did not get the start. That went to A.J. Klein, who has played well recently in Milano's absence.
Milano, 26, has played in just five games this season entering Monday, missing three straight games and five of the past seven because of a pectoral injury. He also missed the Week 2 win over Miami because of a hamstring jury.
It stood to reason that Milano would be activated after making the trip to Arizona to face the 49ers, but the Bills took the announcement right up to the 4 p.m. deadline.
Milano came into the game on third down on the Bills' first defensive series. He slipped on a third-and-6 completion for the 49ers that went for 11 yards to Brandon Aiyuk in Milano's coverage zone, giving the 49ers a fourth and goal.
Klein, the reigning AFC Defensive Player of the Week, has flourished recently at weak-side linebacker, which is Milano's usual spot in the lineup. Klein had three assisted tackles and a quarterback hit. 
Milano made a big play late in the second quarter, getting a good pass rush against 49ers quarterback Nick Mullens. He finished with two tackles and a quarterback hit.  
3. Devin Singletary went down early. The Bills' second-year running back was hurt on a first-down carry on Buffalo's opening possession after a 5-yard gain. Singletary suffered a knee injury, but the ESPN television broadcast showed him testing the injury on the sideline with trainers a short time later. The Bills announced Singletary was probable to return to the game, which he did a short time later because ... 
4. Zack Moss got hurt. After coming in to replace Singletary on the first drive, Moss was slow to get up after a run inside the 49ers' 10-yard line. Officials ruled that Moss fumbled on the play, but replays showed he was down by contact before the ball came out. Like Singletary, Moss was also able to return to the game a short time later. Unfortunately for the Bills, Moss fumbled on the first play of the Bills' second possession. That led to Singletary being the primary ball carrier for the rest of the first half. Moss was benched well into the second half, when he returned to run for a loss of 1 yard on a third-and-1 carry from the 49ers' 34-yard line. Moss finished with three carries for 9 yards, while Singletary carried 18 times for 61 yards.
On Monday night, Josh Allen delivered again, writes Vic Carucci.
5. Stefon Diggs reaches 1,000. Diggs had 92 yards receiving with 10 receptions on 11 targets to cross 1,000 yards for the third consecutive season.  He became the sixth Bills receiver to reach 1,000 yards within the Bills' first 12 games of a season, joining Andre Reed (twice), Eric Moulds (twice), Elbert Dubenion, Frank Lewis and Peerless Price.
Diggs' total of 1,037 is second most in his NFL career for a single season, behind his 1,130 yards in 2019.
As much attention as Diggs' stats get, he threw a crucial block on Tarvarious Moore on the goal line to help Dawson Knox get into the end zone for a touchdown. 
6. The teams traded goal-line stands early. The Bills' first drive reached the San Francisco 1-yard line, but the offense couldn't punch it in when quarterback Josh Allen threw an incomplete pass intended for veteran tight end Lee Smith. Allen initially looked elsewhere on the play, but not seeing anything to his liking, turned back to Smith. There appeared to be some miscommunication between the two, as Smith had some open space, but drifted too far. Allen's throw went to the open spot, meaning it was behind the tight end.
The Bills' defense then gave up a 98-yard drive, but wouldn't concede the final yard San Francisco needed for a touchdown. Middle linebacker Tremaine Edmunds stopped 49ers running back Jeff Wilson on a fourth-and-goal rush from the Bills' 1-yard line.
7. Defensive end Trent Murphy and tight end Tyler Kroft were again inactive. The Bills stuck with their same lineup from last week, when they beat the Los Angeles Chargers. That meant Murphy and Kroft sat for a second straight time. Murphy has now been a healthy inactive three times this season, with rookie A.J. Epenesa and second-year veteran Darryl Johnson Jr. taking on a bigger role. Kroft also missed the Week 10 game against the Cardinals in Arizona because he was on the NFL's reserve/Covid-19 list.
Rookie quarterback Jake Fromm was inactive, as he has been all season, while running back T.J. Yeldon sat for the ninth time in 12 games.
Mark Gaughan checks in with a quarter by quarter look at the Buffalo Bills' 34-24 victory over the San Francisco 49ers at State Farm Stadium in Glendale, Ariz., on Monday night.
8. 'Hail Murray' wasn't on McDermott's mind. Asked last week whether there might be any carryover from the Bills' heartbreaking Nov. 15 loss in Arizona when they return to State Farm Stadium, McDermott was matter of fact. "We're playing the San Francisco 49ers."
NFL Network and talk show host Rich Eisen apparently wasn't so sure. When interviewing 49ers CEO Jed York last week, Eisen suggested there might be a way to make the Bills recall their last visit in loud and full color. Eisen reiterated his stance on Sunday's NFL GameDay Morning on the NFL Network.
"They're going to be a little spooked coming into that building," Eisen told York. "I know it's a new building for you, but you've been there before. Do the whole thing, the sound with the call. You put Kyler Murray to DeAndre Hopkins up there and just keep rolling it over and over again. ... A play like that there's six, seven angles."
In making his pick on Sunday's show, Eisen said, "When the Bills hit the field they should play the 'Hail Murray' on the screen and basically say, 'Hey, we just hit play and that's what was in there.' You know, 'Hands free.' I don't know even know if that's how it works."
Eisen and former 49ers coach Steve Mariucci selected San Francisco; Kurt Warner and Michael Irvin selected the Bills.
9. The line shifted. The Bills opened as three-point favorites after Week 12, but by kickoff, the game was either a pick 'em or the 49ers were favored by a point. So what happened?
"Vegas is infatuated with the Niners right now," said Marc Lawrence of Playbook.com, who handicaps the Bills for The Buffalo News. "With a ton of inured players back, they are expecting them to make a run at a playoff spot, and (the) Bills have been sloppy in the stats – outgunned in six of last nine games, with one of the stat wins by a meager yard."
10. More first downs. The Bills had 31 first downs, equaling a season high set against the Jets. They extended the franchise record for consecutive games with at least 20 first downs to 12.