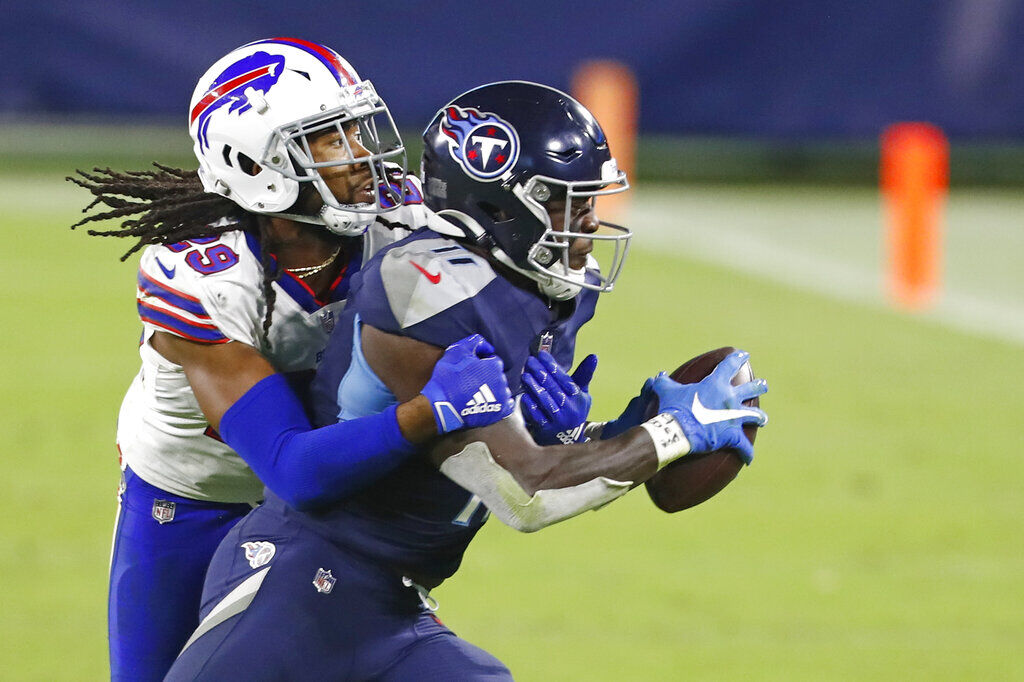 The Buffalo Bills' defensive struggles can no longer be covered up.
Powered by a high-octane offense, the team got off to a 4-0 start, despite the defense failing to resemble the unit that finished third in yards and second in points allowed in 2019.
When the offense hit a speed bump Tuesday night against the Tennessee Titans, however, the defense's shortcomings came into clear focus. The Bills had issues at every level against quarterback Ryan Tannehill and Co., a big part of why the team is no longer undefeated after an ugly, 42-16 loss at Nissan Stadium.
"I wish I had the answers right now," safety Micah Hyde said after the loss. "I feel like if I did, we could go out there and execute a little bit better."
Hyde has been through a situation like this before. He was quick to bring up his first year with the franchise, when the Bills went through a three-game losing streak, giving up an average of 45 points per game.
"Me personally, I could have did better tonight," Hyde said. "And I think everybody on the defense and offense and special teams could say the same. When a loss like this happens, you've got to look yourself in the mirror, the team has to look itself in the mirror and understand we're not unbeatable. The defense, we're going to get it right with a guy like Sean (McDermott) steering ship. I have 100% confidence in him, (defensive coordinator Leslie) Frazier, the position coaches and all the guys on defense."
You had an inkling it wasn't going to be a good night for Josh Allen or the Buffalo Bills on the third play from scrimmage.
Through five games, the Bills rank 17th in yards allowed per game (371.8) and tied for 21st in points allowed per game (28.4), way off their finishes last year of third and second best in the league, respectively.
"I don't think I'm too concerned, because I know we have the players, and we've got the coaching to get it done," defensive end Jerry Hughes said. "We've got to understand we had a great year last year, we're going to get everyone's best this year. They're not going to take us for granted. It isn't going to be the Buffalo Bills are going to sneak up on people. Especially in this league, they understand we've got some talent on both sides of the ball, so we're going to get everyone's best shot. And for us, we've got to come out there and we've got to answer it.
"For us on defense, we'll come out and we'll play a lot better football. I know we can."
It's not a total shock that didn't happen Tuesday night. All-Pro cornerback Tre'Davious White missed the game with a back injury, joining linebacker Matt Milano, who was out with a pectoral injury. Those two are critical pieces to the defense.
Without White, the Bills started veteran Josh Norman and Cam Lewis, a University at Buffalo product recently promoted from the practice squad at cornerback. Norman had a game that he would like to quickly forget. He'd also like everyone else to quickly forget one play in particular.
The Bills had outscored foes, 41-19, in the second quarter and 76-29 in the first half. This was the first game of the season in which the Bills trailed at halftime.
Titans running back Derrick Henry, using all of his 250 pounds, stiff-armed Norman into November on a 4-yard run in the second quarter. The play ended up not counting because of a penalty. Unfortunately for Norman, however, it won't be forgotten so easily.
Norman, who was often asked to guard Titans receiver A.J. Brown one-on-one, was also whistled for a pair of pass-interference penalties.
He was far from the only culprit, though. The defensive failures ran deep, and with a matchup against Patrick Mahomes and the defending Super Bowl champion Kansas City Cheifs coming up, the Bills have plenty of work to do.
2. John Brown was out. The Bills' No. 2 receiver, who was questionable on the final injury report, missed the game with a knee injury. In his absence, rookie receiver Gabriel Davis appeared to take every offensive snap. Davis, who had a touchdown catch in the first half wiped out by a penalty, finished with five catches for 58 yards.
3. Dane Jackson made his NFL debut. With White out, the rookie seventh-round draft pick was promoted from the practice squad. The Bills also promoted linebacker Andre Smith, who played in his second game of the season.
4. Matt Barkley got his first playing time of the season. With the Bills trailing big after the two-minute warning in the fourth quarter, Barkley replaced starting quarterback Josh Allen. On Barkley's first pass, he was nearly intercepted by Titans defensive end Jadeveon Clowney. Barkley finished his night going 3 of 5 for 22 yards.
"We're not about excuses and explanations at this point," McDermott said. "That's not how we do things here. We get paid to be ready to go and we weren't ready to go."
5. Rookie running back Zack Moss missed his third straight game. Moss, who was questionable on the final injury report, has been dealing with a toe injury. With Moss out, running back T.J. Yeldon got his most extensive playing time of the season. Yeldon finished with seven carries for a team-leading 52 yards, converting a few tough third-down runs. He also caught a 22-yard touchdown from Allen in the fourth quarter.
6. The Bills lost tight end Dawson Knox in the second half to a calf injury. Before getting hurt, Knox had just one catch for 15 yards on three targets. Knox also had a drop on what could have been a big play. Hyde appeared to suffer a non-contact leg injury early in the game, but was able to return. Asked after the game about the injury, Hyde said, "I'm all good, baby. It's football. It happens."
Veteran Ty Nsekhe also replaced Dion Dawkins at left tackle for at least a few plays, although it's unclear if that was related to an injury.  
7. The Bills had to deal with an unexpected absence. Guard Quinton Spain, a former member of the Titans, reported foot soreness to the team's training staff before the game and was subsequently made inactive. Luckily for the Bills, left guard Cody Ford and right guard Brian Winters, both of whom were questionable for the game on the final injury report, were able to play. Ford is dealing with a hamstring injury, while Winters has a knee injury. With Spain out, guard Ike Boettger was active for the first time this season.
8. The Titans had 24 members of their organization test positive for Covid-19, leading to a week's worth of speculation of whether the game would even be played. Of them, 13 positive tests were returned by players. Four of those players – starting nose tackle DaQuan Jones, long snapper Beau Brinkley, backup right tackle Isaiah Wilson and cornerback Greg Mabin (on the practice squad) were cleared from the list before the game. That left the Titans without nine players, including seven of them on the active roster: Wide receivers Corey Davis and Adam Humphries, defensive end Jeffery Simmons, cornerback Kristian Fulton, offensive lineman Kamalei Correa, fullback Khari Blasingame and tight end MyCole Pruitt.
There was plenty of speculation that the Titans would be severely punished by the NFL in the form of possible suspensions, forfeiture of draft picks and possibly even a forfeiture of the game, but NFL commissioner Roger Goodell shot that down before the game.
"We have all been working – the Players Association, our medical experts, our outside experts, the Tennessee Titans, every other club involved – just to continue to put the protocols in place and ensure that modifying protocols if they need clarity, they need changes, and working to just keep our personnel safe," Goodell said. "That includes personnel and players, coaches, our team operations personnel. That focus has really been working well. We are really working closely in identifying and speaking to clubs and players and open dialogue. This is not about discipline. This is about making sure we're keeping our personnel safe. That's been our entire focus to date."
The Titans, though, were certainly aware of what was said about them. 
"We were a little ticked off about how we've been treated and how we've been talked about these last couple weeks," Tannehill told reporters.
"They hate us," Titans offensive tackle Taylor Lewan said as he was leaving the field in a video posted by the Titans. "They're angry. They said we did everything wrong. Don't put us in adversity." 
The Buffalo Bills didn't have Tre'Davious White, Matt Milano and John Brown, three critical starters inactive because of injuries. They also have no excuses for what transpired Tuesday night in Nashville.
9. Titans punter Brett Kern, a Grand Island native, is off to another great start. The Pro Bowler had punted 10 times in Tennessee's first three games, placing six of them inside the opponent's 20-yard line. His net average on those 10 punts, 43.3 yards, ranked tied for sixth in the NFL entering the game. Kern punted three times against the Bills, with all three of them being downed inside the Bills' 20-yard line.
10. The Bills had just two healthy inactives. They were veteran tight end Lee Smith and rookie quarterback Jake Fromm. Smith, a Tennessee native, caught a touchdown last year for the Bills during their 14-7 win over Tennessee.