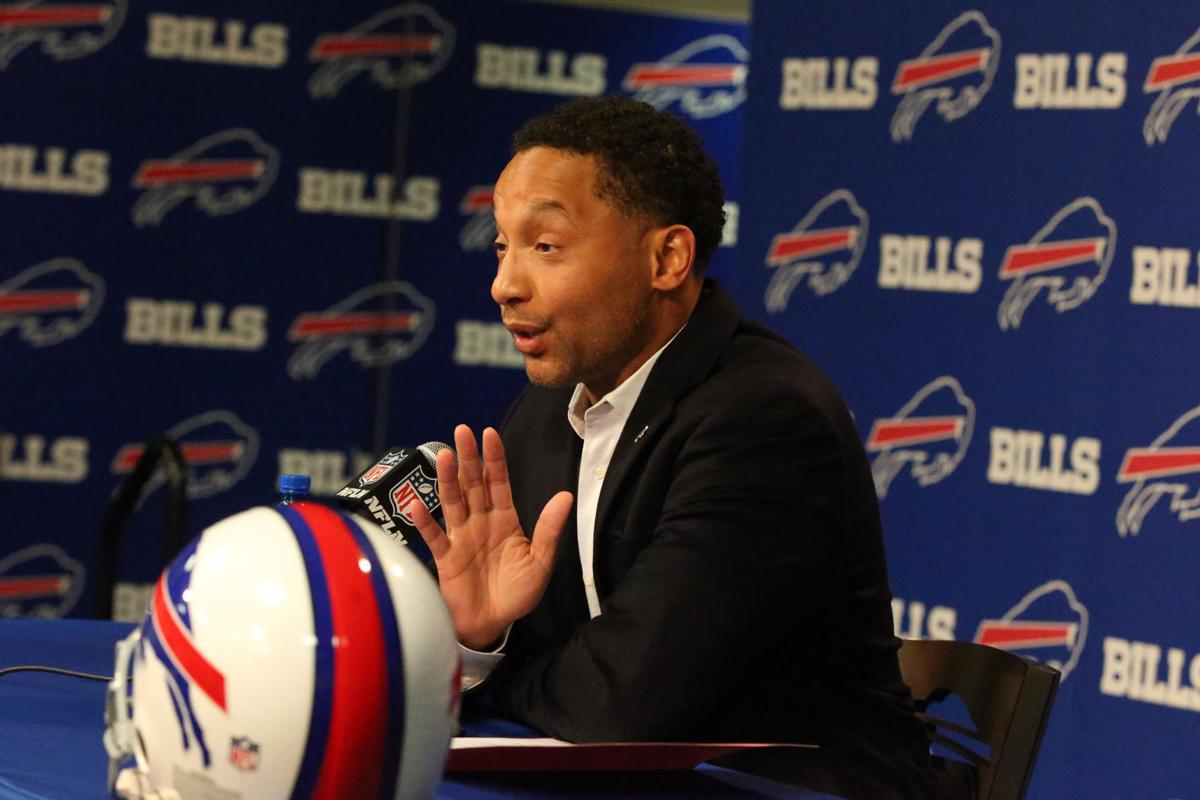 After it was all transcribed and digested, nearly 100 questions were asked of Buffalo Bills General Manager Doug Whaley on Monday.
Those questions, and his responses, comprised a transcript of more than 4,100 words.
Trying to make sense of it all? Join the club.
Whaley's inability to answer direct questions and/or willingness to openly tell half-truths or outright lies about things is stunning in its depth and frequency. Here are 10 of those moments:
1. When Whaley said he was not involved in the decision to fire Rex Ryan. The best way to sum this up comes from the classic "Office Space."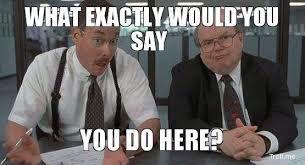 "I can just tell you that I was informed that he was not going to be our coach going forward," Whaley said.
He added that he "wasn't privy" to the conversation between owner Terry Pegula and Ryan that resulted in the coach's dismissal.
That was far from the only confusing moment, though.
2. When he said he hasn't "thought about" Ryan being fired.
Like, at all? How could that be remotely possible? The team you are in charge of just lost its head coach, and you've just gone on with your day?
"My job is to go from the decision and move this organization forward," Whaley said. "So that would be wasted time, and I would rather put that time and effort into going forward."
3. When Whaley said Ryan was the one who recommended Anthony Lynn become the interim coach.
So the guy you just fired is making decisions for the team? Wow. Wow, wow, wow, wow, wow.
4. When Whaley said he didn't ask Terry Pegula why he fired Ryan.
"I look at it this way: I'm the GM of the football operation. I was told by my boss that I would no longer be working with a certain person," Whaley said. "My role is not to figure out why. My role is to take that information and go forward and put this organization in the best possible way to win football games, so for me, I did not ask."
So the owner tells Whaley the coach is fired and his reaction is ¯\_(ツ)_/¯.
5. When Whaley said his reputation in league circles won't hurt the Bills in their coaching search.
Here is just a sampling of some of the tweets from the national media Monday:
From the distance at which I sit it looks like right now the #Bills could give any franchise in sports a run for their money in dysfunction.

— Mike Greenberg (@Espngreeny) January 2, 2017
Informal poll of 7 NFL execs ranking current open jobs:
1. Broncos (unanimous)
2. Jaguars
3. Chargers
4. Rams
5. 49ers
6. Bills

— Jason Cole (@JasonColeBR) January 2, 2017
"I have full confidence in my reputation in the league circles," Whaley said. "Not, obviously in media circles, but in league circles, that ... would not be prohibitive."
It's impossible to imagine how that's the case, particularly with the attractiveness of other coaching jobs are compared to the Bills.
6. When Whaley said Russ Brandon won't be involved in the next search for a coach – and that he doesn't really know what Brandon's role is.
"With Russ' expanded responsibilities with PSE, he will not," Whaley said. "I don't even know what he's in charge of. I just know he's in charge of a lot."
Later in the press conference, though, Whaley said Brandon has "been an advisor to me more on the administrative side than football matters and he'll be a good sounding board, but again, with his duties taking him away it'll probably be less and less. He's the president of the organization and he needs to be privy to information, but he's not in on the decision making process or lending any advice."
If there has been a constant throughout 17 years of missing the playoffs, it's been that Brandon is intimately involved with the biggest football decisions that the organization can make. He's show in the team's pictures and video from inside the team's draft room, smiling when selections are made. He was part of the last head-coaching search.
Consider me skeptical about that changing overnight.
7. When Whaley said he and Pegula spoke with Lynn before making a final decision on benching Tyrod Taylor.
"I understand the narrative put out there," Whaley said. "I totally get it. He and I have talked and we're fine."
There are several things wrong here. There is no "narrative" being put out there. The fact is Lynn said last week he wasn't in the room when that decision was made.
"Terry and I talked. We brought Anthony Lynn in and spoke to him," Whaley said. Lynn "wasn't in on every conversation we had about Tyrod that day. But the final one was consulted with Anthony Lynn."
So someone's not telling the truth here. Based on Whaley's track record, it's easy to guess who.
8. When Whaley said he has a "policy" not to speak to the media during the season.
"We have a policy that we have one singular voice, and that's the head coach during the season," he said. "Once the season is over, I'll take over as that singular voice."
If there is indeed a "policy," Whaley broke it when he addressed the addition of wide receiver Percy Harvin during the season.
"It's a policy, we're breaking it, I agree with you," he said. "But with ownership's statement" about the firing of Ryan, "I didn't feel the need to come out."
9. When Whaley said he "speaks for ownership."
If you're not consulted on decisions like firing the head coach, why are you speaking at all?
10. When Whaley said he doesn't know where the leaks are coming from inside his organization.
"It's not something that I subscribe to," Whaley said. "I don't think our organization wants to be someone that has reports coming out from its own building. We can't confirm reports are coming from our building, maybe you guys can, and please do confirm it with me. That's not the operation we subscribe to and we're going to try and shut it down as quickly as possible."
If that was true, why wasn't it shut down when it first started happening? Instead, like clockwork every Sunday morning, there would be a new, damning report on the depth of the Bills' dysfunction.