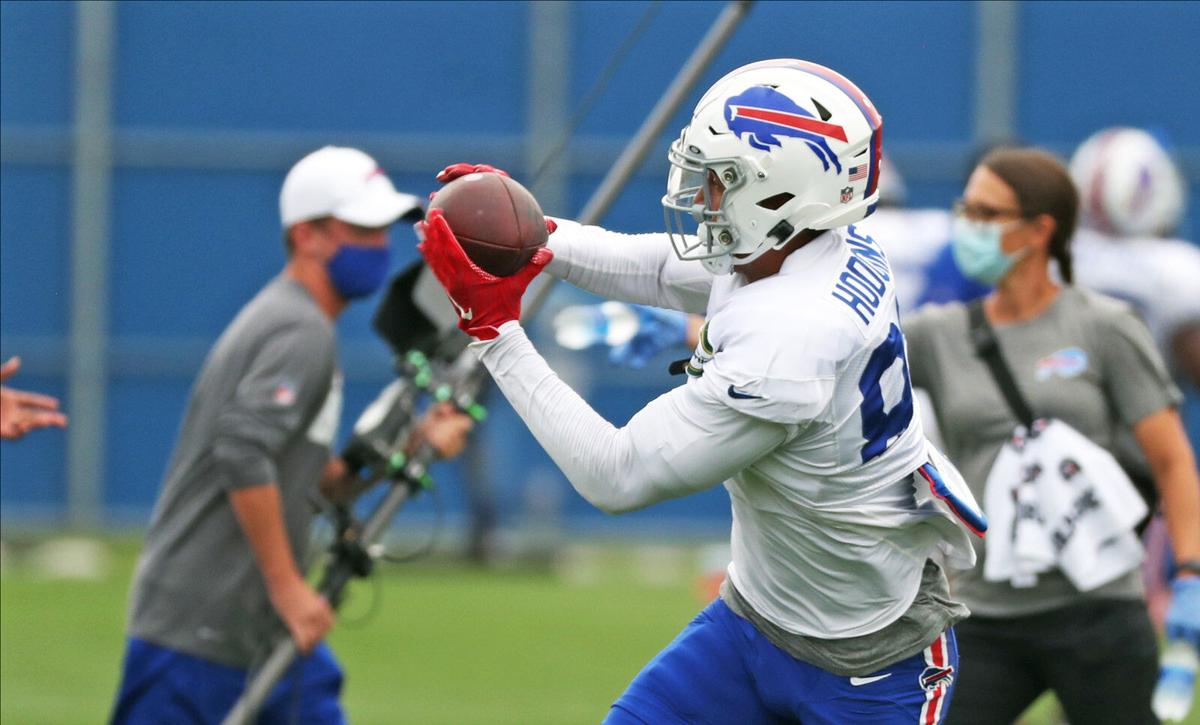 The Buffalo Bills are hoping some down time will give Isaiah Hodgins' shoulder injury a chance to heal.
If not, the possibility exists the Buffalo Bills' rookie wide receiver will require shoulder surgery, General Manager Brandon Beane said Monday.
"He has something that may require surgery at some point, but not right now," Beane said.  "We're going to let it calm down and see if he can get some strength in his shoulder and see where it goes. He battled hard and finished camp with it. I do think it was affecting him a little bit, so we'll see. At some point, if we need to shut him down, we will, but right now we're going to try this approach and see if he's able to come back and help us should we need him at the end of the season."
Hodgins was placed on injured reserve Sunday along with right guard Jon Feliciano, moves that allowed the team to re-sign veteran kick returner Andre Roberts and safety Dean Marlowe, both of whom had been released Saturday.
As veterans with at least four years of NFL experience, Roberts and Marlowe did not need to clear waivers, meaning the Bills were able to release them during the cutdown to 53 players with the understanding that they would be brought back the next day.
"Those guys are definitely in our plans," Beane said of Roberts and Marlowe. "Appreciate those guys working with us for a day to get these other two guys on IR so that they can return once healthy."
2. The speculation about the possibility of defensive end Trent Murphy being a salary cap casualty ended up being just that – speculation. Murphy made the 53-man roster, and every indication is he's going to play an important part in the team's defense.
"I get the question, but that was more media, fan talk than what was in our building," Beane said of the possibility of cutting Murphy in a move designed to save more than $7 million in cap space. "Trent's a guy that does things the right way every day. He's a true pro. We brought him here and he was coming off an ACL that first year. I thought year two he was a lot better. And we're looking for year three in this system to be an even better version of himself."
In a defensive line room that features young players A.J. Epenesa, Ed Oliver and Harrison Phillips, Murphy's leadership is very important to the Bills.
"There's value in the player. A lot of times, people get caught up in 'Well, this number or the stats,' but Trent does a lot of the little things and a lot of the dirty work, too," Beane said. "It's not all about the stats versus the salary with us. We're looking forward to year three being an even better year for Trent."
3. The Bills are holding off on any announcements regarding the right side of their offensive line for as long as possible. The team is required to issue its first depth chart of the season by Wednesday, which is when coach Sean McDermott said he'll alert the media (and subsequently, the fans) as to who likely will step into Feliciano's spot in the starting lineup.
"I think we'll know a little bit more after practice today and then I'll get that to you guys," the coach said Monday.  "I think we're giving it (the depth chart) to them on Wednesday, right? Yeah, so I'll get that to you guys as soon as I can on Wednesday."
4. A report Monday from ESPN's Adam Schefter said the Bills were hosting free-agent running back Lamar Miller on a visit.
Beane said the former Houston Texans running back, who was released last week by the Patriots, would soon make that visit, but that it has yet to happen. Miller missed all of last season with a knee injury.
"He has not been in the facility. The way the rules work is, when you're traveling someone up, the day that they get here, you've got to put him as a visitor or a tryout, even though they've got to go through a couple of days of Covid protocol," Beane said. "It's kind of a weird process, where normally those would be reported either the day they're arriving or after the visit. We have not visited with Lamar. He is coming to town at some point. And we'll get him in here, we'll talk to him. And if there's a fit, we'll see where it goes. But right now, it's just exploratory. He was in camp with the Patriots. Had a knee injury last year. Long way to go before we would know if we would add him to our roster."
5. McDermott said the Bills do not have plans as of now to quarantine a quarterback, keeping him away from the rest of the team. The Eagles are paying veteran Josh McCown $12,000 a week to be a member of their practice squad while living in Texas and participating in meetings virtually.
"We've discussed that. Nothing definitive right now," McDermott said. "You know, we'll be managing that the best we can and trying to remain smart."
6. The Bills aren't required to put out an official injury report until Wednesday, but cornerbacks Levi Wallace and Josh Norman, both of whom have been dealing with hamstring injuries, were able to practice Monday. That's good news given that the team's depth would be tested in Week 1 without one or both of them.
The only players not practicing Monday are on the practice squad – tight end Jason Croom (hamstring) and offensive lineman Victor Salako (back).
7. One of the few surprises over the weekend came when the Bills released second-year linebacker Vosean Joseph, a 2019 fifth-round draft pick out of Florida who spent his rookie season on injured reserve. Joseph was not signed to the practice squad.
"Overall, whether it's this situation or other situations, we're always going to do what we feel is best for the team," McDermott said. "Vosean got off to a good start and then he hit some adversity. We still believe in him and want the best for him. It's never easy to move on from a player, in particular a drafted player in this case, but again, we've got to do what we feel like is best for the team."
8. McDermott was asked whether the neck injury suffered by fullback Patrick DiMarco that saw him placed on injured reserve could potentially be career threatening. The coach, though, declined to discuss the injury in any great detail.
"I won't get into too much, but I'll just comment a little bit on Pat overall. I mean, he's one of the special guys that I've been around in my coaching career and in particular here in Buffalo in my head-coaching career," he said. "He was here when we got it started and helped us get it started. Never want to see a guy go through what he's gone through, but just really appreciate his leadership. From the day he walked in the door and the way he's handled himself on and off the field, and then what he's done at the league level as well with the NFLPA and his leadership along those lines."
9. Beane said the Bills continue to hope that fans will at some point be allowed into Bills Stadium for games this season. Sunday's opener against the Jets and the Week 3 home game against the Los Angeles Rams will be played without fans in attendance.
"It's exciting that we're here," Beane said of Week 1 of the regular season. "It's disappointing that we can't have our fans in the stands. We've got a lot of people behind the scenes that are working with the New York State government – they've put some great plans together that hopefully, at some point, will allow our fans to get in games.
"That's going to be the hardest part for our players and our coaches, myself, just not being able to involve (fans). We all know how passionate this fan base is. I know, just like me, they're excited that we do have football back starting this weekend and I know they'll be in front of their TVs cheering us on. I know we'll be super excited once we can get them back here in Orchard Park at Bills Stadium."