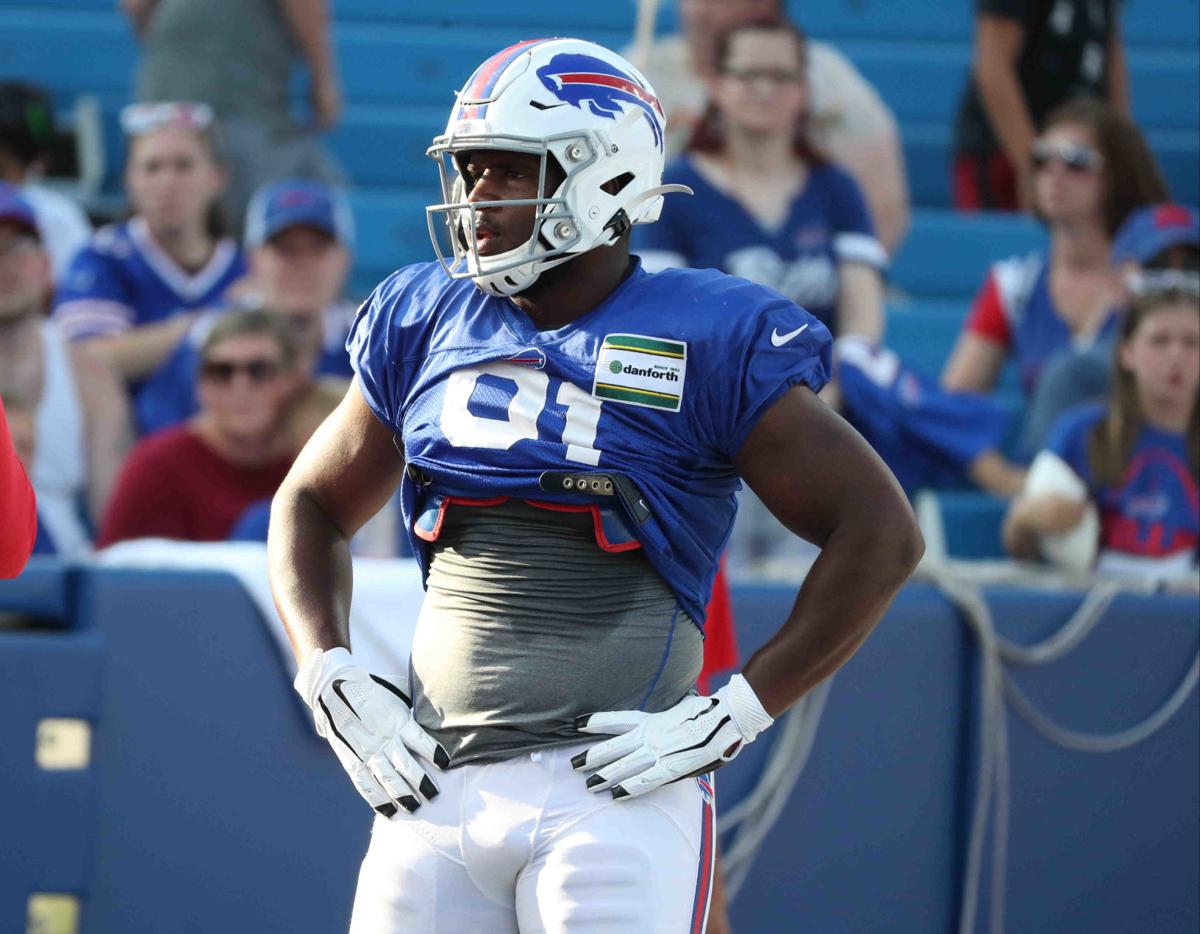 This is ninth in a series of questions entering Bills training camp, which is scheduled to open today. Today: Will Ed Oliver rebound from an up-and-down rookie season?
Ed Oliver's rookie experience was all about peaks and valleys.
It began with that exciting night in Nashville last year, when Oliver learned the Buffalo Bills had made him the ninth overall pick of the draft. The lofty feeling continued into the season, which the former University of Houston standout began as a starting defensive tackle.
Then, there were the valleys.
After seven starts, Oliver was replaced by Jordan Phillips, who remained the starter through the final nine games of the regular season and the Bills' wild-card playoff loss against the Texans.
Along the way, there would be more ups and downs.
On May 16 came the low point. That was when Oliver was arrested in Houston and charged with driving while intoxicated and unlawfully carrying a weapon. The charges were dropped Wednesday.
"I know that incident really was a little bit of a wake-up call for him," Bills defensive coordinator and assistant head coach Leslie Frazier told The Buffalo News. "He prides himself on not getting caught up in anything negative that would deface his name. That really shook him up, so that could turn out to be a blessing in disguise."
After Oliver's first seven NFL games, Frazier and the other coaches concluded that Oliver was buckling under the pressure of living up to the expectations that came with his draft status. He found that making the transition to the NFL was more difficult than he anticipated.
"Maybe those first six-seven games, he was struggling a little bit to find his way," Frazier said. "We ended up promoting Jordan ahead of him during that early part of the season to take some of the pressure off of Ed. And then, all of a sudden, his game took off. And all those things we saw in college began to show up."
Oliver displayed the playmaking skills that grabbed the attention of General Manager Brandon Beane, members of the player-personnel staff and coaches and never let go.
The power, which is somewhat surprising given his relative lack of size for the position at 6-foot-1 and 287 pounds. The quickness. The instincts. They all started to come to the forefront.
"What we saw the second half of the season is what we had envisioned when we drafted him," Frazier said. "And I don't see any reason why he won't just continue to get better and better."
Eric Washington, the Bills' new defensive line coach, had high praise for Oliver during an interview with The News last month.
"Ed Oliver is as talented as I've seen at the three-technique position, just raw talent," Washington said. "... Ed is highly unusual because the first thing when you look at Ed, he's not very big. But when you watch him on tape, he plays big.
"He's very strong, he can anchor. He has elite quickness, change of direction, burst, all the things that you need to really kind of depend on at that particular position affecting the quarterback and getting him on the ground."
After the draft, the highest of high points for Oliver came in the Bills' 26-15 victory against the Cowboys. He had four tackles, including three solo, and two sacks for minus-15 yards. He also forced a fumble and was credited with a pass defense.
"The game he had against Dallas on Thanksgiving, that really is the reason we won that game, the way he played," Frazier said. "Here you are, on a big stage, Thanksgiving, a lot of pressure, coming back to your home state. A lot of expectations. And he goes out there and he dominates a good offensive line. That Dallas offensive line's one of the best in the league.
"And to go one-on-one with their guards, to put the pressure on an All-Pro caliber quarterback like (Dak) Prescott. And to just do it with ease, whether it was tackling in the run game or rushing the passer. He just made it look easy against some really, really good football players. That doesn't happen all the time, but he continued that throughout the rest of the season. So, just seeing how quick he was, how athletic he was and how good he was versus the run as well as rushing the passer, that combination is rare. So, it gives you hope for the future when you see that."
Oliver played 53.9 percent of the defensive snaps. He finished the season with 43 tackles, including 24 solo and five sacks for minus-39 yards.
Solid numbers. Solid credentials. What happens next is up to Oliver.
Washington has stressed discipline with the Bills' defensive linemen, particularly when it comes to doing their part to boost the team's 2019 sack total of 44 (No. 12 in the NFL), 35 of which came from the line.
"That's everyone across the board, including Ed," Washington said. "From one snap to the next, he's going to have to have his eyes in the right place, he's going to have to have great situational awareness and he's going to have to work hard to execute based on what his particular position calls for."
Phillips signed with the Arizona Cardinals in free agency, taking away one obstacle to Oliver's path back to the starting lineup. 
Oliver also seems to have helped his cause with the work he has done during the Bills' virtual offseason program.
"I know he's worked extremely hard based on the videos that he's been sending into our strength staff," Frazier said. "He participated in our offseason program through Zoom. He was asking good questions, he was interacting really well with our new D-line coach, Eric Washington.
"So, everything that he could possibly do in relation to the way this offseason is set up, he's done his part up to this point. Now it's a matter of, when we see him in person, where is he at at that point. But all indications are he's doing the right things to get his body in the best shape and taking care of and his mind is in the right place as well, particularly because of that incident that he was involved in a few months ago. So, I think he's on the right track. But until we all get back together you really don't know where the guys are."
Be the first to know
Get local news delivered to your inbox!