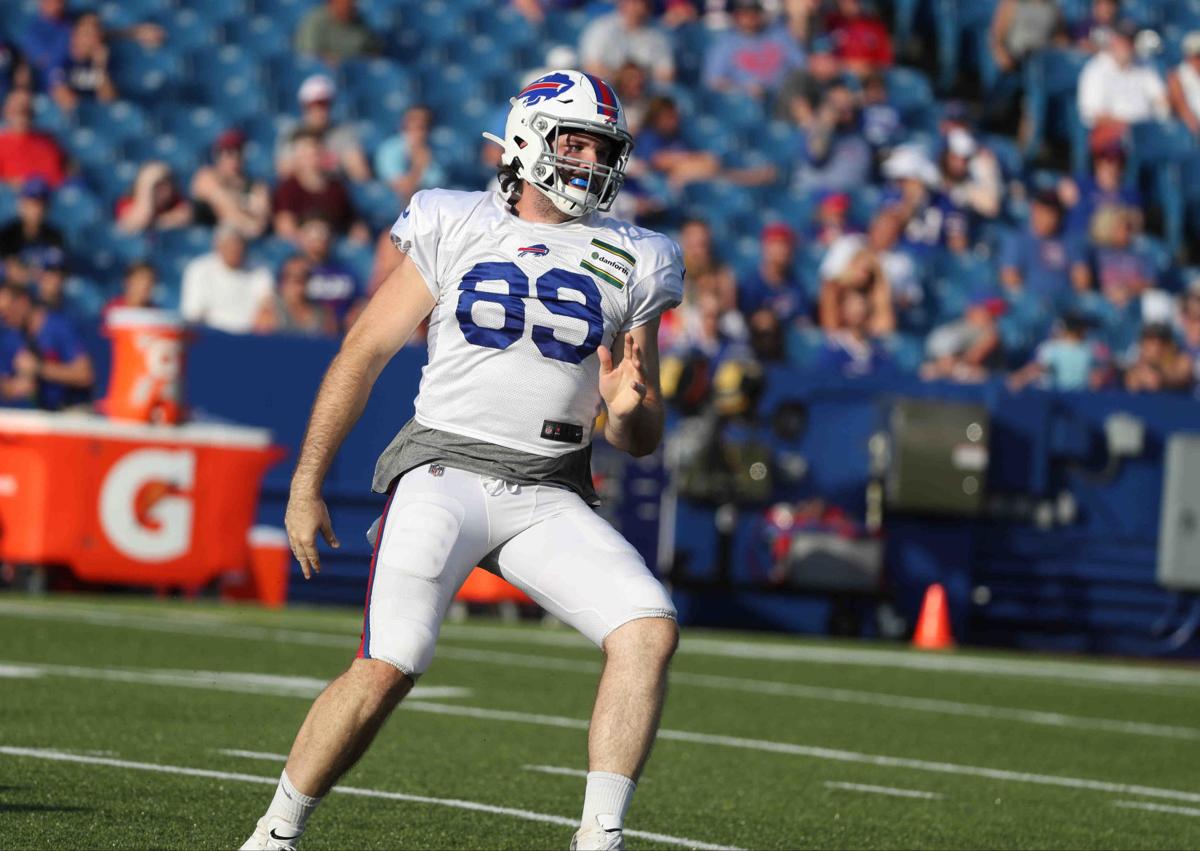 Tommy Sweeney didn't have a whole lot of opportunity to make an impact as a rookie, but there is reason to think that could change this year.
As the Bills' offense evolves, tight end would figure to have a greater presence in the scheme. That doesn't have to mean Dawson Knox is the team's only player at the position who will be able to make a difference. Sweeney could fall into that category as well.
"We're both kind of in the same boat and we talk to each other about that all the time and things we're working on, stuff we're doing," he said. "We're still trying to improve.
"That jump from Year One to Year Two is an important one. A lot of ups and downs in Year One. Hopefully, the negative plays go down in Year Two and we're really starting to grow."
In the six games he played last season, including one start, Sweeney caught eight passes for 114 yards. Five of his receptions came in the Bills' season  finale against the New York Jets, his first game action since he played in the first five games while Tyler Kroft was sidelined.
For the season, Sweeney played 12% of the Bills' offensive snaps, but he played around 30% in each of the first three games. 
"I've just been trying to do the best I can to improve in every single category," Sweeney said of his offseason. "That kind of encompasses a lot of different things. Route-running, pass-catching, run-blocking and pass protection."
He has spent the offseason at his parents' home in Ramsey, N.J., where he put together a makeshift gym in the garage. Besides addressing aspects of his game, Sweeney has concentrated on adding muscle.
"We have a really good tight end room," Sweeney said. "I was trying to do everything I could to help the team improve, whether it was playing some weeks or whether it was scout team some weeks."
As a seventh-round pick coming out of Boston College, Sweeney has the same mindset that he used when he was under-recruited coming out of high school.
"Obviously, as a competitor, you want to play," he said. "At the same time, the team is bigger than the individual. But keep a chip on your shoulder and prove you can play. I think I did that last year.
"I'm just trying to kind of use that as a springboard for the next season and just keep that momentum and keep rolling."
Be the first to know
Get local news delivered to your inbox!