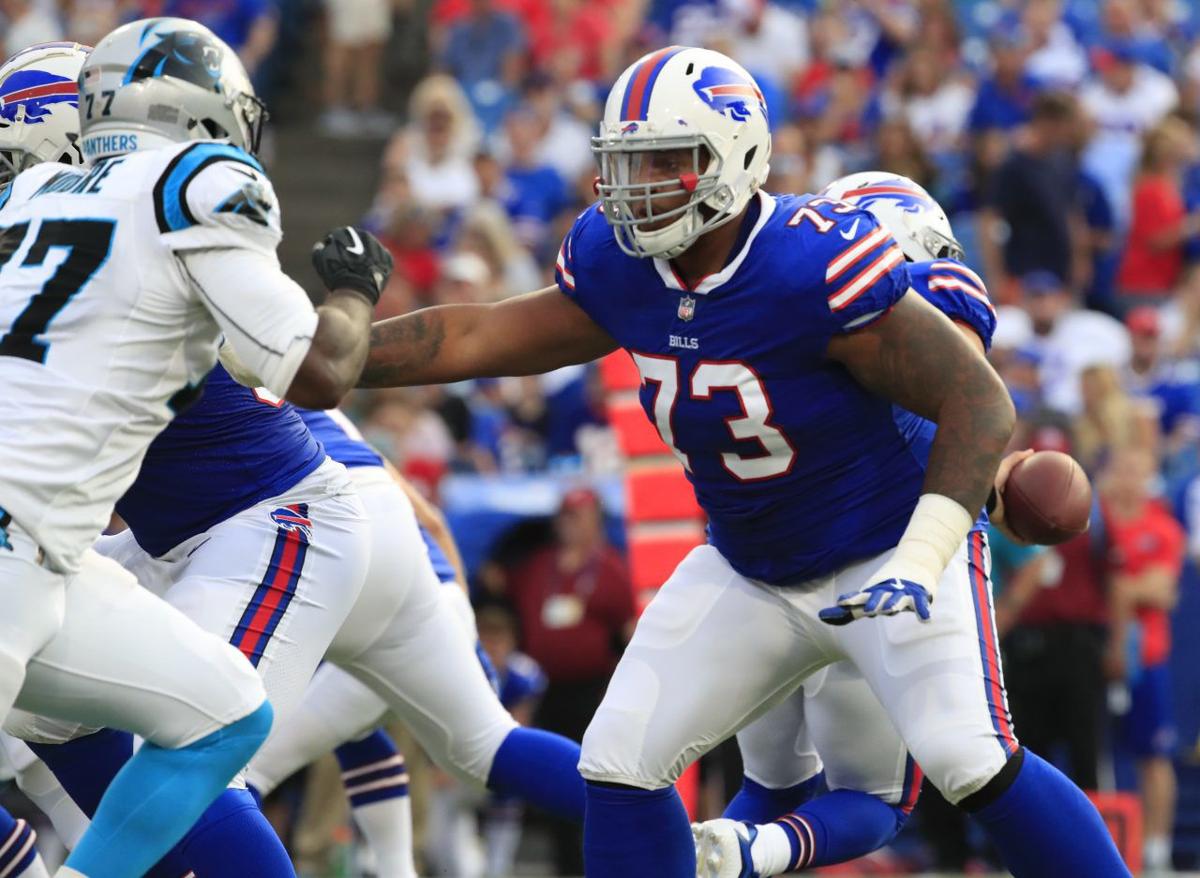 Training camp is scheduled to begin for the Buffalo Bills and the rest of the NFL in less than three weeks.
Several major issues as it relates to playing football in a pandemic remain. How many preseason games, if any, will be played? How will testing be handled?
While we await answers to those questions, let's knock out another edition of the Bills Mailbag …
IDiggIt asks: What's the holdup in the extensions for Tre White, Matt Milano and Dion Dawkins?
Jay: It could be a number of things. No. 1, the ongoing coronavirus pandemic has cast a shadow of uncertainty over the entire 2020 season. While it appears the NFL is going to do everything possible to play, if the numbers continue to get worse across the country, there is no telling what might happen. With the lost revenue that will result from games being played without fans in attendance, there could be a big impact on the salary cap for 2021. That, in turn, would have an impact on any contract negotiations. No. 2, there has to be a willingness on both sides to strike a deal. While the three above players mentioned are more immediate priorities, Bills General Manager Brandon Beane has to be aware of what's coming in the not-too-distant future. Quarterback Josh Allen has two years left on his rookie contract, with the Bills holding a team option for a third year. The decision on whether to exercise that option, along with one for middle linebacker Tremaine Edmunds, will come after the 2020 season. At some point, Beane isn't going to be able to pay everyone he wants. He may want to go into 2020 seeing what Vosean Joseph can do. If the second-year linebacker shows promise, perhaps the Bills decide not to bring back Milano. Beane also may want to see what Dawkins – who has had an up-and-down first three NFL seasons – does in the final year of his contract. If Milano and Dawkins play this season without an extension, the Bills could use the franchise tag on one of them next year to make sure they don't get away. As for White, it could be a case of the player not in a hurry to make a deal. With two years left on his contract, White may be content to let other, lesser cornerbacks around the NFL sign new deals, thus driving up his price.
Paul Catalano asks: Will there be an NFL season, and in your mind, how do you see it playing out? Fans?
Kevin Theel asks: Do you anticipate a full season will occur this year?
John Jarzynski asks: Can you envision Bills fans wearing masks at the stadium?
Bill Tooke asks: Over/under on starting the season Sept. 13?
Jay: I do believe that there will be an NFL season. I expect that it will be a full season, and it will start on time. I recognize that the numbers don't look good in several NFL cities right now, but we're still two full months away from the scheduled start of the regular season. Hopefully, that's enough time for governments at every level to get a handle on what's going on. (I would understand if your eyes rolled into the back of your head right about now.) I'm less optimistic by the day about fans being able to attend. While it may be safe to do so in lesser numbers in Buffalo, the situation is much different in say, Cowboys Stadium, given what a hot spot Texas has become. It would seem to be a competitive advantage for the NFL to allow fans in some NFL cities, but not others, which is something the league wants to avoid. To John's question, if some fans are allowed, absolutely I could see them wearing masks. Why wouldn't they? Sure, there will be a fan or two who make fools of themselves at the gate and gets their viral 15 seconds of fame by taking a brave stand against putting on a mask, but it's more than reasonable to ask fans to wear one if they want to attend a game the same way they do at the grocery store or anywhere else. The Bills should promote by creating their own and handing them out at the gate. It's such a small inconvenience, and it's embarrassing that so many people are pushing back so hard against it.
Ed Helinski asks: Injuries, sickness and players opting out from the season could make things interesting for the Bills' roster and practice squad. How many players do the Bills utilize this year? Less or more than 75-80 players?
Jay: The Bills used just 57 players last year during the regular season, the fewest in the NFL. That speaks to the good health the team enjoyed in 2019. By comparison, the Miami Dolphins used a whopping 84. Interestingly, the Bills used 75 players in 2018, which was fourth most in the NFL and just two behind three teams that tied for the most with 77. The possibility exists this year that practice squads around the NFL will be expanded, which may help teams field complete rosters in the event they have a player – or players – test positive for Covid-19. I'd expect the Bills to use a good deal more than the 57 players they used last year, and that was true even before considering the pandemic. A rule change this season allows teams to promote players from the practice squad twice without having to clear waivers to be sent back down. That will provide an extra level of flexibility in the event of injuries or positive test cases. As an aside, this wasn't part of the question, but I've seen it asked several times: "What happens if Patrick Mahomes tests positive for coronavirus during Super Bowl week?" My answer is: He can't play and the Chiefs play their backup quarterback. We're all living through this together. It's inevitable that players are going to test positive. If the NFL is committed to having a season, it's best to understand now that some teams are going to have positive tests come up – sometimes at inopportune times. Once there is an agreement on the protocols involved when a player tests positive, the rules must be adhered to. We all have to accept that it's going to be a supremely bizarre season in many ways.
Machino asks: Of all the individuals on the Bills' coaching staff, who is the funniest and why?
Jay: Offensive coordinator Brian Daboll. Unfortunately, most of his jokes are best left out of a family newspaper.
Michael asks: What impact do you think Harrison Phillips healthy and playing this year will have on the defense?
Jay: Before getting hurt last year, Phillips was starting to take snaps away from Star Lotulelei in the middle of the defense. Given that he's going to be less than a year removed from his torn ACL at the start of the 2020 season, expectations should be kept in check for Phillips. If he can again become a part of the rotation along the defensive line, that's a good first step. A player often isn't truly recovered and back to 100% until being two years removed from the type of injury Phillips suffered. If Phillips can help strengthen the Bills' run defense in 2020, it will be a successful comeback.
Michael J.L. asks: What's the odds of Stephen Hauschka being on the Week 1 roster and are the Bills finally content with Corey Bojorquez?
Thomas Larsen asks: If there are no preseason games, does Stephen Hauschka stay?
Jay: I'd put the odds of Hauschka staying at 50-50, which admittedly is taking the easy way out. By using a sixth-round draft pick on Tyler Bass, it's clear the Bills are going to give him every chance to win the team's kicking job. If there is no preseason, that helps Hauschka's chances, in my estimation, because it would prevent Bass from proving himself in a game setting. Bass would have to be really good in practice to convince the Bills to go with him at the start of the regular season, especially when expectations for this year are so high. An option could be trying to sneak Bass onto an expanded practice squad. There would be some savings against the salary cap by releasing Hauschka, but it's not significant enough, in my opinion, to drastically alter the decision-making process. As for Bojorquez, I'd consider him the favorite for the punting job, but he will have to compete against Kaare Vedvik. I would not say the Bills are totally content with Bojorquez just yet.
Sam Ruggiero asks: What will be the impact of having only two – or even zero preseason games – on the players and quality of play? Do you side with the owners and say two games or with the players and have no games?
Jay: My gut reaction is to say two preseason games seems reasonable, but when you consider major college football teams don't have exhibition games, it's fair to wonder if any are needed. The concern would be an increased risk of injury. Coaches would have to use the longer training camp to properly condition players against that as best as possible. It's easy to expect play might be sloppier than normal at the beginning of the regular season, but I'm not sure how true that is. Increasingly, starters aren't doing much during preseason games anyway, so I don't buy the idea the quality of play will diminish all that much without an exhibition season.
JA asks: When are the Bills returning to Fredonia (Fredonia native here, haha)? But seriously, has training camp in Rochester really paid off? Without Russ Brandon's ties to St. John Fisher, is there incentive to stick around?
Jay: I wouldn't hold my breath on a return to Fredonia. If anything, the only place I see the Bills going if they leave St. John Fisher is back home to Orchard Park, where they have three practice fields (two grass, one inside artificial turf) and an $18 million performance training center at their disposal. I do think the relationship between the Bills and St. John Fisher has paid off. From what I can tell, the team has a solid base of fans in the Rochester area. I would imagine having camp in Pittsford for 20 years has greatly contributed to that. I also think, by this point, the Bills aren't winning over many more people in Rochester. If you live in the 585 area code, you're either a Bills fan or you're not by this point. The incentive for sticking around St. John Fisher is that coach Sean McDermott has consistently said he's in favor of going away to training camp based on the team building that it inherently provides. The setup and staff at Fisher has always been top notch. I've long been skeptical that the Bills will end up back in Orchard Park sooner than later for training camp on a permanent basis, but I'll take the coach's word that the team plans to return to Fisher in 2021 and beyond.
Put Steve Tasker in the Hall of Fame asks: Does Steve Tasker belong in the Hall of Fame?
Jay: First of all, I love your dedication to this cause, Twitter user @HOFSteveTasker. I hope Steve is paying you for this campaign. I wrote extensively about Tasker's Hall of Fame candidacy during Super Bowl week, and the more that I've thought about it, the more I agree I do think he's worthy of being enshrined in Canton. Tasker is one of the best at his job in NFL history. If coaches are to be believed that special teams truly is the "third phase of the game," there's no doubt the presence of players who excelled in that phase is greatly underserved in the Pro Football Hall of Fame. To hear Matthew Slater, the Patriots' excellent special teams ace, make such a strong case for Tasker has me convinced. In talking with Tasker, I can be 99.9% sure he's not behind this Twitter account. He seems genuinely at peace with the career that he had, and the looming question of his Hall of Fame candidacy certainly does not appear to be keeping him up at night.
Louis Stromberg asks: How does it sound? Sounds great? Let's talk sounds Jay. Please power rank the following sounds: "The Sound of Music," ultrasound, "The Sound of Silence" (Simon and Garfunkel), SoundCloud, soundproof rooms.
Jay: 5. Soundproof rooms. More important for a studio apartment in Manhattan than they are for me in Amherst. 4. SoundCloud. I need one of my tweets to go viral so I can promote my nonexistent SoundCloud page. 3. Ultrasound. Any parent will tell you the thrill of that first ultrasound is an unforgettable part of a pregnancy. 2. "The Sound of Music." Is there anyone who, a. Hasn't seen this and, b. Doesn't like it? If so, be skeptical of them. 1. "The Sound of Silence." "Hello darkness my old friend" – what an opening line. Thanks for all the questions this week!