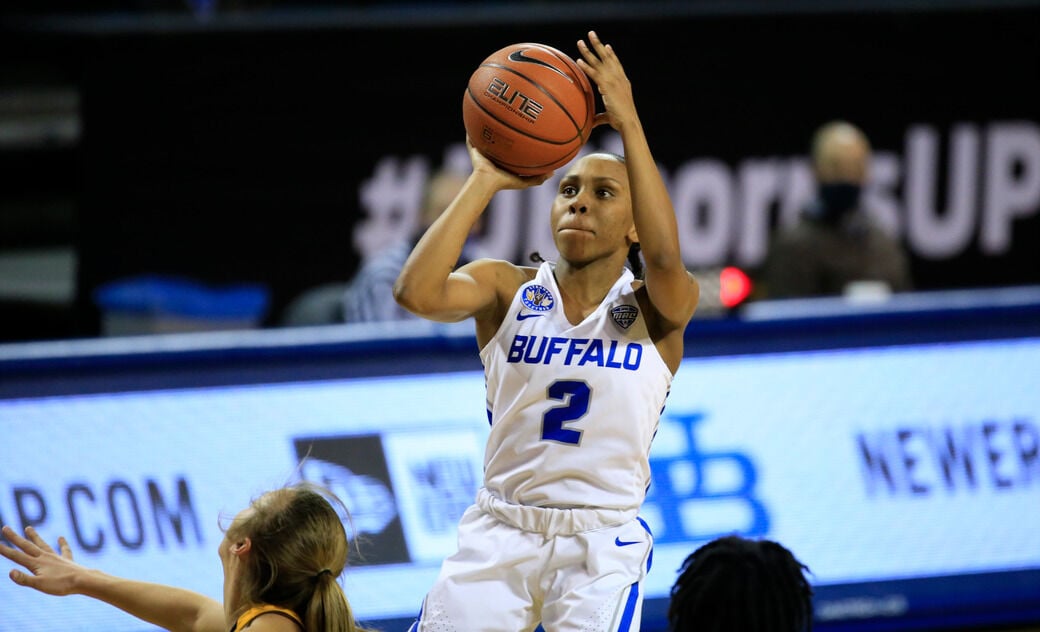 What a difference three days can make.
On Wednesday at Alumni Arena Ball State pinned a 76-63 loss on a University at Buffalo women's basketball team which made only 29.9% of its shots and a season-low 11.5% (3 of 26) from 3-point range. UB star Dyaisha Fair scored 22 points but her shooting was way off (7 of 27 and 2 of 13).
UB turned the table on the Cardinals, 83-76, Saturday afternoon at Worthen Arena in Muncie, Ind., to improve its overall record to 12-7, 9-5 in the Mid-American Conference as Fair rediscovered her shooting touch. The sophomore from Rochester reached a high of 36 points for the third time in her career. Her last 36-point game came against Bowling Green on Jan. 13.
It was also a game where the Bulls rediscovered senior guard Hanna Hall. Hall was a non-starter for only the fourth time this season after scoring three points in only four minutes against Ball State on Wednesday. This time she had 16 points, including four 3-pointers  all in the second half and usually at crucial junctures.
Ball State led, 43-32, at the half and by beating the quarter buzzer for an easy basket for the sixth time in the two-game series, tied the score at 60 going into the fourth quarter. Hall, the senior from Hamilton, Ont., started the fourth with a 3-pointer before Fair scored 10 in a row to make it 74-71. Another 3-pointer by Hall gave UB a 76-71 lead. Then Hall applied the kill shot with another 3-pointer to make it 83-75 with 1:04 left.
Freshman Cheyenne McEvans scored in double figures for the fourth straight game with 12 points for UB.
"We had to remind ourselves that we are not just playing the game of basketball," said Fair. "We are playing for something bigger than ourselves, for something bigger than the game and it showed today. My teammates trusted me to drive the ball, to shoot the ball, to distribute the ball and just trusting in me to get it done."  
Coming back from an 11-point deficit on the road against an opponent that had defeated you three days previously gave UB coach Felisha Legette-Jack a lot of pride in her team.
"I saw a little fear in them that they didn't believe that they too can become, and we were worried too much about what the referees were going to call but when I came to the locker room at halftime and Dyaisha met me at the door and said 'I got you, Coach,' and when your best player says that you have to reevaluate what matters," said Legette-Jack. "We came out with a great game plan and they really impressed me in that second half."
Fair increased her point total for the season to 471 for 19 games, a 24.8 average. She went into the game sixth in the nation with a 24.2 scoring average. Besides her points, Fair had eight rebounds and seven assists. She made 4 of 8 3-pointers and 10 of 12 free throws and played all 40 minutes.
Oshlynn Brown had 25 points and Anna Clephane had 20 for the Cardinals. Ball State got 32 points from its bench on Wednesday but only eight on Saturday.
 UB will be at Kent State (7-4 MAC) on Wednesday.
Hoping to gain ground on first place Monmouth (10-6) in the Metro Atlantic Athletic Conference men's basketball race, Siena was stymied by a late Niagara rush and took a 64-62 loss to the Purple Eagles on Saturday afternoon in the opener of a two-game series between the teams at the Gallagher Center in Lewiston.
Kobi Nwandu scored seven of his game-high 16 points and Marcus Hammond had 11 of his 15 in the second half as Niagara prevailed in a game in which the lead changed 11 times before a basket by Nwandu with 25 seconds left put the Purple Eagles in front to stay, 61-60. After a missed 3-pointer by the Saints, Raheem Solomon made a pair of free throws with 6 seconds left for a three-point Niagara lead and added another with 2 seconds left after Jalen Pickett sank two foul shots to close to margin to one.
Siena led most of the first half, but the Saints' biggest lead was only 14-7. Niagara scored the last four points of the opening half to leave the Saints with just a 31-30 advantage. Three 3-pointers in a row early in the second half gave Niagara its largest lead, 42-37, but there were seven more lead changes to come. Nick Hopkins made two foul shots to give Siena its last lead, 60-59. After a Niagara time out, Nwandu scored the go-ahead basket.
Four players scored in double figures for Siena led by Jordan King (13).
An important difference was Niagara's ability to make 3-pointers (6 of 16) while Siena was only 1 of 14 from long range.
Niagara and Siena have split their last eight meetings since the Saints' 7-game win streak in the rivalry was ended in 2017.
The rematch will be at noon on Sunday. Saturday's game was the first of the month for Siena which faces a tough week. After Sunday's game the Saints will be home to Manhattan before two games at Iona (5-3 MAAC) which defeated Monmouth, 93-86,  on Friday night and took on the Hawks again on Saturday in New Rochelle.