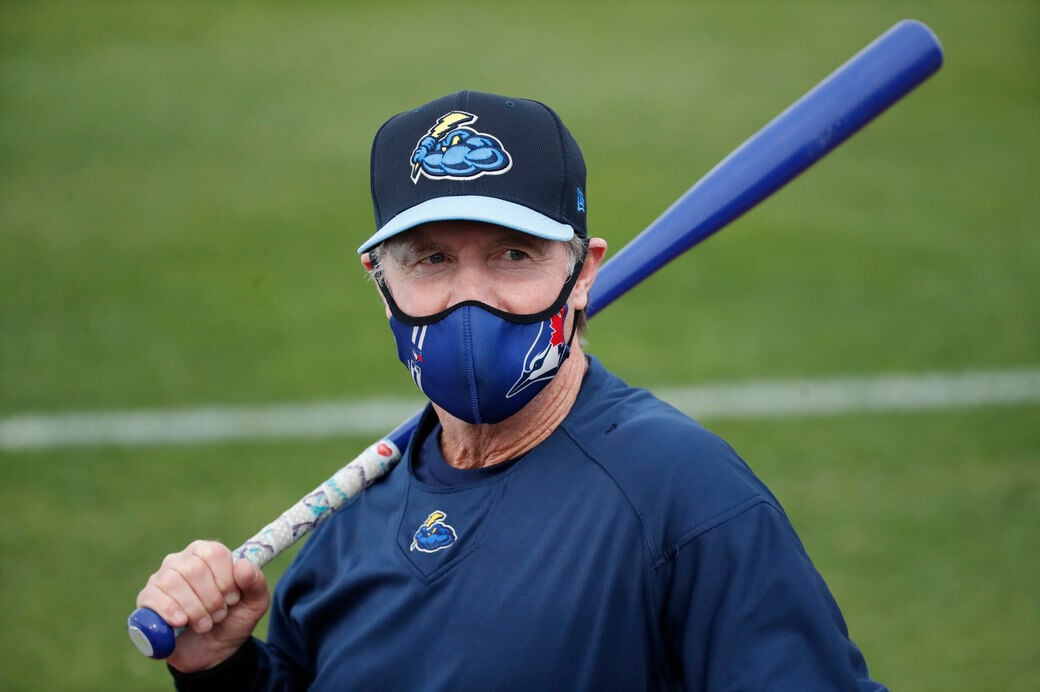 Things are going well in every facet of the game for the Buffalo Bisons in Trenton, N.J., but they went to another level Thursday night with an incredible Triple-A debut for highly touted Toronto pitching prospect Alek Manoah.
The Bisons/Thunder were on top of their game in all phases in their season opener against the Worcester Red Sox, scoring two runs in the first and loping home with a 6-1 victory before a socially-distanced sellout crowd of 1,526.
The 6-foot-6, 260-pound right-hander pitched two-hit shutout ball over six innings -- striking out 12 and walking none -- as the Bisons cruised past the Worcester Red Sox, 10-1. Buffalo improved to 3-0 for the first time since 2017.
"That was pretty impressive. He is a large man, and a large personality and he's got a very good arm so it was really good," said new Bisons manager Casey Candaele, who remained perfect as a Triple-A skipper. "He's a competitor and he was so excited to be out there. It was really good to see. He did a great job."
Manoah, Toronto's top pick and the No. 11 choice overall in 2019, made six starts in 2019 at Class A Vancouver but was heavily limited to pitch counts, throwing just 17 innings in them and not being eligible for wins. He went 0-1 with a 2.65 ERA while striking out 27 and walking five.
But he quickly put himself on the radar of Toronto fans in spring training this year with 15 strikeouts and no walks in seven shutout innings over three appearances. That included fanning seven straight Yankees in a March 14 game.  
It was more of the same Thursday as Manoah hit 98 mph on the radar gun and overpowered Worcester hitters. 
"I was just extremely excited to go out there," Manoah said. "I just wanted to do my thing and stay within myself. It's still 60 feet, 6 inches. Go out there, same routine, trust the stuff, go attack and have some fun."
Manaoh and relievers Connor Overton and Jeremy Beasley combined for 18 strikeouts -- a Bisons modern-era record for a regulation game. The Herd had previously rung up 18 Ks in an 11-10 win over Syracuse in 2005, but that was an 11-inning affair.
The Toronto Blue Jays' first game at Sahlen Field in 2021 will be June 1 against the Miami Marlins and, unlike last year, you can be there.
Manoah came two strikeouts shy of the Bisons' record of 14 set by Marcus Moore in 1997, and became the first Bison to strike out 12 since Jacob Waguespack did it in 2018. He is the first to have at least 10 in a debut since Daniel Norris on Aug. 11, 2014.
He even tried a power sinker in a game for the first time to earn one of his strikeouts, a pitch he discussed before the game with veteran catcher Juan Graterol.
"He's got a brain back there," Manoah said. "To be honest with you, not many people are wired the same way I'm wired, and I think he is. There weren't many times where I had to shake. I felt like we were on the same page, and every time I was thinking of a wacky idea what to throw, it was like he was thinking the same thing. He put it down and that conviction is priceless, especially to have an experienced catcher calling the game and he's thinking the same thing you're thinking."
The Bisons piled up 17 hits and have 21 runs on 36 hits over the first three games. Rowdy Tellez, Forrest Wall and Christian Colon all homered, with Wall, Colon and Cullen Large collecting three hits apiece.
The teams play Game 4 of the season-opening six-game series Friday night at 7. T.J. Zeuch, who tossed a no-hitter for Buffalo in 2019, will be the starting pitcher.