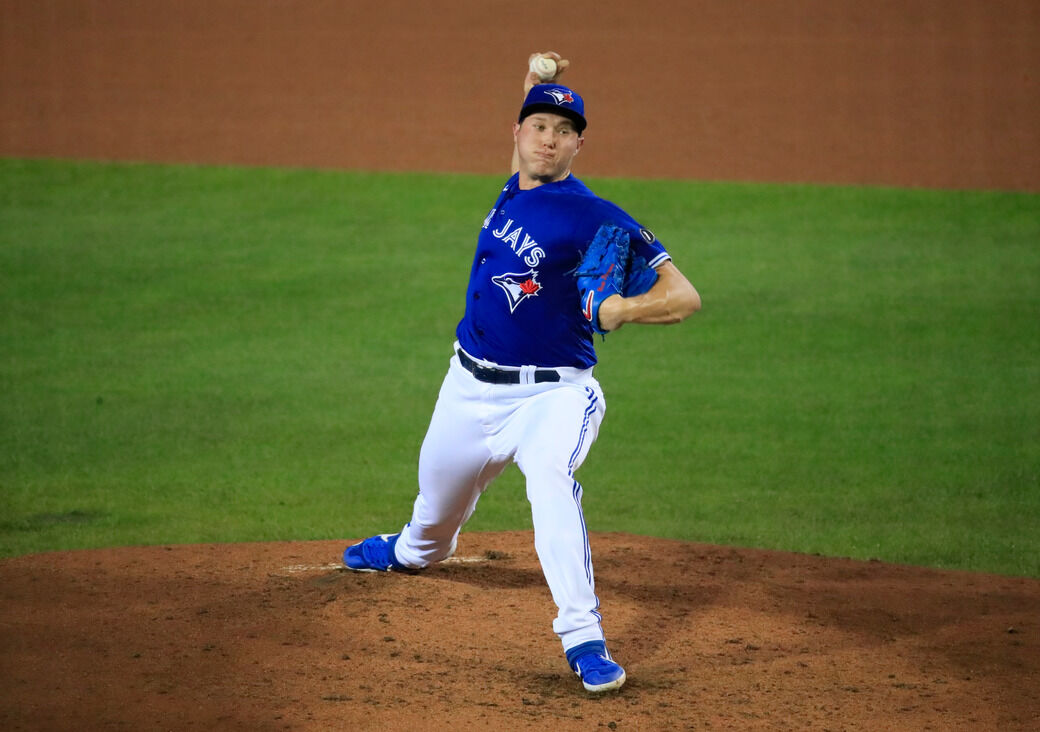 TRENTON, N.J. – A stacked pitching rotation led by starter Nate Pearson and the return of Triple-A veterans Rowdy Tellez and Jonathan Davis are among the highlights of the Buffalo Bisons' roster for Opening Day, announced by the team and parent Toronto Blue Jays on Monday.
The Bisons are scheduled to work out Monday at 6 p.m. at Trenton Thunder Ballpark and the season opener is Tuesday at 7 p.m. against the Worcester Red Sox. It will the first game as manager for Casey Candaele, who played for the Bisons from 1995-1997.
Sahlen Field renovations are being paid for by the Blue Jays and Bisons, without use of public funds.
With the 2020 season canceled, Tuesday's opener will be the Herd's first game since a 5-3 win at Scranton/Wilkes-Barre on Sept. 2, 2019. Buffalo's last home game was a 7-6 loss to Rochester in Sahlen Field on Aug. 29, 2019.
The 6-foot-6 Pearson remains Toronto's top pitching prospect and could be back in the big leagues in short order. He has been battling a strained groin muscle through spring training and thus could not break camp with the big club. 
Pearson went 1-0, 3.00 in three starts for the Bisons in 2019 and 1-0, 6.00 in five appearances for the Blue Jays last season while battling through elbow tightness. He also pitched two scoreless innings of relief in Game 2 of Toronto's wild-card playoff series at Tampa Bay.
The decisions come in the wake of an allegation of sexual misconduct against the Hall of Famer.
Tanner Houck, a 6-5 right-hander who was Boston's No. 1 draft pick in 2017, is Worcester's scheduled starter. The Red Sox's No. 6 prospect from MLB.com went 3-0, 0.53 in three September starts last year in Boston, but is 0-2, 4.53 in three games this year.
The order of the rest of the Buffalo rotation will be Nick Allgeyer, a 10-game winner in 2019 at Class A Dunedin; mega-prospect Alek Manoah, a 6-foot-6 right-hander from West Virginia University who was Toronto's No. 1 pick and the 11th overall choice in 2019; right-hander T.J. Zeuch, who tossed a no-hitter for the Bisons in 2019 at Rochester; and right-hander Jacob Waguespack, who was Buffalo's Opening Day starter in 2019.
Tellez was sent back to Triple-A after batting just .183 with one homer and three RBIs in 60 at-bats for the Blue Jays in 18 April games. He hit 21 homers for the Jays in 2019 and batted .283 for them last year with eight homers and 23 RBIs. He played 260 games for the Bisons from 2017-2019 with 26 homers and 127 RBIs.
Davis batted .091 in 16 games for the Blue Jays this season and .259 in 13 games last year, making a pair of spectacular catches that included an over-the-wall special in the season finale against Baltimore at Sahlen Field. He also made a diving grab in center field for the second-last out of Zeuch's no-hitter.
Among free agent signings, the most notable is infielder Christian Colon. He's most remembered for his 12th-inning single that drove home the eventual winning run in Kansas City's Game 5 of clincher of the 2015 World Series over the New York Mets in Citi Field.
There are so many moving parts when it comes to baseball in Buffalo in pandemic year 2021 that you definitely need your scorecard to mark them all down.
Here's the full rundown on the Bisons' roster:
Pitchers (13): Nick Allgyer, Bryan Baker, Jeremy Beasley, A.J. Cole, Hobie Harris, Dany Jimenez, Alek Manoah, Joey Murray, Nate Pearson, Jackson Rees, Kirby Snead, Jacob Waguespack, T.J. Zeuch.
Catchers (2): Juan Graterol, Reese McGuire
Infielders (6): Christian Colon, Dilson Herrera, Cullen Large, Kevin Smith, Rowdy Tellez, Tyler White
Outfielders (5): Jonathan Davis, Josh Palacios, Breyvic Valera, Forrest Wall, Logan Warmoth.