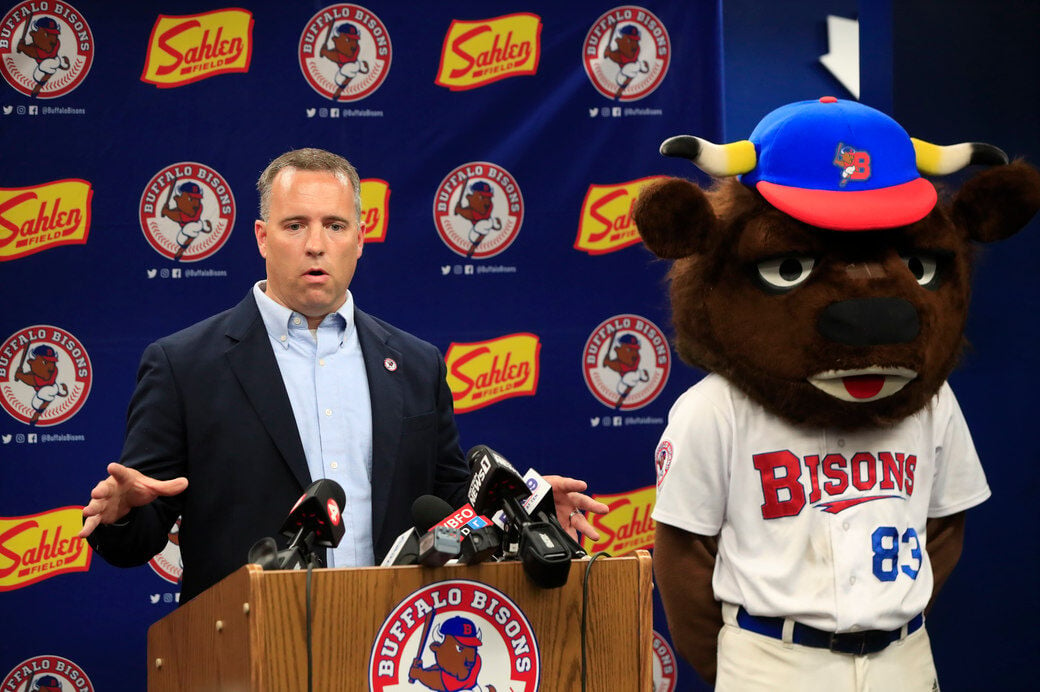 Buffalo Bisons general manager Anthony Sprague was promoted to his post more than 16 months ago and still hasn't been able to see his team play at Sahlen Field. He's less than two weeks away from finally having that feeling.
"The job is so different at this point this year and for the future of what it means now," Sprague said Tuesday during a news conference in the new Bisons' clubhouse to talk about the upcoming 23-game home schedule. "There were times where I thought about it a lot of and how it would be nice to be back to normal and to do the job I was I was hired to do.
"I've always tried to think about that: What's that first game going to feel like? What's it going to be to see our fans back as we normally would? In every situation it was always going to be a memorable opening day for me, for my first one. ... I think it's going to be something I'll never ever, ever forget, and I'm really looking forward to it."
"The Herd Comes Home" celebration on Aug. 10 will include the first of five fireworks show planned for the season.
The Bisons' staff has been busy with the Blue Jays in town for parts of the last two seasons, but they've always been in help mode. Now they can run their own team again and host a game in their park for the first time in 711 days when the Rochester Red Wings are here Aug. 10 at 7:05 p.m.
"We think it was a monumental, historic couple years and we're just glad this year everybody was able to enjoy it," Sprague said of the Jays' run here. "Now we get ready to bring the Herd home and this monumental task continues with getting this clubhouse ready, getting the visitors clubhouse ready, getting all our sponsors, our partners back up, tickets on sale, getting our promotions set. So these next two weeks will be certainly a whirlwind for our staff."
The Buffalo Bisons announced several ticket deals Thursday for their 23-game home schedule in Sahlen Field that opens Aug. 10 against Rochester.
The Opening Night game is being dubbed "The Herd Comes Home" and is sponsored by KeyBank, the longtime sponsor of the July 3 Independence Eve celebration with the Buffalo Philharmonic Orchestra. It will be capped by the season's first postgame fireworks show. The opener will mark the Bisons' sixth at night in the ballpark's history and the first since 2008. The others, of course, have all been in April with an average temperature of 59 degrees.
"I do think it'll be the warmest opening event that we've ever had for sure here," joked Sprague.
As the club announced earlier this week, tickets for all games are $10 and seating is general admission. Suites are available for $259 a game, a huge discount, with a small food package included, but Sprague said those are going fast.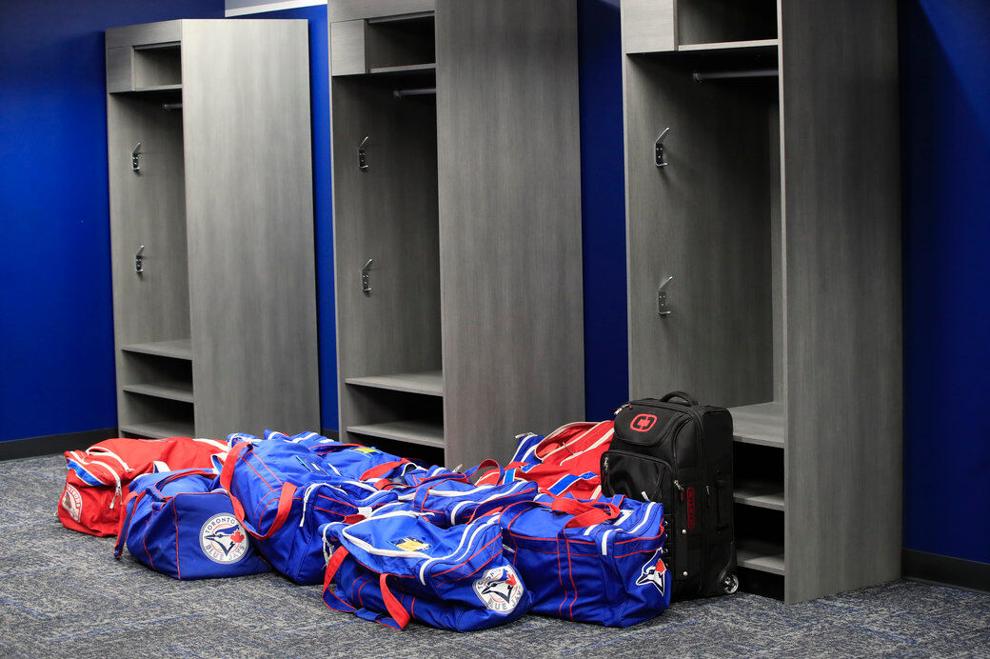 After being in the first-base clubhouse since the ballpark opened in 1988, the Bisons showed off the vastly expanded third-base clubhouse they will inherit from the Blue Jays. The Bisons had plenty of input on the clubhouse expansion, with an eye on what they would want once the Blue Jays left town.
"There's a tight timetable to get it all done. If a logo or something doesn't get switched back, we can play, but if this isn't set and done down here, we can't," Sprague said. "But Lehigh Construction has been ahead of schedule on everything they've done through here and and there's no reason to think that we won't be. Once we get that set I think everybody will breathe a little easier."
Sprague said the club is still working on what Blue Jays branding will remain throughout the park. 
"We don't want to forget what these last two years were. It's history," he said. "And we don't want to completely wipe the ballpark clean of it. We want people to enjoy it and remember what these last two years were, albeit we want our Bisons back.
In other Bisons-related items from Sprague:
• The team's radio broadcasts will return and begin on Aug. 10 with Pat Malacaro and Duke McGuire calling the remainder of the the schedule on WWKB (AM 1520).
• Concession prices will be rolled back from what they were at Blue Jays games more to what fans have become used to at Bisons games. The Bisons previously said the concession menu may be more limited than in the past because of staffing issues and the truncated schedule for 2021.
• The nightly WCC race featuring characters like Chicken Wing and Bleu Cheese will return. The Blue Jays used it only one time, on National Mascot Day when the New York Yankees were in town.
• The stadium restaurant, Consumer's Pub at the Ballpark, will reopen to the public for game. More information will be announced later. It was a player and staff dining room for the Blue Jays and was not available to fans.
• The late-night vandalism done to portions of the grass over the weekend by a rogue forklift driver continues to be investigated by Buffalo Police. The GM said the areas will be re-sodded and ready to go in plenty of time for the opener.