We've had glimpses of Major League Baseball here over the years as parent clubs have come to play the Bisons, back in the days when those games weren't shelved by the collective bargaining agreement.
Some highlights: The White Sox visited War Memorial Stadium in 1985 with a roster that included future Hall of Famers Tom Seaver and Carlton Fisk. Barry Bonds hit the scoreboard in dead center field, a spot no one had yet ventured, during a memorable home run derby as part of the Pirates' visit to Pilot Field in 1991. And an Indians team that would play in the World Series for the first time in 41 years made its final spring training game a stop in downtown Buffalo in 1995.
But two big-league teams on the field in Buffalo at the same time like we're going to see the next few weeks? It's been a while. It's never happened in a real game, of course, in more than a century and the last time it happened at all was a 1987 exhibition at War Memorial Stadium dubbed "The Battle of the Lakes."
The Blue Jays (Lake Ontario) and then-parent Indians (Lake Erie) played to an 8-8 tie on April 5 in front an announced crowd of 16,620. It may not have meant much to them, but the game meant a whole lot to Buffalo baseball, coming just over 12 months from the opening of Pilot Field and as the buildup for a major-league expansion bid was heating up.
The buildup
The Bisons figured it was a real coup to stage a big-league exhibition game in their final season at War Memorial Stadium with the downtown park opening the next season. It was another way for franchise operators Bob and Mindy Rich to get Buffalo on the map in the eyes of big-league owners. The Indians were their new parent club and the Blue Jays were readily available in Buffalo on radio and television. The teams also were opening their season the next day at Exhibition Stadium in Toronto.
Lots of their expansion foes were hosting similar games, with the Mets and Phillies drawing more than 45,000 to RFK Stadium in Washington, and Denver getting crowds of more than 20,000 to see the Cubs and Padres in Mile High Stadium.
"We were looking to add that to our résumé," former general manager Mike Billoni recalled last week. "It was one of the things you could do back then to get attention."
The GM was notorious in town for drawing attention to the ballclub, even in the dead of winter. When he called a press conference in the Buffalo Hilton a few months prior to the game, the team said it was for "an unprecedented announcement for the future of Buffalo baseball."
A media frenzy quickly developed, with reporters assuming the Bisons were going to announce the purchase of another major-league club. While there had been rumors of a move of the San Francisco Giants, most people figured Rich had purchased the Montreal Expos. But when the exhibition game was announced, reporters scowled. The coverage took on a nasty tone.
"I defend that it was an unprecedented announcement," a laughing Billoni said. "Do I regret it? Absolutely not. It really was unprecedented. We were bringing two MLB teams to Buffalo. They were coming to Buffalo and could leave here and hopefully talk about a good experience and add to the credibility of our (expansion) pitch.
"We never said anything about another team. Never ever. We didn't infer that. That was the media's inference of it. Do your homework. I don't regret using that term 'unprecedented' but in the office, a couple questioned it and said it may have been too strong."
You simply had to say the words "press conference" to draw laughs from former Bisons radio/TV voice Pete Weber. Now the radio voice of the NHL's Nashville Predators, Weber was in the room that day.
"Now, 'unprecedented' is used quite a bit now in these days of the pandemic. But it wasn't an overworked term back then," Weber said by phone from Music City. "The emphasis that put on it was something. I remember looking around the room at the Hilton at the faces of many of reporters going essentially, 'What the hell is this?' "
The "unprecedented" announcement had laid an egg. 
"You look around and say, 'Oh my goodness, how are we going to blow this one?' This was going to be a great story," Mindy Rich said from the family summer home in West Virginia. "We thought we had something wonderful. And it was unprecedented. Nothing we said wasn't true. How do you make a great story turn into a bad one? I guess there is a theory that you make a mistake when you try to scoop the media. You can get punished."
The weather
It's the biggest memory of the game, which came close to never being played. On March 27-28, the high temperatures in Buffalo were 58 and 76 degrees, respectively. On March 31, there was 7.9 inches of snow – still a record for that date in the city.
The game was originally scheduled for April 4 and was postponed by field conditions. It was played the next day with temperatures in the low 40s and winds gusting to 25 mph.
Billoni called in helicopters from the Erie County Sheriff's Office and Mercy Flight and a pair of choppers hovered over the field to help dry the grass over the weekend.
"I couldn't believe the snow hit us but people were saying this will never happen and I was thinking we had to put that ray of hope in here," Billoni said. "It motivated our grounds crew to work even harder."
"(Blue Jays radio announcer) Tom Cheek took a ride in the helicopter trying to dry the field off," Weber recalled. "He said, 'Boy, you guys want to really pull this one off' and I think that's a lot of the same spirit here 33 years later. They really want to pull this one off with the Blue Jays."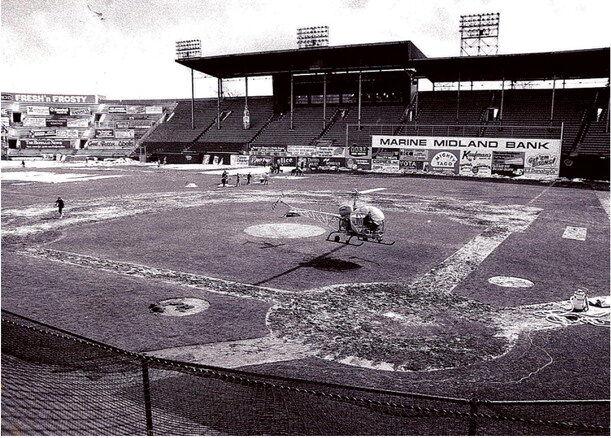 The early April weather was frustrating for the Bisons and its uncertainty is one reason the team has never tried another big-league exhibition. You can do a lot of damage to your field trying to play an early April game when it's cold and snowing.
"It was glorious the weekend before, high 60s/upper 70s," recalled Weber, who called Bisons games from 1983-1995. "Now, the next weekend, there's snow everywhere and Bob and Mindy are on the outfield trying to help shovel out the ballpark."
Yes, the owners and their then 7-year-old son, Barney, got up at 6 a.m., saw sunshine and immediately made a beeline to the ballpark.
"Billoni is already there and he goes, 'Looks like the game is off,' " recalled Bob Rich. "I said, 'BS, we're playing.' (Indians GM) Joe Klein and (Blue Jays GM) Pat Gillick both showed up and said they saw us out there and their first reaction was that if we were going to do this, they were going to play."
But there were still some dicey moments.
"Our grounds crew guys were pulling hoses in the outfield and then they said they were going to turn the water on to try to melt the snow faster," Bob Rich recalled. "I said, 'Anybody who turns that water on is fired. You're going to turn it into a skating rink.' "
The hoses stayed off and the field was dry enough for the game to go on with no interruption.
"We're sitting there. My feet are bricks. I can't feel my toes," Bob Rich said. "Somebody made me a hat that had Blue Jays on the one side and Cleveland on the other. I remember reflecting on it as I was sitting there watching the game that we were actually getting this in."
The game
The Blue Jays scored four runs in the top of the ninth to pull even and when Cleveland didn't score in the bottom, there were no extra innings played. It was cold, there was no point to use any more pitchers and the teams wanted to hit the bus for Toronto for the next day's opener.
Because it was the last game of spring training, this one was played with both teams' regular lineups. The Blue Jays' iconic franchise outfield of George Bell, Lloyd Moseby and Jesse Barfield all started. So did All-Star shortstop Tony Fernandez, who passed away last month at age 57, and 23-year-old designated hitter Fred McGriff, who was a rookie that year and went on to hit 493 career home runs.
Joe Carter, who became the Blue Jays' World Series hero six years later, started in left field for Cleveland. The Indians' leadoff man was second baseman Tony Bernazard, who was the Mets' farm director in 2009 when the Bisons had a miserable 56-87 season in their first year as a Mets affiliate. Mainstay Cleveland veterans of the 80s like Brett Butler, Julio Franco, Andre Thornton, Mel Hall, Brook Jacoby and Cory Snyder played.
Buffalo fans saw two future Hall of Famers with 300-plus career victories pitch for Cleveland. Knuckleballer Phil Niekro, who had turned 48 four days earlier, started and gave up two runs over three innings. Lefty Steve Carlton had just joined the Tribe a few days earlier and pitched the next two innings in relief. The 43-year-old allowed one run.
Toronto's starter was Todd Stottlemyre and he was taken out as a precaution in the third inning after taking a Bernazard liner off the chest.
Bell hit a solo home run to left for the Jays in the eighth while Mel Hall crushed a pair of two-run shots for Cleveland, in the second and sixth, and scored four runs.
On YouTube, there's a WKBW-TV newscast with extensive highlights of both the game and the scene in the stadium. It's a veritable time machine. Groundskeeper George Gould reveals winds blew the tarp off the infield overnight, necessitating a return of the helicopters to dry the field. The ubiquitous multicolored ads behind left field and on the giant right-field wall get plenty of airtime. Rich's two-team hat is shown. So are home runs by Bell and Hall.
Jays manager Jimy Williams marveled the game was even played.
"The field wasn't in the greatest condition but it's certainly a compliment to those people taking care of the field before we got here to even be able to play," Williams said. "I thought we performed pretty well and so did the Indians."
"The whole atmosphere with the game getting played was just fantastic in my mind and it was so much fun to broadcast," said Weber, who did the game locally with John Murphy on WBEN Radio and posted audio highlights on his Twitter feed last week. "For an exhibition, it was a fun game with a lot of action and it meant a lot to people here."
When the Blue Jays play their 1st game at Sahlen Field -- the first time two MLB teams have met in Buffalo since April 4, 1987 at War Memorial Stadium: The "Battle of the Great Lakes" between the Cleveland Indians and Toronto Blue Jays: https://t.co/PLyGjtkA49

— Pete Weber (@PeteWeberSports) July 27, 2020