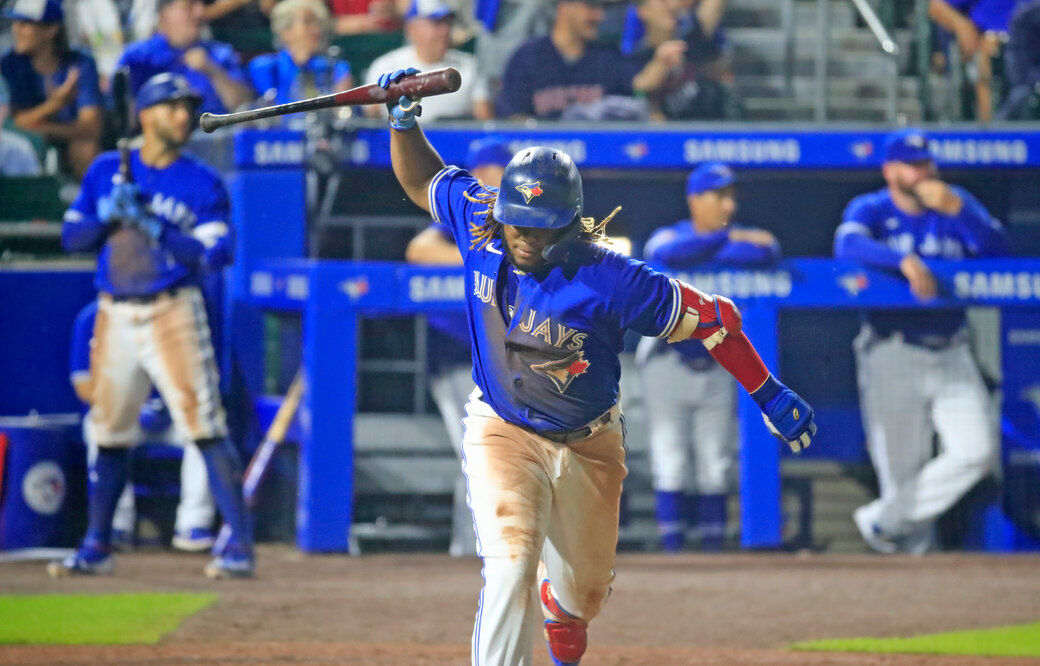 Buffalo's midsummer fling with the Toronto Blue Jays is all but over.
And with two "home" games remaining at Sahlen Field until the major league vagabonds return to Canada, it appears they already have one foot out the door.
A season-high and heavy pro-Boston crowd of 12,811 fans was on its feet and roaring before Blue Jays starting pitcher Ross Stripling recorded an out Monday night in downtown Buffalo. The righty was pummeled for six runs in one-third of an inning as the Boston Red Sox punished Toronto, 13-4, in the first game of a three-game series.
The Red Sox led 11-0 by the middle of the second inning, by which point they'd brought 20 batters to the plate. The offensive outburst was a stark turnaround for Boston, which shuffled its batting order before the contest after scoring just six runs in its previous three games combined against the New York Yankees. Boston hit six home runs against Toronto.
"That was a great first inning," Red Sox manager Alex Cora said. "The at-bats were really professional today. We stayed in the zone, we did a lot of good things and hopefully we can continue (Tuesday)."
Enrique Hernandez opened the game with a leadoff double to center and scored when Jarren Duran lined a 92.7-mph four-seam fastball over the wall in left field for his first career major league home run, giving the Red Sox a quick 2-0 lead.
Later in the inning, J.D. Martinez doubled off the wall in right-center field to put runners on second and third with one out, prompting a visit to the mound. Alex Verdugo walked on a full count to load the bases for Hunter Renfroe, whose grand slam to left-center field on a 91.7-mph fastball gave Boston a 6-0 lead and chased Stripling from the mound.
Toronto starters had not surrendered a run in the previous four games, all of them victories, combining to allow 11 hits and four walks while racking up 25 strikeouts in 25.2 innings pitched.
Stripling was tagged for six earned runs on four hits and two walks in 1/3 of an inning.
"I was actually really sharp in warmups," Stripling said. "Felt good walking in and then once I toed the rubber, man, it just all went away. Wasn't getting ahead. Threw a couple good changeups, couple terrible changeups, bad slider to J.D. and really just bad count leverage all the way around."
Stripling said he was in a "weird mental space" and struggled to focus because he's a couple days away from saying goodbye to his wife and son, who are not going to Toronto.
"We're a young team. Most guys just close the door on a hotel room here in Buffalo, drive an hour north and it's perfect," Stripling said. "... Almost all of us, our families are not coming. Baseball-wise, couldn't be more excited. We want to go to Toronto and want to play in the Rogers Centre. I feel like we're going to play really well there. Personally, my son turned 5 months old today. Very good chance I won't see him until he's 7 months old. That's weighing on me very hard, no doubt about it."
Anthony Kay replaced Stripling and promptly served up a two-run homer to Hernandez, his first of two home runs, which pushed Boston's lead to 8-0.
The Red Sox became the first team in MLB history to score eight or more runs in the top of the first inning with all of them coming on home runs.
Boston tacked on three more runs in the second inning, when Rafael Devers clubbed a solo home run to right and Danny Santana hit a two-run double to left.
Santana also bashed a solo homer to center to give Boston a 12-0 lead in the fourth.
While the Blue Jays have enjoyed support from the home crowd throughout most of their stay in Buffalo, the scene on Monday was reminiscent of last month's visit by the Yankees, when nearly the entire crowd rooted for the in-state team and the Jays lost all three games.
"This team deserves a lot of credit for everything they've gone through," Blue Jays manager Charlie Montoyo said before the game, "and we're about to move again and they keep playing good baseball. So the team, for me, deserves a lot of credit for that."
The Blue Jays scored four runs off Nick Pivetta in the bottom of the fourth.
Teoscar Hernandez broke the shutout with a groundout to third, scoring Vladimir Guerrero Jr. Randal Grichuk's sac fly to center scored George Springer and Cavan Biggio belted a solo homer to right, his seventh of the season.
Bo Bichette knocked in another run with a bases loaded infield single, which Pivetta failed to scoop up along the third base line, bringing Guerrero to the plate with two outs and the bases juiced. His fly out to center ended the drama.
Springer was robbed of a home run in the fifth inning by left fielder Verdugo, who timed his jump to keep the ball in the park, but couldn't hang on, allowing Springer a standup double. The play saved a run, since he was left stranded.
Hernandez hit a solo home run to increase the Red Sox lead to 13-4 in the sixth.
Lourdes Gurriel Jr., who hit a grand slam on Sunday, before the game said the Blue Jays were looking forward to returning to Canada for the first time since the start of the Covid-19 pandemic.
Once the Blue Jays finish this series against Boston, they play the next seven games on the road against the New York Mets and Red Sox, then return to Rogers Centre on July 30 for the start of a 10-game homestand against the Kansas City Royals, Red Sox and Cleveland Indians.
"Just very happy for the opportunity that Canada has given us to go back," Gurriel said. "The experience playing in Rogers Centre, it's unbelievable with our fans and we're very, very happy to go back."
Blue Jays veterans have had conversations with some of the team's first- and second-year players, like Marcus Semien and Springer, about what to expect once they return to Canada, from how hitting differs at Rogers Centre compared to at Sahlen Field and the team's string training facility in Dunedin, Fla., to how the defense will need to adjust to the faster turf.
The obstacles of relocating extend beyond preparing to play on a different field.
"It's very difficult, very complicated. Not just for me. For all my teammates," Gurriel said. "Moving our families, packing, this is already the third time. That situation is a little bit uncomfortable for everyone. For my wife, my kids. But we're good. The attitude's great. The energy's still there. And we're excited. We're good going back to Canada, to Rogers Centre, to play in front of our fans. And we're feeling good about it."