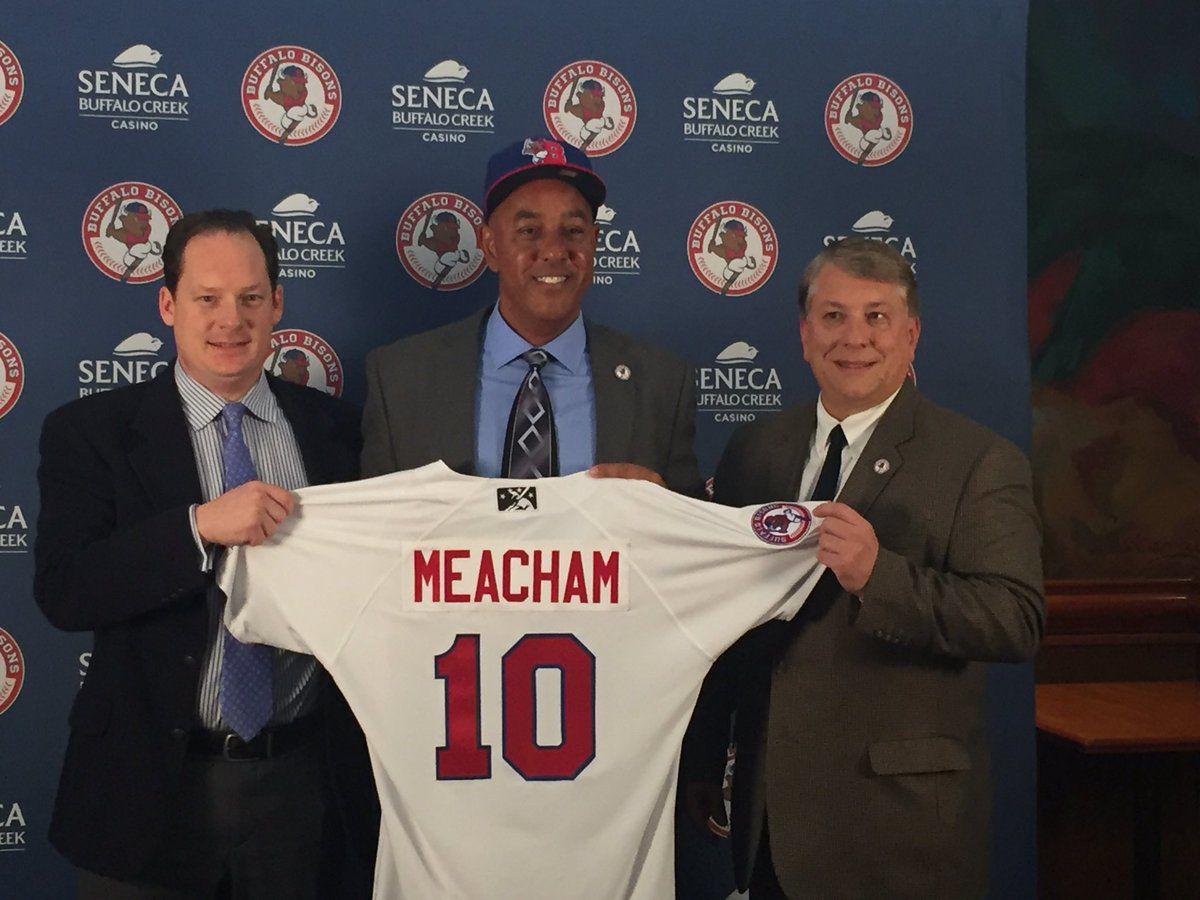 Bobby Meacham becomes the 20th manager for the Buffalo Bisons when the season opens Thursday at 2:05 p.m. at Coca-Cola Field.
Meacham, who was drafted  by the St. Louis Cardinals with the eighth overall pick in the 1981 Major League Baseball Draft, played parts of six seasons (1983-88) with the New York Yankees, primarily at shortstop. His penultimate season of pro ball came with the 1989 Bisons, hitting .218 and driving in 25 runs in 94 games for the Herd. He began coaching in 1991 spending several seasons in the minor leagues with MLB stints with the Florida Marlins (2006), San Diego Padres (2007), New York Yankees (2008) and Houston Astros (2010-12).
In 2013, Meacham joined the Toronto Blue Jays organization, managing the Single-A Dunedin Blue Jays, then leading the Double-A New Hampshire Fisher Cats for three seasons. He earned the promotion to Triple-A Buffalo in November and will take the field as the Bisons' manager on Thursday.
Q: What's still special about Opening Day?
Meacham: I'm excited just to get out of spring training where stuff doesn't count. Stuff counts now especially for these players and I'm looking forward to seeing how good they are.
Q: What do you like about this group?
Meacham: You know what my favorite thing is about this group? Just from watching in spring training, the few games I saw – they work hard, they play hard. It's fun to watch the contrast between other teams and us. Our guys went out there, played hard, ran balls out, hustled from first to third, made things happen. I look forward to seeing that happen at the start of the season.
Spring training's a lot of work. It's hot. Guys are working all day and then they get to a play a game at the end of the day that doesn't mean anything. Stats-wise it doesn't mean anything. But they went out there, played hard and really stretched themselves to be as good as they can be.
Q: You're familiar with a lot of the guys from New Hampshire, how does that impact the way you're able to work with them in Buffalo?
Meacham: They know what I expect. They can kind of hopefully leak over to the guys that don't know me when questions come up or I act crazy or stupid or something they can kind of explain why. Hopefully it's just a familiarity. … Those guys kinda know what I'm like and know what I expect so it's not a new thing and they can pass it along to people who don't know me.
Q: You said the guys know what you're like. What are you like?
Meacham: I try to be as honest as I can be. I try to actually help them and remember that this game's hard. This is a tough game. A lot of times I think we forget. As the years go on, I think I was better than I was and when I put a bunt on, the guy's on second. Well not necessarily. It's tough to execute. I bring a reliever in to get us out of an inning. It might not happen. I just want them to understand. The guys that do know me know that I understand the game's hard. It's a tough game to play. Hopefully the come out on top but sometimes they won't.
Q: Do you still reach back to your playing days when you're managing?
Meacham: I do. I was the guy, I was a No. 1 pick but I also remember being here [in Buffalo] and years later warming up guys in the bullpen. I'm not a catcher, ok. I was just trying to help the team out. So hopefully I can reach back and give them some of my experiences and every now and then pull a guy in and say, 'I know what it's like to be back down here in the minor leagues.' I had to come back here, in fact to this very place, and try to get back to the big-league level. Hopefully they can feel I'm pulling for them and on their side and it pushes them over the edge to feel a little more comfortable about getting back here.
Q: Buffalo would like a winning team and Toronto is looking to develop players, how do you go about trying to manage those different expectations?
Meacham: It's tough sometimes because I think you always come to a fork in the road. You either develop or you go to winning. In the minor leagues we always take the road of development. This team might be a little different because we have a lot of guys with big-league experience and they know that maybe I got sent back down, but if we win, people will notice and they get seen a lot more. Like I told them, a lot more goes into baseball than your numbers. You can read an internet post or look online and see numbers or look in a media guide, but knowing the game of baseball and knowing how to apply that and turn that into wins is what big-league managers are looking for. It's what big-league front offices are looking for. And that's the question. Can he play? Does he know what he's doing? Can he do the little things that don't show up in numbers? And that's what, from what I've seen in spring training, the guys are going to show everyone that's around them.
Q: Is there nostalgia being back in Buffalo?
Meacham: My wife and I, we've been married 35 years. I was here in 1989 and she was commenting on 'Oh, that used to be the wives room. I really want to help the wives when they get here like I was helped.' There's a lot of nostalgia. A lot of thinking back to what it was like with the kids, with the girls. My son wasn't even born yet. My girls are 31 and 30 and they used to run at me and jump in my arms. I couldn't do that any more.