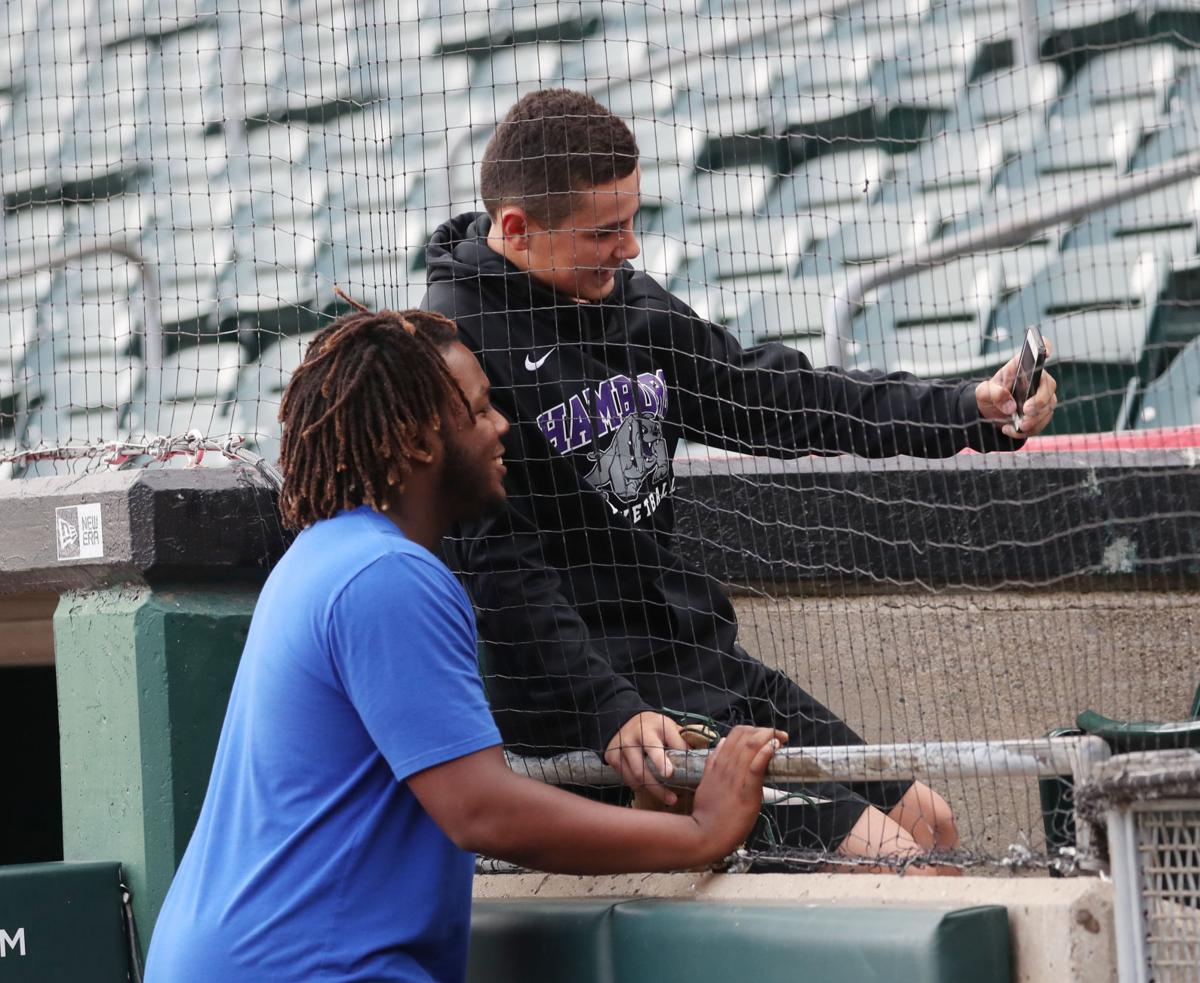 Bisons general manager Mike Buczkowski, who has spent more than three decades with the organization, sat down with The News to discuss several issues pertinent to the club Tuesday night as it opened its final homestand of the season.
The homestand includes a three-game series against the Scranton/Wilkes Barre RailRiders and four games against the Pawtucket Red Sox, with the finale on Monday. The Bisons then finish out with four games in Rochester and four in Syracuse.
This Q&A has been edited for length.
Q: What effect has Vlad Guerrero had on the organization since his call-up earlier this month?
A: It is unique when you get a player like that because our business model and all of minor league baseball, nowhere do you plan to have a player like that. You just can't. So everything we plan — superhero night, fireworks, all of that — is designed to bring people out that maybe aren't real big baseball fans, but want to come to an affordable family sports and entertainment venue outdoors on a nice day with their kids.
There is not a fireworks show in the world the Bills can do, if they lose 48-0, that's going to have people leave and going, 'We should do this again sometime.' Because for them, it's about winning. And for the Sabres, it's about winning and losing. For us, it's not so much about winning and losing. But when you do have a team that wins or you get a player like Vlad that arrives, that just makes it that much more fun, because you're now mixing in people who are coming to watch a player or watch a team with the families that are here, and it makes for a great atmosphere. That first homestand, the first night, it doubled our attendance for a Tuesday night. He doubled our attendance. I think we drew close to 10,000.
Q: Bisons attendance ranks fifth in the International League for fifth consecutive year, but average gameday attendance is its lowest since 2012. What do you attribute that to?
A: I think we've had six postponements this year. Six or seven. We had a two-hour delay opening day and then the next five in a row were postponed. One day the tarp was frozen on the field. It rained. We had bad weather. Walkups are nonexistent when it's 40 degrees and rain.
Q: How much does the on-field product factor into attendance?
A: I think it does at this time of the year. When you have a team that's contending and you're able to say that tonight's game has playoff implications, or we're one game out of first, in those years when we've had that, it has definitely helped us. In years when we've had really bad teams, which we did not too long ago when we were a Mets affiliate for a couple of years and were in last place, I think three out of four years, it hurts you a little bit, because there's not that extra reason to come.
Q: Why didn't the team meet its on-field expectations this season?
A: If you asked me what our biggest reason why we don't have a better win-loss record, it's the amount of injuries that the Blue Jays have had. When they just make a transaction and they call a guy up and send us a guy down, they may call up a pitcher but we get an outfielder, and that's usually pretty even for your team. You lose a pitcher but you gain in offense. But when they have as many injuries as they had and you're just sending guys up and you're not getting anybody back, that can really put a strain on your roster. Especially pitching. When you're losing your starting pitcher every week, there's another guy going up, another guy going up, not every player that comes from Double-A is ready to pitch in Triple-A. Except for the guys like Vlad, a lot of times it's hit or miss.
Q: The Bisons extended their player development contract to remain a Blue Jays affiliate through 2020. How has that relationship affected the organization?
A: It's changed a little bit for us since we became a Blue Jays affiliate in 2013, because we get great support from fans coming from Toronto and southern Ontario. Probably 25 percent of our people that walk up and buy tickets for a game are now Canadian fans that are coming. And they are coming to see the next Blue Jay. Most of them are coming here not for the event — they're coming to see somebody pitch, they've heard about a guy that's doing well that might be in Toronto, they've heard about Vlad for sure, and that first homestand, flocked down here to see Vlad play.
Q: Think this is it for Guerrero here? Seven more games and he's in the majors?
A: That's what we're thinking. I don't know what the future holds or what they're going to do, but our thought is this could be your last chance to see him play here. Now who knows? I don't know what might happen next year, but I would say that's probably your surest bet. If you want to see him play here, come to one of these last games.
Q: The naming rights for the ballpark are up after this season, the 10th as Coca-Cola Field. What will the ballpark be called next season?
A: We don't know yet. We're hopeful that soon we'll be able to finalize something, but don't have anything that we can share yet. It's not a bid — when the city did it, that's what they did. But years ago, we restructured our lease for us to operate the ballpark, and along with the restructuring of the lease, it gave us the rights to secure the naming rights. So we've been talking to a few people about it, and we're hoping to have it finalized soon, to have it in place for next season. We rely on the naming rights to fund a big part of the operation of the ballpark.
Q: Coke wasn't interested in continuing?
A: Coca-Cola of Buffalo sold to a different group from New England about a year ago, so the new group came in and they weren't interested in doing naming rights, but we extended our pouring rights with them, so it'll still be Coca-Cola products throughout the park.
Q: What else is happening to the ballpark before the start of next season?
A: We're hoping to continue to replace the seats. Every year, we try to replace a little bit more. The red seats are all 30 years old. And I don't say they've been through 30 Buffalo summers, they've been through 30 Buffalo winters, as well. So our hope now is, depending on the funding, to go up a little bit higher where the green seats are and continue to replace those.
Q: Has your opinion changed about the new extra inning rule, in which each inning begins with a runner on second base, now that it has been in place for a season?
A: You're going to get me fired up. Because I am not a fan of it. I'm not a fan of it at this level, at Triple-A. I understand it at the lower A ball levels that you want to save on some pitchers and you want to have a little bit more certainty about how many innings you're going to play. But to me, when you're playing Triple-A baseball, you're one step below (the majors). And so most of our (extra inning) games are ending in 10 innings. It's done what the people who put it together wanted it to do. They didn't want to have the longer games. For what the player development people wanted it to do, it's worked. We're playing less innings.
Be the first to know
Get local news delivered to your inbox!