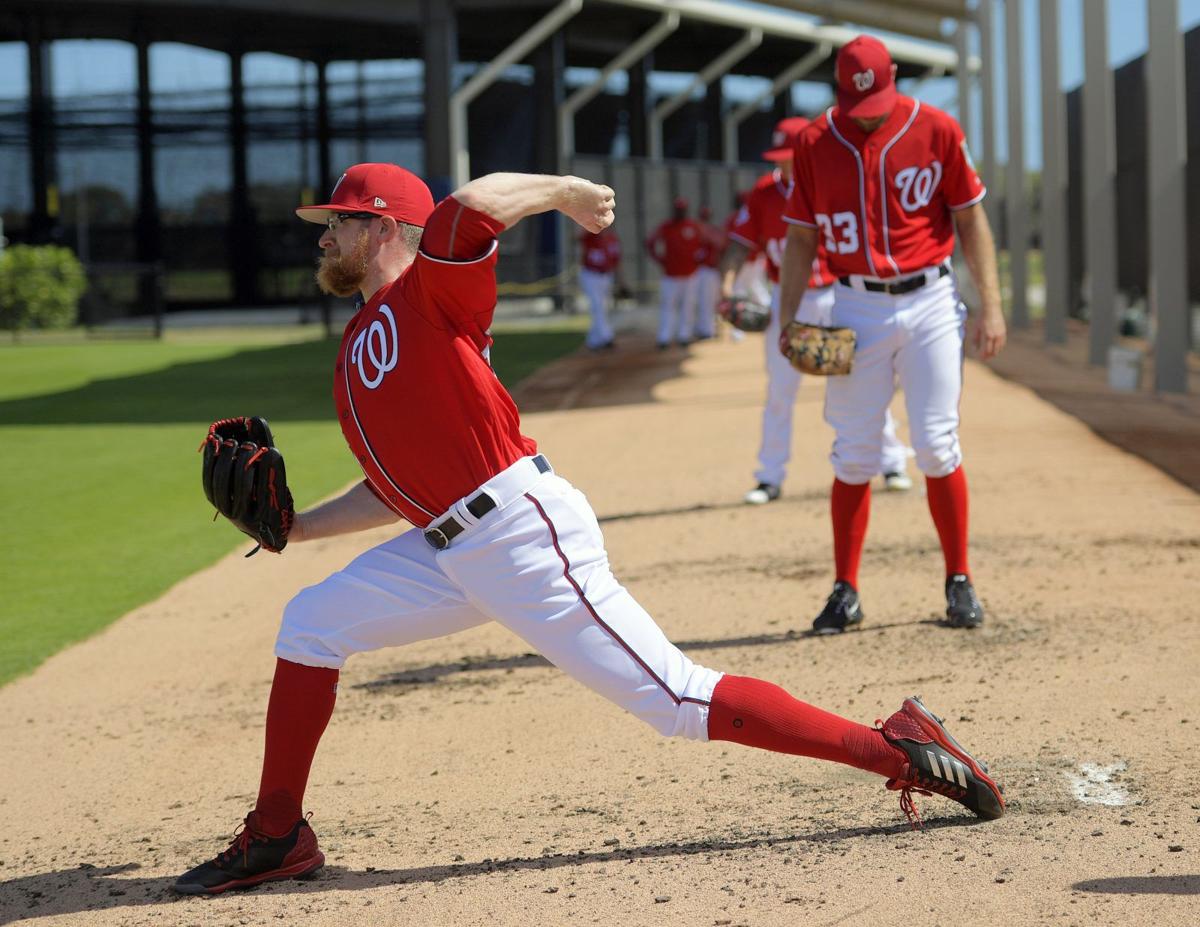 New Era Cap Co. workers in Derby, who stand to lose their jobs next month, have a high-profile supporter in Washington Nationals closer Sean Doolittle.
The relief pitcher made that clear in a series of tweets on Monday, highlighting the plight of the more than 200 New Era workers who will be out of work when the manufacturer of caps for Major League Baseball closes its Derby facility.
New Era plans to shift production of its Major League Baseball caps to Florida, while also using suppliers based overseas, where wages are much lower, for other nonbaseball products currently made in Derby.
"As one of the most prominent unions in the US, we want to elevate the voices of the laborers whose work makes our game possible," Doolittle tweeted, becoming the first major league player to throw his support behind the workers at the Derby plant.
MLB has an exclusive deal with New Era to make our on-field hats in the US. But now New Era is planning to close its factory in NY next month and eliminate 200 union jobs in favor of non-union (cheaper) labor. #NewEraHatsOff pic.twitter.com/V0G4vCLaud

— Sean Doolittle (@whatwouldDOOdo) February 18, 2019
"The Derby, NY factory workers have been a part of our game, making the iconic on-field hats for over 50 years," Doolittle tweeted to his 90,500 followers. "They deserve better."
New Era, a Buffalo-based company owned by the Koch family, last week reached a severance package agreement with the Communication Workers of America, the union that represents most of the company's workers in Derby.
Unionized workers – with an average tenure of 19 years – will receive one week of salary for every year of service, up to 26 weeks. New Era also will keep making its contribution toward employees' health insurance premiums for five months after the plant closes.
New Era makes about 65 million baseball caps per year. The Derby plant produces up to 4.5 million of those caps annually. The rest are made overseas by third-party manufacturers China, Vietnam, Bangladesh and Haiti, where wages are much lower than they are in Derby.
New Era's agreement with Major League Baseball to provide all of the headwear that players wear on-field during games requires those caps to be made in the United States.
To fulfill that requirement, while still shutting the Derby facility, New Era is shifting manufacturing of its MLB game caps to a company-owned factory in Miami that specializes in screen printing apparel.
When the closing was announced, New Era CEO Chris Koch released a statement noting that he worked at the factory as a young man and noted the company's long association with the community. But he also said he had "an obligation to our employees, partners and customers to ensure the long-term success of this company, and we need to keep pace with changes in our industry."
Doolittle echoed local labor and community activists, who have called on Major League Baseball to use its influence to save the Derby jobs.
"This isn't the first time that jobs of union garment workers who make MLB uniforms have been in jeopardy. In 2017, MLB was able to step in and help broker a deal to save 600 textile jobs at the Majestic factory in PA. It was a win for everyone," Doolittle tweeted.
"As players continue to stand together it's important that we also continue to stand in solidarity with the union labor that has helped make our game what it is today," he tweeted.
"We stand in solidarity with the Derby, NY factory families who make the iconic on-field hats we put on everyday and fans wear to support their favorite team," Doolittle tweeted. "We hope MLB can help these NY families the way they helped the uniform workers in PA. Otherwise, it's #NewEraHatsOff,"
Doolittle's tweets also drew support for the Derby plant from Houston Astros pitcher Collin McHugh.
"When I was in the minor leagues, My wife and I lived with a woman whose family worked in that factory since it's inception. She showed me hats from the early years of New Era MLB, and was so proud of her connection to the game. I stand with the workers in Derby, NY," McHugh tweeted.