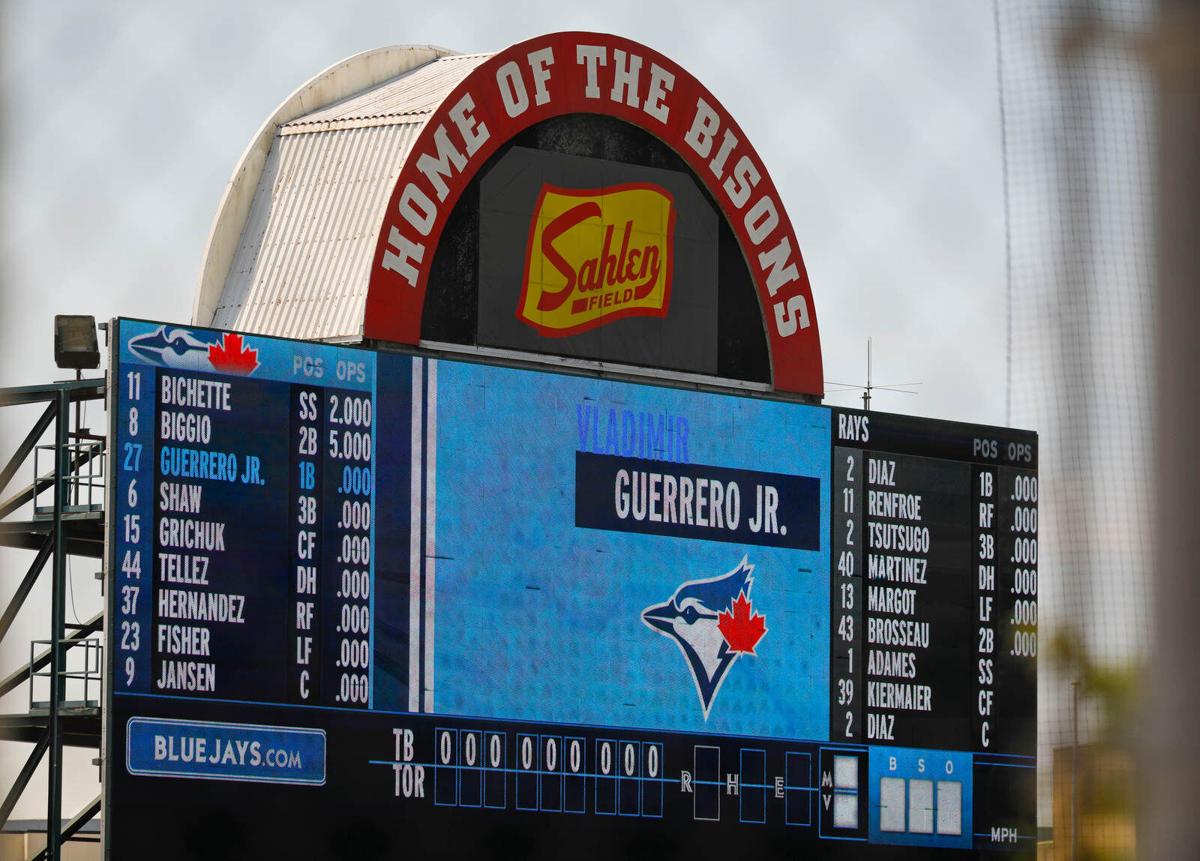 Whatever health and safety restrictions are imposed by the state or Erie County, Major League Baseball will follow them. That's the upshot of the Thursday morning conference call between county and league officials.
Erie County Executive Mark Poloncarz and Health Commissioner Dr. Gale Burstein say they feel confident that adequate safety measures are being taken to protect the community when the Toronto Blue Jays and other Major League teams come to Sahlen Field to play after speaking with league representatives.
"I left the meeting feeling confident that strong safeguards are in place to prevent Covid-19 transmission among the players or in our community," Burstein said in a statement that praised the league for instituting "robust public health measures."
Concerns have been magnified in light of the Covid-19 outbreak within the Miami Marlins, the first opponent scheduled to play the Blue Jays at Sahlen Field, with games slated for Aug. 11-12. 
Burstein and Poloncarz joined a video conference call Thursday with league health, safety and labor relations officials, and officers with Blue Jays operations and Bisons ownership. They discussed daily testing and travel logistics in and out of the Buffalo region, and other actions taken to ensure safety.
The league has confirmed that when teams arrive:
Players, coaches and all other visiting team staff will not be allowed to leave their hotel except to go by bus to Sahlen Field or the airport, and, with the exception of team dining purposes within the hotel, may not leave their hotel rooms.
All professional baseball teams based in New York, including the Blue Jays, who return from a states on the New York quarantine list will be subject to explicit guidance from the State Department of Health. That guidance requires Covid-19 testing within 24 hours of arrival, avoidance of public places and contacts, and requires the same quarantine and social distancing requirements that would apply to the visiting team.
The league will follow any additional health and safety orders imposed by the Erie County Health Department and County Executive's Office through an emergency executive order.
The league agrees to provide to the Erie County Health Department any requested health, safety and other information necessary to ensure the safety of the general public.
"Based on our conversation and the protocols put in place, it is apparent to me MLB is taking extremely serious the safety of all, especially since the COVID-19 outbreak occurred with the Miami Marlins," Poloncarz said in his statement. "They sincerely heard our concerns and agreed to every request we made."
The Marlins' season has been put on pause until at least Tuesday, with seven games postponed because of the outbreak. There have been 18 positive cases on the roster, with a 16th player's positive test revealed on Wednesday, in addition to two coaches.
Meanwhile, the Blue Jays schedule has been further complicated by the fact that the Philadelphia Phillies have announced that three staff members, including a Phillies coach, tested positive for Covid-19, so their games also are on hold "until further notice."
Get the latest baseball news delivered to you!
Sign up to receive professional baseball news in your inbox every week.