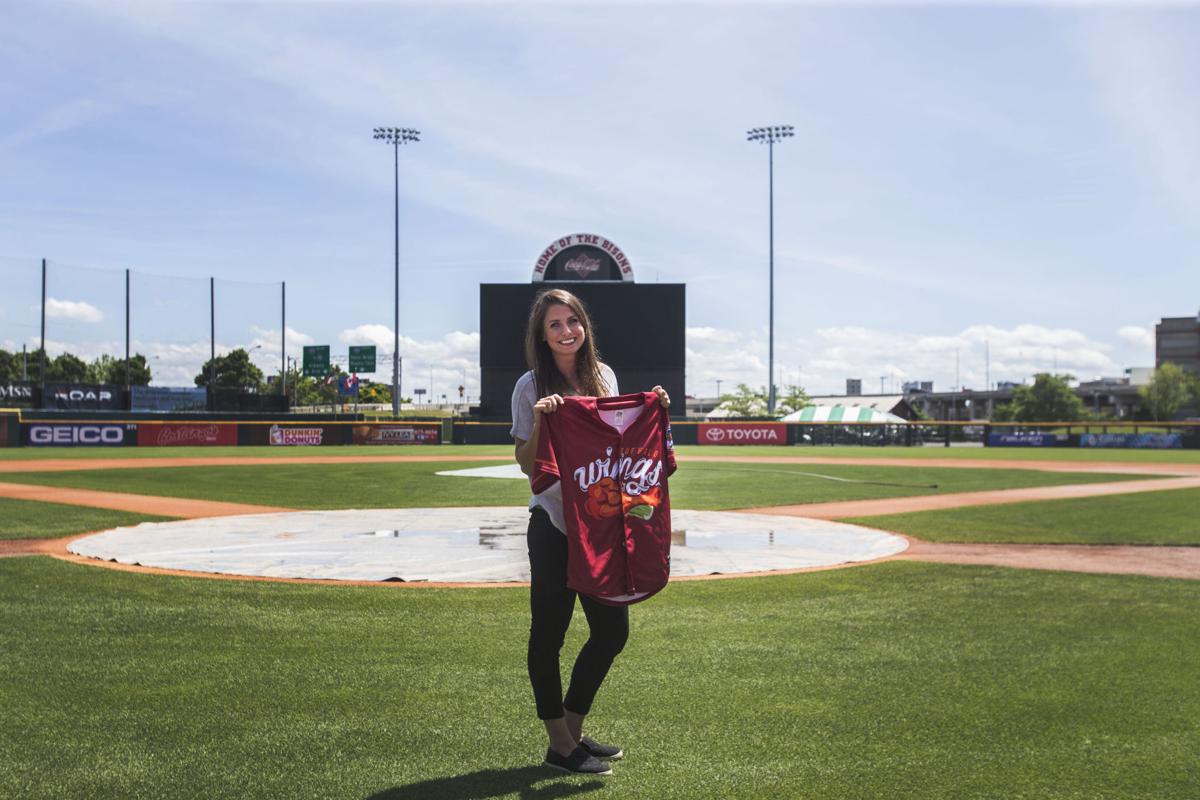 Michele Lange has a foot in two worlds of the regional food battle. A native of Irondequoit, she has consumed her fair share of that Rochester specialty, the garbage plate.
But since moving to Buffalo 12 years ago for college at SUNY Buffalo State and Villa Maria College then to continue her career as a graphic designer, she has plenty of experience with the classic tastes of the chicken wing.
That background gave Lange a unique perspective for her latest creative challenge – helping to design the jersey for the Buffalo Wings when they host the Rochester Plates.
"I'm in a really interesting place," Lange said. "I definitely consider myself a Buffalonian but I lived in Rochester for 17 years. From where I'm sitting, it's kind of cool to see my two hometowns going head to head for this. I'm just in a position where I'm really having fun with this."
For the four-game series beginning Thursday at Coca-Cola Field, the Buffalo Bisons will be known as the "Buffalo Wings" and the Rochester Red Wings will be known as the "Rochester Plates" keeping in line with a trend in minor league baseball to play with regional food items for specialty jerseys and promotional nights.
Rochester used the "Plates" moniker last year for one game. The promotion was so successful, they now are known as the Plates for every home Thursday game this season.
The Bisons approached Rochester about the July series, and the Red Wings, er Plates, were on board. The teams also will use the names during a three-game series beginning Aug. 28 at Frontier Field in Rochester.
Also, don't forget Thruway Cup rival Syracuse, which will become the "Salt Potatoes" for a series with Rochester dubbed the Duel of the Dishes. The teams will compete for the Golden Fork, held by the winning team on June 21 at Frontier Field and August 25 at NBT Bank Stadium.
All this food talk is making us hungry.
So, too, is looking at the jersey and hat designs.
"While chicken wings are enjoyed throughout the world, if you really want to get a true order of wings, you have to do it in Western New York. So it's only fitting that Buffalo's hometown team adopt the moniker of its most famous food item." - @BuffaloBisonsGM pic.twitter.com/J4chrdydHr

— Buffalo Bisons (@BuffaloBisons) June 11, 2018
The Bisons began selling three versions of logo T-shirts, hats and replicas of the on-field jerseys last month when the series was announced, but the process began in November when a design team started working on the logo and accompanying promotions.
Input came from all corners of the organization – from clubhouse manager Scott Lesher, who best understood what kind of designs would work on a baseball jersey, to merchandise manager Thersa Cerabone, who came up with the unique marketing touch of mailing out online orders of "Buffalo Wings" apparel in the classic, generic, chicken wing box.
And in typical style of the Bisons organization, they kept as many aspects as possible local, including using the design of Western New York native Josh Flanigan as the basis for the graphic.
"When we first started, I researched a lot of different teams, different logos I thought were successful and started building this idea in my mind," said Lange, who has been a graphic designer with the Bisons for about a year. "Then I started researching chicken wings in general and there aren't a lot of really well done chicken wings out there. It's a hard food to really encapsulate. It's not the most beautiful piece of food.
"Delicious, but not beautiful and it's hard to do well. We found this local artist who had developed all this chicken wing artwork and it was exactly what we were looking for."
"You'd think it would be easy, designing a wing," Flanigan told the team website. "But the color, dimensions, and shading have to all come together, or it just doesn't work. That's what I value about this collaboration. The Bisons' in-house team blended my wing with the right elements, and the result is fantastic."
With Flanigan's wing design, Lange could get to work incorporating the artwork into their vision. It started with creating the "B" for the hats, which uses a chicken drum to create part of the letter supplemented with a side of blue cheese. (Because as anyone from Western New York will tell you, ranch is just wrong.)
It wouldn't be complete with a piece of celery poking out. "I think all the elements of the chicken wing meal are in there," Lange said.
The team then helped to bring in a baseball component to the logo, putting it on a baseball diamond shape to complete the design.
The challenging part of this creative endeavor is to play with the kitsch factor, but only to a reasonable point.
"It's a fine line between being too cartoony and still looking professional," Lange said. "I think some of the more unsuccessful logos were too cartoony or too kidish. This I think is an illustration, but still feels very athletic and professional."
While the logo is fun and the process has been a creative, outside-the-box endeavor for the Bisons and their entire staff, the "Buffalo Wings" weekend celebrates more than just food and baseball. For the organization, it's a celebration of community and local talent.
Along with local food vendors and anthem singers who are part of the Bisons' game day experience throughout the season, this project brought in local artists.
"I am very proud to be a part of this team effort," Flanigan says. "Celebrating our local culture, while using local talent, is what living in Buffalo is all about. I am looking forward to seeing the fans don the wing to boost our home team."