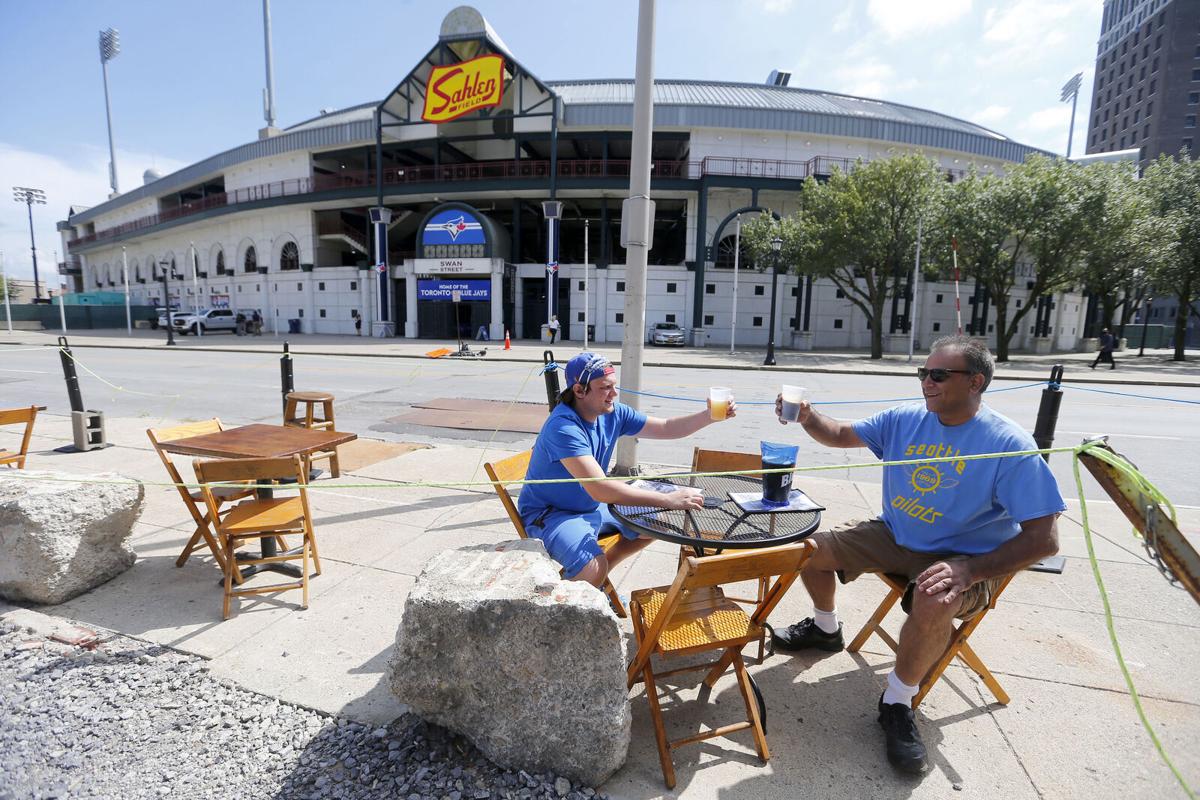 Even from Iowa, in a kind of classic pandemic-era way, Judy Lynn Schmeling Moller was as close Tuesday to actually seeing Sahlen Field as many of the baseball pilgrims who wandered casually outside the facade or grabbed a drink or a meal at the nearby Union Pub.
They were waiting for the moment when Major League Baseball formally, with emphasis on "formally," returned to Buffalo for the first time since Sept. 8, 1915. That's when the Buffalo "Buffeds" – also known as the Blues – swept a final doubleheader against Baltimore as part of the soon-to-be-defunct Federal League, which reference librarian Cassidy Lent of baseball's Hall of Fame described as a short-lived but true major league, its statistics part of the record books in Cooperstown.
"There's been a lot of people around here waiting for this day for a long, long time," said Tim Saracki, who saw proximity to the big leagues in Buffalo, a first in his lifetime, as a fitting way to celebrate his 55th birthday with a friend, Greg Grigas. Both of them settled in at the Union Pub, maybe 150 yards from home plate.
That was as close as they were going to get. The pandemic that prevented the Blue Jays from playing their games in Toronto also closed off Sahlen Field to any spectators, except cutouts, for safety reasons.
I reached Moller with the help of Megan Smolenyak, a nationally renowned researcher and genealogist who routinely works these kind of miracles. At 73, Moller is the last surviving grandchild of Roy "Rube" Marshall, a guy her grandmother always called "Cy." He was also the pitcher who went the distance for Buffalo in the second game of that 1915 doubleheader, holding off Baltimore for a 5-4 win at a long-gone ballpark that bordered Northland Avenue.
She remembers visiting him during her childhood at his Ohio home. He ran a meat market, she said, and also did some scouting for Cleveland. Marshall, who also played a little for the Phillies, chewed tobacco and kept a spittoon near his chair.
While Moller described her grandfather as a warm and kind guy, willing to play catch with his grandkids or take them to Cleveland games, she said one lesson she remembers from childhood was to never interrupt him if he was watching a game or listening on the radio.
What she did not know was this: The last pitch he threw to beat Baltimore 105 years ago was also the last official pitch thrown in an official Major League Baseball game in Buffalo - until Tuesday night.
Again, emphasis on "official."   
As baseball historian Phil Dixon points out, that chronology ignores how some of the great teams of the old Negro Leagues – during the years when big league baseball barred players of color – barnstormed into Buffalo throughout the early decades of the century.
It also skips over – as Andrew McCutchen of the Philadelphia Phillies noted Tuesday in a wonderful YouTube video – how the Indianapolis Clowns of the Negro Leagues made Buffalo a home base for several years in the early 1950s, when the pace of big league integration remained glacial. That led to what was almost certainly the most important and consequential moment in local baseball history:
As McCutchen recalled, Henry Aaron – one of the greatest players of all time – was "discovered" by the National League's Milwaukee Braves while he was playing at Buffalo's Offermann Stadium.
So maybe the larger truth of the arrival of the Blue Jays is the same thing understood by Dixon in Missouri and Moller in Iowa. What happened Tuesday – with big league baseball returning to Buffalo as an offshoot of the turbulence caused by the pandemic, in a fashion that six months ago would have seemed utterly impossible – was one of those junctures in the long and unpredictable history of any city when cascading events bring about events that feel almost surreal.
In a community that has always loved its baseball, it was also deeply moving - even if there was no one in the stands.
The Toronto Blue Jays opened a series against the Miami Marlins at Sahlen Field on Tuesday, Aug. 11, 2020.
It could not have happened without the ballpark itself, maybe the real star of the whole saga. Known at the start as Pilot Field, it opened in 1988 for the Buffalo Bisons, then of the American Association, behind a major league dream. Breaking the mold of look-alike sports structures surrounded by a sea of parking, it was built specifically for baseball on a scale intended to mesh with the city around it, in a way meant to welcome people walking on the street.
The now-Sahlen Field helped pioneer the idea that throwback downtown ballparks could succeed and thrive when tucked comfortably into an existing commercial district – an idea that inspired similar plans throughout the nation.
The original hope that it might host a big league club also made it easier, even 32 years later, for the Jays to swiftly upgrade the place for major league use.
Architect Peter Nowak, who died 18 months ago, is remembered as a fiery legend within Buffalo planning community. He successfully advocated a small, throwback ballpark downtown and warned that closing Main Street to cars would be a disastrous
So it was strange - a kind of jolt to the original purpose - to see the sidewalks so empty around a ballpark built as a gateway for foot traffic, especially on a monumental night in its history, even if that lonesome quality explained exactly why the Blue Jays are here in the first place.
From those sidewalks, you could hear the crack of the bat as teams took batting practice. Some intrepid fans chased balls that flew out of the park. And Jason Gallant, 43, of Toronto, knowing this is a season they will talk about for years in Canada, showed up to symbolically represent Blue Jays fans.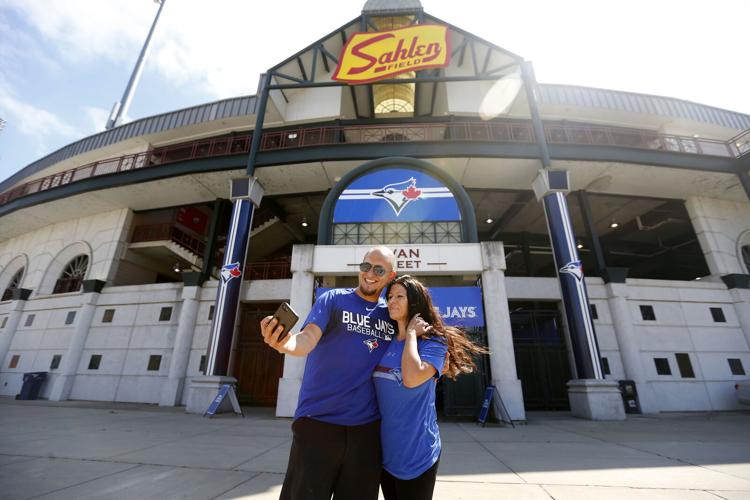 For the past few months, he has stayed with his fiancee, Melanie Isaacs, in Kenmore. Gallant said he was in the crowd for the first game at Toronto's SkyDome, now called the Rogers Centre, in 1989. He attended the World Series of 1992 and 1993, when the Blue Jays won two world championships, the second one coming on a Joe Carter walk-off home run that beat the Phillies.
He made it as close as he could Tuesday, standing just outside the main entrance of the ballpark, behind the understanding that it was an evening that would be its own memorable and even haunting piece of Canadian baseball history.
"For all I know," he said, speaking of all the restrictions at the border, "I might be the only Jays fan (from Canada) who's even here."
Gallant, as a Toronto guy, understands. The situation is different than any presence for any top-level team in Buffalo, ever. With the Bills and the Sabres - and even in the old days with the Braves of the National Basketball Association - there is or was always a need for the community to support the team. This situation is free of that demand. The Blue Jays, as soon as they can do it safely, will go home.
As for pressure to show up and buy tickets and to be in the stands, the opposite is true. If anything, local health care specialists would feel better if fans stay a safe distance way or watch from their living rooms.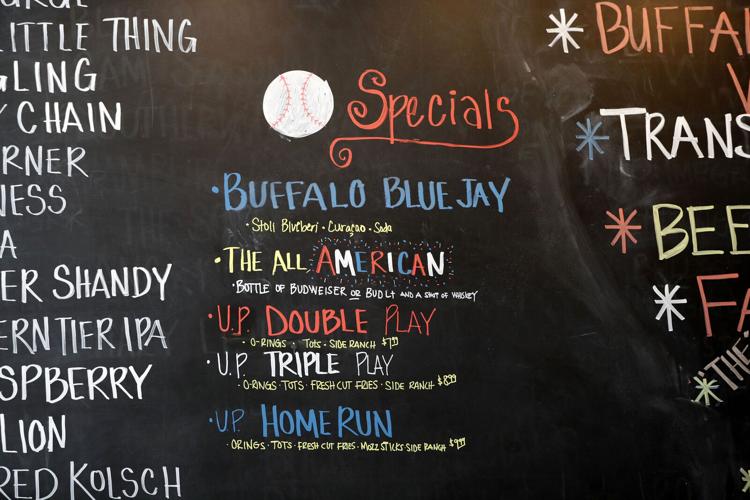 In that sense, the people on the street outside the ballpark Tuesday – while glad to simply be part of what Saracki described as one of the most memorable birthdays of his life – listened as the Canadian and American national anthems echoed out of the ballpark and rolled out onto the street.
Their view was really a guess and a dream about what was happening on the field when Blue Jays left-hander Hyun-Jin Ryu took the mound to face Miami shortstop Jonathan Villar, just as it was for Moller in faraway Iowa.
At 6:41 p.m. on Aug. 11, 2020, Ryu released the ball, Villar fouled it off and Major League Baseball had returned to Buffalo. From 850 miles away, the only surviving granddaughter of "Rube" Marshall contemplated how his final pitch in the nightcap of a Federal League doubleheader had stood for 105 years as the last official big league moment in this city, leaving Judy Moller to feel a chill about the way a tumult of unforeseen events had brought this sudden flash of light onto her grandfather.
In four words, she spoke for both her family and a Western New York baseball community that - until a few months ago - could not have seen this coming.
"This means a ton," Moller said.