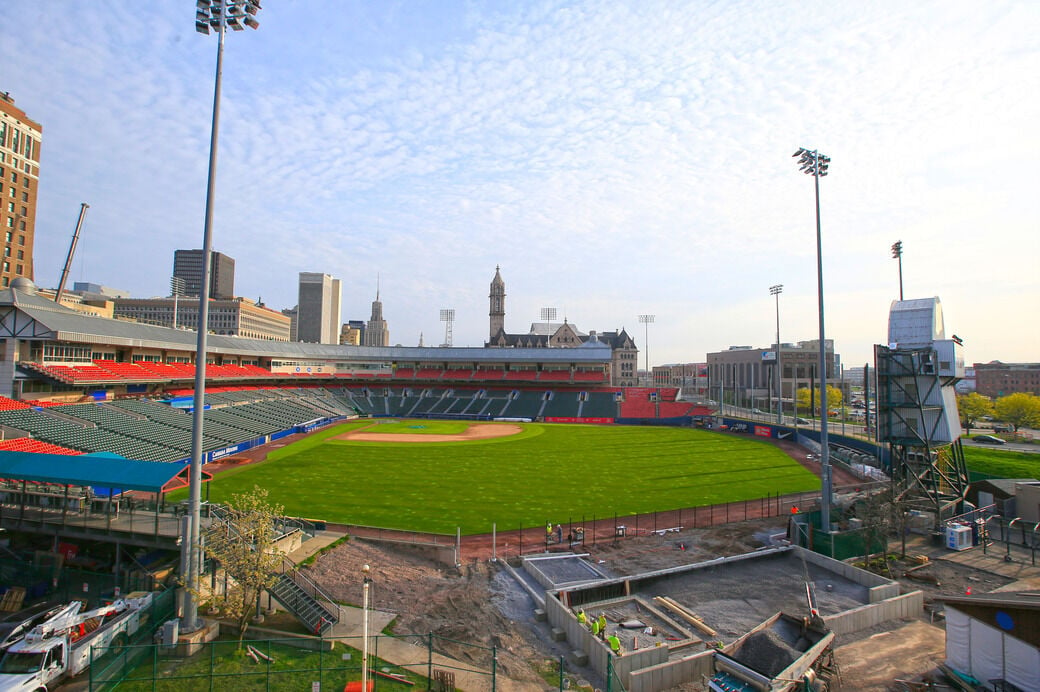 With all the construction in and around Sahlen Field, it's been plainly obvious the Toronto Blue Jays were coming back to Buffalo, and the Bisons' parent club made it official Wednesday morning.
Opening Night for the Jays' second straight summer of Major League Baseball downtown will be Tuesday, June 1 against the Miami Marlins.
The Jays and Marlins will play a two-game series June 1-2 in a pair of 7:07 p.m. starts. The Jays will then host the Houston Astros here for a three-game set June 4, 5 and 6. Start times for those will be 7:07, 3:07 and 1:07.
After a seven-game road trip to Chicago and Boston comes a big one for Buffalo fans: A three-game series against the New York Yankees from June 15-17.
The Bisons/Thunder were on top of their game in all phases in their season opener against the Worcester Red Sox, scoring two runs in the first and loping home with a 6-1 victory before a socially-distanced sellout crowd of 1,526.
Tickets for the series against the Marlins, Astros and Yankees go on sale at 10 a.m. Thursday, May 13, at bluejays.com/tickets. Tickets for the homestand beginning June 24 vs. Baltimore Orioles go on sale at 10 a.m. Thursday, June 3. That will also feature games against the Seattle Mariners and defending American League champion Tampa Bay Rays. Subsequent homestand on-sale dates will be announced at a later time.  
The Blue Jays went 17-9 in Buffalo last year but the 26 games were played with no fans. That will not be the case this year. New York State regulations for outdoor stadiums allow for 33% of capacity. The Blue Jays, however, have to initially play to 24%, or around 4,300 fans, because the state rules also require 6 feet between seating pods.
Fans 3 and older must present proof of full vaccination (received at least 14 days prior to the day of the game) or a negative Covid-19 test result (from a PCR test taken within 72 hours of the day of the game or a rapid antigen test taken within six hours of the game's scheduled start time). All tickets will be mobile and face coverings will be mandatory. Complete information is at bluejays.com/healthandsafety
If they stay in Buffalo through the season finale on Oct. 3, they could play as many as 59 games here. Of course, all of this is dependent on what happens regarding the reopening of the Canadian border.
Tickets will be sold in pods of four with a minimum of 6 feet of space.
"The Blue Jays returning to Sahlen Field to once again temporarily play their home games is a testament to the great working relationship the Bisons organization has with our Major League parent club," said Mike Buczkowski, president of Rich Baseball Operations. "The only thing lacking from a successful MLB summer at Sahlen Field in 2020 was the ability to share that experience with our great fans. I know Buffalo is ready to get back to the ballpark and give the Blue Jays a "home-away-from-home" field advantage that will propel them towards another postseason run."
The Jays have been consistent with their messaging that their priority is to get back to Toronto and play in Rogers Centre, even without fans. But Ontario provincial and Canadian federal health officials have the final say on that point and have yet to allow athletes from the United States to travel in and out of Canada with the exception of last year's Stanley Cup playoff bubbles in Toronto and Edmonton. But those players flew into Canada, quarantined and never left their bubble.
Said the Blue Jays in a statement Wednesday morning: "The club extends its sincere thanks to Bob and Mindy Rich and the Buffalo Bisons organization; the City of Buffalo, Erie County, and New York State officials; and Buffalo-area fans who have welcomed Blue Jays and Bisons players to Sahlen Field for nearly a decade. The team is excited to return to the site of its strong 2020 campaign, this time with in-person cheers from Buffalo-area fans."
Buffalo's callup to the major leagues ended in a victory 105 years in the making.
"The City of Buffalo is thrilled to once again be able to welcome the Toronto Blue Jays to Sahlen Field," said Mayor Byron Brown. "The Blue Jays and the Bisons have done a tremendous job preparing our city's ballpark for Major League Baseball, and after embracing the Blue Jays as our hometown team in 2020, the ability to have the great sports fans of Western New York inside Sahlen Field this time around will no doubt make this summer at the ballpark an unforgettable one for our city."
The Jays and Marlins opened play in Buffalo last year with a chaotic two-game series. On Aug. 11, 2020, the first major-league game in Buffalo since 1915 saw the Blue Jays blow a 4-1 lead in the ninth but get a Travis Shaw RBI single in the 10th to win, 5-4. The next night, Toronto overcame an 8-0 deficit with a barrage of home runs but lost to the Marlins, 14-11.
The Blue Jays have played their first 11 home games this year at their spring training home, TD Ballpark in Dunedin, Fla. They have gone 7-4 in those games and will play 10 more there from May 14-24 against Philadelphia, Boston and Tampa Bay.
The Jays will then have a six-day road trip to New York and Cleveland and head to Buffalo on the night of May 30 following the finale at Progressive Field. They have an off day on May 31 and then meet the Marlins the next night.
Everyone agrees this is one strange situation. But they also agree that the best part is they'll be playing baseball again Tuesday night.
Sahlen Field is undergoing a multimillion-dollar renovation to accommodate the Jays. Much of the work is service level upgrades to clubhouses, batting cages and weight rooms. Fans will notice a new outfield, new light towers and LED bulbs and the fact the bullpens have been removed from foul territory and will be housed in a double-decked structure in right-center field. 
The Bisons started their season Tuesday night with a 6-1 win over the Worcester Red Sox in Trenton, N.J. The Herd will stay in Jersey for however long the Blue Jays stay in Buffalo.
Here is the Jays' complete remaining home schedule. It remains uncertain past June how many of these games will be held in Buffalo, or if all of them will be.
June 15-16-17, New York Yankees
June 24-25-26-27, Baltimore
June 29-30-July 1, Seattle
July 30-31-Aug 1, Kansas City
Aug. 23-24-25-26, Chicago White Sox
Aug. 30-31-Sept 1, Baltimore