Heartbeat of a Yankees dynasty.
That's the first sentence of Derek Jeter's plaque revealed Wednesday at the Baseball Hall of Fame induction ceremony. And it's perfect.
The long-delayed ceremony to induct the Yankees captain was highlighted by his classy speech that was classic Jeter. It was understated and not flashy. It hit all the right notes. It was reverent where it needed to be and snarky where it fit, too.
You stopped and watched Jeter all the time throughout his 20 seasons because you wanted to see what magic he would perform on the field. This was a case where you wanted to hear what he had to say.
Time stood still around baseball for this one. Tweets emerged from both Yankee Stadium in the Bronx and LoanDepot Park in Miami of players stopping pregame batting practice to focus on Jeter's speech playing on Jumbotrons. No offense to the erudite wisdom of Ted Simmons, the comic relief of Larry Walker or the droning of Donald Fehr on behalf of Marvin Miller, but they were all opening acts on this day.
The No. 2 Yankees jerseys were everywhere on the grounds of the Clark Sports Center, even though it appeared to be a much smaller crowd than a normal Hall ceremony held on a Sunday in July. There was lots of noise, especially when Jeter was introduced.  Plenty of old teammates were there and there was a star-studded row directly behind his family that featured friends Michael Jordan, Patrick Ewing and Ahmad Rashad.
There was The Flip. The Dive into the stands. The Mr. November home run. The 3,000th Hit Home Run. And many, many more, Harrington recalls.
Jeter tried to start his speech but the roar of the crowd after his introduction wouldn't let him.
"I forgot how good that feels," he said.
It's been 20 months since Jeter was elected and he said last week on a video call that he was still working on his speech.
"You want to say something meaningful, impactful and memorable," he said. "Finally, I just said, 'You know, stop overthinking and just write down how you feel.' "
Good thinking. Jeter started with a light moment and then turned serious.
"Thank you to the baseball writers – all but one of you – who voted for me," Jeter said as the crowd had a good laugh.
Reminder: Jeter was named on 396 of the 397 ballots cast last year by the Baseball Writers Association of America. More than 80%of the members publicly reveal their ballots on the group's website but, in this case, the lone dissenting vote has never been revealed.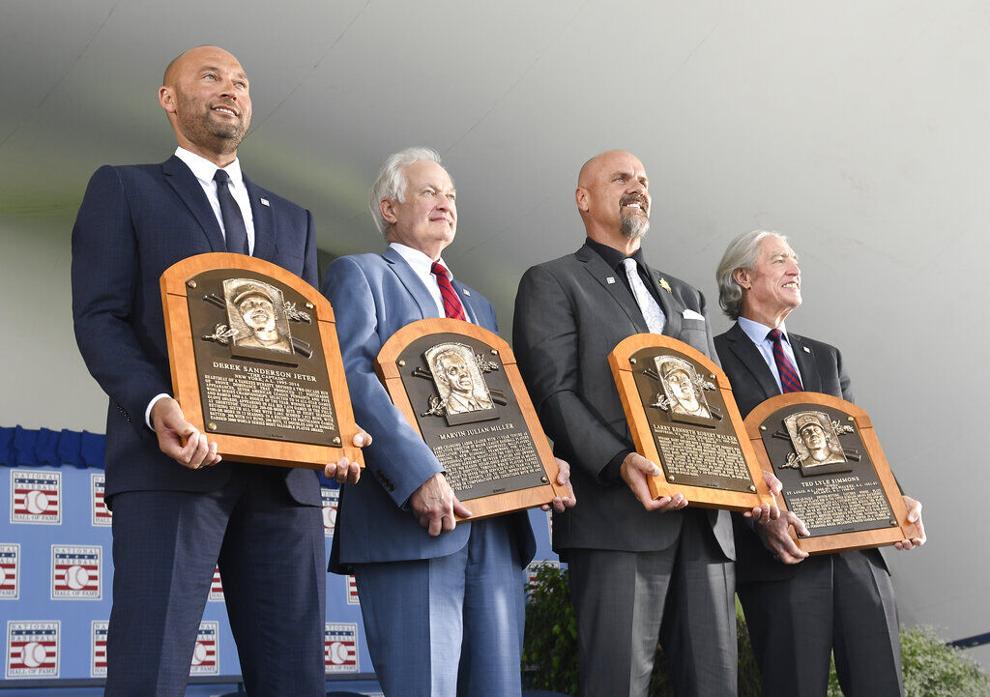 Jeter's reverence was shown when he acknowledged the 31 Hall of Famers in attendance and paid tribute to the 10 lost since the last ceremony in 2019. The group was wonderfully remembered in a video narrated by Johnny Bench, who was sidelined for this ceremony by Covid.
Jeter recalled the first time he met Jackie Robinson's widow, Rachel, during a 1996 baseball writers dinner in New York and his first meeting with Hank Aaron at the 1999 All-Star Game in Boston.
"During my career, I wanted to make Mrs. Robinson proud, I wanted to make Hank Aaron proud," Jeter said. "I want to make all of you behind me proud, not of statistics, but proud of how I played the game, how I carried myself and how I respected the game."
Hall of Famer Reggie Jackson, who took the stage in a No. 2 Yankees jersey over his suit, spent much of Jeter's career as a Yankees ambassador and was a regular in the clubhouse during the shortstop's career, pushing him to some of the same glory in the Bronx he experienced in the '70s. Jeter turned from the podium with a message for "Mr. October."
"Every time Reggie would come spend time with the team, I would call him over to my locker and I say, 'Hey Reg, sit down. What you got for me today?' " Jeter recalled. "And then we'd go back and forth and I'd get on him and Reg, you remember your response? Your response was, 'You're not a Hall of Famer yet.' Yeah. So I guess I can get on you now, huh?"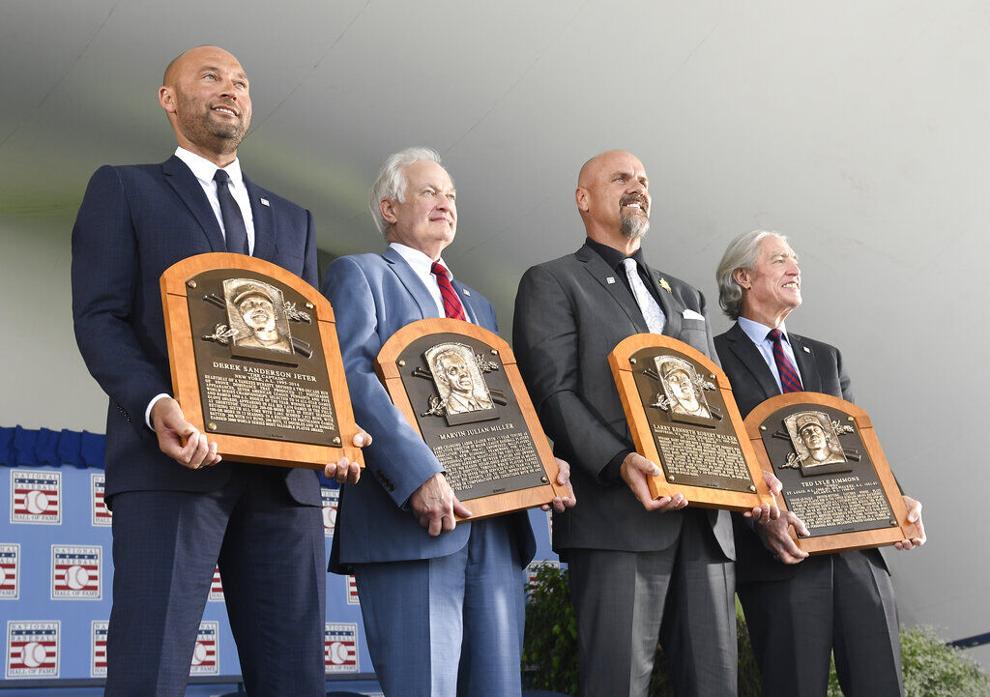 Jeter paid tribute to his parents, who were regularly caught on camera by network telecasts in the postseason and other special events. To his sister, Sharlee. He joked that his wife, Hannah, "thought she was marrying into retirement." That's not true, of course, with Jeter running the Miami Marlins. He also thanked his grandparents for allowing him play Wiffle ball at their New Jersey home – while wearing full Dave Winfield Yankees regalia. 
Jeter also thanked the Steinbrenner family, former Yankees manager Joe Torre ("Mr. T"), agent Casey Close and Dick Groch, the scout who signed him and famously told Yankees officials before they drafted him that Jeter wasn't going to the University of Michigan because he was going to Cooperstown. 
He saved a special salute for Yankee fans.
"There was only one thing in my life I wanted to be and that was the shortstop for the New York Yankees, and now I'm a Yankee forever," Jeter said. "Without question, you helped me get here today as much as any individual I've mentioned. You can't be fooled. You're passionate, loyal, knowledgeable, vocal, challenging and supporting."
His concluded his talk with a message to current MLB players. Hope they listened or will catch up to his speech.
"This is a game that requires sacrifice, dedication, discipline and focus," Jeter said. "It's a game of failure and teaches you teamwork. It teaches you humility. The one common thread with all of us here on stage is we understand that there's no one individual bigger than the game. The game goes on. And it goes on because of the great fans we have. So take care of it, protect it, respect it. Don't take the time you have to play for granted.
"It's more than just a game. The greatest ever play in the Hall of Fame family. They're all watching. And I personally can't wait to welcome a few of you on this very stage."