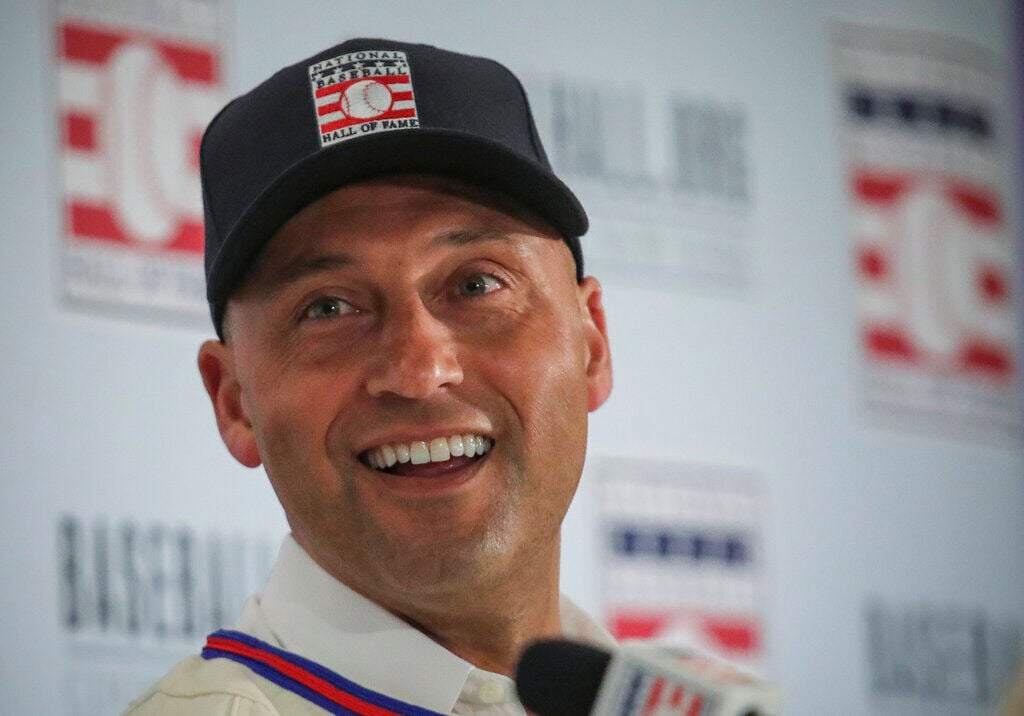 For any Hall of Famer, there are moments that make a career. It just seems as if Derek Jeter had so many more of them.
There was The Flip. The Dive into the stands. The Mr. November home run. The 3,000th Hit Home Run. The First Pitch at Shea home run. The Fantasy Becomes Reality walk-off single in his final game at Yankee Stadium. The Jeffrey Maier home run, too.
You can picture the jump throws from shortstop, the crouch at the knees and the wave of his gloved left hand to acknowledge the nightly roll call from Yankee Stadium's right field "Bleacher Creatures." You can hear the speech to the crowd that closed The House that Ruth Built. And you can vividly recall the pumped right fist at the end of so many big Yankees wins.
Jeter has another major moment coming Wednesday in Cooperstown, when he gets his chance at the microphone for his induction into the Baseball Hall of Fame. The pandemic has put off the proceedings for nearly 14 months but Jeter, now the CEO and part-owner of the Miami Marlins, said Thursday on a video call with MLB reporters that he was still working on his speech.
"It's something that I've tried to take my time with. Write down notes," said Jeter, 47. "I didn't want to get help from anyone. I didn't want anyone to see it. Or see it before I deliver it. But I've had some speeches that I had to address the crowd before, like when we closed Yankee Stadium. So in terms of addressing the crowd, I've done that before. But this is a little bit longer, I mean, you're talking about a speech that's 10-15 minutes, so it's kind of hard to to cover your entire career in that short period of time."
Especially this career. And especially the way Jeter paid attention to detail. A lifetime .310 hitter, Jeter has 3,465 hits, which ranks sixth all-time, as the most ever by a Yankee and tops among shortstops. He scored 1,923 runs and drove in 1,311. Stole 358 bases. There were 14 All-Star Games, five Gold Gloves and five Silver Sluggers awards.
He played in 158 postseason games – a record that might never be broken – and hit .321 in 38 World Series games, winning five Series titles and playing in two others. Team captain. Monument Park plaque. His No. 2 retired. 
And for all that, even Jeter acknowledges he's going to be most remembered for The Flip, the backhand toss of an errant throw from right field that nailed Jeremy Giambi at the plate in Game 3 of the 2001 AL Division Series in Oakland. The Yankees were in a two-game hole, and the play spurred a comeback that took them all the way to Game 7 of the 9/11 World Series in Arizona.
"Look, I was where I was supposed to be. I tell people that all the time," Jeter said Thursday. "It's interesting because after the (Hall of Fame) election, we went to MLB Studios and Harold Reynolds was doing an interview and he showed me actually in that same place the same area of the field on another play a few years later. So that's something that we worked on in spring training.
"Now actually flipping it to home is not part of the job. But I sort of improvised there at the end. ... If he would have slid, would he have been safe? Probably, but he didn't. So that's why I think the play stands out."
I wasn't in Oakland for The Flip play, but I was fortunate to be in the park for a lot of Jeter's big moments. Before you get to all the magic of October, you really have to go back to the beginning.
CLEVELAND — Pressure? What pressure? Maybe at age 21, Derek Jeter is simply too young to understand he should have been nervous.  
April 2, 1996, in Cleveland, Jeter's first Opening Day. A cool and sunny day in the aftermath of a 4-inch snow squall that postponed the opener for 24 hours. His first game as the starting shortstop. His first game playing for Joe Torre, the beloved father figure of his career he still calls "Mr. T." 
Jeter belted his first MLB home run that day, a drive into the left-field bleachers off Dennis Martinez. And he robbed Omar Vizquel with a memorable over-the-shoulder catch of a looper into left field.
When the Yankees' 7-1 win was over and we started heading to the clubhouse, you saw Jeter on the field being interviewed by Yankees legend Phil Rizzuto. "We shortstops have to stick together," Rizzuto famously said to him.
When the media crowded around his locker a few minutes later in the clubhouse, the 21-year-old Jeter had the poise of a 15-year veteran. It was striking.
"I wasn't nervous," Jeter said. "I was real excited and anxious to start the season. ... I just tried to relax. Everybody kept telling me that. You can be anxious, but you have to tone it down."
One Jeter moment that doesn't get enough attention came in Game 4 of the 2000 Subway Series against the Mets in Shea Stadium. The Yankees led the series, 2-1, but the Mets had earned their victory the night before and seemed to have momentum brewing with two more games at home. 
Even now, after five years, Derek Jeter still refers to his manager as "Mr. Torre." He and Joe Torre came to the New York Yankees at the same time — Jeter to take over the starting shortstop's job at the tender age of 21, Torre to take what looked like his final chance at a big-league managing job.
Back then, in the pre-iPhone era, flashbulbs popped all over the stadium on the first pitch of every World Series game. Lots of fans probably got quite the image as Bobby Jones threw a first-pitch fastball and Jeter nailed it, a no-doubt blast to left. The Yankees won a game they never trailed, 3-2, clinched the series the next night and Jeter was named MVP.
"Everyone seems to want to ask me if I changed my approach when I'm batting leadoff. But Mr. Torre tells me I have the same approach, I'm aggressive," Jeter said that night. "I've been known to swing at the first pitch. So when you're playing these types of games, when runs can be kind of hard to come by, you want to score early. I got a good pitch to hit, and I hit it well."
You don't believe in ghosts? You should have been in Yankee Stadium on Wednesday night. Something supernatural took place as baseball's first Halloween turned into its first slice of November magic. 
Jeter went deep again in the Fall Classic the next year as he took baseball into a new month. Game 4 against Arizona only got to midnight because of Tino Martinez's two-out, two-run homer in the bottom of the ninth. Just after the clock struck 12, Jeter inside-outed a Byung-Hyun Kim pitch over the short wall in right. A 3-1 deficit in the game and the series was suddenly turned into a 4-3 win and a tied series.
Then-Yankees radio man Michael Kay nailed the call of the home run by paying homage to '77 Series hero Reggie Jackson when he screamed of Jeter, "He is ... Mr. November!" 
"When I first hit it, I had no idea whether it was going to go out," Jeter said around 1 a.m. that night in the crowded basement press room of the old stadium. "But once it goes out, it's a pretty special feeling. I've never hit a walk-off home run before so it was a special experience."
Sure was for any of us who were there. This corner can report firsthand that the upper deck shook in the Bronx that night from the noise. You can't forget the sound and the jubilation of the crowd. 
Jeter famously hated talking about himself, ironic given what he has to do Wednesday. Late in the 2006 season, when Jeter finished second in AL MVP balloting that he never won, I approached him before a game in Toronto. 
TORONTO — New York Yankees center fielder Johnny Damon said he has always admired shortstop Derek Jeter from afar, especially when Damon was patrolling the outfield in Boston's Fenway Park. But it's one thing to marvel at Jeter when you're on the other side of the field. It's another thing to see him every day.
Jeter answered a few questions before he smiled and turned the tables on me for one of his own.
"Look man, I know you're going to write about me, but why do you think I'm having the season I'm having?" he asked, not letting me answer. "Look around this room," he said, pointing. "Look at all these guys. Think of all the things they do to help me and help our team. That's why."
Jeter hit Toronto just after the end of a 25-game hitting streak. He was approaching 100 RBIs and I asked him if a batting title or having a 100-RBI season would have significance on his career résumé.
"If-if-if. No if-if-ifs,' " Jeter said. "We'll see about that another time. Let's win games and not worry about all that other stuff. That's what we do here. Make sure you write that."
Point taken. Moment never forgotten.