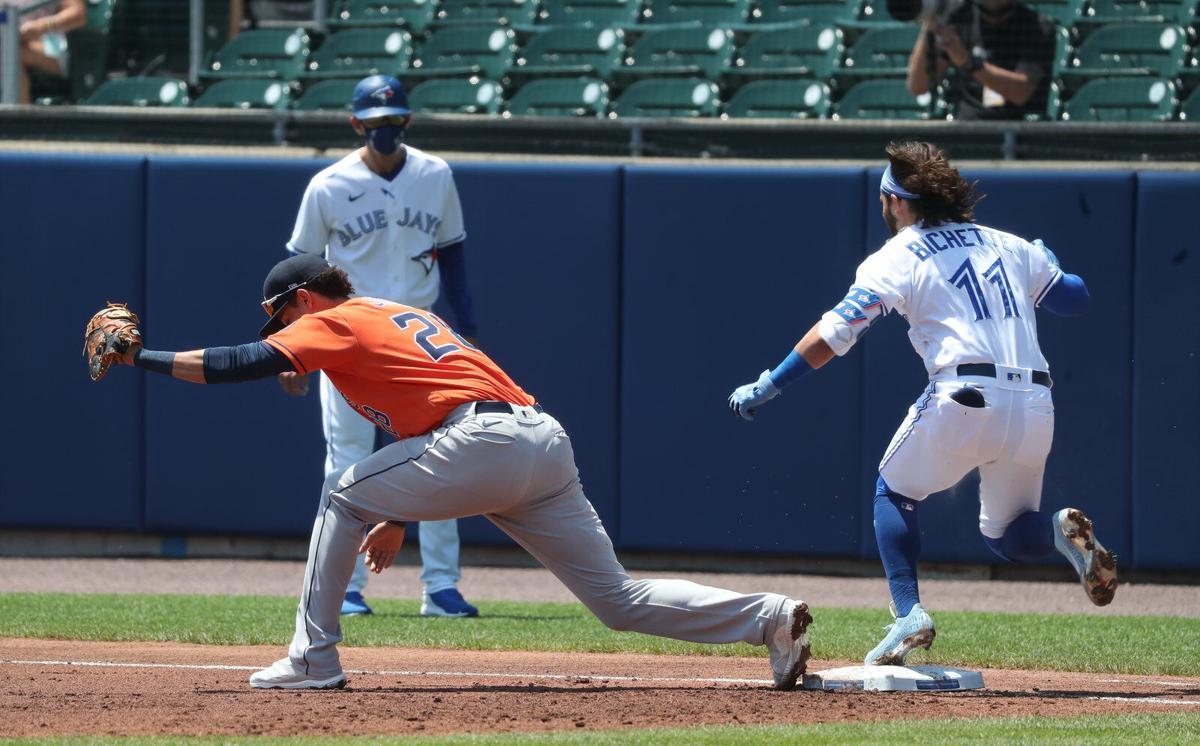 The Toronto Blue Jays went 3-2 on their first homestand of the season at Sahlen Field, a modest success on the field but a smash hit off of it.
Things ended in quiet fashion Sunday, as the Toronto offense managed just five hits in a 6-3 loss to the Houston Astros. Houston was a problem in its first visit to Buffalo, taking two of three games to post its seventh straight series win over the Blue Jays since 2017.
Red-hot Houston rookie Luis Garcia was the story in this one, shutting the Blue Jays down on three hits over six innings and striking out eight to equal his career high. Garcia improved to 5-3 by winning his fifth straight start – posting a 1.86 earned-run average in that stretch with 33 strikeouts and just eight walks.
The Blue Jays are off Monday and don't return to Sahlen Field until the Yankees are in town on June 15. Here are six takeaways from the club's return to Buffalo:
The relationships between a Triple-A baseball team and its major-league parent can often be tenuous. We've seen that first-hand.
President/CEO Mark Shapiro noted a few days ago how the Blue Jays were getting "heckled" by fans during their games at their spring training stadium in Dunedin, Fla., because so many people in the seats were rooting for the other team. It's been a whole lot different here, with fans in Toronto gear all over the park and wildly supportive crowds.
Now, that edge will waver quite a bit when the Yankees and perhaps even the Red Sox are in town. But this is going to be a very pro-Toronto ballpark for most games as long as the Bisons' parent team stays in Buffalo.
"It's been exceptionally uplifting to have the fan support, to have the energy in a really significant way pulling for us and feeling that," General Manager Ross Atkins said before the game. "Even just in my seat, it feels very good. So I can't even imagine how much better that feels for our players."
When Saturday's 6-2 Blue Jays victory over Houston ended in Sahlen Field, Guerrero was a Triple Crown man.
Vladimir Guerrero Jr. was quiet on Sunday, going 0 for 3 with a walk as the designated hitter. And he was far from alone, as the dynamite top third of the lineup (Marcus Semien, Bo Bichette and Guerrero) combined to go just 1 for 11. 
Guerrero batted .444 on the homestand, going 8 for 18 with two home runs and five RBIs. He entered Sunday's play as an American League Triple Crown man, leading the league in batting (.335), home runs (18) and RBIs (47). In the 45-year history of the Blue Jays franchise, no player had held that position past the first two games of any season.
Guerrero also entered Sunday leading the majors in on-base percentage (.439), slugging (.672), OPS (1.111), and total bases (135). All this from a 22-year-old who has played only 240 big-league games, the equivalent of less than 1 1/2 seasons.
"He's a complete player right now and he's only going to get better," manager Charlie Montoyo said. "You can say, 'How can that happen?' Yeah, I believe so because he's still a young guy."
Starting pitching struggles
After Robbie Ray gave up just one run on six hits in the Sahlen opener Tuesday against Miami, the Blue Jays struggled to get much from their other starters. The four who followed Ray combined for a 7.36 ERA, with only Ross Stripling (one run on seven hits in five innings Saturday) keeping the club in the game. Steven Matz (6-3) gave up four runs and eight hits in 4 1/3 innings Sunday.
"I feel like I had my really good fastball working but the off speed just wasn't there, wasn't crisp today," Matz said. 
A key problem for Matz was that the Houston leadoff man reached in all five of his innings. The damage could have actually been much worse, but Matz and five Toronto relievers combined to hold the Astros to a 3-for-19 showing with runners in scoring position. Houston left 13 men on base.
"That was a frustrating thing," Matz said of the leadoff batter issues. "You want to get that first guy out and keep going and I just couldn't do that today. That was definitely frustrating, kind of with my back against the wall every inning."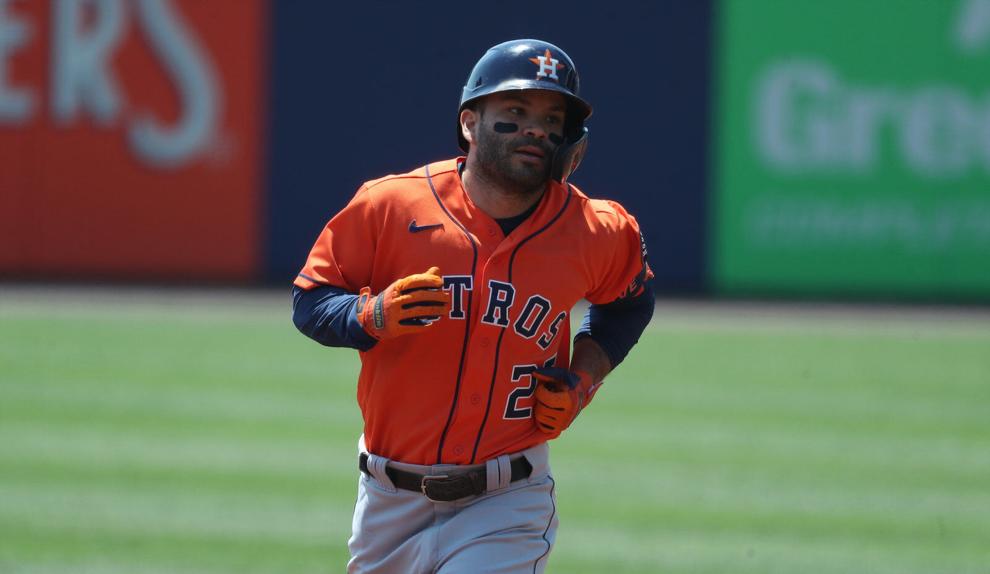 Buffalo fans – many of whom root for the Yankees, remember – were pretty merciless with their booing all weekend for Astros stars Jose Altuve and Carlos Correa. It was particularly pronounced on Sunday.
The duo combined to go just 1 for 10 Sunday but the hit was a big one. Just after a fan in the 100 level loudly yelled out, "Where's your buzzer?" at Altuve in a reference to the suspicion that arose from the 2019 ALCS, the Houston second baseman crushed a leadoff home run to left off Matz in the top of the first. It was Altuve's ninth homer of the season and the Jays never caught up.
"Honestly, I made my pitch. It was in off the plate inside," Matz said. "And that was exactly what I wanted to do. He's a really good hitter and he beat me to that spot and hit it out of the park. So you have to tip your cap at that point."
There were 5,404 tickets sold for Sunday's game, as all five games on the stand were played to 35% capacity and drew crowds from 5,321 to Friday's high of 5,510.
Capacity will increase to 45% for the visit by the New York Yankees from June 15-17, which will be around 7,000. The capacity of Sahlen Field for these games is around 15,400, about 1,200 under a normal full house. Some seats are taken up by cardboard cutouts or are not sold because of other needs by the Blue Jays and MLB, such as positions of new television cameras at the top of the 100 level.
Rogers Centre PA announcer Tim Langton, announcing that the club was taking the field for Tuesday's opener: "Buffalo, are you ready for some Blue Jays baseball?"
The Bisons' official feed just prior to that first pitch: "TODAY'S ROSTER MOVE: Sahlen Field has been promoted to the Major Leagues..again!"
(Dusting off our favorite tweet of all time)TODAY'S ROSTER MOVE:🔹Sahlen Field has been promoted to the Major Leagues... again! pic.twitter.com/xhadN8054Z

— Buffalo Bisons🦬 (@BuffaloBisons) June 1, 2021
Photos: Toronto Blue Jays face Houston Astros in Game 3 of three-game homestand
The Toronto Blue Jays take on the Houston Astros in Game 3 of a three-game homestand on Sunday, June 6, 2021, at Sahlen Field.