The stampede continues for the Buffalo Bisons. It's a historic run in the franchise's modern era and, barring some sort of complete collapse, is going to produce the Herd's first division title since 2005.
The Bisons won all seven of their games last week in their showdown series at Scranton/Wilkes-Barre and kept their momentum going Tuesday at Sahlen Field with a 3-0 win over Syracuse. They have a five-game lead in the Northeast Division of Triple-A East with 12 games left.
They have won nine straight overall and can tie the modern-era franchise record Wednesday night at 6:05. The Herd has won 10 in a row twice, in 2002 and in 2004.
Unless something crazy goes down, this division race should be over.
Its turning point moment probably came prior to last Tuesday's doubleheader sweep in Scranton, as manager Casey Candaele revealed veteran infielder Christian Colon gathered his teammates in the clubhouse for a talk in the wake of their 1-5 stumble at home against Worcester in the previous series.
There was The Flip. The Dive into the stands. The Mr. November home run. The 3,000th Hit Home Run. And many, many more, Harrington recalls.
"Christian Colon got them all together and said, 'Hey, this is essentially the playoffs right here. We're two games back. Let's get pumped up, and let's get some work done and see how we come out of this,' " Candaele said. "And they played with passion and desire."
"When we got to Scranton, we just talked as a team," said pitcher Bowden Francis, who got the win Tuesday with five innings of two-hit ball. "We just stayed calm and we knew it was going to go over. Once we took that first one, we just kind of felt it.
"We kept that momentum. We have a lot of older guys on this team, and they really show it's a lot of good chemistry in here. A lot of guys pull for each other. A lot of selfless people, and just real genuine people."
Colon is one of the veterans on this club, a guy who played in back-to-back World Series for Kansas City and got the Series-winning hit in 2015 in Game Five at Citi Field in New York. His words have mattered. He's got the resume to back them up.
"We talked today about finishing up through the end of the season and just continuing that feeling," Candaele said. "So they have stepped up. It's odd for a Triple-A team to care so much about going out and being successful as a team as a unit. So it's pretty special."
The Bisons, of course, have been through a lot this year, just like the parent Toronto Blue Jays. They dealt with all sorts of uncertainty in spring training before learning they would play in Trenton, N.J., perhaps for the entire year, while the Jays were in Buffalo. The Herd went 29-13 in New Jersey before finally getting to Buffalo in August.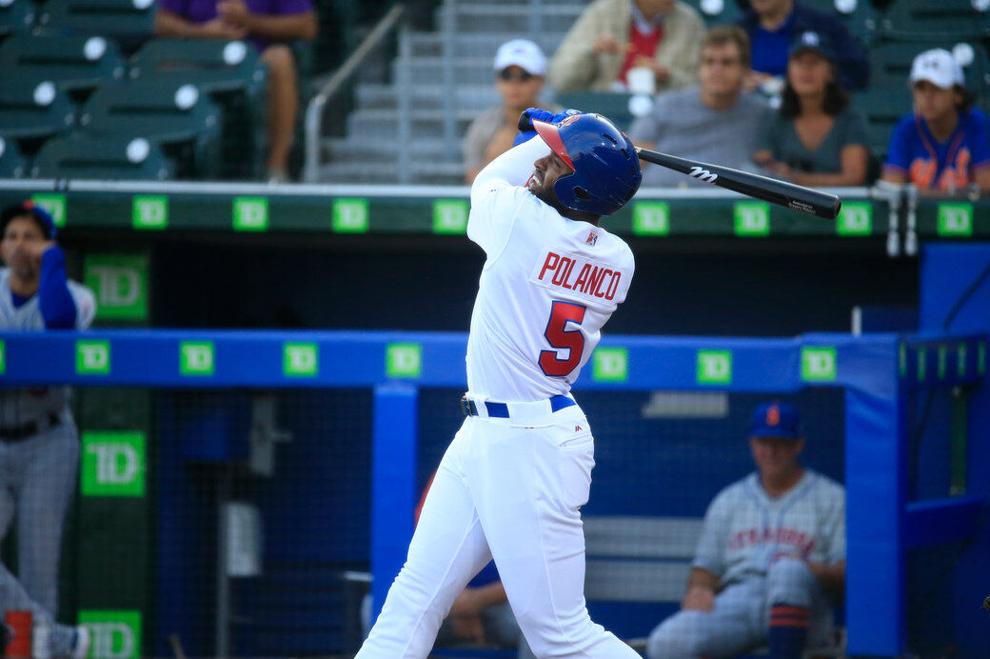 They entered Tuesday's game just 6-6 at Sahlen Field, but this was a crisp affair. Five pitchers scattered seven hits as Syracuse got only one runner to third base. Colon scampered home on a wild pitch in the seventh for the game's first run and Gregory Polanco went deep for a two-run shot in the eighth, his second homer since joining the club last week from the Pittsburgh Pirates.
After the Worcester series, Candaele said he had full confidence in his starting pitching and that their 8.87 ERA in that series was just a one-turn blip. He was bang on.
The Bisons gave up just 16 runs in the seven games in Scranton, and six of them came in Sunday's 11-inning finale. After Ross Stripling worked through 32 pitches to six batters on rehab and Kirby Snead cleaned up the second, Francis (5-2) came on to start the third and retired 15 of the 18 men he faced.
"We just kind of flushed that (the Worcester series). We knew it was kind of a funny outing for all the pitchers," Francis said. "We couldn't get it rolling."
On Monday, the Herd (64-41) sat alone in first place with a five-game lead over the Scranton/Wilkes-Barre RailRiders (59-46).
The Bisons sure have it rolling now but – unlike championship years of 1997, 1998 and 2004 – they won't have a true playoff title to push for. Keep in mind the goofy format that MLB has installed in its first year of operating the minors. The regular season ends on Sept. 19 and an overall Triple-A East champion will be named for the team with the best record (Southeast Division leader Durham has the inside track).
The final 10 games are dubbed the "Triple-A Final Stretch," with all 30 clubs participating and records starting at 0-0. The best record will be honored by MLB in what's really just a few more games to get club operators added revenue and players more games for all they lost in 2020 and the start of this year.
But that won't diminish what this team has done in putting together the best season in Toronto's nine years as the parent, and the best by any Buffalo team since the 2005 Herd under Marty Brown finished 82-62.
"That's a lot of heart. It shows the true colors showing, coming to fruition and late in the season when it's time to turn on," Francis said. "It's all about momentum. We're carrying it through. Good manager, and players are pulling for each other."