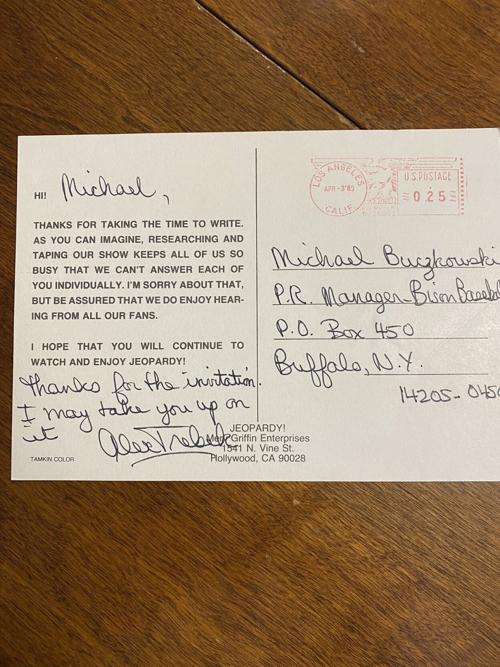 Who are the Buffalo Bisons?
According to Rich Baseball Operations President Mike Buczkowski, that was an answer three times on "Jeopardy" with Alex Trebek as the host. And the first one in 1989 landed Buczkowski, then the Herd's public relations manager, on the legendary game show host's Christmas card list.
Trebek died Sunday at age 80 after a public battle with pancreatic cancer. His death had Buczkowski, who ended a 27-year run as the team's general manager in March, rummaging through his office files in Sahlen Field to find a postcard the host had sent.
"The first time was definitely about attendance, about drawing a million fans and setting records," Buczkowski recalled Monday, referring to the Bisons' streak of selling 1 million tickets each season from 1988-1993 after the opening of then-Pilot Field. "This postcard is in response to the first one. I sent him a note, sent him a Bisons cap and invited him to a game and this is the card I got back."
It was a form postcard thanking Buczkowski for writing to the show, but included a handwritten note from Trebek that read, "Thanks for the invitation. I may take you up on it."
The #Bisons have been a question on Jeopardy several times over the years. I once wrote to Alex Trebek to invite him to a Bisons game. He replied with this card and then would send a holiday card for many years after. Rest In Peace Alex. pic.twitter.com/y96eL525ac

— Mike Buczkowski (@BuffaloBisonsGM) November 9, 2020
Trebek never made it to the ballpark, but didn't forget about Buczkowski's offer.
"He sends this back and that next December I got a Christmas card saying, Happy Holidays and Merry Christmas,' " he said. "Another one came for like three years. A holiday card from Alex Trebek. That was pretty cool."
In a politically torn, culturally divided and socially splintered America, there was one thing nearly everyone could agree on: Alex Trebek was awesome.
Buczkowski said he's a regular Jeopardy watcher and was floored he found the postcard so fast.
"I probably have 50 boxes of stuff in the office and it was in the second box I rummaged through. There it was," he said. "The first time I called Channel 7 at the time asking how we could get a copy and I think they sent me an old VHS tape. I always kind of watched wondering if we're going to be on again."
Trebek, a devout hockey fan, had his last public interaction with the sports world when he filmed a video last month announcing the Ottawa Senators' pick of German star Tim Stuetzle as the No. 3 pick of the NHL draft. Trebek was a University of Ottawa graduate and the Alumni Hall there is named after him. His video of the Stuetzle pick went viral when it was unveiled Oct. 6 on the telecast of the draft by NBC Sports Network and Sportsnet.
The Blue Jays' upgrades to Sahlen Field were vast and the Bisons will derive long-term impact from items such as the installation of new grass in the infield and its foul territories, and brighter stadium lighting.
Trebek also taped segments announcing Alexis Lafreniere and Quinton Byfield, just in the case the Senators made either of them their pick at that spot. They went 1 and 2 to the New York Rangers and Los Angeles Kings, respectively.
"I never thought they would make it so perfect in the presentation to make it like 'Jeopardy,' " Senators owner Eugene Melnyk said Monday in an interview with the Ottawa Sun. "I bet you a lot of people took and look and said, 'Where's my remote?' If they have a dog, kids or thought somebody was sitting on the remote, I bet you they said, 'What the heck is Jeopardy doing on? Get it back! This is the Senators pick.'
"I guarantee some people thought that somebody hit the remote. That was added to the moment. It was such a surprise and it came off so professionally. It was just thrilling and it turned out just great."
Stuetzle paid tribute to Trebek Sunday on Instagram, saying in part, "I was looking forward to meet the person who drafted me. He shared this unforgettable moment with me and I am very thankful for that."
After Trebek's death, Melnyk ordered the flags outside the arena lowered to half-staff and the team put tributes on the message board outside the building. They also tweeted a picture of one on the scoreboard inside the arena. Melnyk said the Senators will ponder a way to permanently honor Trebek.
"The best thing about him was he makes you proud to be a Canadian. He was just one of those people," Melynk said. "That's why you're getting such a flood of tributes to him. He was a success story without all the glitz and glamour that goes with it. He wasn't a Hollywood-type celebrity, he was truly Canadian."
Be the first to know
Get local news delivered to your inbox!