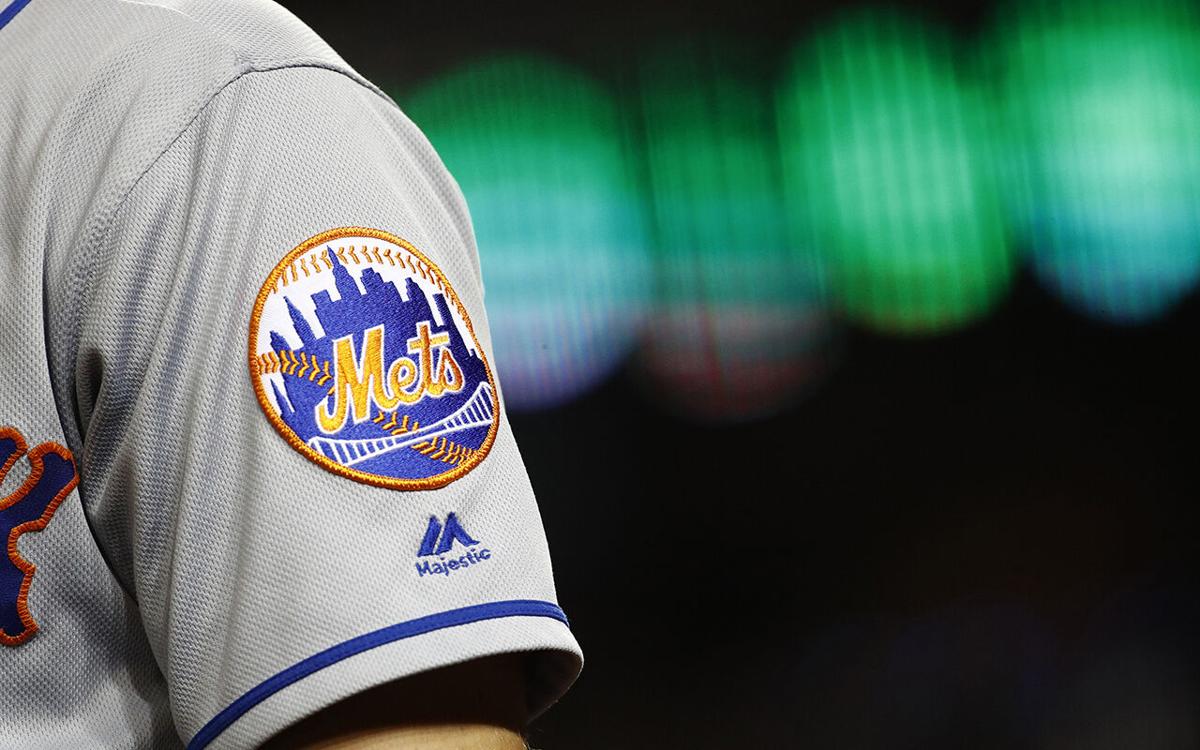 The Winter Meetings start this week, virtual only in 2020 of course. Mets fans think they've finally struck it rich now that Fred and Jeff Wilpon and Saul Katz are out of the owners' box and lifelong fan Steve Cohen is in. His introductory press conference on Nov. 10 was a Zoom classic, with stories of the old days in the Polo Grounds and Shea Stadium and promises to return a wayward franchise to its past glory.
Folks at this end of the state might tell their Amazin' counterparts to watch what they wish for. That first presser sure sounded a lot like the Terry Pegula lovefest in the then-First Niagara Center atrium in 2011. Here are some key quotes to ponder, all said by Cohen but all equivalent to some of Pegula's first words as well.
• "When I really thought about this, I can make millions of people happy and what an incredible opportunity that is and that's how I'm thinking about this. I'm not trying to make money here. I have my business. ... I make my money over there. Here it's about building something great, building something for the fans and winning."
• "Are we going to act like drunken sailors in the marketplace? No. OK. I want to be thoughtful. You can spend a lot of money today and then tie up your team in bad contracts for the next five years. That's part of building a sustainable franchise, not what works for the next 60 games but what works for the next few years."
• "I'm not in this to be mediocre. That's just not my thing. I want something great and I know the fans want something great. That's my goal and that's what I'm going to do. If I don't win a World Series in the next 3-5 years – I'd like to make it sooner – then obviously I would consider that slightly disappointing."
Remember "no financial restrictions on the Buffalo Sabres' hockey department"? Or "If I want to make some money, I'll go drill another (oil) well." Remember how winning a Stanley Cup was a three-year process? 
Out of the box, Cohen reinstated Citi Field workers' prepandemic compensation that had been slashed by the Wilpons and cleaned out the baseball department. Sandy Alderson was back and Brodie Van Wagenen, a former agent who was a bizarre choice as GM, was out. 
Pegula was the hero coming on as fans were done with Tom Golisano. He quickly made mistakes getting involved with expensive free-agent signings (Ville Leino and Christian Ehrhoff notably come to mind). He probably should not have stayed with Darcy Regier. Cohen said he will let Alderson & Co. make the decisions and give him the answers. Let's see if he does.
A rich guy who is a fan but has never been an owner is going to have a huge learning curve. Even as the Sabres continue to languish in the NHL's netherworld, I guarantee you Terry Pegula would tell you today he's a much better owner than when he started. He's certainly shown that with the Bills, as Sean McDermott and Brandon Beane make Pegula look smart every day but decisions overall have been much more measured than in the early days of Pegula's run in hockey.
Pegula and his wife were too slow to get rid of Regier but have been too quick to the trigger with other personnel decisions. Cohen is going to need to find that right moment and that's not an easy thing to learn.
The Pegulas generated massive amounts of goodwill with the remarkable LECOM Harborcenter project and there's opportunity for Cohen to do likewise in Queens, as the ballpark is surrounded by unsightly chop shops in a scene replicated from Shea Stadium and never improved upon.
One big difference is Twitter. Cohen quietly had an account (@StevenACohen2) but now is regularly using it to converse with Mets fans and some of the chats are hilarious. At his first presser, Pegula introduced his daughters as the "Tweetybirds" and showed he didn't know much about the social media network other than you talk to people. That was in the days when the owner still had a flip phone. 
On Wednesday, Cohen asked, "Who was the most interesting player non-tendered and why?" He got hundreds of legitimate replies, many including analytic charts on hitters or pitchers. On the day he took over, he immediately asked fans for suggestions. One quickly came in with the idea to reinstate Old-Timers Day and Cohen has said multiple times since that was a great idea he intends to act on (Memo to the Mets: Why did you drop it in the first place?).
Others wanted more spots marked in the parking lot for events that happened in Shea like Cleon Jones' catch in left field for the last out of the 1969 World Series or the spot where Bill Buckner stood when the ball went through his legs in Game 6 of the '86 Series. One fan even asked for forgiveness of his 2016 Citi Field ban for tweeting negatively about the Wilpons and offered a picture of the letter sent to him. "That's amazing," added Cohen, who promised to investigate.
Kim Pegula is on Twitter while Terry is not. For the record, I don't need the owner on Twitter. I just need them running the team but Cohen is sure proving to be entertaining. Cohen bought the Mets for $2.4 billion, or a cool billion more than Pegula spent on the Bills in 2014 and eons more than the $189 million Pegula paid for the Sabres in 2011. 
Mets fans have huge designs on this being a big week, either by stealing DJ LeMahieu from the Yankees or bringing home Connecticut native George Springer from the Astros or signing Cy Young winner Trevor Bauer. They have an owner ready to be a big spender. But patience will be required. A checkbook isn't the only thing you need to win. We know.
A big topic in Toronto the last few days has been a bombshell report in the Globe and Mail that Rogers Communications, which owns the Blue Jays, is no longer focused on a major renovation of Rogers Centre – but instead may demolish the building and build a new baseball-only stadium at the spot in concert with a major redevelopment of the site. Rogers quickly threw water on the report, saying the pandemic has moved the topic off the front burner.
Rogers Centre opened in 1989 as SkyDome and was hailed as a technological marvel with its giant Jumbotron and retractable roof. But it instead quickly grew obsolete, as cities moved away from multipurpose monstrosities and instead went to baseball-only grass fields. 
This could take years. Rogers owns the ballpark but the not the land it sits on, which is only zoned for a stadium and not for residential and commercial uses that the plan entails. And where would the Blue Jays play while the park was demolished and the new one built?
One possibility to keep the team playing would be partial deconstruction of the current stadium and simultaneous buildup of the new one, much as was done with the new parks in Cincinnati and St. Louis. It seems impossible to think the Jays would go anywhere else for 2-3 years.
"I think it is time. I think we should get down to something that's a little bit more baseball-friendly if we can do it," Blue Jays president emeritus Paul Beeston, who is not involved with the current plans, said Tuesday on a podcast with longtime Toronto sports radio legend Bob McCown. "I'm not saying we have to do it because we can certainly live with this place, not even a question about it, but I think it's time to consider a baseball-specific facility."
Vladdy Jr. pushing to return to 3B
It's hard not to put Vladimir Guerrero Jr. on fast forward.
Vladimir Guerrero Jr. has gone to winter ball in the Dominican Republic to prepare to return to third base for the Blue Jays, as part of his rugged program to be better suited for the position come spring.
Guerrero has become an Instagram sensation with his weight loss, as the word is out he was in the 275-pound range when he returned to Toronto for summer camp in July. Guerrero seemed noticeably heavy when the Blue Jays arrived in Buffalo as well and spent the bulk of the summer at first base.
But the Blue Jays love his hands and his throwing arm, and putting him back at third would provide them more flexibility around their infield.
"It's such an interesting topic. It's something we talk about every day and we're going to use every day to factor in his progress as we make those decisions," said GM Ross Atkins. "Whether that ends up being a door left open or a door cracked open will be determined by each day of his offseason ... Limiting a 21-year-old doesn't seem like the best thing to do."
 

 

 

View this post on Instagram

 

 

 
Rochester could have become Double-A
According to a report in Ballpark Digest, the Nationals' move from Fresno to Rochester came after the club was pushing MLB to allow it to operate its Triple-A team in Richmond, Va. That left some in MLB – which is now going to control the licenses for minor-league teams – thinking it would make sense to put Rochester in Double-A with the Blue Jays, thus moving that Toronto affiliate out of Manchester, N.H., and putting it closer to Buffalo and the big-league club.
But losing such an easy travel partner and longtime rival, of course, wasn't going to fly with the current International League North teams or the folks in Rochester, who have had an affiliated Triple-A team since 1928. And The Diamond in Richmond, once the home of the Triple-A Braves, is no longer a facility of Triple-A quality so the idea was nixed and the Richmond Flying Squirrels will thus remain in Double-A. 
Costas to headline virtual launch of Buffalo baseball book
Bob Costas will be the headline speaker Tuesday night for the virtual launch of "The Seasons of Buffalo Baseball 1857-2020," the 400-page hardcover journey through the city's baseball history.
The book was a three-year project directed by Jim Overfield, former Bisons General Manager Mike Billoni and Brian Frank, curator of Herdchronicles.com. Jim Overfield's father, Joe, was the longtime Bisons historian and this book is an update of his 1985 book, "The 100 Seasons of Buffalo Bisons Baseball."
The event will be co-hosted by Pete Weber, the Bisons' radio-TV voice from 1983-95 and Pittsburgh Pirates announcer Greg Brown, who worked alongside Weber from 1989-1993. Guests will include former Double-A Bisons slugger Rick Lancellotti and former Bisons pitcher Morris Madden. The book is available at multiple retail sites around town and at Bisons.com.