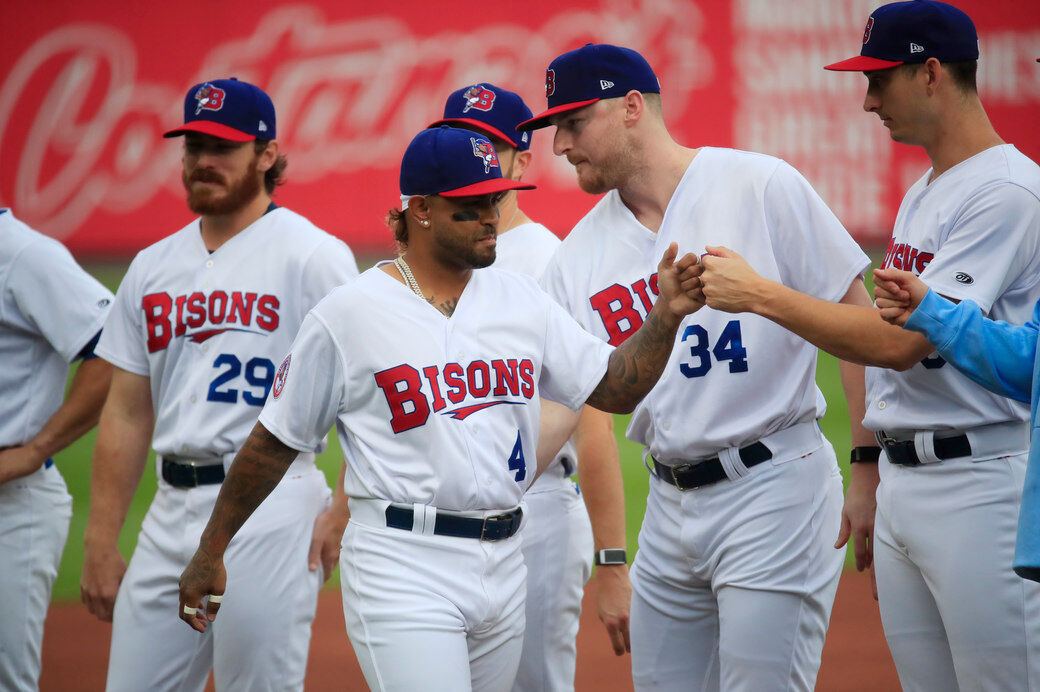 It was just two weeks ago when the Buffalo Bisons seemed like they were in disarray. Maybe it was the long, hot summer finally wearing on them. The difficulty of the exit from Trenton. The finality of some players knowing their fate with the parent Toronto Blue Jays.
Whatever it was, we saw lots of ugliness during a 1-5 series against the Worcester Red Sox in Sahlen Field that dropped the Herd to 3-8 in an 11-game stretch.
The starting pitching had an 8.87 ERA in the series against the Woo Sox. The offense scuffled for key hits. The defense wasn't sharp. There was lots of carping at umpires, too – although the 7-6 loss here on Aug. 28 was an atrocious performance from the men in blue, especially on the bases. 
The Bisons won all seven of their games last week in their showdown series at Scranton/Wilkes-Barre and kept their momentum going Tuesday at Sahlen Field with a 3-0 win over Syracuse.
The Bisons finally broke through for a 9-5 win on Aug. 29 and were on their way to Scranton for what was scheduled to be an eight-game showdown series. You know what happened. One game was canceled by rain and the Herd stampeded to a 7-0 mark in the rest, wiping out a two-game deficit in the Northeast Division and taking charge of the standings with the longest winning streak in the franchise's modern era that stretched to 12 games before it finally ended here Saturday night against Syracuse.
The tone was set a couple of hours before that first game at PNC Field in Moosic, Pa. Veteran infielder Christian Colon had pondered getting some things off his chest before he took the bus to the ballpark. When he arrived, Colon asked manager Casey Candaele and his coaches to leave the room. The doors closed and Colon took the floor.
"I felt like we were kind of playing and worried about what's going to happen that was going to be bad in the game," Colon recalled prior to the game against Syracuse here on Thursday. "We were expecting something bad to happen, just expecting it. And I kind of just sensed that all series against Worcester, whether it was errors, getting down in the first inning or a bad call, things that we couldn't control.
"So getting the team over there together, I said, 'Hey, let's just not worry about things that we can't control. Pull for each other and at the end of the day, let's just hang out in that positive mindset. We're gonna strike out, right? We're gonna make errors, we're gonna get bad calls. Let's just move on past it right now. Before it happens. And it just seemed to really click. This is a special group. There's a lot of guys who have been big leaguers here. You just don't see a Triple-A team be this engaged, work this hard or care about one another. "
"He just said he wanted to have a meeting but just the players, no coaches," recalled manager Casey Candaele. "So they shut the door and we let it be. I don't know what they discussed or what they talked about. But at the end of it, I heard there was a standing ovation, a lot of cheering going on and they were excited.
"When a team does that and they get together and they police themselves and they take care of what they need to do by themselves, then as a manager, as a staff, as a coach, you can just sit back and just go, 'Hey, this is what we're doing. And this is what to expect you guys to do.' "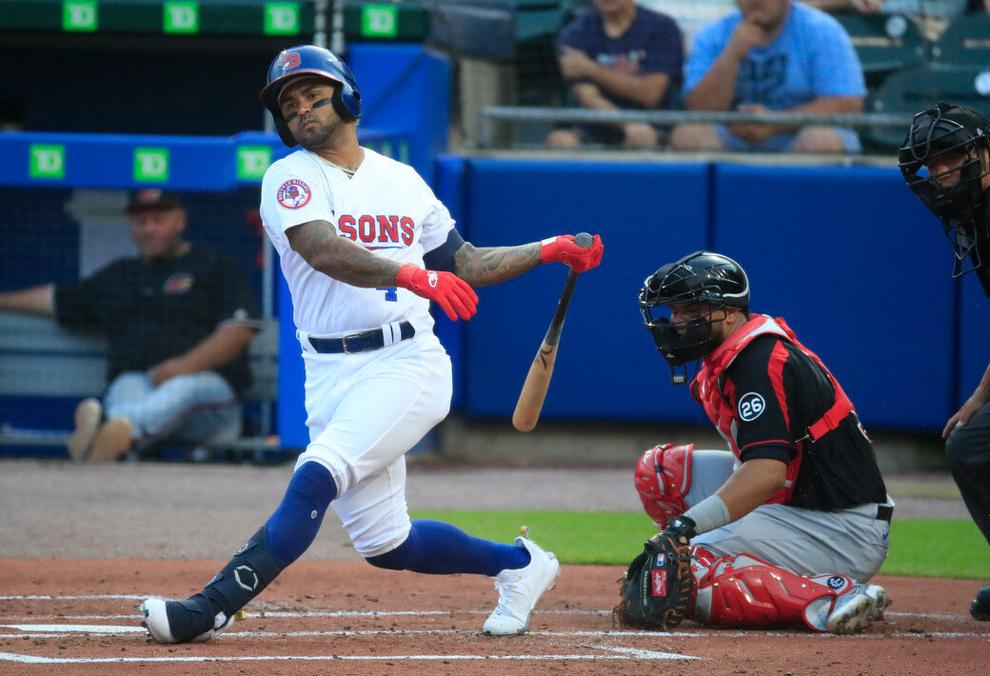 Colon, 32, has had a solid year for the Herd, entering the weekend at .266-15-50. An All-America shortstop at Cal State-Fullerton, he was drafted fourth overall by the Kansas City Royals in 2010 – right after Bryce Harper, Jameson Taillon and Manny Machado and nine picks ahead of Chris Sale – but has never built much of a major league career. He's appeared in just 161 career games for the Royals, Miami Marlins and Cincinnati Reds, and since 2016 has batted just .177 in only 79 big-league at-bats.
So with that kind of resume, why would Colon have such universal respect in the Bisons' clubhouse?
That's only his regular season story. Where Colon carries weight is because everyone in the room knows what he did for the Royals in the postseason of 2014 and 2015.
Two at-bats. Two hits. Two runs. Two RBIs. Even a stolen base. And two moments in 12th innings that live forever in Kansas City lore.
Colon singled home the tying run, stole second and scored the winning run on Salvador Perez's single to give the Royals their 9-8 win over Oakland in the memorable AL wild-card game of Sept. 30, 2014. In the decisive Game 5 of the 2015 World Series at Citi Field in New York, Colon's RBI single snapped a 2-2 tie and sparked a five-run 12th on the way to a 7-2 win over the Mets. It remains the only time a player's first hit in the Fall Classic was a Series-deciding hit.
Those might be the only two postseason at-bats Colon ever gets. Talk about making the most of your chances.
"I've heard here, 'Hey you know you're 2 for 2 in the postseason with two RBIs in the postseason and that's it?' " Colon said with a laugh. "I guess it's better than nothing. I just tell them, 'Look, when you're trying to do something more than we're used to, it's usually not going to work. The thing about baseball is being locked in and disciplined enough to know that.' So those two at-bats I remembered, 'I haven't played in a while. I just need to go out there and do my job, which is get a good pitch to hit, put a pretty good swing and whatever happens happens.' So I wasn't worried about results. And it worked out.
"It's hard to be able to draw up that at-bat in New York. It seemed like it was from a movie because it was perfect. We have a guy that has a lot of speed, was able to get to third (Jarrod Dyson). I come up. I'm a contact hitter. Base hit and he scores. Just grateful for that opportunity."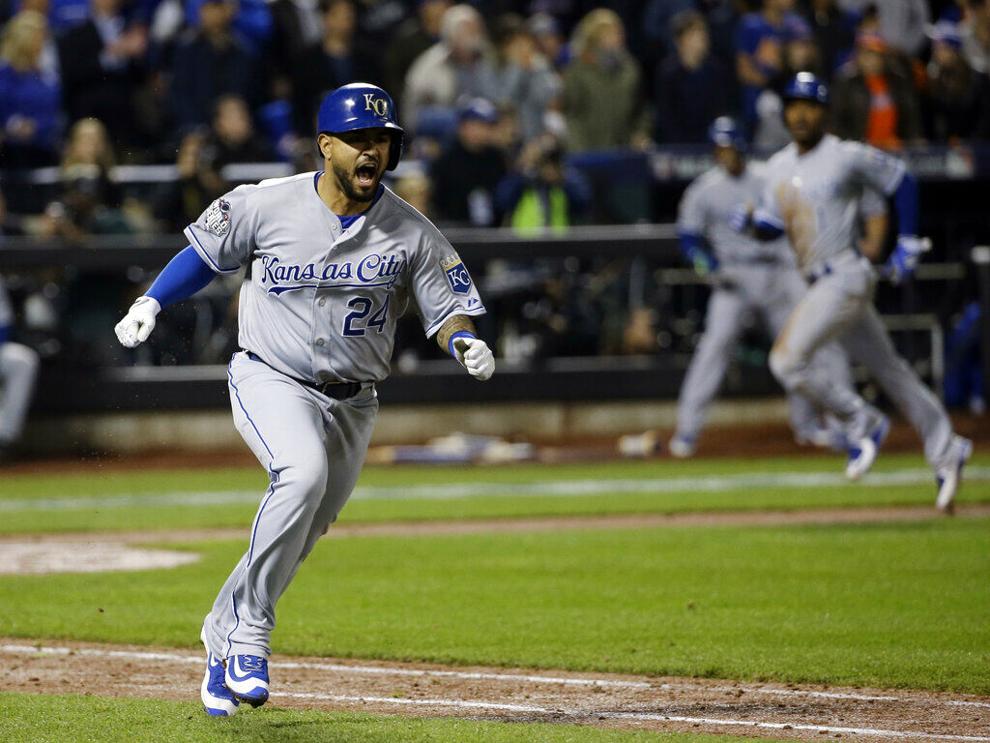 Colon has said multiple times this season how impressed he's been with the Blue Jays organization, how the players in it are so engaged with their daily work and have been interested in using him as a sounding board.
"It's huge to hear from him," said Bisons outfielder Forrest Wall. "Especially a veteran guy. He's a great presence in our locker room. We all learn a ton from him and to hear from him and get us fired up, it's awesome."
"He's a great leader, a great guy," added first baseman Tyler White, who has big-league time with the Astros and Dodgers. "He's done everything well. Can play anywhere on the field. Great player, great guy. It's been fun being his teammate."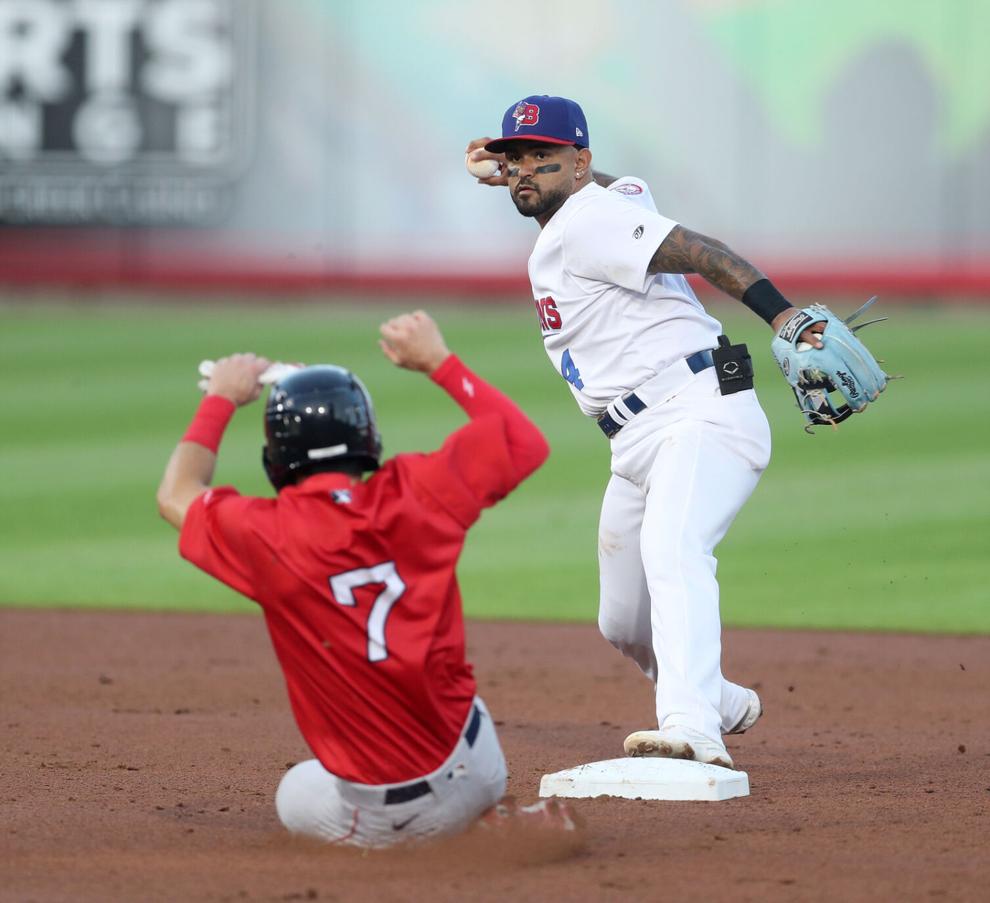 Colon was planning to play for an independent league team in Kansas City this season before signing with the Blue Jays in late April and heading to Trenton. 
"These guys have made me feel comfortable enough to be myself and talk about my experiences and not made me feel like, 'Well, this guy's coming in here talking about himself.' " Colon said. "I try not to just talk about that. But I feel like from the minute I showed up here, these guys have been wanting to pick my brain, wanting to talk about situations how to handle themselves in the big leagues, or how to handle different things down here. And it's been fun to be able to talk about them."
"He was young on that team and had some big moments that have really helped me to learn about," Bisons infielder Kevin Smith, the club's top player most of the season, said earlier this season. "It's cool to just have a guy like that who you can ask almost any question. He played in playoffs. He's played in the World Series, pinch hitting the top of the 12th and getting the big 'knock' . ... That's one of the things I love about Triple-A is you get all those guys been through it, they've done it.  You're just trying to grind to get to the big leagues, and these guys have done it for several years."
Colon said Eric Hosmer was a big clubhouse voice during his Kansas City days but the team heard from others like Salvador Perez, Mike Moustakas and Raul Ibanez, too. He said the Bisons have a similar feel: Players willing to talk and listen and a manager respected for his career resume and the way he runs the clubhouse.
"I've been more vocal than ever trying to lead by example," Colon said. "We got different leaders, guys that are more emotional than others. And it's just such a good mix. Starts with Casey and all the coaches. It's just been outstanding. Everybody knows their role. Guys don't try to step over anybody else's role. Reminds me a lot of the teams in Kansas City how guys played. So when we got to that series (in Scranton), I wanted to make sure we're on the same page, everybody together. And it was really cool to see guys react."