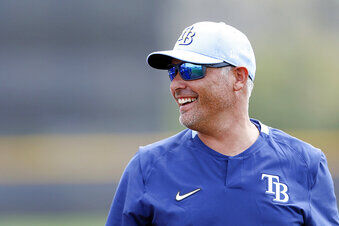 This had to be one of the strangest Manager of the Year decisions ever.
Kevin Cash led the Tampa Bay Rays to 40 wins in a 60-game season and beat the Yankees 11 out of 15 times counting the postseason. He got his team to Game 6 of the World Series, the closest to a title in the franchise's 23 seasons.
And he's still going to start next spring as the Biggest Dope in the Dugout.
He's going to be 2021's version of Boston's Grady Little, circa 2003. Because of one game and one decision he'll never live down.
Cash was named the American League's top skipper on Tuesday and it was well deserved because the vote doesn't count the postseason.
If it did? Yikes. Give me my vote back.
You remember Game 6. A 1-0 lead in a do-or-die game. Former Cy Young winner Blake Snell was firing a two-hit shutout in the sixth with nine strikeouts on only 73 pitches – and Cash yanked him. Nick Anderson, a postseason pinata after a great regular season, promptly gave up two runs. Game over. Series over. Dodgers win.
"There's no doubt it's been challenging. Have I reflected on it? There's not a day that goes by that I don't reflect on it," Cash said on a conference call Tuesday night. "I think that we owe it being in this position to ourselves and, more important, our players to continue to reflect on those decisions."
Cash said he wanted the team to be recognized for its accomplishments and for a decision to not overshadow them. No chance. He said he's had many conversations in the last couple of weeks with current and former managers, received lots of support. He's going to need it.
"It's really tough and the outcome was tougher," Cash said. " ... I would do it the same way all over again. But I would plead for a different outcome, that's for sure."
Cash earned 126 points and 22 of 30 first-place votes in balloting by the Baseball Writers Association of America. Two writers from each chapter vote. Representing the Toronto chapter, I voted for Cash, followed by Toronto's Charlie Montoyo and deposed Chicago White Sox skipper Rick Renteria.
Cash's gaffe set off a renewed firestorm of the age-old analytics vs. eyeballs argument. This hand is raised high as a participant. But the knee-jerk reaction to Cashgate can give pause to deeper analysis as time passes.
Cash goofed by going with his script and not reacting to what was in front of him. This isn't the game we grew up with. We'll never have Whitey Ford or Bob Gibson or Orel Hershiser or Jack Morris going the route in a World Series again.
Analytics are a long-haul tool. For an entire season. They really came into play this year, where teams knew it was a 60-game sprint and they could "bullpen" a lot to get through games.
But in the postseason, things should be different. Small sample sizes often don't work. It's too random. Starting pitching wins. The Dodgers bullpenned Game 6 but they also had Clayton Kershaw and Walker Buehler and the Rays did not. In reality, Cash's bigger mistake was doubling down on Anderson as his choice out of the pen. Looks pretty simple to me: The Rays worked this way all year and they weren't changing now.
"There are things I believe in and we believe in as an organization," Cash said. "We have talked countless conversations and hours upon hours of what we think and what I think is the best decision to help us win games on a nightly basis. Yes, we did that multiple times throughout the year. Does that mean it has to be done in Game 6? No. It doesn't. I think there's many things that go into those decisions. I would never describe it as being simple. I wish it was simple, I can tell you that."
Miami's Don Mattingly was the National League winner by a wide margin over San Diego's Jayce Tingler, meaning the first two visiting managers to come into Sahlen Field in August won their league's awards. As for Toronto's Montoyo, he transformed the Blue Jays from a 67-95 team to a playoff club, as the Blue Jays went 17-9 in Buffalo and earned their first postseason berth since 2016.
Renteria finished second with 61 points while Montoyo, who worked with Cash in Tampa Bay, was third at 47, getting two firsts and 10 seconds but somehow getting left off 11 ballots entirely. Cash paid tribute to the job Montoyo did here by calling it "remarkable."
"What the Toronto Blue Jays organization went through is a huge credit to the City of Buffalo, all the people that were instrumental in getting that thing up and running," said Cash, whose club won two of three games here. "For what it's worth, the visiting clubhouse in Buffalo was probably the best, most secure 'protocoled' clubhouse in all of baseball. There were so many people who did special things there and it does take a special person to be able to guide young players through that. ... I commend the organization, the City of Buffalo and certainly Charlie Montoyo for being just a really strong influence getting his players through that and winning."
Be the first to know
Get local news delivered to your inbox!