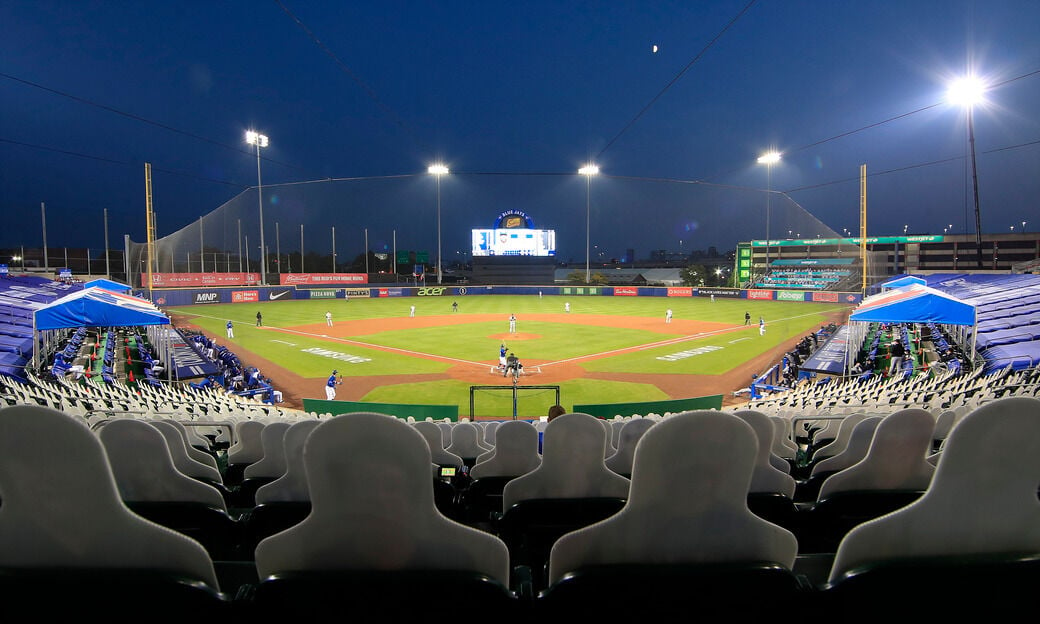 The one sentiment you feel coming out of Toronto toward the Buffalo Bisons these days is gratitude. Yes, the Bisons and Blue Jays have been together now since 2013 but there are relationships in play that date long before that. Jays GM Ross Atkins was Cleveland's farm director running the Herd in 2006 but president/CEO Mark Shapiro was in that job the first day the Tribe walked into town in September of 1994.
The Toronto Blue Jays' first game at Sahlen Field in 2021 will be June 1 against the Miami Marlins and, unlike last year, you can be there.
It was Shapiro who helped build three straight playoff teams in Buffalo, including the long-beloved 1997 team that captured the franchise's first championship in 36 years. Back then, he was considered one of the bright young minds in the game. We didn't know that 10 years later, he would be the GM leading the Indians within a game of the World Series or that 20 years later he would be the president of the club 90 miles to the north trying to help forge a new path back to the postseason.
And we certainly didn't know a global pandemic was on the horizon that would leave the Blue Jays in a desperate search for a home with the Canadian border locked shut. The Bisons have stepped forward here for two straight years – at a potential cost for their business right now – because they have always operated in a long-term view. 
Minor league teams can be mom-and-pop outfits, especially at the lower levels. Not the case here. Can't tell you how many times I've heard owner Bob Rich Jr. talk about his family as a steward for the game in Buffalo over the years. And Rich Baseball Operations President Mike Buczkowski brought that exact term up again last week when discussing the Blue Jays' latest move to Buffalo.
"Bob and Mindy Rich have always prided themselves in being the best possible partner they can for our parent teams, and for Major League Baseball," Buczkowski said. "When you're hired here, the first thing the Riches tell you is you are a steward, that it's your job to make sure that this game flourishes for a long time in Buffalo, and we need to be the gatekeepers for baseball.
"Yeah, there's some short-term angst. But I think in the long term, this will be a great experience for fans to be able to actually see a major league game in Buffalo, and then those long-term benefits behind the permanent changes that will be at our ballpark will put us in a great position to be successful for years to come."
It's very possible the Bisons will go from Aug. 29, 2019, until April 2022 without playing a game in Buffalo. If that happens, the Herd will have a huge marketing task ahead to rebuild its customer base. But that should be looked at come this fall and winter as a great opportunity to reimagine the business. You want to see what ideas new GM Anthony Sprague – the originator of Star Wars Night – will have now that he's in the top seat. 
But the millions of dollars the Blue Jays are spending on the park, albeit not on fan amenities, will ensure the club remains here. Remember, Sahlen Field is now the oldest ballpark in Triple-A baseball since Pawtucket, R.I., no longer has a team. MLB has passed new rules on player amenities you must upgrade to or you risk losing the 10-year license to run your franchise. 
Because of their willingness to host the Blue Jays and allow their team to move to Trenton, the Bisons are going to get a completely new field and lighting, new clubhouses, new bullpens beyond the outfield fence and a batting cage/pitching building. And most important, no chance their license will ever come into discussion because of deficiencies with their ballpark. And without need for city and county funds for these upgrades, the team and its local partners can get to work on more fan amenities like party decks and more new seats for 2022 and beyond.
"The long-term benefit here are those permanent changes that we're making are going to put us above what those standards are," Buczkowski said. "We're going to have probably the nicest minor league clubhouse and batting cages in the nation. It's going to ensure that we are going to have a great ballpark for the next 10 years, we're going to be compliant with the new measures and be able to continue to run a successful Triple-A team."
Longtime Blue Jays beat writer Shi Davidi of club rights-holder Sportsnet referred to it as "a spectacular unselfish accommodation" for the parent club and said the Jays should not take for granted what their Triple-A franchise is doing for them. Atkins said on Thursday the Jays players were given heavy say about when to move here from Dunedin. They undoubtedly figured with no chance to get back to Toronto any time soon, it was better to get out of the Florida heat and see their "new old" digs again.
"Buffalo has been good to us. It's been good to me. We had a good time there last year," manager Charlie Montoyo said on his pregame video call Wednesday from Oakland
And manager Charlie Montoyo was effusive about the move when asked Wednesday night about it. Montoyo, a longtime Triple-A player and manager, loved the park before last summer and is fond of it even more after the way the Jays made it their home in their 17-9 run here last August and September.
"We're looking forward to again putting Buffalo in the best light and continuing to work together with the Blue Jays to again have a successful time," Buczkowski said. 
"We would love nothing more than see the Blue Jays march on to the postseason again. If all the cards are on the table and they get a chance to win a World Series and have spent part of their time or all their time in Buffalo? Boy, that would be a story for a lifetime."
The Bisons/Thunder were on top of their game in all phases in their season opener against the Worcester Red Sox, scoring two runs in the first and loping home with a 6-1 victory before a socially-distanced sellout crowd of 1,526.
Speaking of spectacular accommodation, there are going to be some hiccups in Trenton after the Thunder were planning to host a college wood-bat league and suddenly got thrust into Triple-A (fix the internet in the press box and the camera work on the livestream, boys). But you have to give the super-friendly folks in New Jersey credit for opening their arms to the Bisons and trying to make the best of a tough situation.
If you want to make the six-hour drive to go see the Bisons play, I would give it a strong thumbs-up with one caveat: Be sure to buy tickets in advance online. Right now, only 1,500 per game are available and they're all being sold. There are no bad seats and there are plenty of food options, notably the New Jersey Pork Roll stand and the Chickie and Pete's crab fries that are a staple in nearby Philadelphia. (Full disclosure: I was a little under the weather during Tuesday night's opener so I stayed away from ballpark food, which I normally would love to sample.)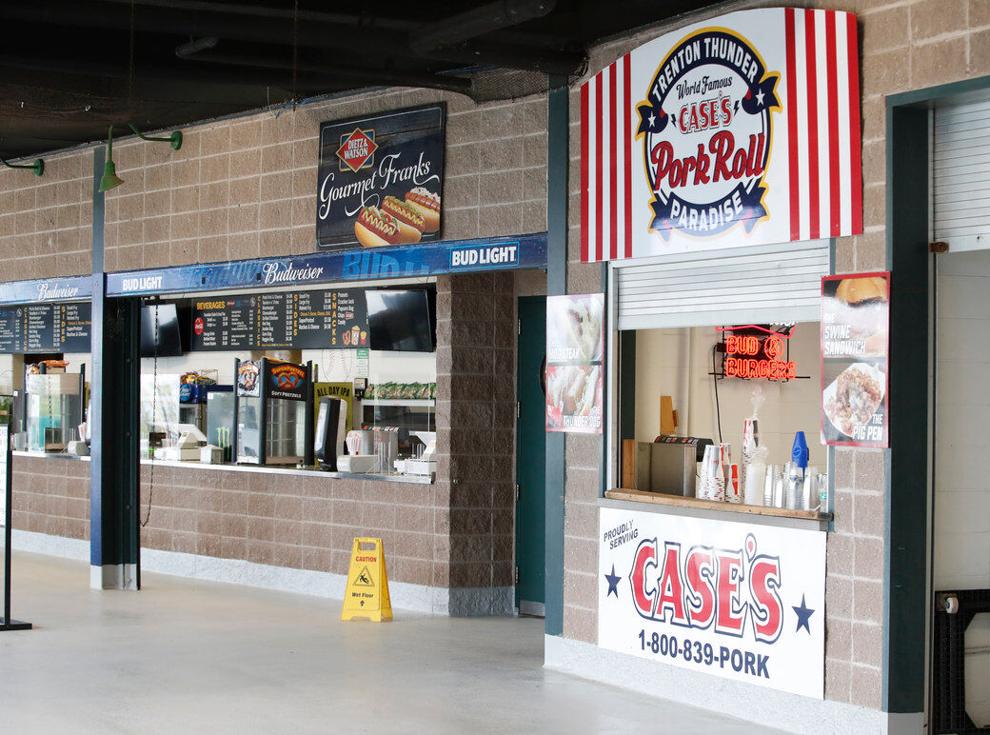 I got a tour of the suites and conference room and they were spectacular, far above what you would expect in a Double-A park. Yankee fans would love all the memorabilia. If you've got a group and the bucks, might be worth checking out. 
It will be interesting to see how the ball travels in Trenton Thunder Ballpark as the weather heats up. Rowdy Tellez had a 400-foot drive that would have been on the roof of the tent at Sahlen Field on opening night. And dimensions there are slightly longer along the lines (330 as opposed to 325) and center (407-404). It's also fun to watch if you can see a splashball to right field, as home runs can reach the nearby Delaware River.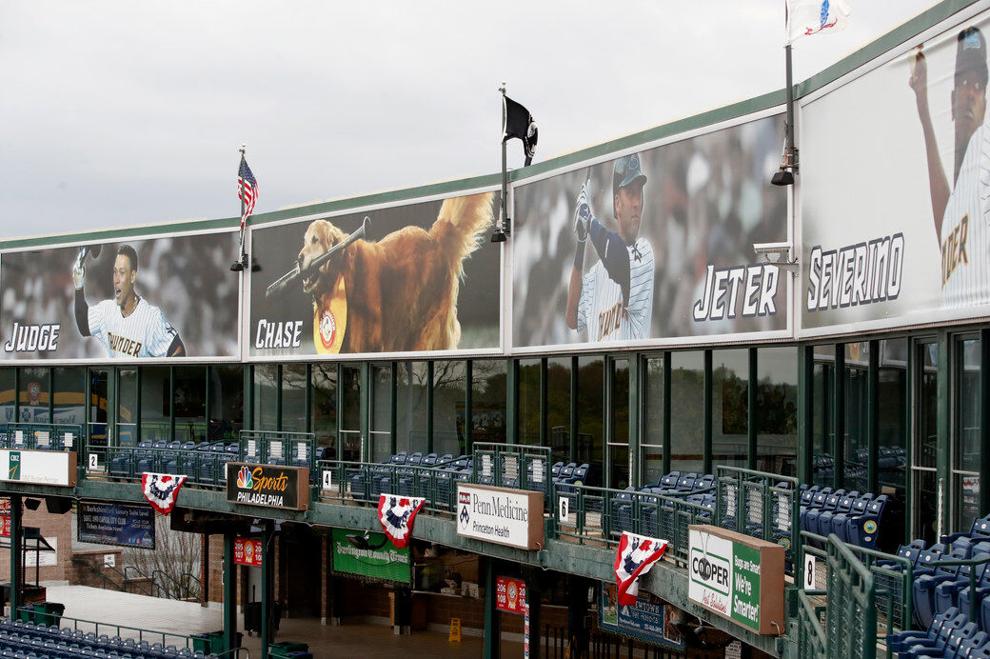 Smelling a rat in New York
There is nothing like a good old fashioned New York City media firestorm and we'll have to wait for more of the fallout from the Mets' win over Arizona Friday night. It was a 5-4, 10-inning victory that overturned a 4-0 deficit and included a game-tying two-run homer from struggling Francisco Lindor that was the $341-million man's first in Citi Field.
The big story, however, came when the SNY cameras caught players in the Mets' dugout racing into the tunnel, clearly looking to get in the middle of some sort of fracas that was out of view. Facial expressions and body languages had play-by-play man Gary Cohen deducing there was an issue between middle infielders Lindor and Jeff McNeil.
"It was funny, 'cause I told [McNeil], 'Hey, I've never seen a New York rat,' " Lindor said. "So we went down sprinting, about to go see a New York rat, and he got mad at me. He's like, 'No, it's not a New York rat, it's a raccoon.' I'm like, 'Helllllll no! It's a damn rat.' Crazy, because we were going back and forth debating if it was a rat or a raccoon. Crazy, man."
McNeil later told reporters he was saying it was an opossum. Manager Luis Rojas said he came upon the scene and found Lindor saying, "Let's play ball, let's play ball." It was some weird comedy act falling flat.
Time will tell where Lindor stands with all this. In terms of media, he's in New York. A wild vermin tale wasn't selling Friday and will only get worse if he doesn't start producing. But maybe it's a galvanizing moment too. Shouldn't the Mets players get a plastic rat – or a raccoon? – and hand it out after each win to the player of the game?
Ex-Starpoint star hits Triple-A
The shutdown of spring training didn't just put a sudden stop on things for players. Especially when it comes to the minor leagues, coaches and managers are all trying to push forward to make the majors someday, too. At 44, Canisius High graduate Fran Riordan is getting close. He was preparing for his third year as a Triple-A manager
Starpoint and Niagara County Community College product Matt Cross, a 22-year-old catcher, got a surprise Triple-A assignment Wednesday to Las Vegas by the Oakland Athletics.
Cross, Oakland's 19th-round pick in 2018, went a combined 1 for 25 in eight games in 2019 at Class A Vermont of the New York-Penn League and Stockton of the California League. Prior to that, he batted .235 with three homers and 16 RBIs in the Arizona Rookie League.
The former All-WNY selection is considered a strong defensive catcher and was an All-America and Gold Glove winner at NCCC. Las Vegas is managed by Canisius High product Fran Riordan, who ran Oakland's Alternate Training Site last year after winning the PCL's manager of the year award in 2019.
• The Bisons' season is a Covid special, playing all 120 games against five opponents to minimize travel (let's see if they minimize teams getting sick of each other too). But it's weird to look at what's now a 20-team league and ponder what the schedule will be like in future years for Triple-A East. You have to figure it's still mostly going to be in your division and then playing some of the other 14 teams on a rotation basis.
You're just not going to have Triple-A teams flying all over from Buffalo to spots like St. Paul, Jacksonville, Omaha and Iowa that aren't reasonably reachable by bus. Maybe you make one or two trips like that a season. 
• Anniversary: Saturday marked 36 years since perhaps the greatest performance in the career of former Frontier/UB standout and Greater Buffalo Sports Hall of Famer Joe Hesketh. On May 8, 1985, Hesketh had 12 strikeouts over 7 2/3 innings in a 1-0 win over Nolan Ryan and the Houston Astros. Ryan fanned 10 in seven innings.
Hesketh went 10-5 that year, leading the rotation with a 2.49 ERA. He was second on the team in strikeouts (113) and third in innings pitched (155 1/3). Now 62, Hesketh won 60 games in a career that ended in 1994 with Boston. He earned 31 of his wins for the Red Sox.