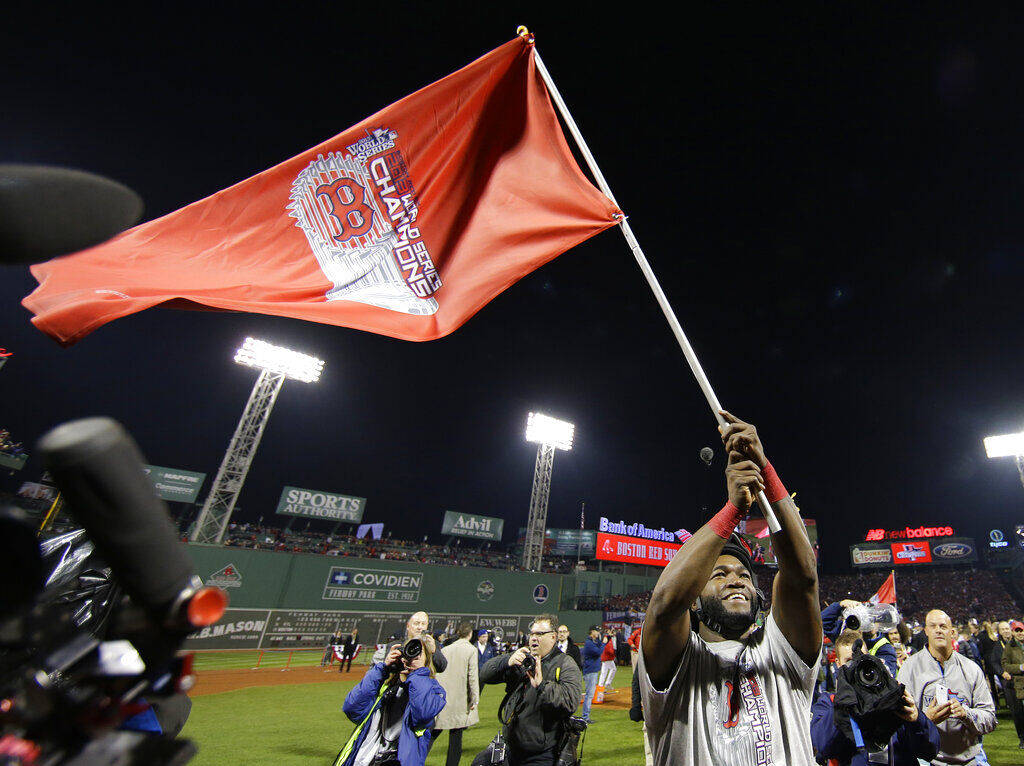 In this view, one big problem with Hall of Fame voting in recent years is we spend too much time justifying who we didn't vote for. Yes, I'm obligated to get to that, too, and will do it here in a bit. But when reviewing my ballot for the 2022 election, a good starting place is who got to step to the plate and get a first-time checkmark.
This should be the year for Big Papi. He should be automatic. But like anything else when it comes to the Hall, nothing is.
Boston Red Sox designated hitter David Ortiz is the top first-time candidate on the ballot and I spent about five seconds pondering his candidacy before checking off his name. Many voters are doing likewise, but many others are not. Ortiz is not close to the level of recent first-time automatics Ken Griffey Jr., Mariano Rivera or Derek Jeter. But if you don't think Ortiz is a Hall of Famer, it seems implausible you know much about the history of baseball over the last 20 years.
My sense is that it's a close call for him to actually get the 75% needed for induction. Which is crazy. If Ortiz doesn't, the Baseball Writers Association of America could throw a Hall shutout for the second consecutive year, which would be a shame.
Ortiz is a face-of-the-franchise player who led the Red Sox to three World Series from 2004-2013 – after they had won none in the previous 86 years. Every time the Sox needed a clutch hit – think Games 4-5 of the iconic 2004 ALCS comeback against the Yankees – Ortiz was there to deliver.
Big Papi is the best clutch hitter in baseball, and no one else is a close second.
He thrived on the pressure, no matter how big it became.
"It's not that I like it. I've got no choice," Ortiz told me after a game in Toronto late in the 2005 season. "I just see the situations over and over and over. I have to do something. That's the difference. It's not as easy as it looks, man. I tell you what: I don't get the job done when I'm supposed to, I go crazy."
The numbers are all there: Ortiz had 541 home runs in a career that saw him never tail off. In his final year, at age 40 in 2016, Ortiz belted 38 home runs and led the American League in doubles (48), RBIs (127), slugging (.620) and OPS (1.021). Ortiz went above and beyond during Boston's 2013 season, galvanizing a grieving Beantown with his iconic "This is our bleeping city" speech to Fenway Park fans in the wake of the marathon bombing and then batting .688 in the World Series win over St. Louis.
BOSTON — David Ortiz is a legend now in Boston. He's there with Ted Williams and Carl Yastrzemski and someday soon, he'll have his own statue outside Fenway Park just like they do. 
From the right-field boxes in Busch Stadium, we could see into Boston's third-base dugout midway through Game 4 as Ortiz called his teammates together in the dugout and told them to relax. It was the defining moment of the series. The Sox didn't lose again.
Now, I know the drawbacks to Ortiz, too.
You say he was only a designated hitter, but I say it's been a position in the game since 1973, so why can't someone fill the spot incredibly well and go to the Hall of Fame? And if you're picking the top DHs of all time, isn't it Edgar Martinez and Big Papi 1-2, in either order? Edgar got voted in three years ago, although he played much more defensively than Ortiz. And there's the issue of the alleged positive steroid test in 2003 that was leaked to the New York Times.
That, however, was before testing rules took place and it remains up for a debate. Commissioner Rob Manfred, whose credibility is admittedly low these days, said in 2016 that Ortiz's name could have been one of several false positives from that series of tests and that Big Papi never had a positive from 2004 through the end of his career. Manfred urged Hall voters to be lenient when judging Ortiz. Whether positive or negative, it was before testing began. Zero bearing on my Ortiz vote.
Billy Wagner: I have hemmed and hawed over the longtime closer for the last three years. I caved this year. He only pitched 903 innings, but squeezed in 422 saves and 1,196 strikeouts in them with a 2.31 ERA. If Trevor Hoffman is in the Hall, Wagner probably needs to be, too. A big knock for me was Wagner's odd 10.03 postseason ERA in 14 appearances and the fact his teams went 1-7 in postseason series. But three runs in two-thirds of an inning in Game 2 of the 2006 Mets-Cardinals NLCS inflated the numbers some.
Curt Schilling: I held my nose here and again checked the box for him in his final year of eligibility. The fact that Schilling has become a repugnant, reprehensible figure since his retirement did not sway me. Rogers Hornsby and Ty Cobb weren't saints, either. Schilling is the greatest postseason starting pitcher of the last 50 years in leading three teams to the World Series – including those '04 Red Sox. He went 11-2, 2.23 in 19 starts under the bright October/November lights, with 120 strikeouts and 25 walks in 133 innings.
He was 4-1, 2.06 in seven World Series games. He pitched the Bloody Sock game in the 2004 ALCS. He was a clubhouse leader. He had 3,116 strikeouts in the regular season and the highest strikeout-to-walk ratio of any 3,000K club member. All this before he advocated lynching journalists (he said he was being sarcastic), supported the Jan. 6 Capitol insurrection and went head-first into numerous other areas on Twitter and podcasts. 
After last year's snub, Schilling asked off the ballot for his final year. The Hall did not honor his request, but I know many writers who are. Schilling isn't going to make it, but that never impacts who I vote for.
What a sad year 2020 was for the Baseball Hall of Fame. And 2021 isn't starting any better. Mike Harrington says.
Barry Bonds and Roger Clemens: I've been consistent about voting for both of them for several years and did so again in their 10th and final trip to the ballot, even though I doubt they get in. Repeating: Everyone was complicit in the Steroid Era and there's no way to tell who was using and who wasn't. My sense from being around the game in that time was that almost everyone was. Bonds and Clemens didn't break any testing rules because those didn't come until 2004.   
Andruw Jones: Momentum is growing for him, even though his offensive peak petered out when he was 30 and his final five seasons were injury plagued. But in the end, he still clubbed 434 home runs and his 10 Gold Gloves heavily impact his candidacy as perhaps the best defensive center fielder in history. Other players are stumping for him, including Hall member and former teammate Chipper Jones. He still has five more years. 
Andy Pettitte: Starting pitchers of recent years don't get much Hall love, and that's only going to get worse as innings pitched are cut and wins are completely devalued. Pettitte was only at 13.7% last year. Being the all-time leader in postseason wins with 19 matters. He had 256 of them in the regular season, too. He played on great teams in New York and Houston, sure. But he was one reason they were great.
Scott Rolen: At 52.9% last year, Rolen is trending up to get in next year with a light ballot in the offing. Third base is oddly underrepresented in the Hall, as well, and Rolen's career, overshadowed with the glare of so many 2000s sluggers around him, has stood the test of time. Especially defensively, with eight Gold Gloves. His WAR of 70.1 is better than many Hall members and his peak (1997-2004) saw him third in the majors in that analytic, trailing only Bonds and Alex Rodriguez.
By the numbers, Rodriguez is obviously a Hall of Famer when you see a .295 batting average, 696 home runs, a .550 slugging percentage and .930 OPS (Ortiz was at .552/.931). And he's one of five players with 3,000 hits and 500-plus home runs.
But he's not getting this vote, and, probably, many others. Like Manny Ramirez, A-Rod was snagged by testing in the post-2004 era, topped by his 211-game suspension in 2014. Everyone knew the rules at that time. There were no secrets. A-Rod broke them and lied about it. He's a no.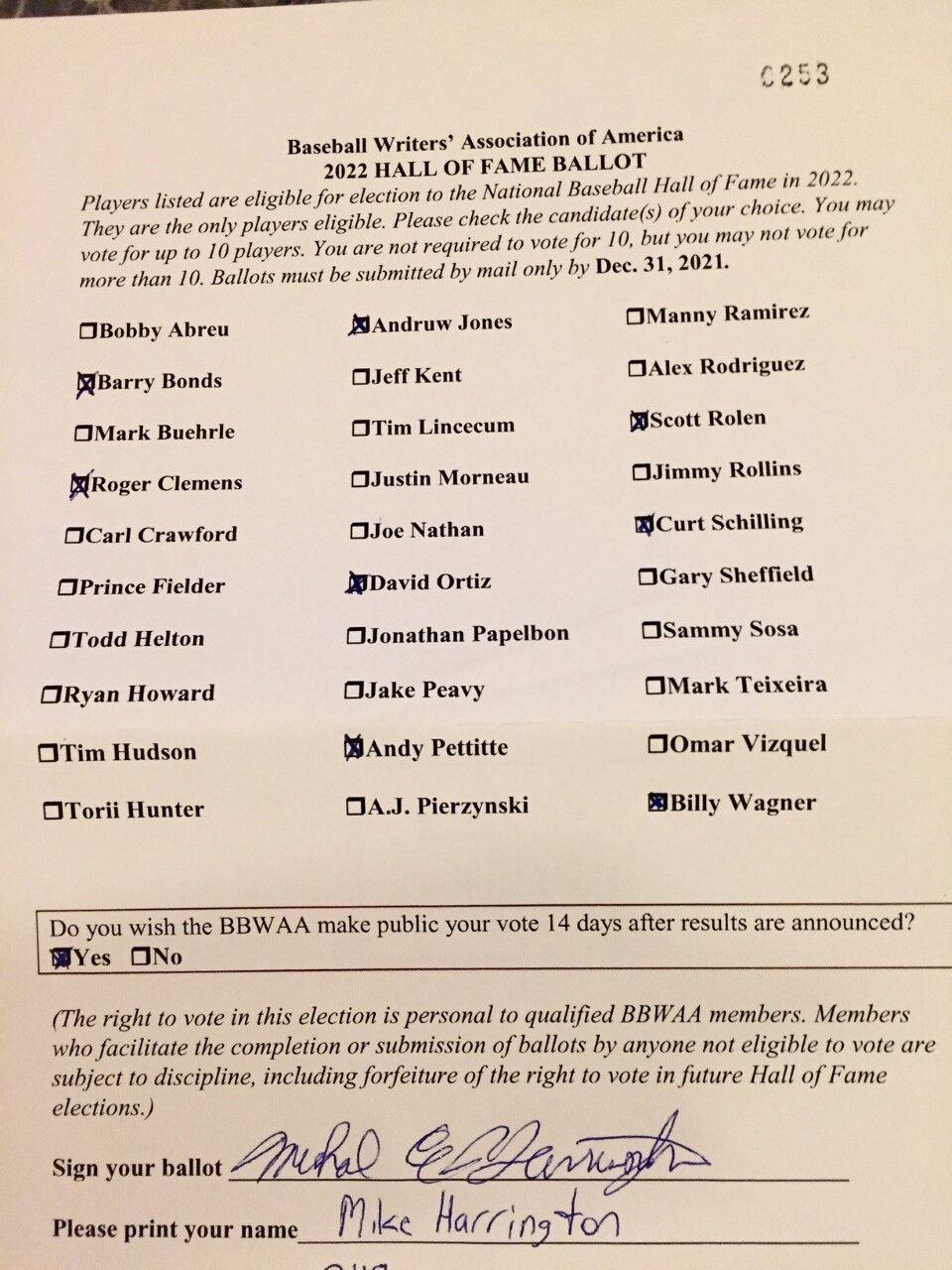 Lots of support but not here
Todd Helton was at 44.9% last year, and now that Larry Walker is inducted, people are warming up to the fact that Helton was not just a product of Coors Field. He's only in his fourth year and will get much more study in the future, the way Rolen and Wagner have.
I did not vote for Ramirez, Gary Sheffield, Jeff Kent, Bobby Abreu, Omar Vizquel or Sammy Sosa. I wonder if any get even 50%.
Give it up to this list of first-timers on the ballot who probably won't be back in 2023: Carl Crawford, Prince Fielder, Ryan Howard, Tim Hudson, Torii Hunter, Tim Lincecum, Justin Morneau, Jonathan Papelbon, Jake Peavy, A.J. Pierznyski and Mark Teixeira. 
In talking to some other voters, I will consider voting for someone in future years who I fear might slip to less than 5% to perhaps help them stay on the ballot. Kenny Lofton, Carlos Delgado and Dave Stieb were one-and-dones who deserved more Hall consideration. Three candidates this year would have been starting pitcher Mark Buehrle, reliever Joe Nathan or shortstop Jimmy Rollins. I bet Rollins makes 5%.
Recapping the final tally
My final eight-man ballot, listed alphabetically: Barry Bonds, Roger Clemens, Andruw Jones, David Ortiz, Andy Pettitte, Scott Rolen, Curt Schilling and Billy Wagner.
The results will be announced Jan. 25 on MLB Network, and the inductees will take the stage July 24 in Cooperstown to join the inductions of Eras Committee selections Bud Fowler, Buck O'Neil, Gil Hodges, Jim Kaat, Minnie Minoso and Tony Oliva. Who's on deck in 2023? The ballot is headlined by Carlos Beltran. Returnees will have a good chance.